11 unmissable interior design tips – to style a house into a dream home
Learn from the experts with this professional-approved design advice that will help you style and furnish your home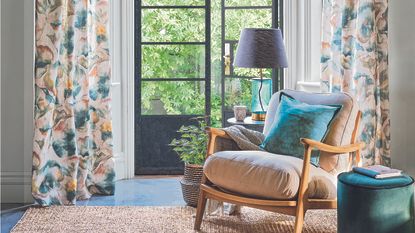 (Image credit: Future)
When it comes to making a house feel like a home, there's more than meets the eye. Pulling a room together and transforming the features to make it functional yet also stylish requires the best interior design tips to guide you along the way.
From working out what paint works best in different rooms and lighting options to where to place furniture - there are so many elements to consider. Following tips from the experts will provide you with a great foundation of knowledge that you can then put into practice.
Whether you're renovating an entire house, sprucing up the kitchen or adding a splash of colour to freshen up a living room – these helpful DIY and decorating pointers are not to be missed. Leading interior designer Vanessa Arbuthnott shares her designer tips and secrets to gain insider knowledge for transforming homes like a professional.
11 of the best interior design tips
Whether you're figuring out how to design a living room or looking the best way to arrange furniture in a bedroom, looking to the experts for guidance will make each challenge that little bit simpler.
Choosing what you love is the first step to creating your ideal design, but factoring in practical elements such as lighting, furniture size, and colour palettes will take your home to the next level.
1. Think beyond trends
While home decor trends can be useful guidance to seek inspiration from in your interior, your home should be a true reflection of your taste.
'There are no rights nor wrongs in interior design, everyone has the potential to design their own home,' says Vanessa. 'It's just a matter of getting an eye for it. Remember that you are in control, taking the latest trends into account is worthwhile but always put your own personal spin on something to make it special. Your home is where you spend most of your time, so the space needs to reflect you.'
2. Make a mood board
'Transform your interiors from tired to revitalised by gathering inspirational images from magazines, Instagram, Pinterest etc,' Vanessa advises. 'Once you have a strong collection you will begin to see the look you would like to achieve. Creating a mood board is a great way to use your creativity to unleash any hidden design inspiration you may have subconsciously seen.'
Vanessa goes on to explain how she does this. 'Buy a large foam board and pins from your local art or stationary shop and collate samples, images, samples of the fabrics, wallpapers, furniture and flooring that you might want to use. This way you can see how they would all sit together within the room.'
'It is important to add textures through flooring, rugs and fabrics such as velvet, wool, and tweed. Place the mood board in the room and live with it for a while.'
3. Give your decor a new lease of life
Good interior design isn't always about buying new - sometimes it's about being clever with what you already own, whether that's switching up the styling or even reupholstering something for a fresh look. You can even easily upcycle secondhand furniture if you want something new-to-you.
'Your grandmother's old sofa may be plastered in outdated florals. But if it has good bones, new upholstery can breathe new life into it,' says Emma Cottrel, marketing manager at BoConcept. 'Have furniture from childhood that needs a little TLC? Fresh paint or a new finish may be all it needs. Not only is this approach environmentally-friendly and budget-conscious, but the memories attached to these pieces are irreplaceable.'
4. Don't be afraid of using colour
Picking a colour palette for any room in a home can be a challenge, especially for decisions like a kitchen colour scheme where the cost is higher. However, ultimately 'this is a very personal choice', says Simon Ribchester, head of design at Beams.
'Any colour palette goes, but avoid too much colour clash or over-saturation on the eye. A helpful guideline is that 60% belongs to your dominant hue, 30% for your secondary hue and 10% for accents. It's always better to use this rule to keep things visually compelling and in balance. It's all about choosing your primary, secondary and accent colours well — draw inspiration from nature if you're struggling with a start.'
5. Try before you buy
'Remember that colours can change depending on lighting so buy sample pots and paint,' Vanessa warns. 'Paint at least A2 sized paint patches, on the lightest and the darkest walls in the same room – to see how the natural light affects the shade.' This is especially effective for finding the best white paint, because it changes so much in the light.
Same goes for wallpaper. 'Tape wallpaper samples to the walls and drape large returnable samples over existing furniture or pin them to existing curtains and blinds. Stand back and see what you think!' she enthuses.
6. Size up furniture
We've all made the mistake of ordering furniture online without properly measuring - it can be tempting when you see a piece you love, and you just want to click buy instantly. However, being more considerate about the size of the pieces you purchase will have a huge impact on the overall appearance of the room.
'Decide on the furniture you want in your room. Think about scale, in a large room you need a big sofa and footstool,' advises Vanessa. 'Most designers recommend that even small rooms should have one large statement piece, even if it is a headboard in a bedroom. A balance of large and small pieces will create an appealing living space.'
7. Analyse the look and take your time
Whether you're moving into a new home or renovating a specific room, the desire to have it looking perfect instantly is one we know all too well. As hard as it can be to take it slowly, living in the room before you jump to decorating can be a positive pause that will lead you to make the right choices in the long term.
'Collect pieces as you come across them, this way you will purchase things you've fallen in love with. Rather than settling for what's available in certain stores or online at the time you need something' are Vanessa's wise words. 'You can spend time analysing the look and colours of your room with accessories. The more time you take to add things into your house, your interior design knowledge will expand as you can understand what works best with certain features.'
8. Be bold with paint ideas
The days of strict paint rules are over, the key to interior design in modern times is to embrace the paint idea that works for you. There are no rules of painting doors frames, skirting boards and ceilings in a brilliant white anymore – in fact some top interior designers argue against it!
Kelly Hoppen' s advice for painting skirting boards is a game changer, she explains how painting the skirting the same colour as the walls can help to make the room feel bigger.
9. Remember measuring is key
'Decision time happens when you measure up your windows.' Ensure you have the correct measurements before you even think about ordering blinds or curtains in particular rooms. And if you want to avoid making any major mistakes, learning what not to do when choosing curtains will help keep mishaps at bay.
While opting for ready-made varieties of things such as curtains or photo frames can be a more cost-effective option, taking the time to measure things properly and opt for custom sizes will mean that your home suddenly looks professionally designed.
10. Add finishing touches
'The finishing touches are the fun bit!' Vanessa exclaims. 'Lampshades, rugs, cushions, paintings and plants can all make a huge difference but are sometimes hard to choose until you have the walls painted or papered and curtains hanging.'
'Even the colours on the spines of books on a bookshelf, a throw on the back of the sofa, or in a kitchen ceramic, tablecloths, create opportunities for accents of colour.'
11. Fill a room with a signature fragrance
After you've added in all the extra accessories and your room feels complete, the next step is to focus on the senses. Smell plays a big part in how a home feels, especially to guests.
Luxury hotels with select a key scent to have throughout, which then becomes associated with that place – adopt this by choosing your own signature smell for home, to engage the scenes. There's no place like home, so ensure all your senses are alerted to the feeling of home the minute you step through the door. Use the best home fragrance for your via scented candles, diffusers and essential oils.
Interior design tips for beginners
If you're new to interior design and haven't undertaken a home renovation project before, then it can be a daunting prospect. However, by starting with a few basic tips you can fine-tune what your interior taste is before then taking the steps to bring it to life.
'Find inspiration - Whether it's getting out in nature, or scrolling on Pinterest, finding inspiration that matches what you're looking to achieve for your space,' says Simon from Beams.
'Think beyond the trends - it's more important to try and build a palette around things that you love, rather than trends. You'll love it a lot longer.'
You should also consider the light of the room you're working with, as this can have a big impact on the interior choices you make.
'Different colours can present differently depending on the lighting in a given space,' adds Simon. 'Assessing whether a room gets lots of natural light, none at all, or if the overhead lighting presents yellow or blue is crucial to consider when choosing a colour palette.'
Get the Ideal Home Newsletter
Sign up to our newsletter for style and decor inspiration, house makeovers, project advice and more.
Tamara was Ideal Home's Digital Editor before joining the Woman & Home team in 2022. She has spent the last 15 years working with the style teams at Country Homes & Interiors and Ideal Home, both now at Future PLC. It's with these award wining interiors teams that she's honed her skills and passion for shopping, styling and writing. Tamara is always ahead of the curve when it comes to interiors trends – and is great at seeking out designer dupes on the high street.