How to stop condensation on walls and ceilings - 10 simple methods
Stop condensation on walls and ceilings with these 10 simple ideas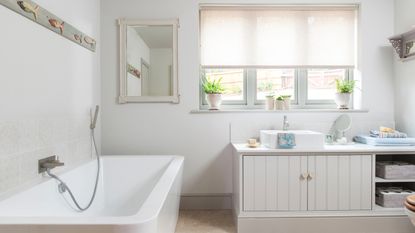 (Image credit: Future plc/Colin Poole)
Ideal Home Newsletter
The Home Of Great Ideas For More Than 100 Years
Thank you for signing up to . You will receive a verification email shortly.
There was a problem. Please refresh the page and try again.
Wondering how to stop condensation on walls and ceilings? According to Envirovent, a leading manufacturer and supplier of ventilation systems, condensation damp is the most common type of damp and is thought to affect almost one in five homes in the UK.
Cavity wall insulation (opens in new tab) could be the long-term solution, however there are plenty of simple fixes you can implement to keep condensation under control.
'Condensation occurs when moist, warm air comes into contact with colder surfaces. The air quickly cools down and releases water droplets onto the surface,' says Thomas Goodman, construction expert at MyJobQuote (opens in new tab). 'Most of the time, you will notice condensation on your windows before it becomes an issue for the rest of the house. However, if you don't, you may start to notice your paint begins to peel, the wall or ceiling may appear wet or feel wet, and you may also see damage to your plaster,' he says.
'If left untreated, it can cause black mould. This will appear in the form of black spots on the walls or ceilings, and can be extremely harmful to your health.' According to the NHS (opens in new tab) website, if there is damp or mould in a home, the occupants are more likely to have respiratory problems, respiratory infections, allergies or asthma. Damp and mould can also affect the immune system.
How to stop condensation on walls and ceilings
The good news is that, although condensation is one of the most common causes of damp in the home, it's also one of the easiest forms of damp to fix. It is much more straight forward than how to get rid of damp, and can often be resolved cheaply and quickly, without the need to get the professionals in.
Read on to find out how you can both prevent and resolve condensation on walls and ceilings in your home.
1. Dry clothes outdoors
Where possible, hang wet clothes outdoors to prevent excess moisture from building up inside your property. If you're unable to dry clothes this way, then try to dry them in a bathroom with an extractor fan running or use a dehumidifier (opens in new tab).
'A dehumidifier will help reduce how much moisture is in the air,' says Armond Syla of A&S Damp Proofing (opens in new tab), a Rated People (opens in new tab) builder and damp proofing expert.
2. Use pan lids when cooking
'You're most likely to find condensation in the kitchen where you do the cooking, as that's where you generate a lot of moisture in the air,' says Armond Syla.
With this in mind, Thomas Goodman recommends always cooking with lids on pans. 'It prevents steam from escaping and collecting on your walls and ceiling,' he says. Ensure that you're using an extractor fan when cooking as these are designed to help reduce moisture, as well as eliminate smells.
3. Check furniture can breathe
If there is space, don't position furniture up against external walls. This allows air to circulate around the rooms in your property. Instead, where possible, place wardrobes against internal walls as this will help reduce the chance of condensation forming.
4. Wipe your windows and doors each morning
Window condensation is usually at its worst in the morning when your doors and windows have been closed all night and warm, damp air has nowhere to escape. Make a habit of removing condensation on your windows and doors first thing every day. Wipe excess moisture with a towel or cloth. If you don't, the water may cause the window seals to warp and loosen over time, as well as lead to mould.
5. Open your windows
Open all the windows in your home daily – if only for 20 minutes. At night, leave windows ajar. Breathing is a major cause of condensation, thanks to the warm, wet CO2 we expel on each out breath. By opening the windows, you will help to improve ventilation.
6. Get rid of moisture in the bathroom
When using the shower or bath make sure the extractor fan is on to remove the steam and moisture created when running warm water in a cold environment. Wipe away any excess water around the bath, shower seals and surrounds when you have finished.
When filling a bath, Thomas Goodman also recommends, to run cold water first before adding hot water. 'It helps reduce steam build up in the enclosed space,' he says.
7. Ensure you have adequate ventilation
Trickle vents in windows work well. These are small gaps at the tops of windows and doors that allow air to circulate in small amounts. If you're self-building, consider a more advanced option such as installing a mechanical extract ventilation system (MVHR). This will provide a constant supply of fresh filtered air, maintaining a good air quality indoors.
8. Apply an anti-condensation paint
An Anti-Condensation paint (Ronseal (opens in new tab) manufactures one) will help insulate your walls and stop condensation. You just need to ensure there is no mould on your walls and ceilings and that the surfaces are dry before you apply the paint, which will require two coats.
9. Heat your home
'Maintaining a regular warm temperature throughout your home will stop surfaces from getting cold enough for condensation to build,' says Armond Syla.
You don't have to keep the heating on all day, but a thermostatic timer could be really useful in this instance. It will switch on the heating during colder months to help maintain an even indoor temperature.
10. Invest in insulation
Cold spots on walls and ceilings can increase the chance of condensation, so insulating your home (opens in new tab) is the best course of action in the long term. Installing roof and loft insulation (opens in new tab) and external wall insulation (opens in new tab) will not only keep your home warmer, you'll also be driving down costs.
As with everything preventing damp in the first place will be alot easier than trying to remedy it. So if you're concerned about condensation act now.
Sophie Vening is a freelance journalist and editor with more than 16 years' experience writing about homes and properties. She's worked for some of the UK's leading interiors, self-build and property titles including, Grand Designs, Ideal Home, House Beautiful, Build It, The Metro Homes & Property and The Evening Standard Homes & Property.
She enjoys writing about complex issues in an easy-to-understand way.