Be inspired by this new build country home, painstakingly crafted to exude Georgian elegance
Step inside this new build country home, that the owner has cleverly crafted to replicate an original Georgian-style country house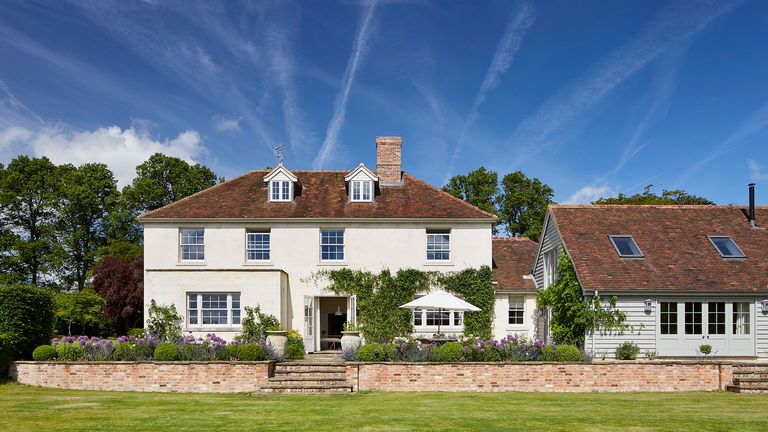 (Image credit: Future PLC/ Alicia Taylor)
The owner of this Hampshire home had always dreamed of building her own house. 'I knew what I wanted: a new house that felt old,' says the owner. 'A contemporary build, but with Georgian character. From the outside, the house would be pretty and traditional but not too grand. On the inside, with French doors, sash windows and high ceilings, it would feel light and airy but not modern.'
To complement the Georgian character, the owner, an interior designer, was determined to use inherited furniture as well as antiques she found during months spent trawling through antiques shops, reclamation yards and auction houses. 'It's so easy to walk into a shop and buy everything from new but when it's all together, I find the house can feel too staged. I annoyed my family by insisting on having antique fireplaces, reclaimed flooring and even salvaged roof tiles.'
Although the house is spacious enough for the rooms to take plenty of colour, the owner held back from using bold tones, favouring a softer set of hues to decorate the classic interior. 'I need a really relaxing environment at home, one that will allow me to come back from work and have the space to think creatively. I can't be too daring here.'
Kitchen-diner
The salvaged flagstones were found in a reclamation yard in France. 'They were probably originally in a monastery or château and I love the fact that we're walking on flags that have been in use for centuries.'
Get the look
Buy now: Little Greene French Grey Pale Absolute Matt Emulsion, £42 for 2.5 ltr, John Lewis (opens in new tab)
Living room
Chalky pinks and grey-browns are given a boost by a sophisticated selection of textures. 'The velvet armchairs and subdued wallpaper pattern make a subtle but undeniable impression.'
Get the look
Buy now: Terrace Coffee Table, £399, West Elm at John Lewis (opens in new tab)
Dining room
'I chose a round table because it has a softer feel, and everyone can talk to each other; it works perfectly in this room.'
Wanting to avoid any more wood in the dining room, the owner opted for a floor-length tablecloth. 'It's a very old fashioned idea, but it works.'
Get the look
Buy now: Presto Round Kitchen Table, £595, Loaf (opens in new tab)
Snug
Instead of discarding a pair of old sofas, the owner decided to re-cover them in pink linen for this relaxed space.
Hallway
Instead of putting in a Georgian-style balustrade, the owner designed one with a Swedish Gustavian look about it, painting it white to give the staircase a discretely modern feel.
Get the look
Buy now: Fusion Magizh Jute Rug, from £275, John Lewis (opens in new tab)
Main bedroom
'When I put up the pink wallpaper, the boys were sure their father wouldn't like it, but he told me that his favourite colour as a child was pink – he had a pink bike – so, actually, he loves our bedroom.'
The colour of this pink geometric rug ties in with the main bedroom to provide a cohesive feel.
Main bathroom
For a clean-lined look, the owner chose traditional folding shutters and had the walls clad with wide white boards hung horizontally.
Son's bedroom
The owner's sons wanted a bolder for their rooms, located in the loft space. 'I adapt to my clients' needs when designing for them and that's what I did for my sons. I decided to use bold blues to decorate their rooms and so maintain the peace.'
She captured her son's personality through accessories, such as the Airfix-inspired sketches, which can be easily changed, so it will be simple to update the room as he gets older.
Guest bedroom
Wallpaper in shades of soft grey and pale green creates an inviting sense of calm. 'I think it's really important to try sleeping in your own guest rooms. Then you know, first hand, what is comfortable and what is missing.' Having done this herself, the owner decided to add the armchair for extra comfort.
Guest bathroom
After seeing a picture of a panelled bathroom in a magazine and fallen in love with the look, the owner decided to do something similar for this bathroom.
Get the look
Buy now: Wicker mirrors, £290 for set of five, Not on the High Street (opens in new tab)
Garden
Wisteria is establishing itself on the front and back façades, and tidily clipped low box hedging and balls are a simple finishing touch that requires little maintenance.
As the lawn rolls away from the back of the house, a terrace was the perfect way to deal with the drop in levels, while also providing somewhere to sit and enjoy the views of the countryside beyond.
Building her dream house so precisely has taken time, but attention to detail has led to the creation of a home that will mature and get better every year.
Image credits: Alicia Taylor