Step inside a Somerset farmhouse full of characterful homemade touches
Retro patterns, a vibrant palette and vintage finds have put the heart and soul back into this period property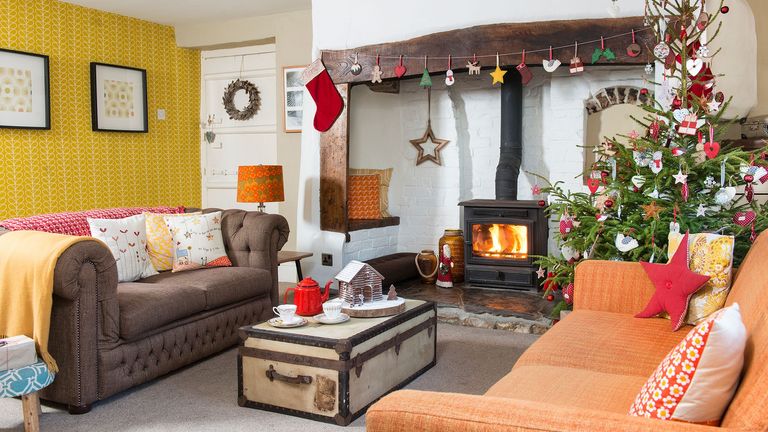 (Image credit: Future PLC/Colin Poole)
The character and sense of history you find in an older house had always appealed 
to the owner of this three-bedroom farmhouse, and it was definitely 
a factor when she chose this property.
'It was a bit beyond our budget and further from the town centre than we wanted, but the moment my husband and I walked in, we knew this was the one,' she recalls. 'The peaceful setting, quirky layout and the beautiful old wooden banisters and inglenook fireplace in the living room sold it to us. We really had to stretch our finances, but having seen it, we couldn't let it go.'
Luckily, the house was in good condition inside, though the walls were mostly painted off-white, so it seemed quite cottagey and a little too cool for the owners' 
tastes. The couple has redecorated every room since they've been here. 'To stay on budget, we tackled the painting, wallpapering and tiling ourselves, as well as building shelves and upcycling a few bits of furniture,' the owner explains.
More real homes: Step inside this Victorian villa, restored and extended in keeping with its original style
Exterior
Living room
'My starting point for decorating 
is always colour,' says the owner. 'I'm drawn to deep, autumnal shades of red, orange and yellow, and I like to have similar tones running through the rooms to bring everything together. The stronger colours tend to be accents and there are plenty of neutrals, too, for balance and to boost light. For continuity and ease, I always use the same soft white shade, but I do spend time and money on tester pots for other colours, as I'm really particular!
The classic Orla Kiely Linear Stem paper in the living room was a 'must-have', 
but getting the vertical pattern to look straight on the wobbly old walls was a serious challenge. 'It took me a while to get the room's layout right, as it's a quirky space, but it's now the heart of the home'
Get the look
Buy now: Similar Solar throw in Mustard, £29, Made.com (opens in new tab)
Buy now: Orla Kiely House for Harlequin Linear Stem Wallpaper, 110400, £61 for a 10m roll, John Lewis (opens in new tab)
Dining room
'The yellow really lifted the living room, so I've carried that bright tone through to the dining room as a highlight against dark and pale greys,' says the owner. 'My dining chairs all come from a local house clearance shop and I've painted them yellow and recovered the seats.'
Family room
'We brought quite a lot of furniture with us, but we've added extra pieces, like the grey sofa. I look out for high-street bargains, and I've found some great-value second-hand stuff on eBay, at car-boot sales and in our local recycling centre as well.
The owner blended the grey wall colour herself, because she couldn't find one she liked.
Get the look
Buy now: Similar Delilah armchair, £84.99, My Furniture (opens in new tab)
Buy now: Similar Be Modern Ohio fuel stove, £694, B&Q (opens in new tab)
Kitchen
The kitchen units were already here 
and the owner wouldn't change them as they were in good condition. However, there were two empty spaces where the previous owner's fridge and dishwasher had stood.
'I tracked down the original kitchen supplier, who matched in two new sets of drawers to complete the runs,' says the owner. 'I've had the black worksurfaces replaced, too, as they were making the room look too dark. The new wooden ones are much lighter.'
Get the look
Buy now: Le Creuset Kone kettle in Volcanic, £68, John Lewis (opens in new tab)
The owner re-tiled the walls herself. 'I've tiled walls 
and floors before, 
so tackling the kitchen splashback 
didn't faze me!'
'I needed a neat table and four chairs, and spotted the perfect set for under £40,' she adds. 'I've re-covered the seats with bright fabrics – the highlight colour throughout the room is a bold vibrant orange. 
Next to the soft green of the kitchen units, it adds a bit of zing.'
Looking for inspiration? Read: Fabulous painted kitchens to swoon over
Sewing room
The owner has always been creative and enjoyed making things. 'I've got my own paintings on the walls and when I'm not sewing for my business, Oh Sew Lovely, I'm cooking or working on cushions, curtains and other projects for the house. I go for bright, geometric patterns and I like having a loose mix of different styles and personal touches.'
The owner's husband added extra shelves in the studio 
for fabrics and the owner has colour coded them with wallpaper samples, so everything stays tidy.
She found the desk 
on eBay for 99p. '
I painted the stripes and varnished it for 
a durable finish,' she explains. A row of glass jars used to store fabric and accessories 
makes a pretty display.
Cloakroom
'I wanted the cloakroom to have more character, 
so I painted over the original white with 
Little Greene's Celestial Blue,' says the owner.
Get the look
Buy now: Celestial Blue Absolute matt emulsion, £42 for 2.5 litres, Little Greene (opens in new tab)
Master bedroom
'I want my home to feel relaxed and welcoming, and I don't like things looking too stiff and co-ordinated,' says the owner. 'Anything colourful, with a retro, mid-century flavour, appeals. I've included some Orla Kiely wallpaper in the main bedroom and the living room, as I'm a big fan of her simple style.
'It took ages to choose the one for the bedroom and 
we ended up with lots of lovely sample pieces, which I couldn't waste! Some have been put into frames and are in the living room, and I put others behind the shelves in my studio to add some extra colour.'
On the bed, the colourful quilt is the first patchwork piece the owner ever made. Every one of the 81 squares is a different pattern.
Get the look
Buy now: Orla Kiely House for Harlequin Striped Petal Wallpaper, 110403, £61 for a 10m roll, John Lewis
(opens in new tab)Buy now: Similar Oliver side table, £115, Marquis & Dawe (opens in new tab)
Children's rooms
The owners' children each chose the palette for their own bedrooms. Their daughter picked a pretty duck-egg blue...
Get the look
Buy now: Similar Tipi wooden wall shelf, £40, Cuckooland (opens in new tab)
...while their son decided on dark navy walls. 'I felt quite excited about trying such a dramatic colour and experimented with lots of options before 
I found the right tone – deep but not flat or dull,' says the owner. 'I'm so pleased with the results, as it's completely transformed the room.'
Get the look
Buy now: Light Up Message Board, £14.99, Argos (opens in new tab)
Another fab farmhouse: Be inspired by this Lincolnshire family farmhouse
Christmas was only two days away 
when the family moved into this house. 'Even though we had boxes everywhere, we were determined to have a proper celebration. Within a day, the tree was dressed with my hand-sewn decorations and the presents piled underneath,' says the owner.
'This house is perfect for hosting a cosy Christmas. We have traditions like new pyjamas, handmade gifts, marshmallows by the fire and watching our favourite family film. We had to juggle our budget carefully to move here, but it's been more than worth it because this is our forever home. It's got such a happy vibe and it's inspiring to think about the people who've loved living here before us.'