Have a wander around this vintage-inspired Yorkshire cottage
The bargain-hunter owner has saved a fortune by recycling and transforming furniture for her Yorkshire cottage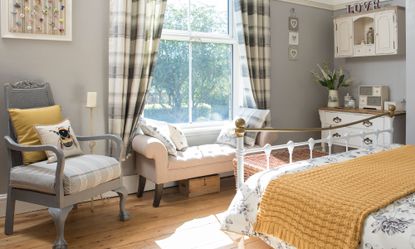 (Image credit: Future PLC/ Dave Burton)
Ideal Home Newsletter
The Home Of Great Ideas For More Than 100 Years
Thank you for signing up to . You will receive a verification email shortly.
There was a problem. Please refresh the page and try again.
This real home transformation was a long – and ongoing – labour of love for these home owners. 'We first spotted the house when we were out walking one day, and asked about renting it for a while until we could find a more permanent home. It had nothing inside; we just loved all the great original features and its location. We had to buy kitchen units straight away because it was just a shell, and our short-term plans turned into a 20-year stay.'
'Nothing is quite what it seems in our cottage,' says the owner. 'Look closely and you'll see that it takes on an Alice in Wonderland-like quality, thanks to our love of upcycling and reinventing.'
'It's really satisfying to be able to rescue a discarded unloved piece of furniture and turn it into something that can be both useful and beautiful at the same time' says the home owner. 'We've even rescued unwanted furniture from skips.'
The imaginative upcycled furniture ideas include,The shelf in the sitting room, this for instance, is half a chair. A set of coat hooks on the wall is actually the tailgate from a lorry; and the bathroom toiletries unit is made from timber cast-offs.'
Exterior
'While we were renting, we put money aside and were gradually able to spruce the cottage up and make it home. But we always felt restricted because the cottage wasn't ours. There were changes that I dreamed of making, but we didn't want to invest any more of our time and money in someone else's property.'
Patience paid off. 'The owner eventually decided to sell the cottage and gave us first refusal – and at a discounted price. We were overjoyed and literally jumped at the chance to make it our own at last. We set about adding heart to our home.'
Living room
'We replastered the walls, laid wooden floors, removed old-fashioned fitted cupboards and hung new doors. We also put in a chimney breast and fireplace in readiness for a Suffolk farmhouse cast-iron range. I bought it online and it was delivered in the back of a van.'
'It was far too heavy for me and the van driver to lift into the house on our own, so I called on two of our neighbours to help us carry it into the dining room. And even then we had to shuffle it into position in the fireplace – but it was a perfect fit and I absolutely love it.'
'My husband is so good at reworking furniture, it's hard to tell which items are the originals and which have been modified by him. We combine our skills in finding new uses for things that other people might not want any more, which has saved us a small fortune.'
'It's also given our home a wonderful eclectic style that's unique and personal to us.' The neutral living room idea is filled with vintage finds to create a charming country feel.
Kitchen
'We don't want our home to be the same as anyone else's and this way we make everything individual and personal.' They both like the idea of creating a lovely place to live on a budget, 'You don't have to spend a fortune to create a beautiful home.'
Consider buying a second-hand kitchen to reuse kitchen units and worktops that are big on quality, low on budget.
Dining room
'The pelmet in the dining room was destined for the tip when I spotted it. So I asked the owner if I could have it. Most people are happy someone else can find good use for something they no longer want.'
Master bedroom
The master bedroom is a dreamy grey bedroom idea, with hints of sunshine yellow.
'The house began to evolve in a way that reflected my love of painted furniture and my husbands passion for wood. He has worked with wood all his life and is always making things, reinventing and creating. We generally go shopping together and rarely come home empty-handed.'
'We like the same things and often see potential in something that someone else wouldn't even give a second glance. And we rarely keep things the same as when we bought them – more often than not, they are re-worked, adapted or painted and completely transformed.'
'Sometimes I have to be strong and not buy something simply because we haven't got the room' explains the owner. 'But there is always space for the smaller pieces that turn a house into a home. I like things that create memories. Everything in the cottage has a story attached to it.'
Bathroom
'My husband and I are both avid collectors of all sorts of things, from glassware and tins to fabrics, wood and furniture. We often spend our weekends looking around car-boot sales and antiques fairs for bargains. Neither of us likes to see things forgotten about or go to waste, especially if there's potential for them to be loved and appreciated by us.'
Love this Yorkshire cottage?