10 genius IKEA kitchen hacks that elevate the flatpack classics for a bespoke look
Update an affordable IKEA kitchen with these clever ideas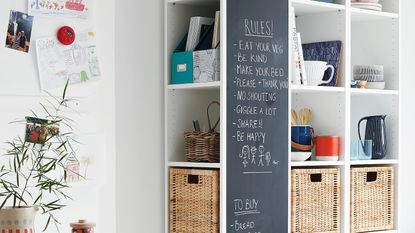 (Image credit: Future PLC)
Ikea kitchen hacks are an open design secret, used by everyone from interior designers to home DIY-ers. When they're done well they can turn a mass-produced flatpack kit into a bespoke kitchen that punches well above its weight in the design stakes.
Whether it's dressing up an IKEA kitchen with some custom kitchen cabinets, painting bar stools or even simply adding new handles, the beauty of Ikea's kitchens are that they're easy to personalise as much or as little as you like.
It's not just the furniture and fittings that make great IKEA hacks either – Ikea is well known for its great storage solutions, cheap design ideas and accessories, so look at how you can use items in unusual ways and give your home a sprinkle of personality.
IKEA kitchen hacks
We've scoured our magazine archives and the internet to rounded up 10 of the best IKEA kitchen hacks. So whatever the size, shape or design of your kitchen you can give it a bit of affordable flair with these DIY kitchen ideas.
And don't worry if you don't have an Ikea kitchen – these clever ideas are great inspiration regardless, so you can DIY your way to a newly remodelled kitchen, safe in the knowledge that it will be unique to you.
1. Change up the doors
Thanks to companies like Superfront, it's never been easier to find doors and door fronts that are an exact fit for Ikea's kitchens, meaning you can indulge in luxe kitchen cabinet ideas for a fraction of the price.
Here, vertical umber wood fronts and bar handles give these cabinets a bespoke look – you'd never know this was an Ikea kitchen would you? And we love the display of spoons on the wall, which works beautifully with the dark wood tones.
2. Create a pantry
Made up of two Ivar shelving units, Natania (from @thenatmaison) created her very own kitchen pantry. She cut down the units to fit the space, sanded and painted them, and added doors, a wine rack and pull-out drawers. Behind the doors sits her microwave, which is nicely hidden away but easily reached when needed.
3. Repurpose picture ledges as glass racks
Ikea's picture ledge shelves aren't just for pictures – use them for herbs, cookery books or even glasses, as shown here. Make sure you place them on a wall where they're unlikely to get knocked, and use a few shelves stacked above each other to create a display.
You could use labels or a chalkboard wall behind to section the shelves into areas: one for champagne glasses, one for wine and another for water and everyday tumblers.
4. Use a chest of drawers
Would you believe this neat run of kitchen units is actually made from Ikea's Hemnes chest of drawers? This ingenious idea came from @woodstoneandlinen and it's a great example of how furniture that's designed for other rooms can actually be put to good use as a kitchen idea.
Painted in a serene green and topped with a wood worktop, this modern rustic kitchen idea would have cost a good deal more had it been a handmade design from a kitchen company.
5. Incorporate a bookcase
Open shelving in a kitchen can be a godsend so why not think outside the box and use Ikea's well-loved Billy bookcases?
Here, a single-width bookcase has been attached to the side of a double-width version, so you have shelves on one side, plus an 'end'. The side of the single-width bookcase has been used to mount a cut-to-fit vinyl chalkboard sticker, a smart budget kitchen idea for writing shopping lists and fun notes, but you could also paint or paper it to match other areas of your kitchen.
6. Work in a coffee cupboard
If you're a coffee fan then this IKEA coffee bar idea is for you. A coffee cupboard designed by @ducksnestinteriors gives a designated spot for a coffee machine, mugs and coffee beans in jars. Neatly hidden away in Ikea's Havsta cupboard, it's a great way to keep everything in one place and celebrate your preferred way to start the day.
7. Shape a seating area
Those with kitchens large enough may want to consider a building bench seating complete with built-in storage, like this stylish design. @banishthebeige did just that using Kallax units that she fitted against a wall and added a hinged lid too.
Once the frame was built, the seating was clad in tongue-and-groove before colour-matching it to the rest of their kitchen and painting it. For the finishing touch, some back-rest cushions were added – all for a total cost of £220!
8. Factor in storage
Creating your own storage is easy with Ikea's units. This corner design with its drawers and bottle rack are the brainchild of Lisa from @homeandfields. 'The kitchen units from Ikea are actually designed to hang from a metal rail you hang from the wall,' she says, 'but we made a base for them to stand on (which is hidden by the plinth) and fitted them securely to each other.'
9. Hack your cabinetry
When we talk about hacking your Ikea cabinetry, it doesn't always have to involve adding new doors or painting them. Justinas from @panama_workshop has fitted Metod cabinets to the wall with the same base units underneath them but cut out some slots in the bottom of every cabinet to make it easy to open them by foot.
One of the cabinets was reworked to fit a non-Ikea trash unit, while the biggest challenge was to install a tiny dishwasher. 'To make the kitchen visually clean, all the fronts need to be of the same size and this dishwasher required a larger one,' says Justinas. 'So I needed to hack and redo the mounting points of the dishwasher door.'
It might be compact but we think this kitchen looks pretty smart and packs a lot in.
10. Build a bar
Those with a little nook or spare wall in their kitchen may be able to sneak in a mini bar – and we've got just the project for you. Paul from @percy_and_albert transformed Ikea's Ivar unit into this ultra-cool drinks cabinet, with a 'hide and peek' display space and luxe gold interior.
'I've been a fan of Ikea hacks for quite some time,' says Paul. 'The concept of taking something mass-produced but giving it a quirky twist is just cool. I swapped out the unit's second door for some mouldings (which I painted using Fusion Mineral Paint in Damask, available from etsy), so curios and drinks can be displayed and admired. The backing board has been lined with gold leaf to give it a luxe vibe.
'To properly function as a drinks cabinet, this piece needed elevating,' he continues. 'So some skinny gold legs were installed along with matching glass racks. Now it's the perfect height for mixing cocktails and pouring drinks.'

How do I make my Ikea kitchen look custom?
'Paint it,' says interior blogger Melanie Lissack of Melanie Lissack Interiors. 'I've seen the most budget-friendly kitchen units look completely bespoke by being painted the right colour. Go for rich, pigmented tones which feel luxurious, such as deep aubergine browns and burnt sienna reds.
Knowing how to paint IKEA furniture does involve a bit of prep. 'My top tip is to make sure the units are completely clean of any dirt or grease,' Melanie continues. 'Then use a shellac-based primer first so that your eggshell paint properly adheres to the surface.'
How can I make my Ikea kitchen look more expensive?
'Making an off-the-shelf kitchen look more expensive can be created by investing in good-quality hardware in a modern design,' says Melanie Lissack. 'Wavy, scalloped and bamboo-stick style hardware is really popular right now and there are a range of companies offering these high-end looks at mid-range price points. Corston Architectural and Plank Hardware are my go-to for kitchen cabinet hardware.'
Don't settle for an off-the-shelf kitchen, where there is a will there is a way which these Ikea kitchen hacks prove.
Get the Ideal Home Newsletter
Sign up to our newsletter for style and decor inspiration, house makeovers, project advice and more.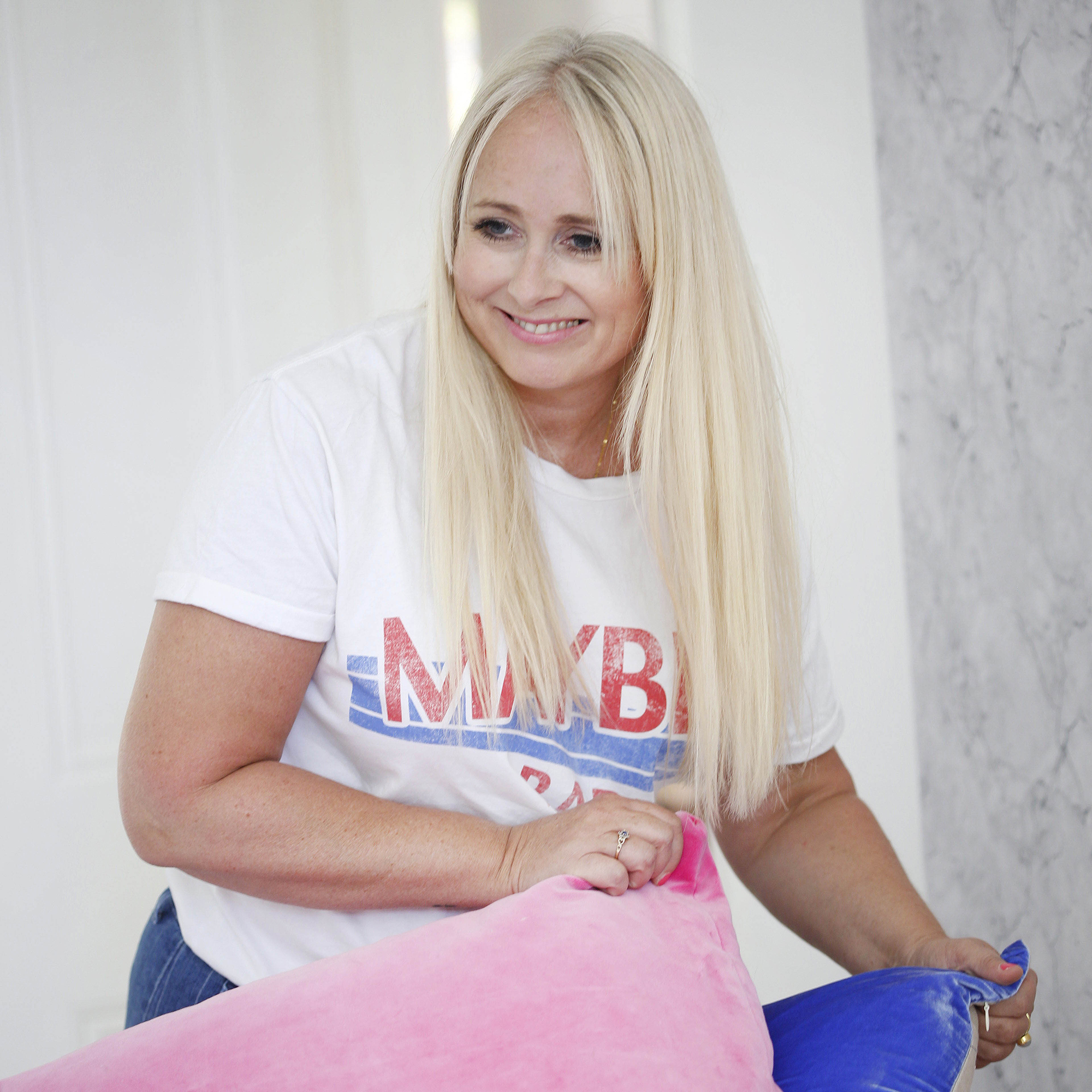 Laurie Davidson is a professional stylist, writer and content creator, who lives and breathes interiors. Having worked for some of the UK's leading interior magazines, styled homes up and down the country and produced sets for TV shows, adverts and top brands, it's safe to say Laurie has had a pretty exciting career. Find her on Instagram at @lifeofaninteriorstylist or over at lauriedavidson.co.uk