Living room wall panelling ideas to add an extra dimension to your space
The best styles, shapes and shades of living room wall panelling ideas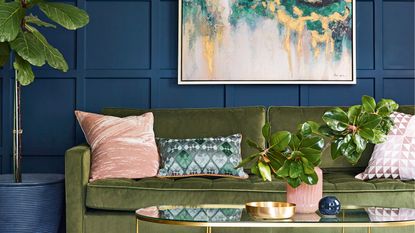 (Image credit: Future PLC)
Ideal Home Newsletter
The Home Of Great Ideas For More Than 100 Years
Thank you for signing up to . You will receive a verification email shortly.
There was a problem. Please refresh the page and try again.
Since your walls take up the majority of the surfaces in a room, finding the right way to decorate them can make or break a space. One on-trend way of adding interest is through living room wall panelling ideas, bringing texture and depth to your sitting area.
Used correctly, wall panelling ideas can offer a lot to a space. Plus, the variety of styles means they work in contemporary, rustic or uber-luxe homes.
'Wall panelling is a great way to create an interesting focal point in any room,' says Simon Myatt, Brand Ambassador, Havwoods (opens in new tab). 'Not only this, but wall panelling is a great way to break up large open-plan spaces for example a kitchen or living space, whilst creating distinctive zones.'
'An ideal way to add texture and visual contrast to an interior, wall panelling can make rooms appear more spacious,' continues Simon. 'With a floor to ceiling design especially, it can make the ceiling appear immediately taller.'
Living room wall panelling ideas
'Living room wall panelling ideas add visual interest to the space,' says Olivia Crosher, Interior Designer, Naturewall (opens in new tab). 'Depth is created by adding another material, texture, or 3D element, which adds another layer to the room.'
1. Cover every wall - or just one
Wall panels can be used as extensively - or subtly - in a room as you like.
'It is a great way of creating a feature that can anchor a room by applying it to just one wall,' advises Olivia from Naturewall. 'For those wanting to create the most impact in a room, living room wall panelling ideas can be applied to all walls to add colour and texture.'
2. Take it halfway up
If you don't want to commit to a full wall (or four!) of living room wall panelling ideas, then don't take it to the ceiling.
Use your panelling only on the lower section of your wall, either the bottom half or third. This will add interest to the area, giving you the benefits of panels, but your living room wall decor won't feel overwhelming by covering too much of the space.
3. Paint your panels
'If you have any architectural elements in your living room ideas, work with them for creating a feature wall,' says Justyna Korczynska, Senior Designer, Crown (opens in new tab). 'If your room lacks any architectural wall features, you can add simple living room wall panelling ideas for a high impact feature wall.'
'The highlights and shadows created by the panelling will add another level to your feature colour creating a very bold statement wall.'
4. Create a focal point with slimline panelling
Create a panel of wall panelling to create a warm focal point on your walls. As well as adding natural style, by differentiating part of the room, you can use the panels to zone a space. Additionally, it's a lovely way for how to break up a large wall in a living room.
'They also make large open-plan interiors feel more homely,' says Simon from Havwoods. 'By adding natural textures that exude warmth and creating separate, smaller zones within one large configuration.'
5. Trick the eye
Vertical living room wall panelling ideas help make your ceilings seem higher by drawing the eye upwards. If your eyes are being drawn to a particularly low ceiling, then it's time to get clever with paint.
Paint the lower section of you wall in a bright colour, keeping the upper portion and ceiling a light, neutral shade. Eyes will be directed to the bolder shade, and the divide between wall and ceiling won't be obvious, disguising a low ceiling.
6. Fake it with wallpaper
Living room wall panelling ideas can also be faked, with help from an effect wallpaper.
'Save time and money with faux, 3D effect wood panel wallpapers,' suggests Chelsea Clark, Head of Brand, I Love Wallpaper (opens in new tab). 'From traditional board and batten to wood slats and geometric patterns, there is something for everyone.'
As well as making life easier and cheaper, living room wallpaper ideas also offer more flexibility when it comes to colours and styles. Plus, you can change things up more easily if you grow tired of the look.
7. Open up with light-reflecting neutrals
Boost light levels by choosing a pale coloured, or white painted wood panelling for your walls. The effect will be fresh and bright, perfect for opening up a room.
This technique can be used in any space, but small living room ideas will really benefit from the extra light offered by the wood panels.
8. Mix it up
For a quirky, individualistic look, then rethink wall panelling altogether. Who said you have to stick to simple planks of wood, anyway?
Get creative and design panelled living room feature wall ideas filled with varying shapes, sizes and colours of cut boards. Stick to tonal shades so the effect isn't overwhelming. Play around with sizes as much as you like. Just remember, of course, that they should all extend outwards to the same degree to keep things cohesive and prevent extra dust build up.
9. Zone your space
'Zone an open plan room by applying panelling to a section of a wall,' suggests Olivia from Naturewall. 'This breaks up an area without cutting off any space.'
Behind the TV will help delineate the entertainment space, over a home office area creates a focus zone, for example.
10. Make it glam
Take things up to a luxe level by painting your living room wall panelling ideas in an opulent shades. Rich, jewel colours are especially effective as they really show off the shadows and depth of the panels.
Pair your living room paint ideas with furniture upholstered in another bold tone to ramp up the effect.
What is best for wall panelling?
In theory you could use nearly any material you like for wall panels. In fact, learning how to panel a wall using gutter pipes is even an option. That said, far and away the top choice is wood.
'Wood is a great choice for wall panelling due to its inherent natural texture and warm colouring,' agrees Simon from Havwoods. 'For monochrome colour schemes or those working with a limited colour palette, warm wooden hues will add contrast and introduce a softer and more comforting element into the space.'
Does panelling make a room look bigger?
'Yes, absolutely, particularly when applied to a full wall,' says Olivia from Naturewall. 'If the wall panels are horizontal, they can elongate a room. Equally, if they are applied vertically, they can create the illusion of an extended space.'
'Even applying wall panels to half the wall height can evoke the feeling of a bigger area, by breaking up solid and enclosing walls.'
Thea Babington-Stitt is a Content Editor on Ideal Home. Thea has been working across some of the UK's leading interiors titles for nearly 10 years.
She started working on these magazines and websites after graduating from City University London with a Masters in Magazine Journalism. Before moving to Ideal Home, Thea was News and Features Editor at Homes & Gardens, LivingEtc and Country Homes & Interiors.