Winter living room ideas – 20 easy ways to make decor feel cosy for the cold months
These beautiful winter living room ideas will turn your space into a comforting retreat for the winter months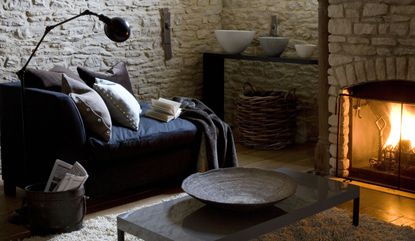 (Image credit: Future / TBC)
As the days grow shorter, there's nothing like a warm and inviting lounge to retreat into come evening. Adding in winter living room ideas to your space will help you to create a welcome retreat to escape the cold outside. You can seasonally transform your space by creating a cosy feel with the right decorating scheme.
If your living room is pale and interesting, it can still look cosy come the winter months with the right winter living room decor. A flickering open fire or stove will give even the most neutral of rooms a lovely warmth. For simple living room ideas for winter, look to grouping sumptuous sofas and chairs around the fireplace and add texture with throws and a luxe rug.
Winter living room decor ideas
Whether you're looking to refresh the space with seasonal paint colours or simply looking to rethink your furniture layout, these simple winter living room ideas will help turn your summer lounge into a cosy snug set for the colder months ahead.
1. Snuggle beside the fireplace
If your living room has a fireplace, working or not, use it to anchor your furniture and make it the focal point. It can make small living room ideas feel even cosier and brings warmth to a larger space too.
Set the scene to evoke a sense of keeping warm by a roaring fire – even if it's not working, it's more about the emotional element. Rethink your furniture layout to make the fireplace the focus.
2. Set the scene with ambient candlelight
Turn down the lights and adjust to the darker evenings with softer living room lighting ideas. If you have a working fire, great – use that to emit a cosy glow. But fear not if you don't have a real fire – all you need is candlelight to achieve winter living room ideas. Create a point of focus, whether that's on the coffee table or mantelpiece. Cluster candles together to form a base of centralised candle light.
A flickering flame will always make you feel cosy, especially when styled in a curated display. It goes without saying, always take care – never leave a naked flame unattended.
3. Choose seasonal blooms and berries
Colourful flowers and lush green foliage lift a room, but it can look jarring to have summery blooms, imported from the other side of the world, in the middle of winter.
Instead, opt for seasonal stems, such as Christmas roses, clematis or dried eucalyptus, which looks as lovely dry as it does fresh. It also gives off a gorgeous fragrance.
'Eucalyptus is superb as a dried stem as it retains its shape and holds onto its leaves,' says florist, Philippa Craddock. 'As it dries it takes on a slightly softer grey-green tone. To keep dried stems looking good, simply dust them occasionally.'
4. Introduce pops of plaid for a highland feel
Certain patterns and prints evoke cosy living room ideas and wool plaid is one of them. If you have a living room that you tend to use more in the winter, than in the summer, choose a checked fabric for some accent pieces of upholstery, such as an armchair or footstool.
Mix the colours and checks of this woollen weave and style with autumnal tones to create somewhere you want to snuggle up on chilly evenings or weekends.
'Soft furnishing have a significant impact on the overall feel of a room,' says Debbie Leigh, design manager at ILIV. 'Layer plains and patterns carefully; when using bold patterns on upholstery it is best to keep the cushions plain. Or go for a plain fabric for the upholstery and experiment with a mixture of colours and patterns on scatter cushions.'
5. Warm things up with black and gold
Creating a wintery living room vibe doesn't mean it has to feel rustic or like a country cottage. It's possible for a room to feel wintery without sacrificing glamourous modern living room ideas. Mixing black and gold will bring a sense of sophistication to your living room.
We're not suggesting you redecorate every season (that would be insane). However, hanging drapes in addition to blinds or shutters in the colder months, or switching a light rug for a heavier one as the weather changes makes a great seasonal switch.
6. Evoke warmth with chunky knits
Chunky knits aren't just for your wardrobe, they can adorn your home too. When the weather changes, many of us like to 'rug up' in a cable knit or Arran jumper before bracing the elements outside.
Yet this style can just as easily flatter and warm your living room too. Choose a couple of chunky knit cushions and throw in a neutral tone to complement neutral living room ideas. Dress your sofa with these extra items so you can snuggle up during the winter, and store them away in the summer.
7. Add a cocooning feel with wooden furniture
Instead of starck white surfaces, timber feels homely and warm. So why not bring a smart wooden bureau into the living room to use as a work station or somewhere to sit and do essential admin?
The beauty of this traditional piece is that the desk part can be folded away, along with a laptop and any papers. So you can feel cosy whilst working or doing any paperwork, then when you're done, it can easily be closed up until you need to use it again.
8. Recline on a chaise longue
If you have the space for an extra seat in your living room, bring in a chaise longue, so you can recline beside the fire and unwind from the weekly stresses with a best seller.
Choose a rich, sumptuous colour that will suit the space. In this instance navy brings depth to the neutral room with its pale stone walls and light fluffy rug.
Scatter your chaise with comfy cushions and throws, and make sure you have a reading lamp to softly light gloomy days and long dark evenings.
9. Mix natural materials for the feel-good factor
Sumptuous natural fibres and finishes feel good to touch. After all, humans have used wool, leather and plant fibres to stay warm for millenia. There's something about them that we're innately drawn to.
A wool rug on a wooden floor and a woollen blanket over a leather chair is guaranteed to bring comfort on a cold day. For added character look into buying secondhand furniture - scour antique shops, flea markets or online marketplaces for second-hand leather chairs.
10. Cocoon the room in colour
One of the most popular living room trends involves the move towards rich, saturated shades and darker comforting tones in winter living room ideas.
'This move to a cocooning, sheltered warm feeling sees colours such as blackened denim 'Kigali', charcoal toned blue 'Squid Ink' and rich and welcoming brownish red 'Masai' rising to the for. Being embraced not only on walls, but on ceilings and woodwork too,' explains Andy Greenall, Head of Design, Paint & Paper Library.
11. Adjust the lighting balance
Turn off the overhead lights, or at least dim them where possible, and seek softer lighting alternatives. Thoughtful living room lighting plays a key role in adjusting how you feel within the space.
Low levels of light help to set a more intimate and comforting vibe, essential for feeling cosy and content within the space. Living room fireplace ideas, too, will help to add warmth and soft light to the room.
Switch to lamps and wall lights for winter living room ideas to gently add pools of light to the living room without awaking the space with harsh overhead lighting.
12. Layer warmth underfoot
Even the most summery of decorating schemes, such as coastal living room ideas, can be transformed into a cosy retreat with the right winter living room decor.
While the room has light textures which can sometimes appear cold, the use of layered rugs on the white-washed floor instantly provides a warming element to the scheme. The log burner provides a central source of warmth, with an armchair positioned beside to set the scene for a cosy spot to curl up with a cuppa.
13. Insulate with window treatments
Smart window treatment ideas provide the perfect finishing touch to any living room. Not only adding a decorative finishing touch, a good window treatment helps to insulate the room, which can go a long way in winter living room ideas.
From patterned living room curtain ideas and blinds to solid wooden shutters, all window treatments can act as a barrier to the cold outside.
14. Decorate with string lights
Layered lighting is key to a comfortable and inviting interior scheme, particularly in the living room. This becomes more important as winter sets in and the dark evenings extend.
There's obviously a practical need for lighting so you can see, as well as setting an ambient tone with lamps. Yet it can be decorative too, so consider string or fairy lights for the entire season, not just for Christmas.
'Good lighting is imperative to creating an ambience; a cove of cosiness and intimacy,' says interior designer, Martin Waller, founder of Andrew Martin.
15. Introduce an abundance of easy layers
Keep a basket of throws on hand to give out on colder winter nights where extra layers can go a long way. Snuggling up under a heavily knitted blanket is an easy, not to mention highly affordable way to embrace winter living room ideas.
Choose designs that can also enhance the winter living room decor, such as pops of a strong accent colour, to perk up your existing decorating scheme.
16. Create a reading nook
Books give a home character. After all, the topics hint at the occupants' interests to all who visit. They also provide hours of entertainment, education and escapism, as well as adding colour to shelves and empty spaces.
Create a cosy reading nook in a corner of your home. Make sure your book shelves are well stocked with your favourite tomes for the winter. And cosy up with plenty of cushions, candles and lamps.
17. Scent the room with winter fragrance
Walk into any high-end store and you'll often notice that it smells good. Scenting our homes has become a thing too, but candles can get pricey. A wonderful alternative is a diffuser, like the Wellbeing Pod, £95, Neom which uses water to diffuse essential oils and scent a room. As well as smelling good, the essential oils have a positive impact on our wellbeing too, as they hit a part of our brains (the olfactory centre) that stimulates memories and emotions.
It's easy to switch different fragrances and oil blends in a diffuser too. So you can change things up according to the season, or even the time of day. 'We notice that woody and spicy notes are popular in the autumn and winter,' says Nicola Elliott, founder of Neom.
'De-stressing, or calming and relaxing, oil blends are wonderful in a living room on winter evenings, such as Bergamot & Black Pepper or Tuberose, Cedarwood & Ylang Ylang.'
18. Choose sheepskin-style accessories
Welcome in textures that ooze a sense of warmth into your winter living room ideas. Faux sheepskins add a luxuriously cosy feel to any decor. Layer them on living room flooring ideas, chairs and even footstools-cum-coffee tables to introduce a softness to the decorating scheme. Sleek, modern furniture is softened with sheepskin accessories.
19. Use rich colour and luxe materials
Rich colours are the perfect way to make your winter living room decor feel warm and cosy. Floor-to-ceiling curtains, cushions, throws and rugs in rich shades are ideal for adding warming accents.
Choosing soft furnishings that ooze a tactile quality makes you want to cuddle up and get cosy. High-sheen velvet fabrics are ideal for enhancing jewel tones to exude an extra warming quality. Go extra-luxe without the guilt factor by exploring home decor discount codes that might help keep costs low.
Choose neutral soft furnishings and reflect light with accessories, such as an overmantel mirror, glassware or metallic finish accessories to keep the look stylish.
20. Embrace plentiful storage
Stash away clutter and create plenty of space for a traditional armchair, complete with soft throws and an upholstered footstool.
Make a feature of bookshelves in your winter living room ideas. Pull up your favourite living room seating ideas, like this classic design upholstered in an eye-catching modern fabric, for a space where you can simply sit back and relax.
How do I make my living room cosy for winter?
To make winter living room ideas as cosy as can be you can follow easy steps that don't require any decorating. For instance, simply welcoming more tactile layers to your sofa will help to transcend the space from summer to winter. Layering the floor with rugs will help not only to add warmth underfoot but also add texture that can help to make the look feel cosier.
Lighting plays a key role in creating the right ambience for cosy winter living room decor. Dim overhead lights where possible and change the focus of lighting by adding accent lighting via floor and table lamps. Avoid harsh overhead lights – you want to make the environment feel restful and tranquil.
How can I decorate my room in winter?
Use colour to decorate your home for winter. We're not suggesting you repaint a room – instead swap soft furnishings to add richer autumnal accent colours. Like a seasonal wardrobe, change things up with winter living room decor to reset the feel over the darker months.
Paint walls in a shade that makes your heart feel warm and layer up the colour on soft furnishings and accessories. Or perhaps go for a Highland-inspired scheme with soft green, heather and plaid paint and fabrics for a cohesive feel.
For contemporary winter living room ideas, soften sleek modern pieces by adding texture, such as faux fur cushions or a luxe sheepskin rug.
One way of creating your own winter wonderland is with a large nature-inspired mural or artwork. Painted wall panels lend a coastal feel and look snug alongside woollen accessories or you can create the illusion of this with wallpaper.
Get the Ideal Home Newsletter
Sign up to our newsletter for style and decor inspiration, house makeovers, project advice and more.
Tamara was Ideal Home's Digital Editor before joining the Woman & Home team in 2022. She has spent the last 15 years working with the style teams at Country Homes & Interiors and Ideal Home, both now at Future PLC. It's with these award wining interiors teams that she's honed her skills and passion for shopping, styling and writing. Tamara is always ahead of the curve when it comes to interiors trends – and is great at seeking out designer dupes on the high street.