Living room trends 2023 - the latest key looks to transition your living space
From the colours to use and design tricks to adopt, these are the trends you need to know about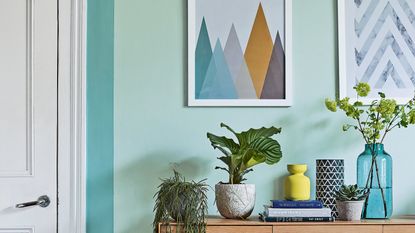 (Image credit: Future PLC/Joanna Henderson)
Utilising living room trends is one of the easiest ways to help get you started on your path to decorating your lounge space. These spaces play host to the whole family for a good chunk of the time we spend in our homes and they often need to be ready to act as an entertaining zone, a chill out spot or even homeschooling area at the drop of a hat.
So to help you gather your living room ideas together, we've spoken to the brand and design experts about what's trending in living rooms for 2023 - from colours to furniture and materials to flooring and furniture to colours.
'Throughout 2023 and an enduring climate of uncertainty in the outside world, one place we can experiment and express ourselves boldly and confidently is in our homes,' muses Lauren Harris, Senior Designer at DFS.
'As a result, we're seeing many adventurous interior trends on the horizon for the new year, drawing on global influences as a form of escapism and turning to nature as a source of continuity and comfort.'
Living room trends for 2023
'Although the living room has always been a favourite space, it had in recent years become more of a showcase to impress friends and family than a place in which we could be our true selves,' says Marianne Shillingford, Creative Director at Dulux.
'It has become a gallery of our lives filled with rich storytelling and comfortable, comforting furniture and accessories - that most importantly doesn't look like anyone else's living room.'
Here, our round up of living room trends offer all the inspiration needed to rethink your home, whether that's redefining the entire space with on-trend paint shades and investing in this season's best sofas, or simply upgrading soft furnishings with the latest looks.
1. The art of display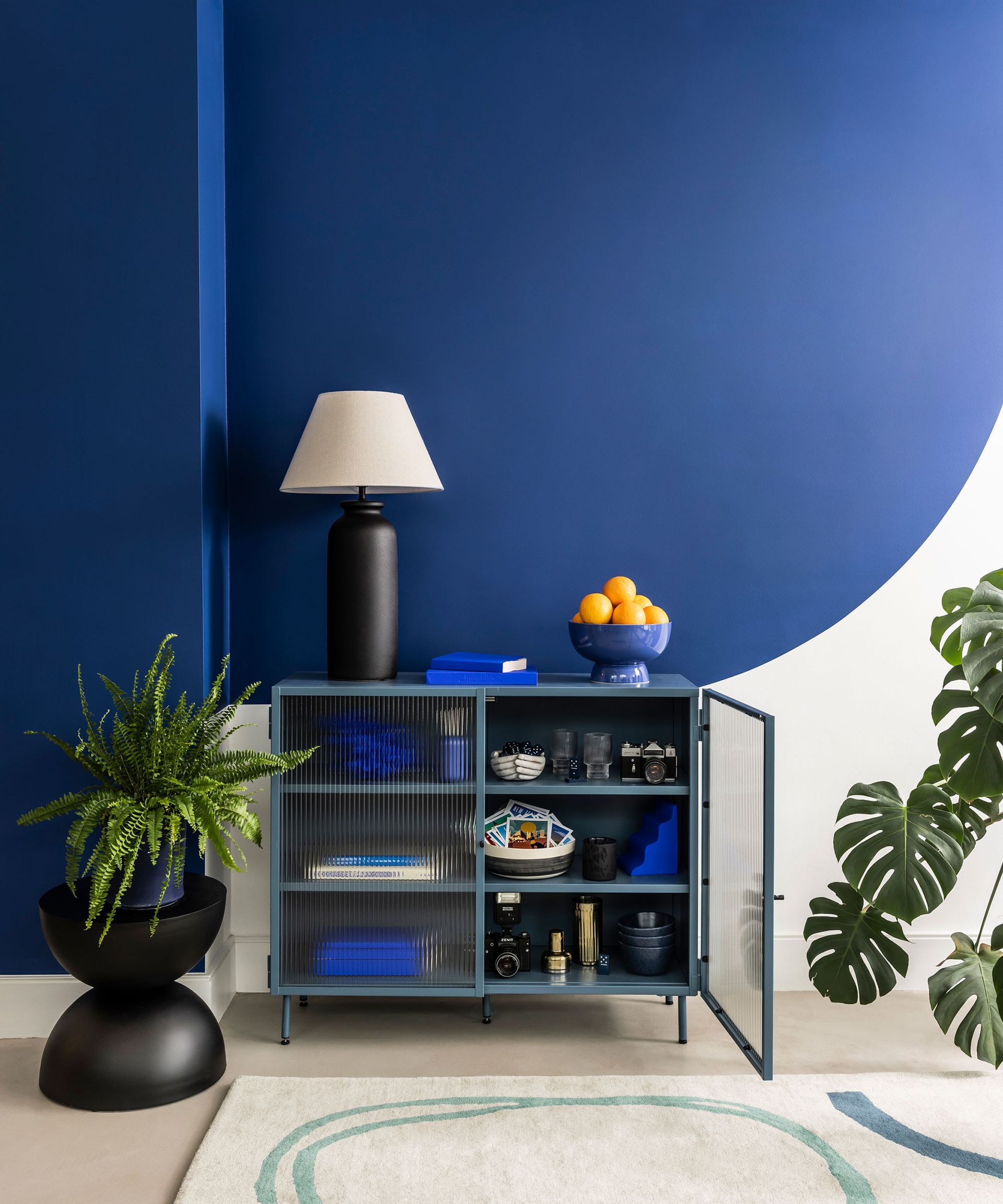 One of the living room trends set to be big for 2023, is displaying our (curated) wares, rather than tidying them away. Sideboards, display cabinets and even living room shelving ideas are ideal for showing off keepsakes and collectibles and gives a sense of personality to your living space. Plus they are easy to update throughout the year.
'It was the Victorian era that celebrated the art of display the best, from cloches and wall plates to floral displays and curiosity cabinets,' says Andrew Tanner, Head of Design at Habitat. 'Today however, it's about showcasing personalised collectibles, ones based on memories and souvenirs that evoke emotion.'
'We're creating our own 'shop windows' where we display what represents us. This is a way we can style our own vignettes around the home, refreshing them when the mood strikes, which is particularly attractive to those who rent their homes and have limited ways they can put their own stamp on them.'
2. Look to nature to feel inspired
Incorporating nature into our indoor environments became hugely popular following the pandemic and the Biophilia trend sets to become bigger for 2023 too, especially for open-plan living room ideas.
'As we have come to fully realise the many benefits of being closer to nature from better wellbeing and mental health to being more sustainable in our choices, we will see a greater use of nature inspired colours like Dulux Colour of the Year 2023 Wild Wonder which are designed to make us feel gently uplifted and at one with the great outdoors,' says Marianne from Dulux.
'Plants are the new pets and flowers the new natural high that will help us to balance the demands of a fast paced digital world and our need for peace and stability.'
But if you're looking for a more glamorous take on this trend, that can be worked into your living space too.
'An emerging trend for 2023 that we're calling Nature Luxe, which will see the natural world inspiring luxurious looks, featuring neutral green palettes, organic textures such as bouclé, imperfect metallics and organic curved forms,' adds Lauren from DFS.
'The overall feel is grounded but exclusive, emulating the boutique feel of a sophisticated hotel or members club and taking biophilic design to new heights.'
3. Add texture with bouclé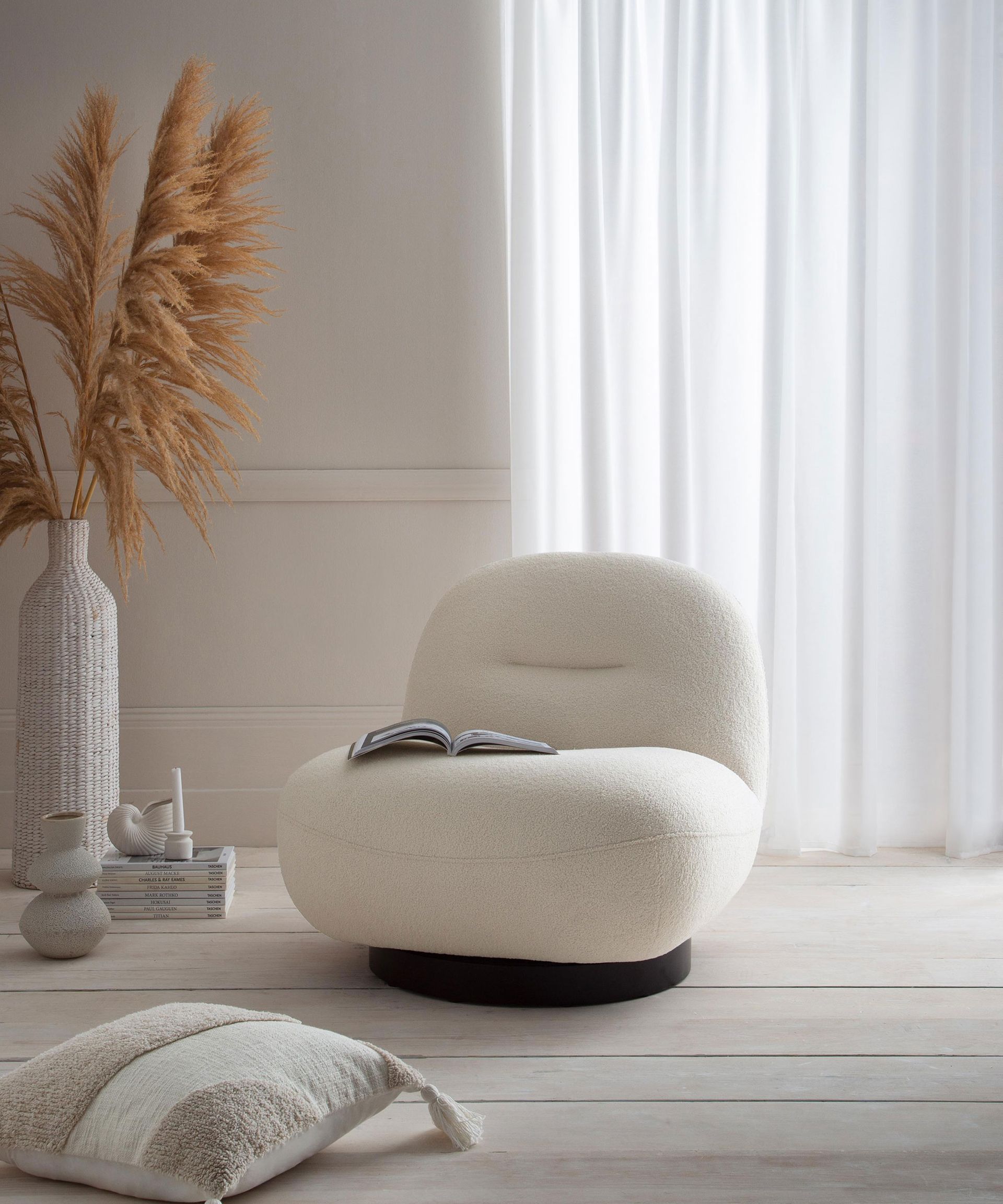 The trend for this nubby textile took off in 2020, but shows no signs of stopping in 2023. Embrace the fabric and opt for a bouclé statement piece like a sofa or this Otis swivel accent chair, £399, Next . Alternatively, dip your toe in the trend with a textured cushion instead.
A looped yarn predominantly seen in pale hues of white and cream, homeowners with young children or enthusiastic pets, might feel like neutral living room ideas is a trend they'll have to let pass them by. And that's ok, because another fabric finish that won't be budging from our living rooms is velvet...
4. Velvet still reigns supreme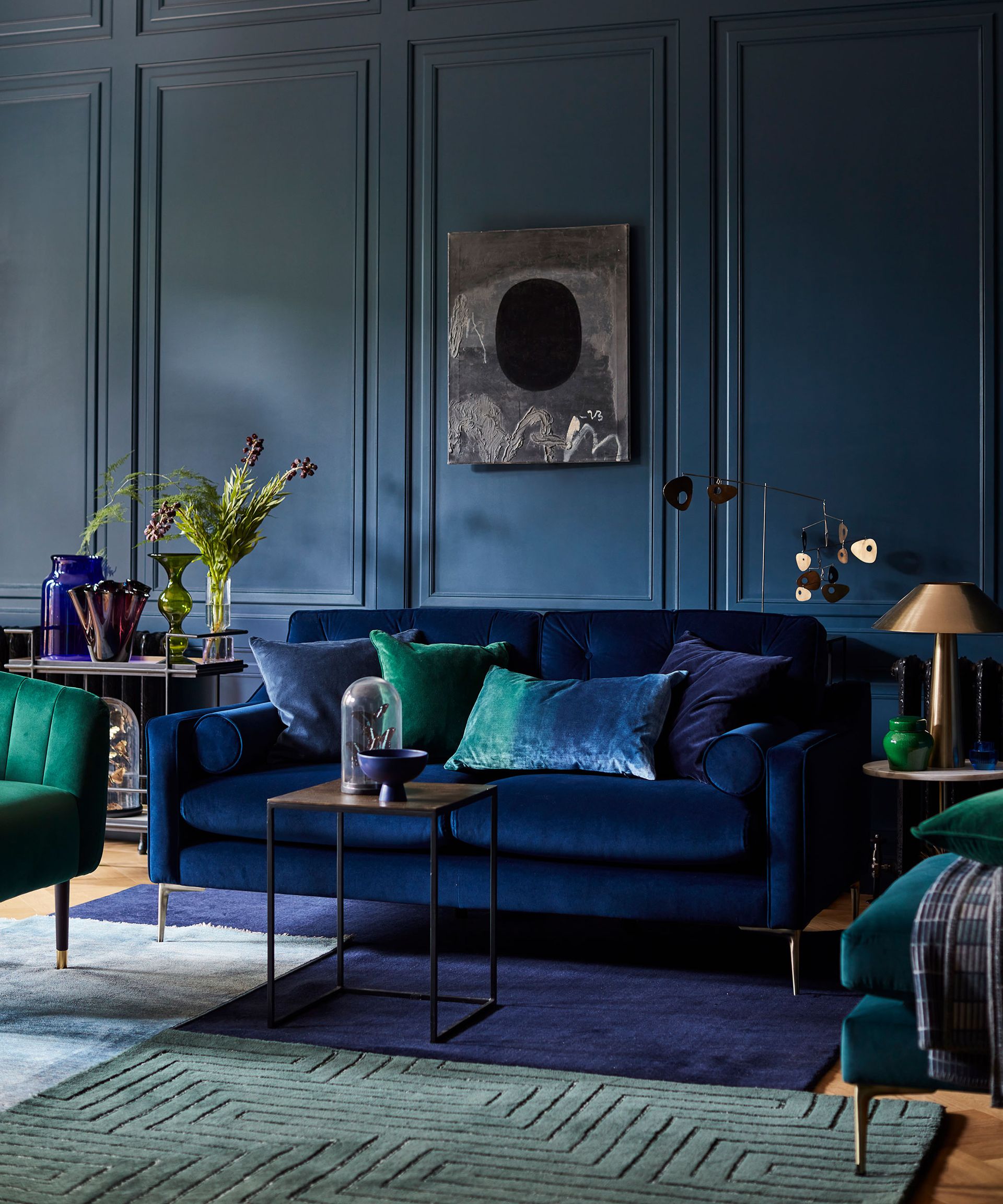 Velvet sofas have been big business for a number of years now and it's unusual to come across a modern living room without one.
'While bouclé popularity endures, it doesn't mean that velvet is out for 2023,' notes Lauren from DFS. 'Contrastingly, this much adored fabric is still set to be a staple in many homes but with a fresh velvet twist that sees the fabric bringing an unrivalled sense of opulence and glamour to our spaces.'
'Statement velvet sofas make an impactful centre piece in any room and added twists such as chesterfield buttoning, scalloped silhouettes, or tasteful fluting can give these furnishings a modern twist."
Investing in a velvet sofa is a great way to bring colour and vibrancy into your space. However, if you're not ready to take that plunge, opting for a velvet cocktail chair or glamorous lighting fixture will offer affordable updates to your living room.
5. Blue hues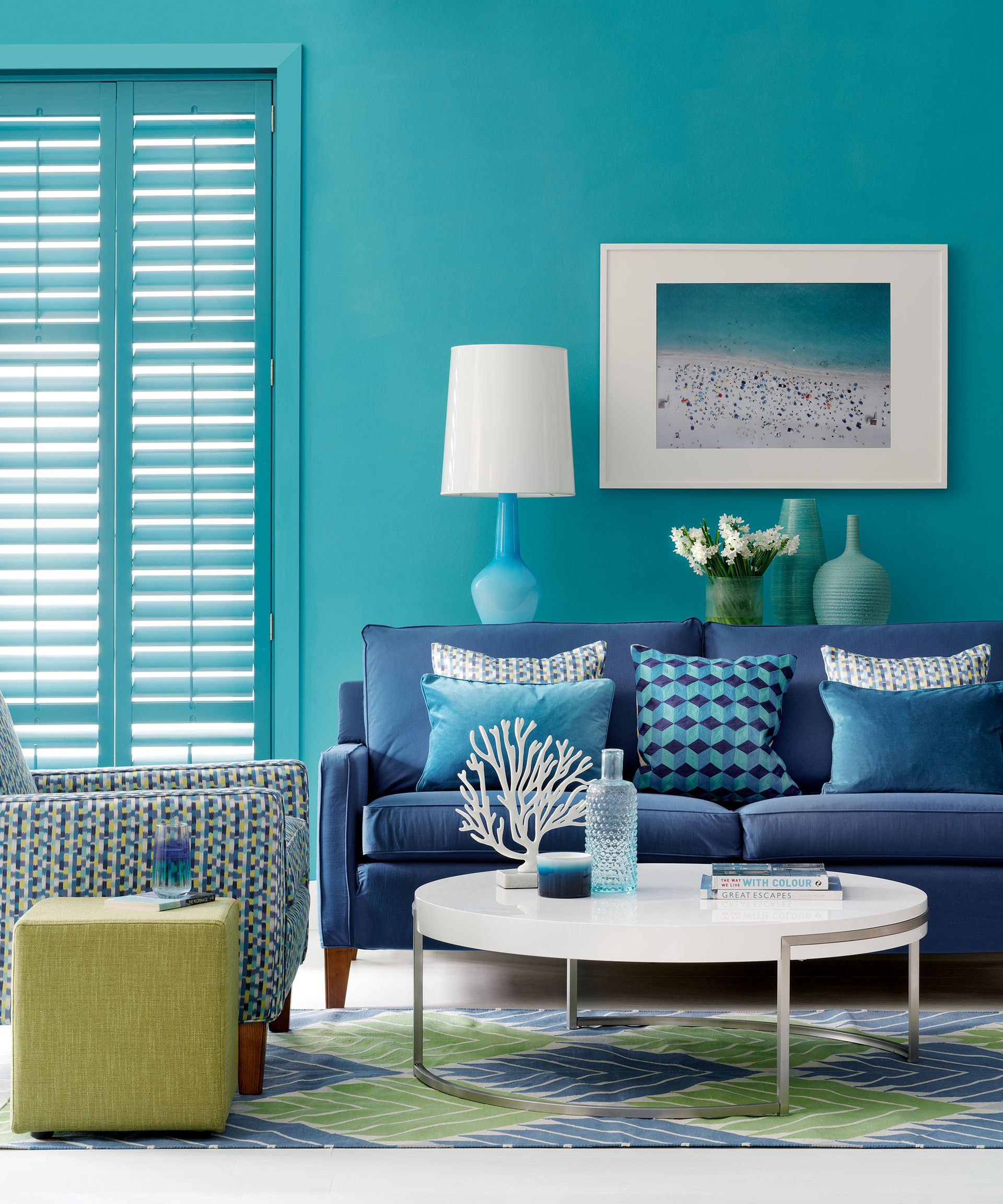 One of the colours we'll be seeing a lot of in living rooms for 2023, is blue, in all its many guises. Having previously been Dulux's Colour of the Year for 2022 (check out their 2023 shade below) it a surprisingly easy shade to live with and blue sofa living room ideas are definitely one to check out.
'Blue is one of the colours that require our eyes to do little-to-no adjusting, which will help to create a feeling of restfulness and harmony in the home,' says Helen Shaw, Director, Benjamin Moore UK. 'Not only does the shade bring a sense of calm, but it is also vibrant, injecting more life and energy into a space than a more traditional neutral tone.'
'We're predicting blue hues are going to be knocking green off its top spot for 2023,' adds Emma Bestley, Co-Founder of Yes Colours. 'Starting with sky blue for its calming effect, we're already starting to see this shade introduced in bedrooms and living rooms.'
'Meanwhile, electric blue really ramps up a space with its punchy hue. This shade works well in small pockets, like doorways or painted decorative ornaments.'
6. Goodbye accent, Hello framing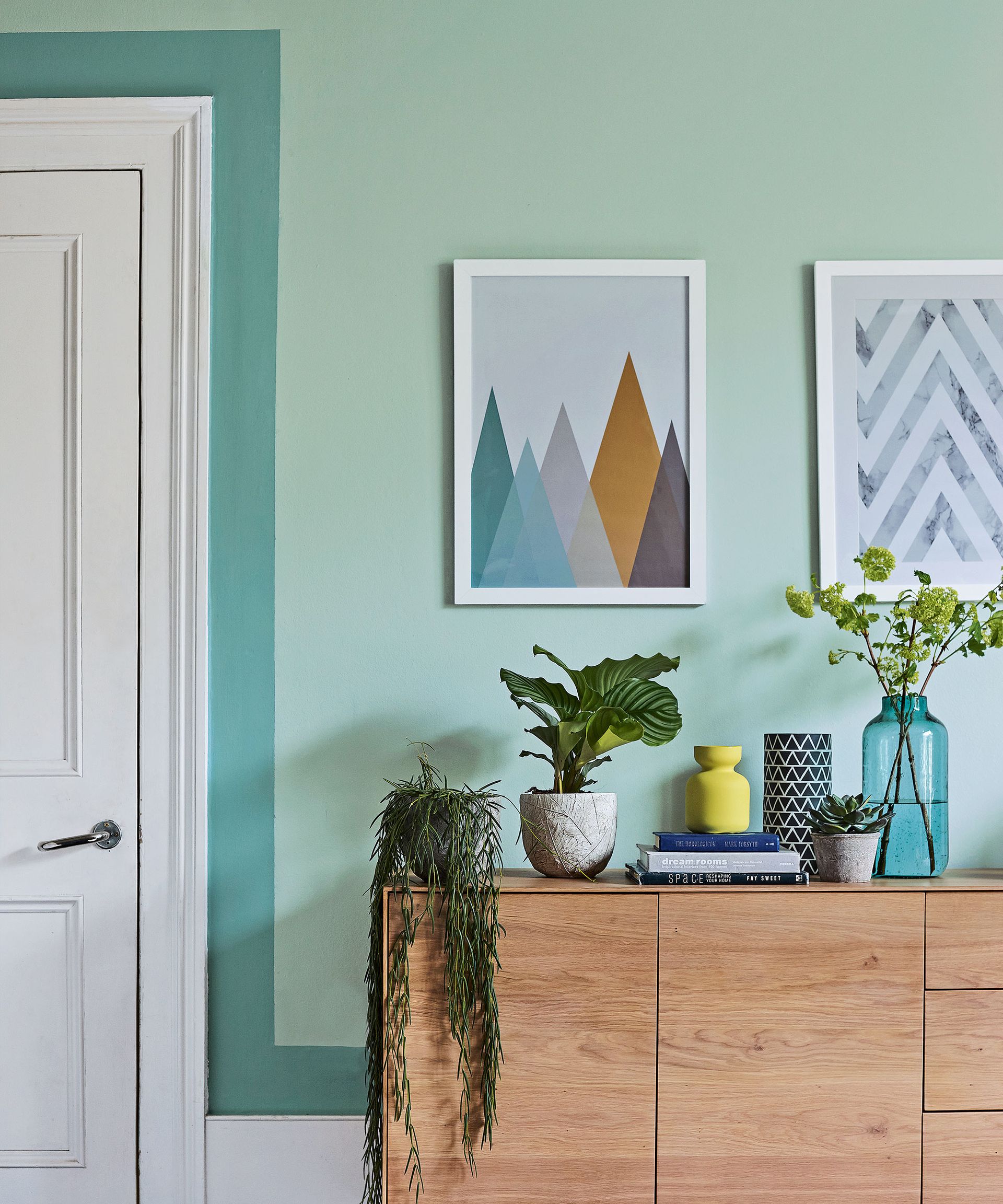 Painted feature walls are a staple in many living rooms and while we can't see them disappearing completely, as they are such a strong example of living room paint ideas the new way to do use paint for 2023 is framing.
'Rather than an accent wall that can feel quite flat or dare I say it, dated, we're framing our windows and door area for a playful burst of colour,' explains Emma from YesColours. 'This technique frames the outside world, connecting us to nature while positioning the landscape as a piece of art.'
'For 2023, we are saying decorate don't renovate, as we are all about creating an amazing living space that focuses on things that you can do in an inexpensive but beautiful way,' adds Laura Jackson, Co-founder of Glassette.
'One of them is framing your windows and doors, which can be done by painting the inside of your window a contrasting colour to your wall colour. You can also do the same for your door frames and picture rails, which really pulls out the key features in a living room and gives it more definition.'
7. Muted graphics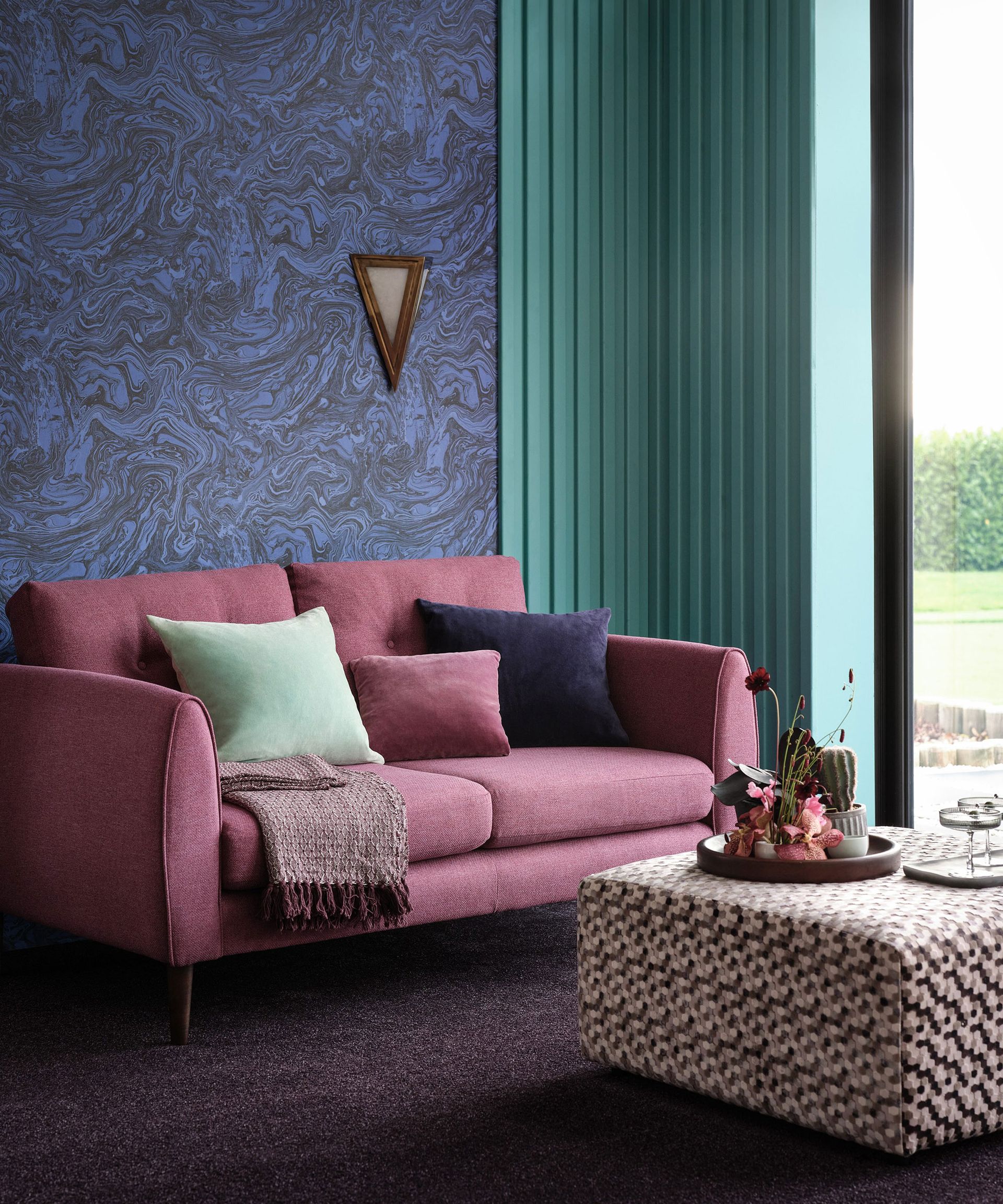 'Contemporary commercial design is increasingly incorporating graphic pattern,' says Gisela Lancaster, Buying Manager, Sofology. 'The muted graphics trend simplifies this concept, allowing the creation of a liveable scheme that incorporates graphic pattern.'
'To create a cohesive and mood boosting space, use mixed materials on a smaller scale and in a considered graphic scheme. Add simple design tricks such as panelled walls, combined with graphic wallpaper to compliment and frame a statement upholstery piece such as the Finchley 2 seater in Drift Plum All over, £949, Sofology.'
8. A dose of dopamine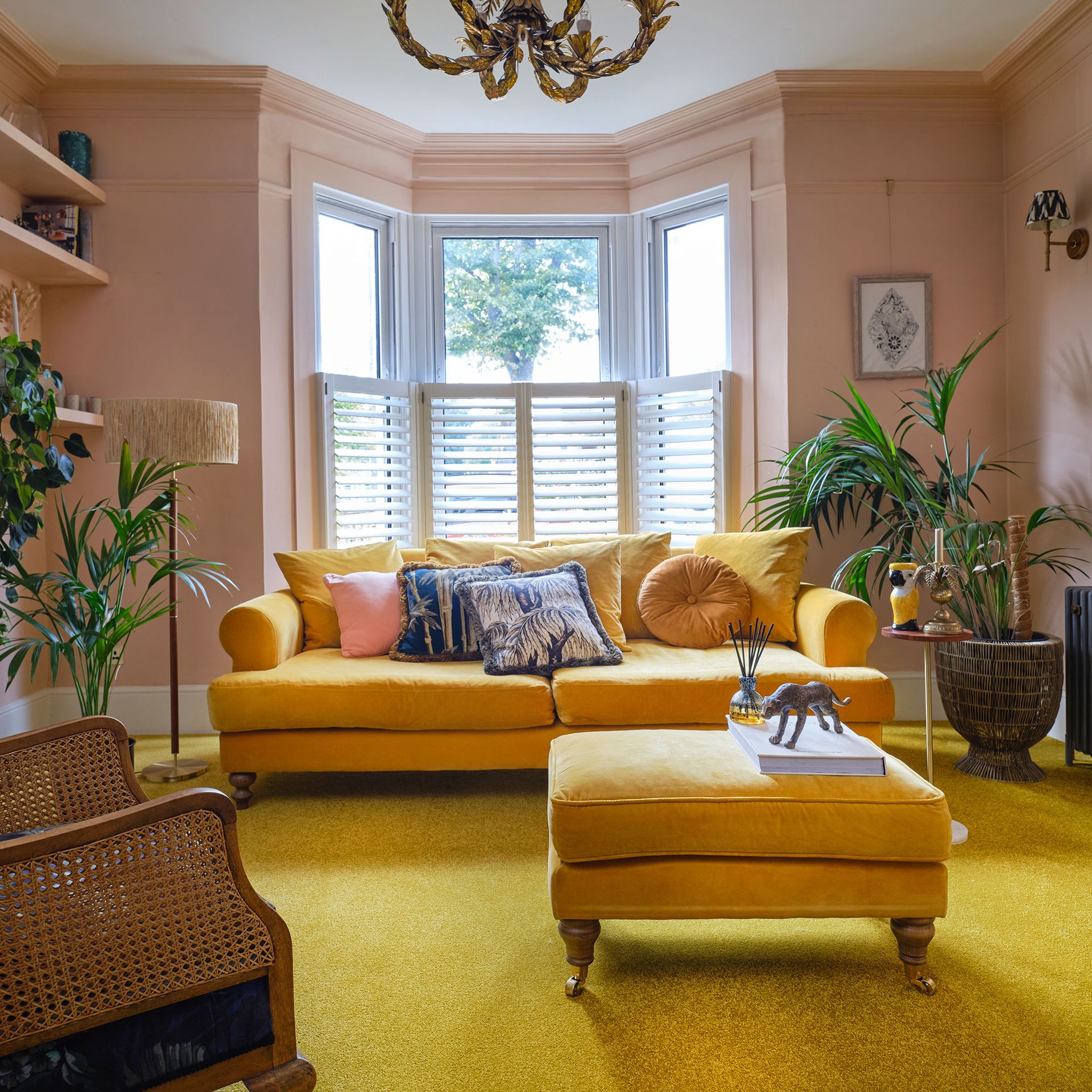 Brights are back! Full of personality and joie-de-vivre, get ready to inject colour into your home from floor to ceiling with carpet in every colour under the sun! We're especially loving this Edmonton Twist Carpet in Old Gold Plain, £31.99 m2, Carpetright, to add some spring to your step.
When it comes to living room trends it's all about bringing the joy for 2023 and colour is key to that. While 2022 might have been about colour drenching walls and ceilings in the same cocooning shade, for 2023 we take it a step further and add that vibrancy to floors too.
"Colour is incredibly emotive and we have deeply rooted associations with certain colours and tones of colour,' notes says Jo Littlefair, Co-Founder and Director of interior design firm Goddard Littlefair.
'Layered onto this is a joyfulness when you see colour and pattern mixed together in a skilful way that makes your heart sing a little. It's experiencing something refreshing and just a little bit different or unexpected that gives us all mental lift.'
9. Accessorise with decorative pieces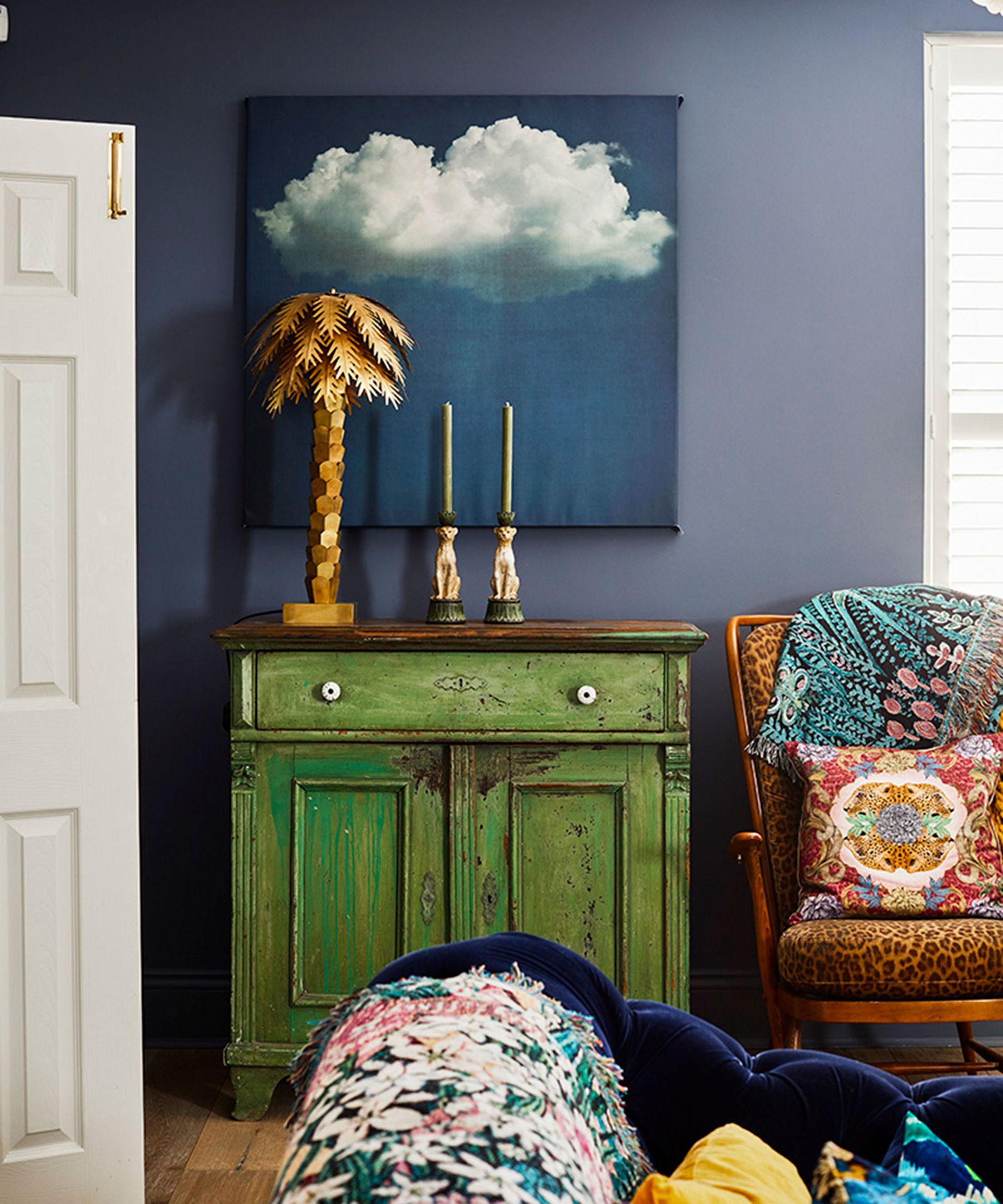 Accessories are a big part of making a living space feel personal and homely and for 2023 it's all about styling them up like a pro. Don't be afraid to make a display of just a couple of your favourite pieces, rather than fill every surface or shelf space.
'For an updated classic interior, it's all about decorative styling,' says Sarah O'Sullivan, Home Designer at John Lewis & Partners. 'Layering patterns with pops of colour and beautifully decorative accessories.'
'Living room lighting plays an important role in accenting a room, and for SS23 table and floor lamps in heritage inspired shapes are the go to. This season we've also built on our love of gingham prints, pairing them with patterns inspired by folklore storytelling.'
10. Multi-functional spaces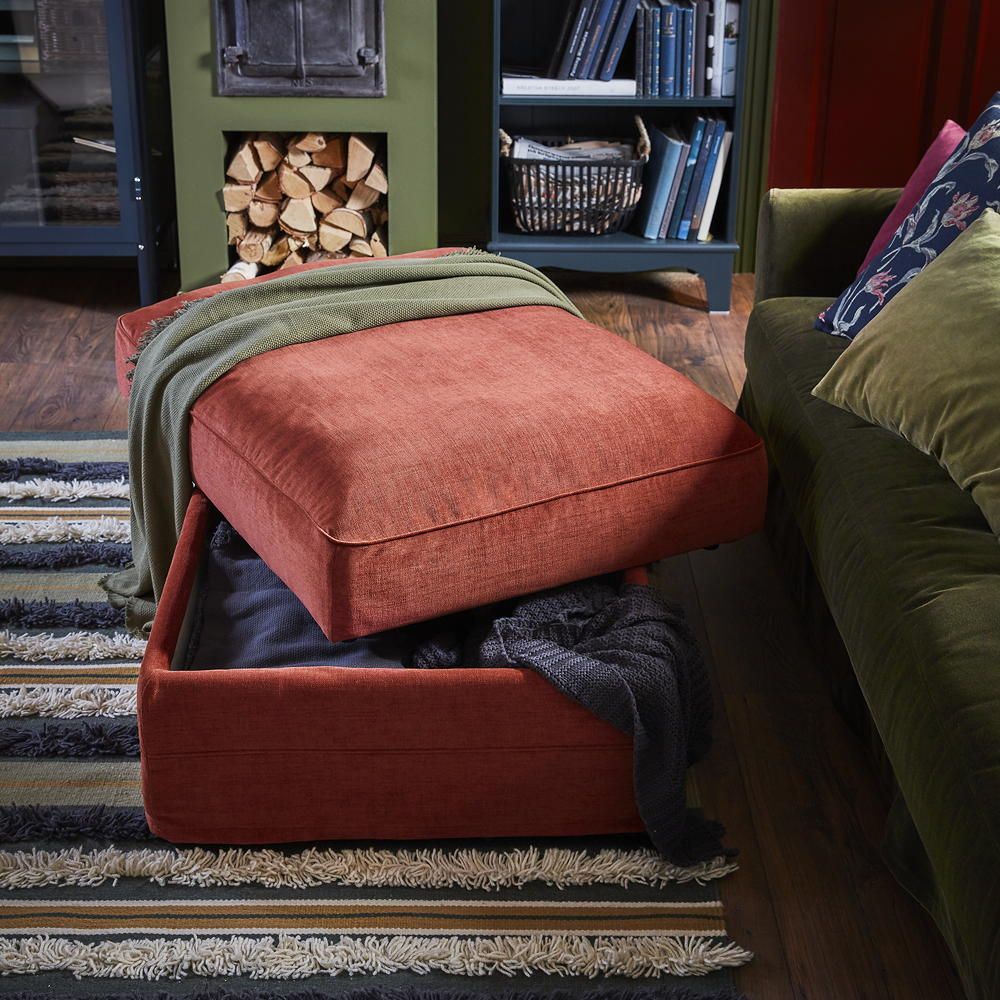 Multi-functional is the watch word for living rooms in the new normal. Now that our homes are doubling up as offices, gyms and pop-up bars, clever storage ideas are a must. An ottoman living room storage idea will provide space to store gym equipment, or office supplies. While a fold down desk will allow smaller spaces to be transformed into home offices with minimal disruption.
'People will be looking for versatile pieces of furniture and flexible storage units that work across the home, creating seamless clever combinations for a range of needs and solutions,' explains Rosheen Forbes Commercial Activity & Events Leader at IKEA UK & Ireland. 'These functional, beautiful and personal solutions also create a sense of calm, which is particularly important at the moment when we're spending more time indoors.'
What colour is in for interiors in 2023?
'For 2023 we ultimately want comfort,' says Emma from YesColours. 'The question is what colour gives us comfort? This is a very personal preference but we are seeing a lot of attention on rich saturated earthy colours, not muted or pale but very warm, deep terracotta or a damson-like deep burgundy for living spaces.'
'The comfort factor is enhanced with these jewel tones due to the fact that they surround you with a dramatic darkness - sticking to the warmer tones of oranges and reds will create that feeling of being cocooned without the winter chill of the cooler colours like blue and teal.'
Debbie Drake, Design Director at Dunelm says we should be looking to the sea to influence our colour choices for 2023. 'Celebrate the UK's beautiful shorelines with gentle shades of crisp blues this season. Reflecting water and a sense of wellbeing, this serene palette can be styled with duck egg and seafoam for a more modern appeal.'
'Mixing ivory and sand tones with motifs of native species and the rock formations and shells that can be found on the shorelines, this trend is the perfect transitional trend into the warm summer months.'
What are the interior trends for 2023?
'We are really thinking about our mental health and focusing on special pieces that make us feel good and spark joy, items that have sentimental value mixed in with joyful bright coloured pieces,' says Laura from Glassette.
'Sourcing vintage is key for 2023 living room trends. Vintage mid-century pieces can really give a room character, perfect for those who appreciate original pieces and their nostalgic appeal.'
'We're being inspired by modern retro styles for next season in the living room, adding a touch of glamour to the space,' adds Sarah from John Lewis & Partners. 'Warm luxurious materials add a sophisticated feel and adding accent furniture pieces in a mix of on-trend boucle and darker woods work well to create a harmonious scheme.'
'It's not surprising that we look to the past to bring a sense of comfort and nostalgia, and we tend to view our homes as places of sanctuary,' explains Andrew from Habitat. 'For many, home updates are done gradually, marrying old, inherited homeware and furniture with newer pieces that we source over time.'
Get the Ideal Home Newsletter
Sign up to our newsletter for style and decor inspiration, house makeovers, project advice and more.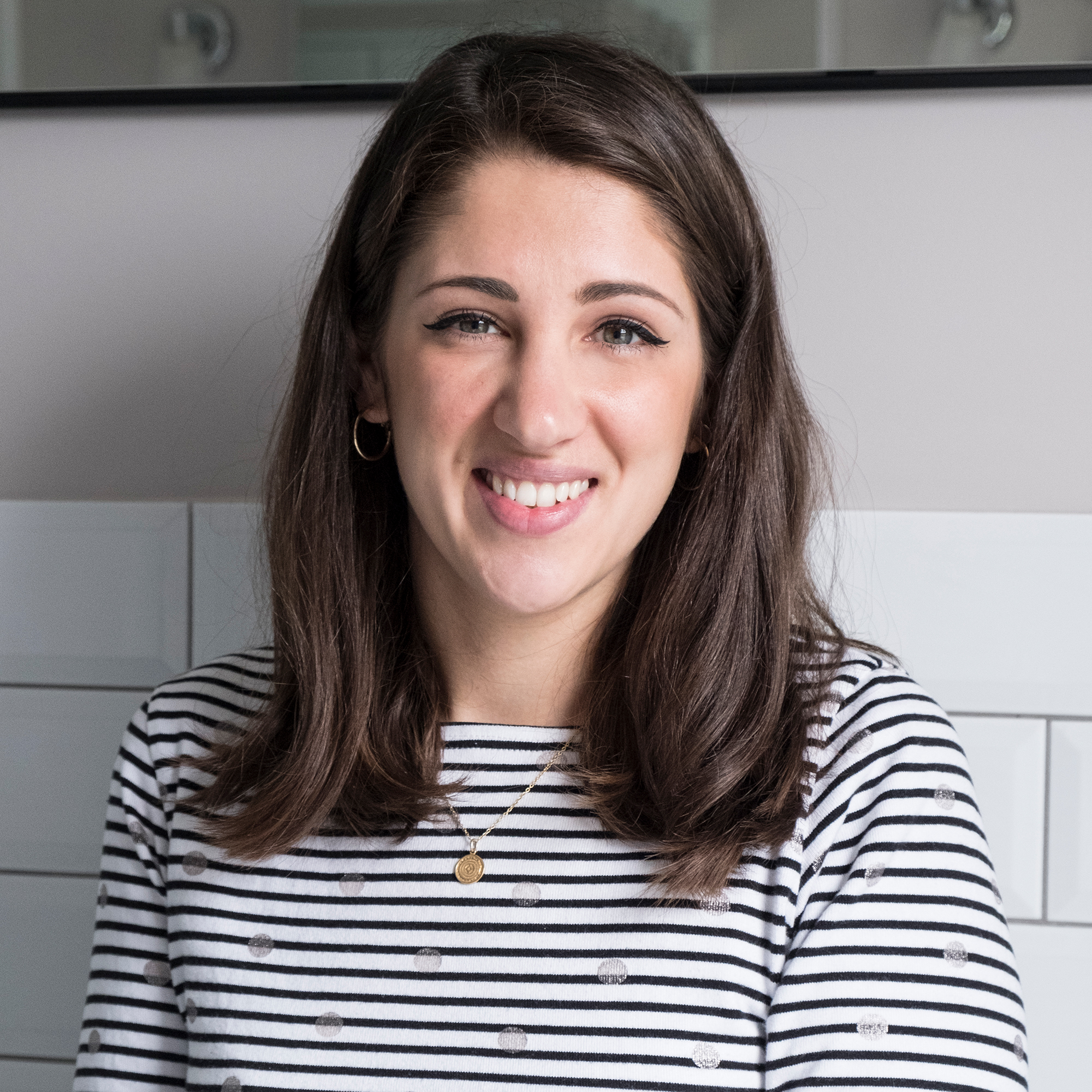 Holly Walsh has been Content Editor at Ideal Home since 2021, but joined the brand back in 2015. With a background of studies in Interior Design, her career in interior journalism was a no-brainer and her passion for decorating homes is still as strong as it ever was. While Holly has written for most of the home titles at Future, including Livingetc, Country Homes & Interiors, Homes and Gardens and Style at Home, Ideal Home has always been her ideal home, and she can be found sharing her expertise and advice across both the printed magazine and the website too.