Living room trends 2022 - key interior decor trends and top styling tips
From the latest trending paint shades to creating multifunctional living spaces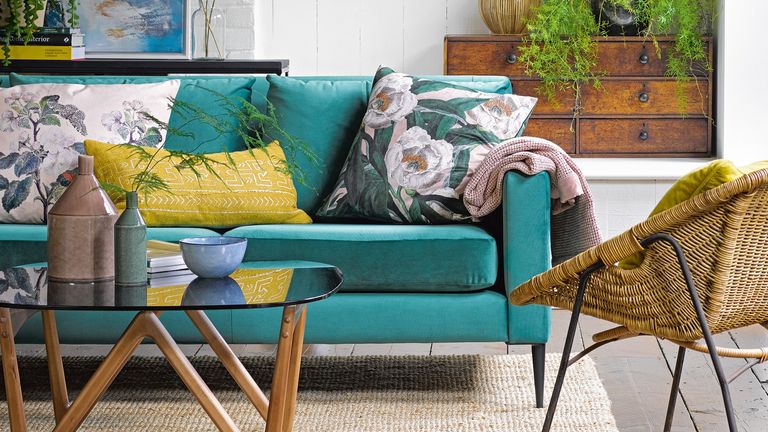 (Image credit: Future PLC/Max Attenborough)
Follow the latest living room trends to give living rooms a refresh for the year ahead. Decor trends offer all the inspiration needed to rethink your home, whether that's redefining the entire space with on-trend paint shades and investing in this season's so-now bouclé sofas, or simply upgrading soft furnishings with the latest looks.
Discover the top living room trends for 2022
The emerging new trends for living room ideas in 2022 have something for everyone. You can choose the tranquil, relaxing back-to-nature looks that see you incorporating earthy colours and succulents or get creative with the maximalist vibe, from multicoloured rugs to mix-and-match soft furnishings.
Whatever trend you choose, you can't go wrong because it's all about self expression and making the most of the space to create your own version of a happy home.
1. Zoning areas for work, rest and play
Our homes have never had to work harder than in recent years, especially living rooms – becoming home offices, home schooling hubs and an entertaining space. As a result the emerging trend of zoning is set to be an ongoing way of making sure our living rooms perfectly suit our multifaceted lifestyles.
Whether a single or open-plan area the use of thoughtful zoning allows homeowners to create divisions and individual spaces to cater for work, rest and play. Methods like non-permanent room dividers, well-placed rugs and furniture layouts can help to provide separation without entirely enclosing dedicated spaces.
2. Calming Japandi interiors
Japandi is an east-meets-west trend that combines relaxing, minimalist décor with a neutral palette and natural materials to create a restful retreat for our living spaces.
'Japandi's calming interior style encourages slow living,' Rebecca Snowden, Interior Style Advisor at Furniture And Choice. 'With a huge shift in lifestyles, many of us have been looking for ways to lead a more balanced life.'
'One of the aspects of Japandi interiors is to reconnect with nature to boost our overall wellbeing. Channel this in the dining room with an oak dining table, linen tablecloth, earthen tableware and wooden cutlery. Touches of greenery complete the look.'
3. Blurring the lines between outside and in
Welcoming the outside in is one trend that is going from strength to strength for 2022. Dressing our homes with house plant ideas proves as popular as ever as homeowners strive to create a sense of calm for indoor living spaces, by being surrounded by nature.
'We'll see the continuation of bringing the outdoors in, especially as we spend more time at home,' shares Nina Findly at Homebase. 'Expect our rooms to be full of succulents which are easy to care for, and larger leafy plants which add a sense of escapism, calm and relaxation to our living rooms.'
You might want to add some gardening shows to your TV programming, to help nurture your green thumb.
4. Blue sky thinking
The Dulux colour of the year is a fail-safe way of determining the colour trends for the year ahead. For 2022 the colour is inspired by blue skies; 'Right now, people want to feel revitalised and enjoy the freedoms that are returning to them, to look out and bring in new ideas. What better inspiration can we take than the endless skies around us?' says Marianne Shillingford, Creative Director of Dulux UK (opens in new tab).
'Whereas previously, neutral tones have been the most popular for living rooms, soft and versatile shades such as rose pink and sky blue have seen a surge in popularity for the coming season,' explains Helen Shaw, director of Benjamin Moore UK. (opens in new tab) 'Blue works perfectly in busy spaces where you look to form a sense of tranquility, such as a chaotic family living room idea.
'Blue is one of the colours that require our eyes to do little-to-no adjusting, which will help to create a feeling of restfulness and harmony in the home. Not only does the shade bring a sense of calm, but it is also vibrant, injecting more life and energy into a space than a more traditional neutral tone.'
5. Rethinking lighting choices
Rightly so living room lighting ideas are being more considered for transforming the decor, without the need for decorating at all.
'Extended time at home has opened our eyes to the impact different styles of lighting have on our spaces' explains Kate Grant, Senior Lighting Buyer at Habitat. 'We're now seeing much more adventurous shopping in this area as people explore designs beyond pendants and table lamps.'
'Sales of sconce lights have increased by over 40% since the start of September, and this surprisingly isn't limited to home owners. There's high demand for plug-in options that attach to walls and even clamp lighting for headboards, as renters look to create atmospheric looks without the hassle of rewiring.'
'In a move away from purely functional designs, customers are increasingly opting for lamps which operate as stylish objets even when switched off' says Anna Cross, Buying Manager for Habitat. 'Bold, sculptural styles are an easy way to instantly elevate living spaces through an injection of personality. Pair two lamps together to frame larger pieces of furniture such as sofas.'
6. Coordinating colour
The trend for coordinating colour is a great way to make everything in our homes feel more stylish. Take radiators for instance, an essential item but often not one we consider to be part of the decor. This emerging trend sees radiators become more inclusive in the decor, by matching the wall colour.
Rather than radiators standing out for all the wrong reasons, because they jar with living room colour schemes, this new trend makes them part of the colour scheme. The Radiator Company (opens in new tab) for instance can take your chosen paint colour and expertly create a power coated finish to colour coordinate with the paint throughout your home.
7. Factoring in on-trend vinyl flooring
You've probably considered vinyl for your kitchen or dining room, but possibly not your living room flooring idea? It's time to think again as this easy-to-maintain material is having a resurgence. Pair it with a neutral scheme to create a so-now raw look.
'Designing a white or neutral scheme doesn't mean you have to decorate rooms without flair and personality,' says David Snazel, Carpetright (opens in new tab) buyer, hard flooring.
'Start with a simple plain base, on walls and floors. Layer in a variety of textures, shapes and materials like on-trend jute and rattan - to add interest and keep the room from looking too stark. Opt for easy to clean flooring, such as vinyl and laminate, to ensure it remains immaculate for years to come.'
8. Grounding colours
Earthy neutral tones are still a prominent paint trend for living rooms in 2022. Freshen up your lounge and build a tranquil, fuss-free scheme with a clean, nude palette – creating a calming place to spend quality time.
Natural textures such as rattan and woven jute, plus earthy pigments such as terracotta and sand will all be popular as we aim to create natural, grounding environments where we can truly disconnect from our busy lives.
9. Rich coloured velvets
Opulent Grandeur will continue to prove popular, 'But it's now moving towards opulent lighting and occasional furniture, and velvet remains a key fabric choice,' explains Nina Findley, Director of Trading for Home at Homebase.
'In upholstery, greys and blush are still popular along with rich navy blues and emerald colours. 'Investing in a velvet sofa is a great way to get the look. However, if you're not ready to take that plunge, opting for a velvet cocktail chair or glamorous lighting fixture will offer affordable updates to your living room.
10. Statement rugs
'Hard flooring continues to remain popular in homes across the country,' shares David Snazel, Buyer at Carpetright (opens in new tab). That means that making a statement will continue to be left the rugs and runners.
'Layering the two materials injects an additional level of comfort under foot whilst providing a way to introduce colour into the room and delineate spaces; particularly in open plan rooms. Consider big and bold prints with large scale pattern and bright colourways to create a focal point in the room,' David advises for styling this trend in your home.
11. Invigorating greens
Green living room ideas are more popular than ever. 'Green is the true colour of nature, it is one that we associate with the tranquillity of the outdoors – making it an ideal hue for relaxing areas of the home,' says Ruth Mottershead, marketing director at Little Greene (opens in new tab).
'For a restful living space, consider using green on all walls for a cosy, wrap-around feel. Sumptuous jewel tones like Jewel Beetle and Puck bring warmth and impact to a room and are complimented with furniture painted in rich tones like Chocolate Colour.'
12. Escape to the country with a modern twist
'Modern country is a strong trend we have been seeing throughout 2021 and we expect it to continue well into next year,' comments Claire Wilks, Designer at sofa.com. (opens in new tab) 'Our customers crave the touch of outdoor, country living and we wanted to design pieces that would be a mix of country styling but with a modern flair.'
'Cue our new Patrick unbuttoned, stripping away the traditional tufting, we wanted a refined silhouette. It's the Chesterfield sofa of the 21st century, perfect for those looking for a traditional design but finished differently, with a contemporary take.
13. Express yourself with classic florals
Classic florals are staging a comeback for living room wallpaper ideas. However, it is just sticking to the walls, it it covering the ceiling too.
'Small and somewhat traditional floral patterns like the classic Jasmine connect us back to nature and make us feel protected. Especially when taken over the ceiling,' explains Joe Studholme, Farrow & Ball (opens in new tab) colour curator. 'For the more contemporary living room, Amime wallpaper with its organic weave is a perfect choice, especially when teamed with darker woodwork.'
14. Add texture with Bouclé
The trend for this nubby textile took off in 2020, and shows no signs of stopping. Embrace this fabric and opt for a bouclé statement piece like a sofa, or tip your toe in the trend with a textured cushion.
'Contrast is important when adding this soft fabric to your space,' explains Emily Dunstan, Home Accessories Buyer for Heal's. 'A plain, no-frills wood table will also help balance out the glam vibes these sofas can introduce. Dark paint colors will also make ivory bouclé material really pop.'
15. Multi-functional space
Multi-functional is the watch word for living rooms in the new normal. Now that our homes are doubling up as offices, gyms and pop-up bars, clever storage ideas are a must. An ottoman living room storage idea (opens in new tab) will provide space to store gym equipment, or office supplies. While a fold down desk will allow smaller spaces to be transformed into home offices with minimal disruption.
'People will be looking for versatile pieces of furniture and flexible storage units that work across the home, creating seamless clever combinations for a range of needs and solutions,' explains Rosheen Forbes Commercial Activity & Events Leader at IKEA (opens in new tab) UK & Ireland. 'These functional, beautiful and personal solutions also create a sense of calm, which is particularly important at the moment when we're spending more time indoors.'
16. Shine a spotlight on natural linens
'Over the last few seasons bright velvets have dominated sales of upholstery at Habitat (opens in new tab), however in the last few months we've seen an emerging trend for linen-finish sofas. These are rapidly increasing in popularity and topping our bestsellers lists,' explains Laura Burnett, Junior Buyer for Upholstery at Habitat.
'Giving a more relaxed, informal feel, linens in more neutral colours (natural, grey, stonewash) are having a moment. With customers focusing on using calming materials in the home, looking at more oversized sofas such as our Askem design that tap into the current 'cocoon' trend in upholstery with generous cushioning to emphasise relaxation and escapism from the outside world.'
17. Mix and match maximalism
'Individuality will remain at the forefront of design,' says Philippa Prinsloo, partner and head of design, Home at John Lewis & Partners (opens in new tab).
'As interior enthusiasts look for ways to breathe new life into their rooms, without a complete overhaul, carefully selected mix and match accessories will offer the opportunity to have a little fun and inject personality.' A vibrant living room colour scheme is key for this trend.
'In addition beautiful and affordable timeless pieces, that consider material and shape, will be popular as shoppers balance value and provenance with style and design.'
18. Braving bold colours
'We've all began to decorate with more confidence,' says Peter Gomez, Lead Designer at Zoffany (opens in new tab). 'We've become braver with darker hues and are not afraid of making a brighter statement, either. There seems to be a more sophisticated way of using related tones to create a layered and sophisticated interior. Whether that's through painting ceilings or decorating all four walls the same colour.'
He goes on to say, 'Try a rich, on-trend deep green like Zoffany's Huntsman Green. Which perfectly represents the connection with nature trend that's so on-point right now.'
So there you have it, all the trends to inspire your living room decorating projects for the year ahead.
Tamara was Ideal Home's Digital Editor before joining the Woman & Home team in 2022. She has spent the last 15 years working with the style teams at Country Homes & Interiors and Ideal Home, both now at Future PLC. It's with these award wining interiors teams that she's honed her skills and passion for shopping, styling and writing. Tamara is always ahead of the curve when it comes to interiors trends – and is great at seeking out designer dupes on the high street.