Coastal living room ideas to create a subtle beach-themed look
Create a calming coastal inspired space that will transport you to carefree beach days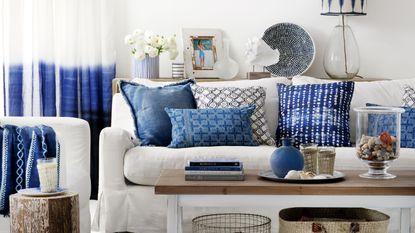 (Image credit: Future PLC / Dominic Blackmore)
The living room is where we kick off our shoes, rest and relax, so it makes sense to emulate the carefree vibe of beach days. The ethos behind coastal living room ideas is all about pared back simplicity, natural textures and calming colours. That said, if you like a themed approach, you can certainly add a touch of kitsch.
For this type of living room ideas start with colours, patterns and textures you associate with being by the seaside. You might like to stick to off-white or neutral walls and layer in cool shades of blue in soft furnishings.
Slouchy furniture, relaxed window treatments and a wooden chest coffee table with a weathered, faded look will all channel a coastal feel without being too on the nose.
Coastal living room ideas
'Keeping the coastal elements pared back will conjure up an authentic coastal retreat – the kind favoured by an artistic collector – over the beach-themed home,' says Dani Taylor, buying Director, Cox & Cox.
Think adding bleached materials, soft fine stripes, and a realistic shell ornament here and there to form coastal living room ideas.
'Choose natural material and paint finishes, muted greys punctuated with coastal blues and the occasional ticking stripe.'
1. Invite light in with gentle window treatments
Billowing living room curtain ideas in neutral tones are the essence of the coastal (dare we say it, 'coastal grandma') aesthetic. Thin, unfussy window treatments will make the natural light your room receives into a focal point, while helping to bring the outdoors in.
Interior designer Rhiannon Johns, from Piglet in Bed agrees that relaxed, flowing curtains are essential to coastal living room ideas, especially when they catch the summer breeze and create a sense of movement. 'Linen is a great choice of material because of its naturally relaxed, crumpled texture,' says Rhiannon.
2. Create a holiday feel with plants
No living room should be without plants, and some striking foliage is a great way to create an easy-breezy style that reminds us of beach holidays. 'Adding tall potted plants, whether real or fake, is a great way to reiterate an outdoor feel, replicating the palm trees that line the promenades of Cannes and Nice,' says Elaine Penhaul, interiors expert, Lemon & Lime Interiors.
Use houseplants that are heavy in green foliage, says Elaine and look for those that have leaves with bold architectural shapes. This will accentuate the natural aesthetic and create interesting shadows and shapes when they hit the light.
3. Opt for wooden flooring
Flooring options that have a coastal feel will make a big impact on the space. Go for wood flooring and if you want to zone or soften the space you can add sisal or jute rugs. 'Wood is really the only way to go with living room flooring ideas if you want to nail down that coastal theme,' says flooring expert Michael Barnes from Flooring Supplies.
For coastal living room ideas light oak is the obvious colour choice, with its easy-going driftwood vibes. 'Natural materials are of course key to coastal but don't feel priced out of the aesthetic if you can't stretch to real oak flooring. These days oak effect vinyl flooring tiles are so natural-looking you'll forget it's not real wood,' says Michael.
4. Try a palette of azure and terracotta
If muted and neutral isn't for you, a bold colour combo of terracotta and azure might be more suited to your living room colour schemes. Andrew Tanner, design manager at Habitat says these two hues offer a timeless appeal when combined.
'Reflecting the relationship between land and sky, this calming colour pairing captures a mood of escapism inspired by the Mediterranean coastline,' says Andrew.
5. Make your coastal look contemporary
Create an understated, modern coastal look by layering key design features. Nothing says coastal quite like white-washed clapboard walls. When figuring out how to design a living room with a coastal twist, lean towards striped, loose linen-covered soft furnishings and coastal-inspired wooden furniture create a coastal feel. Seascape artwork and driftwood accessories build on the seaside vibe without making it 'too' themed.
6. Build up layers of natural textures
For a softer take on coastal living room ideas, take inspiration from the natural elements of chalky cliffs and shingle beaches and create a textural space that would get Abigail Ahern's seal of approval.
The key to emulating this more off-the-beaten-track beach look is embracing all its imperfections. From hewn wood to jagged edges of broken seashells, the not-so-perfect finishes are the unsung heroes. The feel is textural and relaxed, with slubby linen upholstery and bleached wood tones. Striped designs in natural fabrics will make for the best sofas in a coastal living room.
7. Create a laid-back scheme of sun-bleached hues
Set sail for a rural seaside escape! Be inspired by nature and coastal walks for a relaxed look grounded by neutral living room ideas. To keep it light and bright, pick delicate floral wallpapers of fabrics with a subtle inky blue silhouette. Team with ticking stripe fabrics and pops of rusty orange. 'Hot oranges are a great twist on the traditional red, white and blue coastal colour scheme,' says our Style Editor Nicky Phillips.
Reference the seaside with a display of beach-themed accessories, along with seaweed and shell fabric and art prints. Choose distressed-style furniture in pale shades of wood, then pile high with patterned cushions. An easy-clean floor, such as a wooden laminate in a light grain, is perfect for beachside living.
8. Settle down in an urban lakeside retreat
Bring a bold boathouse look to small living room ideas by mixing wide stripes and whitewashed walls with reclaimed wood and metal. Stripes in white and navy have a strong nautical identity – don't be afraid to mix up scales and fabric design. Panelling on walls creates a lodge-like backdrop with plenty of character. You can get the look for less using faux-effect wallpaper. Choose accessories with an industrial edge, like an exposed bulb lamp or metal shelf.
9. Contrast with modern furniture
Subtle and sophisticated is the key to modern living room ideas with a coastal edge. In this living space, the minimal presence of the coastal theme is what makes it work so well. An injection of inky blue accessories alongside natural seagrass textures is just enough of a sprinkling of maritime style.
Don't think coastal living room ideas mean you have to be traditional with furniture and colour choices, either. As the trends evolve we see more and more how new furniture shapes can help to breath new life into existing themes.
10. Be bold with marine blues
Wash the room with a mix of blue hues to create a coastal scheme with a modern twist. Paint the walls blue to really bring the space to life. A deep blue sofa may be bold, but it can be timeless as part of a coastal living room. The sofa sits happily with the other blue shades, creating a harmonious, layered look that's beautifully offset with pale tones and warm neutrals – this oatmeal flooring being a case in point. Together, these soothing tones are just the thing to turn your living room into a relaxing hideaway.
11. Introduce holiday-inspired patterns
Merely introducing a mix of blue tones invites the coastal living room ideas without being too overstated. Coastal living doesn't have to mean all things seashells and deckchair stripes. As shown in this elegant living room above, classic nautical stripes have been replaced by tie-dye, batik, and block-print patterns in rich indigo blues. Teamed with a chic denim fabric sofa, this alternative look oozes carefree coastal dwelling.
12. Embrace wooden wall panelling
So what if you're totally land-locked and thousands of miles from the New England coast? Tongue-and-groove living room wall panelling ideas will instantly transport your space to Maine or Massachusetts, decoratively speaking, at least.
Here, a bold dresser adds a pop of country colour, alongside evocative artwork and a range of knits that pay tribute to the rolling waves, sailor's knots, and other aspects of ocean life through their stitch design.
13. Bring the beach hut look home
Style a year-round coastal getaway that reflects classic English seaside resorts – then you'll always feel like you're on holiday. Use airy shades and modern takes on traditional prints. When designing a living room that's tight on space, decorate with pale hues and simple, pared-back furniture.
A coffee table with woven storage baskets saves space and works with the marine mood. Use sky blues and dove greys with hints of red and white for traditional coastal style. Add accessories featuring cute seaside motifs such as anchors, boats and sea birds.
14. Make texture the star of the show
Bring the beach home by mixing weathered coastal colours, unfussy reclaimed wood furniture and characterful seaside motifs for a look that will relax you as soon as you walk through the door. Celebrate natural materials by choosing furniture with prominent wood grains and pairing with a woven jute rug, such as this good-value LOHALS rug, at IKEA. Arrange accessories in loose groups, rather than tight grids or clusters to create a more informal, laid-back look.
15. Take things in a bohemian direction
If you want your living space to be somewhere you can truly kick back and relax, this look, inspired by Ibiza's laid-back Bohemian attitude, sets the tone perfectly.
White walls, flooring, and upholstery will give you a bleached-out, Mediterranean villa look. Layer on lots of colour with blues of different depths, using a combination of plain, tie-dye, batik, and ikat fabrics. Beachcombed finds such as shells, hurricane lanterns filled with pebbles and driftwood-style pieces will fill the room with a natural look – these can be displayed in repurposed crates, to make things feel more rustic.
16. Be inspired by Hamptons chic
This look is pure, American-style smart nautical chic and will give your room simple effortless elegance. The poised layout and carefully chosen decorative pieces give it a homely New England look. Fitted covers would look too casual, so go for fitted upholstery with smart piping or a strip in a trim navy blue.
Use dark wood furniture to give the scheme definition and a traditional look. An oversized lamp, bold artwork or even a salvaged ship's wheel can all add wow. In spite of the fancy origins, you needn't have the budget to match. Home decor discount codes should help keep the prices where you'd like them to be.
17. Go for a brilliant all-white scheme
Bring some coastal personality to a neutral living room and enjoy a holiday mood all year round. Marianne Shillingford, Creative Director at Dulux says coastal decorating is a style we all instantly recognise with colour combinations that suddenly make us hear seagulls and breaking waves on a sun-kissed shoreline. 'Sea and sky blues with flashes of clear water teal teamed with pure brilliant white is as good as a holiday for the eyes,' she adds.
'These colours are so popular for coastal living room ideas because they capture the sense of boundless space where the land meets the sky and they are the colours we can rely on to refresh a weary soul when life gets tough,' Marianne says. If you're worried about plain white walls looking a little stark, choose a barely-there shade of misty grey to add the subtlest hint of colour.
Introduce patterns and texture into your white living room ideas with stripes and checks and cheery seaside-print fabrics. Fill the empty space above your sofa with a gallery of coastal artwork, from scenic prints and ocean vistas to holiday postcards and nautical typography.
18. Trick the eye with wallpaper
Keep to a fail-safe coastal colour scheme of breezy blue and white, teamed with weathered wood furniture and rustic woven matting. Mimic the look of sun-bleached wood panelling with a clever faux-effect plank-look living room wallpaper ideas. Incorporate a bookcase or shelving unit into your room so you can create a display of coastal finds, from storm lanterns and sea birds to pebbles, shells and driftwood.
19. Take the colour onto your shelving
Mid blues softened with warm neutrals and natural textures create a laid-back boathouse feel. Give the room structure with a corner sofa to define the space – it's a trick that's especially effective in a multifunctional room.
Finish the scheme with hard-wearing materials such as broad-weave linen upholstery, heavy-gauge cottons, worn saddle leather and deep-dyed denims for no-nonsense comfort. Little pops of red on fabrics and accessories bring the low-key scheme to life.
20. Add a touch of Miami glamour
Beat grey-weather days with tropical-ocean colours and plush textures for a living space that looks modern and elegant. Mid-century living room ideas become extra-sleek with this mix of lagoon blues, geo patterns and chic shapes. It's a smart look, so go for tuxedo-style sofas and cube shelving. Round or urged occasional tables will soften all the sharp corners.
With deep blue-green tones on the walls, you'll need some hits of bright white for light relief, but go luxe on finishes. Ramp up the glam factor with silky velvet on upholstery and cushions, high-gloss surfaces and glossy blue glassware.
21. Opt for sophisticated Mediterranean-style
If you want your decorating schemes to feel relaxed and confident, you can't beat a simple combination of blue and white with a bold mix of Mediterranean-chic pattern. An oatmeal-coloured sofa, washed-oak furniture and weathered wood picture frames soften the fresh look of white walls.
Arranging living room storage ideas and artwork symmetrically gives the room a more upscale look. Add another layer of rustic texture with hammered metal accent pieces in the form of lights, small tables and trays.
22. Keep it laid-back with effortless beach style
Mix fresh blues with warm neutrals to give your living room a calm, contemporary look that oozes laid-back charm – synonymous with coastal style. Keeping the walls neutral allows the blue accents, however subtle, to really shine. Natural woven textures help to add a rustic beachcomber feel, without making the look feel too contrived.
23. Incorporate maritime patterns
Be inspired by holiday cottages and days at the beach to create a fresh and relaxed look in your sitting room. Set the tone with nautical-themed sketchbook prints and crisp deckchair stripes. Bright whites, faded denim blues and a few bold pops for scarlet create an easygoing but quintessentially British seaside feel.
24. Keep calm with cool blues
It's impossible not to love blue – it's fresh, versatile and mood-boosting. Blue living room ideas offer an easy way to create a coastal look. But don't go overboard – work in warm neutral tones on upholstery, flooring and wood trims to take the chill off soft blue tones. Finish it off with a seascape painting that will leave you in no doubt to the coastal theme.
Even if you live miles from the coast, we hope these coastal living room ideas help you capture a little bit of the magic of time spent next to the sea.
How do you decorate a coastal living room?
'Decorating coastal living room ideas can be a challenge because there are so many clichés to fall into,' says colour expert Aaron Markwell from Coat Paints. 'Nautical stripes, rustic woods, rope, boats everywhere, statues of lighthouses and art work of seascapes are all appropriate for these spaces, but can be overwhelming when all put in the same space.'
'Colour blocking is one way of softening this aesthetic and not creating the feeling of a traditional stripe. Use calming blues on the bottom half of the living room wall decor ideas, and yellower-toned whites to ensure there is some warmth in the space.'
As we've mentioned, natural materials found in a seaside setting are key for adding texture, depth, and tactility. Go for beige and sandy tones in upholstery, and bring stripes into cushions for just a reference to the traditional nautical stripe.
Rikke Blaeside, Design and Range Manager, JYSKsays choosing rattan furniture, amber glass vases, and pinstripe cushions with pops of blue in artwork or accessories will create a grown-up, beachy look. 'The space should be welcoming, relaxing and not overly polished,' says Rikke. 'Creating a space where you can kick off your flip-flops and unwind after a fun day at the beach.'
What is modern coastal decor?
Modern coastal decor draws on maritime colours, patterns and textures but keeps things contemporary with clean lines and only a few carefully selected decor pieces.
White painted walls with furniture in rich navy or natural bouclé paired with a jute rug and seaside artwork would lend themselves to a more modern take on coastal living room ideas. 'Artwork is always overlooked in nautical schemes but is really important,' says Aaron from Coat. 'So source works from local artists of the scenery that surrounds your property. This will make your coastal scheme even more fitting.'
Get the Ideal Home Newsletter
Sign up to our newsletter for style and decor inspiration, house makeovers, project advice and more.
Tamara was Ideal Home's Digital Editor before joining the Woman & Home team in 2022. She has spent the last 15 years working with the style teams at Country Homes & Interiors and Ideal Home, both now at Future PLC. It's with these award wining interiors teams that she's honed her skills and passion for shopping, styling and writing. Tamara is always ahead of the curve when it comes to interiors trends – and is great at seeking out designer dupes on the high street.