Living room fireplace ideas – 36 ways to create a focal point
Create a statement all year round with these living room fireplace ideas – from traditional fires to decorative displays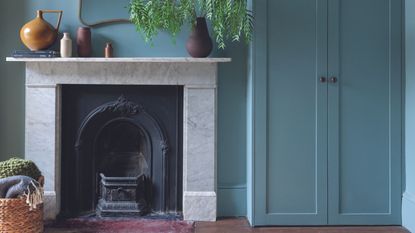 (Image credit: Hello Flora)
There's a reason why living room fireplace ideas are often referred to as the heart of the home – after all, nothing welcomes in the cosy hygge vibes quite like a crackling fire.
Up until the mid-20th century, the fireplace was not only a staple in the living room but a fireplace was found in most rooms of the house. Unfortunately, the advent of central heating saw the rise in radiators and the decline of the fireplace.
Modern living room ideas, however, have seen the return of the fireplace as a focal point in the room. Not only is the fireplace loved for its aesthetic credentials but more and more homeowners are opting for wood-burning stoves as a more cost-effective method of heating their homes.
Living room fireplace ideas
Creative living room fireplace ideas can totally transform your lounge, anchoring the space whatever the season and bringing warmth in winter.
Whether you create a statement with modern fireplace ideas, restore an old fireplace, put a new one in where one was missing, or just fake it til you make it, there are lots of ways to make sure your fireplace commands attention.
Even if you don't have a functioning fire, you can still embrace living room fireplace ideas for example, incorporating mantelpiece ideas or adding frame and styling the interior with stacked logs, candles, plants and artwork, to make a decorative statement.
1. Introduce a touch of luxury with a marble fireplace
Best suited to townhouses or grander properties, marble living room fireplace ideas were, and still are, favoured for their durability, depth of colour and striking luminosity.
'Stone fireplace ideas, such as marble, instantly add grandeur to a room, whatever its size,' explains interior designer Tracy Cole, founder of Hello Flora, who designed this space. 'If I'm sourcing a new fireplace I look for lots of movement in the stone to add interest and depth to a design. Marble is a luxurious material that really makes a space feel special.'
When it comes to figuring out how to buy a fire and fireplace, it is important to consider durability as well as décor. Marble is resistant to heat and fire, meaning you can light the fire all winter long without worrying about any damage.
2. Refresh with an existing fireplace with a paintbrush
Before ripping out an existing living room fireplace ideas, try picking up the paintbrush and your favourite paint colours.
'One of the best living room paint ideas, a painted fire surround is a wonderful way to create interesting design appeal. If your home doesn't have architectural interest, you can use paint to deliver the impression of details where they are lacking,' says Ruth Mottershead, creative director at Little Greene. This fireplace is painted in its Sage Green Intelligent Satinwood, primed with its Intelligent primer.
3. Make a statement with an antique fireplace
When it comes to traditional fireplace ideas, antique fireplaces are the way to go. Not only do they imbue a home with authentic character but they also retain their value.
'When buying an antique, ensure the dealer is reputable and BADA or LAPADA registered. If looking for living room fireplace ideas online, ask for extra photographs so you are fully aware of its condition,' says Laura Dadswell, director of Westland London. Above is an antique Victorian Corbel fireplace, try Westland London for similar.
4. Embrace the charm of an inglenook
While today the inglenook is a beloved original feature, historically it was a family's lifeline – it heated their home, cooked their food and dried their clothes. Built from brick or local stone, its large size was designed to make up for its inefficiency but this only had limited impact, and as a result, many homeowners today opt to pair original inglenooks with modern wood-burner ideas, using the remaining space to house fuel.
When looking to restore your living room fireplace ideas, seek professional advice. Specialist fireplace shops are a good starting point – they are hubs of expertise and will also stock essential materials; some even offer renovation services themselves,
or can recommend tradespeople.
5. Create depth with a tiled fireplace design
One of the key characteristics of a Victorian fireplace was the ornate fireplace tiles on its cheeks. This marble fireplace in a Victorian home draws on this trend, having been paired with Victorian-style decorative panels – Artworks Birds and Butterfly, from Original Style. A more minimalist fireplace hearth, tiled in its Victorian floor tiles in the York laying pattern balances the look.
6. Soften your scheme with a wooden fireplace
Wooden living room fireplace ideas offer a softer look. Modern designs tend to be sleek and minimalist, while traditional ones typically feature ornate carvings.
'A lot of the carving is of very high quality and the cost is minimal in comparison to marble equivalents,' says Chris Martin of Lassco. 'It's worth noting that many need slips around the firebox to act as a fire-proof barrier to the timber but they also give an opportunity for a decorative flourish.'
7. Source a secondhand fireplace
Why not restore an old fireplace to create a living room fireplace ideas that's unique to you and your home? Keep an eye out on Facebook Marketplace and Freecycle and you might be able to bag one for free, so it'll only cost you time and the price of some paint and DIY tools.
Speaking to Ideal Home, DIY lover and former Girls Aloud star Kimberley Walsh said she was surprised at how easy this was to do. She bought one from a secondhand flea market and completely restored it, building up the fluting and reshaping some of it, before priming, sanding and repainting it.
'At first, I thought there's no way I'm going to make this look any good, and actually, it wasn't as hard as I thought,' she shares. 'There are so many tutorials online now if you're unsure of how to do things. It's in our main living area because it's a really lovely Victorian high-ceilinged room, but the fireplace they had must have been put in when the original one was taken out and it just didn't give it the credit it deserved.'
8. Make it centre-stage and conceal the TV
A large chimney breast, white abstract artwork and dark paint make a big statement here, and the TV simply disappears. 'Whether you're a TV-over-the-fireplace or art-over-the-fireplace kind of girl, adding a centrepiece with height and visual weight is the best way to create a focal point,' say Jenna and Mariana at Interior Fox.
'Often times we have open recesses on either side of the chimney breast so take every opportunity to use this space by adding built-in shelving or bookcases. A fireplace also needs to be grounded for maximum visual impact so if you don't have a hearth, create one using tiles or stacks of books/plants.'
9. Opt for a textural look
This living room fireplace idea has a gorgeous boho look with loads of natural textures, and it's sure to look radiant and inviting once lit. You've got the painted wood panelled walls, marble, natural wooden candle stands, the stone of the Buddha, ceramic jars and a beaded light fitting. All of these tactile materials have been skillfully layered on top of what may have been a fairly plain and ordinary marble fireplace and hearth.
10. Add a touch of royalcore
Elevate your living room fireplace ideas by taking inspiration from Bridgerton-inspired v. Pale blue walls, gold-framed mirrors and artwork, DIY wall panelling ideas and a mix of old and new in terms of furniture and soft furnishings will take a fireplace to a new level.
11. Make a statement with a modern design
Create a wow moment with a modern, electric fire as part of your open-plan living room ideas. The fire cut out of the wall here means there's still a divide between the different areas but it also creates a sense of space, ideal for entertaining.
12. Fake it with a facing and accent colour
If you don't have a fireplace, you could purchase a facing, at Screwfix or B&Q and distract with a bold accent colour. As shown above, with some bright colour on the walls, fairy lights, artwork and candles, you can make the impression of a fireplace without an actual roaring fire.
This is an affordable way to create a faux fireplace, costing around £200. It's a relatively easy way to improve the flow of the room when designing a living room. And it offers lots of opportunities for styling/faffing with the mantlepiece as the seasons change.
13. Play with geometric tiles
Bring personality and a chic Parisian cafe style with some monochrome tiles like these from Walls and Floors. They've got a subtle matte finish and can be arranged in various ways, be it checkerboard or your own unique pattern.
14. Embrace symmetry
If you want your living room to be a calming place to unwind, think about symmetry when coming up with living room fireplace ideas. Arrange wood either side of the fireplace in neat columns, cluster candles and arrange plants and artwork so there's a feeling of balance that's easy on the eye.
15. Get colour blocking
Colour lovers, don't neglect your living room fireplace ideas! It's a prime opportunity to inject some fun colour, and we're loving the combination of bright green, yellow and pink here, tied together with a geometric rug. A fresh lick of paint is always a winner if you want to shake things up without spending too much money.
16. Arrange furniture to embrace the fire
Rearranging your furniture so that key pieces are angled towards the fire is a way to make your fire demand attention, without spending any money. 'Arrange your furniture so it embraces the fireplace rather than avoiding it,' says Sally Denning, Interiors Stylist, @Blackshorestyle. You don't have to totally compromise your view of the TV but a few small tweaks, and shuffling sofa legs a little will help make sure the fireplace stands out.
17. Style a mantel like a pro
'Symmetrical mantels – with say, an identical lamp at each end – can feel very formal,' comments interior designer Nicki Bamford-Bowes. 'Great in certain spaces and situations such as a dining room or a grand hallway. However, to create a more relaxed vibe in spaces such as a lounge, I prefer a more informal, asymmetrical mantel.'
Play around with arranging vases, artwork, seasonal foliage, and plenty of candles for ambient light, which is essential for achieving cosy living room ideas.
18. Make a feature of a chimney breast wall
'Try painting the fireplace in a contrasting colour to walls, wallpapering all walls or alcoves except the chimney breast,' suggests Ruth Mottershead, Creative Director, Little Greene. 'Or opting for floor-to-ceiling colour, enveloping the fire surround and chimney breast just leaving the dark fireplace or decorative tiles to become a room's feature highlight.'
19. Keep it simple
'An inset stove gives the illusion of a "window of fire",' says Declan Kingsley-Walsh, Managing Director, Morsø UK. 'So keep things minimal to let the fire remain centre stage.' This style of living room fireplace ideas works in just about any space, contemporary or traditional, as it just depends on how you dress it. It's a great option for small living room ideas, too, because it doesn't overly distract the eye and take over the space.
When designing your stove, also consider incorporating log storage ideas, as seen here.
20. Make it contemporary cool
In a contemporary layout embrace the freedom to upsize. Make a big impact, quite literally, with an oversized fireplace design within your modern living room ideas.
'Glass panels on stoves are now bigger and wider, so you can really enjoy the beauty of a log fire, compared to more trad designs,' says Declan from Morso.
'Stoves can be placed almost anywhere as long as the requirements of the stove are met and there's a flue, which means focal points are moving away from the traditional fireplace.'
21. Frame with wallpaper
Draw attention to the fire within the living room fireplace ideas by framing the surround with a decorative paper. 'Adding living room wallpaper ideas to the chimney breast in an otherwise muted scheme highlights it and create an element of surprise,' suggests Ruth from Little Greene.
22. Makeover an original fireplace
With the right materials you can upcycle anything and design a living room to perfection. 'Most fireplaces are made from varnished wood, cast iron, tiles or stone, so if you are looking to paint it – and a contrasting colour always helps highlight this architectural feature – then use a coat of an all-surface primer,' advises Ruth from Little Greene.
'If you have a highly sculptural or cast-iron fireplace, then paint the walls and the fireplace itself the same colour – this reduces the powerful nature of the ironwork or shape but allows the detail to show through by the highlights and shadows that are displayed as light falls on it.'
23. Style it seasonally
'Style your living room fireplace ideas with the season,' says Interiors Stylist Sally. 'For spring and summer, pop candles into the grate or add seasonal foliage. As you head into autumn, stack with logs – they are great for adding texture and can be moved to a log basket to one side come winter.'
24. Don't overpower the wood-burner
'For a contemporary stove, try to keep the area around minimal with a neutral palette,' says Declan from Morso. 'This allows the stove's warm, dancing flames to be the focal point. For more traditional stoves, expose the original brick or go for decorative tiles to create a warm, homely look for rustic living room ideas.'
25. Choose a contrasting frame
Not sure what to do with that tired old wooden surround on your living room fireplace ideas? If you are feeling brave, painting it a bright colour will make it sing. Try to pick out your chosen colour in accents such as cushions and rugs, and smaller pieces of upcycled furniture for a more cohesive look.
Think carefully about your colour choice. If you have a cool neutral like grey on the walls, pick a strong sunshine yellow, teal blue or fuchsia pink. If you are working with a warmer neutral, try an on-trend brick or terracotta red, a sage or olive green or even plum.
26. Go grey all over
One way to make a fireplace feel less old fashioned or obtrusive is to paint it in an on-trend, colour, and to also us that colour on the wall behind. This cocooning grey living room idea is on trend, and makes this mantel feel smart. It's also light enough that you don't lose the fine details of any carved details.
27. Make sure it's to scale
This is important if you are choosing a replacement mantelpiece, or installing a new fireplace where one didn't previously exist. 'If you have lots of space and high ceilings, you may wish to opt for a tall fireplace with an overhanging mantel, an ornate overmantel and a wide hearth extension,' advises Owen from Renaissance London.
'If your space is smaller, such as in a bathroom or guest bedroom, you may wish to opt for something more flush to the wall. Focus the detail on ornate jambs or tiles around the grate.'
28. Turn a chimney breast into a home office
Here's a very smart solution for a defunct fireplace – turn it into a desk or dressing table. Deeper wardrobes sit in the alcoves created by the flue, while attaching a shelf to the chimney breast makes an instant workspace or beauty bar. And the hearth becomes a place to tuck in a stool – it's the home office you've always wanted, but takes up barely any space.
29. Use reclaimed wood
A big open hearth and flue might look authentic, but they are also rather impractical. In country living room ideas, consider sealing off the flue so there are no draughts, and instead using an efficient wood burner as they do a far better job of emitting heat directly into the room that an open fire wood.
A simple reclaimed beam is a rustic alternative to a traditional mantelpiece, while still nodding to the age of the house.
30. Fake it in a new build
Though it's not true of all new builds, some can feel a little bereft of features. So if you are looking for a focal point to replace the TV, a fireplace surround like this one could be the retro-fit solution you've been looking for. It will fit against a flat wall for an instant feature, and you can add your choice of electric stove or hearth to complete the look.
32. Match your fireplace to your walls
Fireplaces can sometimes stand out for all the wrong reasons. So if you want yours to blend in, paint it to match the walls around it. This is particularly effective if you go for a deep colour rather than a pale neutral. Pick out the tone in soft furnishings but make sure there's enough 'light' to contrast with the shad to avoid overkill.
33. Work in a wood-burner
Fireplace alcove not in use? Install a log burning stove. It will create wonderfully cosy centrepiece and will heat the whole area. Be sure to enlist the help of a trained contractor who will make sure the structure is safe and built to the latest regulations.
The results as seen here in this quaint country living room are stunning and can be enjoyed from all angles of the room. 'Whether your living room is big or small, a wood-burning stove always makes it cosy' says Declan from Morso.
34. Personalise the mantle
Ever wondered where the living room furniture pointed before the days of the TV? Although many have been neglected or ripped out completely, the fireplace is gaining gravitas once more thanks to our current love of all things heritage.
Whether offering a place for your wine glass at a party to perching a family portrait, the mantel itself has long reflected each era of design. Use a bare mantel to display your favourite objects – a sure fire (get it?!) way to cheer you up on a dull, dreary day.
Select specific items to make more of a statement – oversized letters to spell out kid's names looks great, or use the wall above to position a large scale print and leave the mantle free.
35. Add a different light source
An exposed brick chimney breast is a popular decorative fireplace style right now. It demands attention, adds texture and lends itself well to not only rustic but modern schemes as it gives a nod to the industrial trend.
It particularly looks the part in this relaxed living room as creates a focal point and balances the eclectic scheme. If your fireplace is not in use, light up the hearth with a quirky novelty LED letter light as an extra highlight.
You can find these on Etsy, in specialist lighting stores and you might be able to use home decor discount codes on high street options, too.
36. Adorn with foraged foliage
Give those Sunday afternoon walks extra purpose by taking the opportunity to forage in the hedgerows for pretty foliage to adorn your fireplace. Slip your secateurs in your pocket and be on the look-out for ivy, rose hips, eucalyptus, yew and box cuttings. As well as looking pretty, they'll double as kindling.
The time honoured and traditional fireplace was once a necessity to heat a room, but in today's world they can be seen as more of a comforting indulgence and delight. From artificial gas and electric fires to rustic wood burners and roaring open inglenooks, there is certainly a style and type to suit every style of living room, bedroom, kitchen or even bathroom.
FAQs
How do you arrange a living room with a fireplace in the middle?