Former Bond girl Fiona Fullerton may have bowed out of Strictly but she's set to clean up with the sale of her Cotswolds mansion
She may be hanging up her dancing shoes following her elimination from Strictly Come Dancing, but actress Fiona Fullerton looks set to make a tidy profit on her Cotswolds mansion, which is on the market for £2.5 million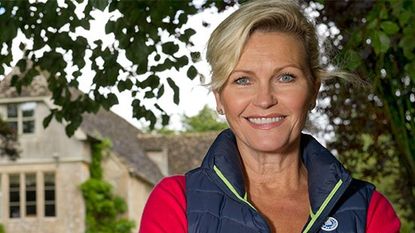 (Image credit: TBC)
Ideal Home Newsletter
The Home Of Great Ideas For More Than 100 Years
Thank you for signing up to . You will receive a verification email shortly.
There was a problem. Please refresh the page and try again.
As the twinkly lights went down on Fiona Fullerton's short-lived dancing career in Blackpool at the weekend, the Strictly Come Dancing star could at least take some solace in her rather healthy property portfolio.
Not only does the fomer Bond girl boast a robust catalogue of 12 buy-to-let properties, she is also in the process of selling her lovely Cotswolds mansion, the Old Vicarage, for £2.5 million - that's more than double what she paid for it in 1999.
Poor old Fiona has confessed that the seven-bedroom home is simply too big for her and businessman husband, Neil Shackett, now that her children have flown the proverbial nest.
As well as more bedrooms than you can shake a stick at, the vicarage is set amid two-and-a-half acres of lush garden and comes complete with a swimming pool and stunning views of the River Thames.
******
And, if legend is to be believed, any potential new owner will have to share the posh pad with a slightly more spooky fixture: during the 14th century a medieval castle belonging to the Duke of Lancaster's daughter Maud stood on the site of the house and it's claimed that the ghost of the murdered woman haunts the grounds to this day.
Refurbishment of the Grade-II listed property took two years as the site had fallen into a poor state of repair follwing 20 years of neglect, but the 57-year-old actress is no stranger to getting her overalls on and wielding a paint roller.
She told the Daily Mail: 'We both wanted a project. I had been doing up by-to-lets for years and I know that the only way you make money from a house is if you improve it.'
But there'll be no time for Fiona to put her dancing feet up - the couple have already bought a more modest Georgian villa in nearby Montpellier in Cheltenham, which they are also renovating now that son James, 23, has left home and daughter Lucy, 17, is due to move on shortly.
Property-savvy Fiona - who found fame as saucy spy Pola Ivanova in the 1985 Bond film A View To A Kill - looks like she will have her work cut out, though. She said: 'It was a wreck when we bought it earlier this year. It had been offices, so we've had to convert it back, but it's a gorgeous Georgian villa, right in the middle of town.'
We're sure the finished result with be absolutely AH-MAAAH-ZING!
Loved this? Check out all the latest entertainment and property stories on our news channel