Unlock 'uni room premium' with these 5 easy styling tips that made my shoebox room feel like home
Dorm room living never looked so good... who would've known, eh?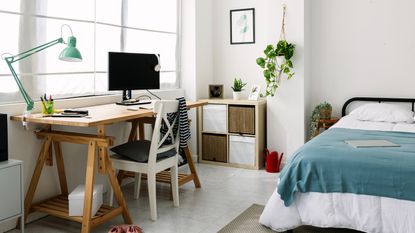 (Image credit: The Lighting Superstore)
As university season is fast approaching, I'm sure your soon-to-be uni-bound child is filled to the brim with excitement and stocked up with Pinterest boards filled with different ways to decorate a uni room to achieve 'uni room premium' status.
As you help your kid make their way through their hard-researched university checklist, it may be well worth keeping these uni room decorating ideas in mind so you know what else to add to their long list of uni room essentials.
5 ways to decorate a uni room – make a shoebox room feel like home
When looking at where to shop for your kid's uni essentials, it can be difficult to imagine how different home decor pieces can come together to curate a cosy and equally stylish small bedroom idea when you're just blindly buying everything you see in the shop floor. Therefore, a little inspiration and vision can go a long way.
Here are a couple of different ways you can decorate a uni room to make your child's shoebox room on campus actually feel like a home away from home. Uni room premium, here we come.
1. Lighting is everything
'A great way to make university bedrooms feel cosier is by adding new lighting which will enhance the functionality and aesthetic of the room,' says Chris Moorhouse, category director at Wickes.
A favourite amongst students across the country, fairy lights are a foolproof small bedroom lighting idea to add a comforting glow. 'You'll often see all over Pinterest university dorms covered in fairy lighting, and there's a reason for this,' starts Sahar Saffari, interior designer at Hi-Spec Design.
'Even though it might be a small space, you want to be able to play around with the ambience of the room,' she adds. Experiment with different colours and shapes before winding them around bedposts or draping them over mirrors.
Or, consider adding my personal favourite touch to them by using little pegs to hang your favourite photos of family and friends on them! No need to buy a ball of string if you can make your pretty lights work twice as hard to get the most bang for your buck.
You could even use additional lighting to spruce up your wardrobes and cabinets, too. 'Bendable LED strip lights are ideal for illuminating underneath, or the inside of cabinets,' adds Chris.
2. Don't shy away from soft furnishings
'A quick way to inject warmth and homeliness into any uni room is through soft linens, tapestries, as well as woven and shaggy rugs,' suggests design consultant, Eleanor Taylor-Roberts at Eleanor Juliet PR Ltd. After all, home is all about comfort, so don't shy away from it.
Sahar continues, 'Not only do rugs add personality to your room, which is exactly what is required when moving into a standard box room, but they also feel great on your feet when you get out of bed, especially in those colder winter months that we'll soon be experiencing.'
And of course, how could I forget the ultimate cosy room essentials, namely, cushions and throws? Opt for a chunky knit or a sumptuous fur to make the bed look extra inviting (especially since we agree that making the bed is the first thing you should do on move-in day).
Equally, they double as great extra duvets when your child's friends inevitably come to crash on their floor. They'll be well-loved for being prepared, believe me.
3. Add personality to the walls
I know you've probably heard the age-old argument that you shouldn't decorate walls in a uni room, but so long as it won't leave marks, you should be good to go with fleshing out some bedroom wall decor ideas. Besides, are you really expecting your child to look at blank, cell-like walls for the entirety of their first year at uni?
'Whether it's pictures of you and your friends from home or wall art that resonates with you, get a few and put them up!' advises Sahar. 'Use removable decals, posters, or wall hangings to add personality,' chimes in stylist, Nicky Phillips.
'Avoid using blue tack for placing images on walls as although they are often damage-free the blue tack can leave small discoloured stains when it comes to removing them,' warns Anna Elkington, interior design expert at Melody Maison.
Instead, Nicky urges you to remember to take a good supply of Command Hooks to hang wall decor with, so they can be easily removed without causing damage.
4. Scentscape your uni room to remind you of home
It's surprising what the power of a familiar scent rooted in an endearing memory can do for somebody. So, bring along some scents that will remind your child of your family home's signature scent and dial up the homey feeling instantly.
'The familiarity of the scent will instantly transform your room by providing a homely atmosphere, while also adding to the decor within your space,' assures Anna.
Since candles typically aren't permitted in student halls, opt for reed diffusers or even an electric diffuser for your kid's uni room.
5. Embrace your inner botanist
'Plants are a great way to add colour and bring the outside in,' starts Sophie Clemson, director and co-founder of The Living House.
'Take a look at your local supermarkets for some affordable options. There are so many easy-care plants on the market now or if you're not ready to be a plant parent just yet, an artificial plant will look great.'
They're a sweet little addition to a desk, on top of a chest of drawers, or shelves. In fact, my final year uni room had been taken over by a handful of houseplants, and I loved every second of it.
I put my houseplants in macrame hangers I bought on Amazon and hung them on the curtain rods as a renter-friendly way to decorate a uni room.
And voila, you've got the strong foundations of achieving 'uni room premium' status right at your fingertips.
And honestly? These tips only just scratch the surface of the potential your uni room is waiting to unlock. However, I'll save you the pleasure of being bombarded with a bout of information for the time being while you get to grips with the start of uni preparation.
Wishing you the best of luck, and happy uni room decorating!
Get the Ideal Home Newsletter
Sign up to our newsletter for style and decor inspiration, house makeovers, project advice and more.
Tamara was Ideal Home's Digital Editor before joining the Woman & Home team in 2022. She has spent the last 15 years working with the style teams at Country Homes & Interiors and Ideal Home, both now at Future PLC. It's with these award wining interiors teams that she's honed her skills and passion for shopping, styling and writing. Tamara is always ahead of the curve when it comes to interiors trends – and is great at seeking out designer dupes on the high street.