How to clean windows – tips for getting a streak-free finish inside and out
Let in the light in with our expert window cleaning ideas for perfect panes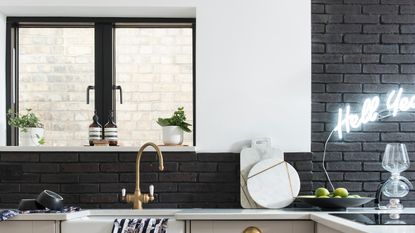 (Image credit: Future Plc / Colin Poole)
Nothing will brighten up your home quite like giving your windows a good clean. There are a myriad of tips out there for how to clean windows, from making your own window cleaning solution with vinegar to the old newspaper trick.
Over time windows naturally get dirty from dust in the air, birds flying by and bugs taking refuge. They should usually be cleaned at least once every month, inside and out. However, while cleaning windows is a relatively easy cleaning job, it is also a bit of an art form when it comes to trying to achieve a streak-free finish.
Nothing will ruin the effect of your beautiful window treatment ideas quite like smeared glass. Unlike dusting shelves or cleaning kitchen counters, with the wrong cleaning technique it can often feel like you've made your windows worse, not better.
Crystal clear windows indoors and out are the best way to create a good and lasting impression, so we've rounded up the best expert tips to give your windows a professional clean. Make smudged, slightly blurry windows a thing of the past.
How to clean windows
You can easily freshen up slightly dirty windows - ones that have the odd smudge or smear - using a cleaning spray and a microfibre cloth. Our Digital Deputy Editor Rebecca Knight swears by the Deft Advanced Window & Glass Cleaner, available at Lakeland, as one of the best cleaning products for a sparkling finish.
However, every three months it is a good idea to get a squeegee out and do a proper clean. Here's what you'll need for cleaning windows in order to get a professional finish:
Large dry brush or broom handle for removing cobwebs and dust
Bucket
Sponge
Squeegee
Purpose made window cleaning solutions or vinegar
Brown paper or newspaper
Microfibre cloth
Dry lint free cloth or drying pad
1. Remove curtains and blinds before cleaning
Start by taking down curtains and blinds. If you can, take the opportunity to give drapes a thorough wash or spritz with a fabric freshener like Febreze. Use a dry brush or dusting attachment on your vacuum cleaner to sweep away any dust or cobwebs from around the corners of the windows and the windowsills.
2. Make homemade cleaning solutions
If you prefer making your own cleaning solutions, add two tablespoons of white vinegar to a small bucket of warm water (this won't kill bacteria, though).
'White Vinegar is a fantastic natural option for cleaning your windows. Unlike chemical sprays it doesn't fill your home with fumes or pollute the environment,' says Laura Harnett, founder of Seep.
You can also wash your windows with soapy water. Fill a bucket with a simple solution of washing-up liquid and warm water, but avoid creating too many soap suds as these will leave further marks if allowed to dry. Start washing windows using a non-abrasive sponge.
Laura also recommends taking care with the water you use when cleaning, and opting for purified water if possible. 'So many people use a damp cloth and water to clean windows, but most tap water contains minerals like calcium and sodium which will leave ugly marks on your window,' she explains.
'If you need to use water to tackle a particularly dirty window make sure it's purified so your windows are left streak-free.
Top tip: One to try, as seen shared on cleaning group forums is the quirky teabag cleaning hack. Apparently cold tea is the secret to gleaming, streak-free windows and glass. To try the teabag cleaning hack at home, use kitchen towel dipped into a mug of cold black tea. Wipe the tea over the surface and buff dry with a clean soft cloth.
3. Start with the frames
Start with the frames first, so you don't drip dirty water on clean panes. A wipe with a wet sponge should do the trick, but if they're very grubby, use mild detergent on wood or specialist cleaner on uPVC.
'Wash your frames with plenty of clean, warm soapy water (washing up liquid is suitable) and wipe dry with a clean, soft cloth,' recommends Rachael Munby from Anglian Home Improvements. She adds that you will have to take care depending on the what type of windows you have.
'Be careful when cleaning uPVC products with decorative finishes such as Dark Woodgrain, Golden Oak, White Foil, Anthracite Grey, and Dual products as they could cause damage to decorative surface.'
4. Use an S-shaped motion when cleaning the glass panes
Clean the panes of glass by sponging them down with warm soapy water. Dip a sponge or the foam part of a squeegee into the water, squeeze out the excess, then rub gently on the glass. To clean the window thoroughly work in an S-shape advises Cleaning expert Lynsey Crombie. 'With your microfibre cloth work in the shape of an S so you will get into every bit and that will stop the smears.'
5. Wipe off any excess cleaner to prevent streaks
You can use a squeegee for a streak free finish. Also work in an S-shape. Periodically wipe the squeegee blade on a clean rag to avoid smearing dirt around. Remove remaining water with a damp chamois or microfibre cloth and dry the windowsill.
Avoid paper towels or cloths that might leave lint on the glass. For exterior upper-floor panes, it's worth investing in a gadget with a U-shaped pole to avoid reaching out of top-floor windows!
Top tip: Picked up from years of working in a hairdressers filled with mirrors, use scrunched-up newspaper to wipe the glass clean. Buffing your windows with crumpled newspaper gives windows a sparkling finish. The paper helps to absorb any leftover cleaning fluid, leaving the surface streak free.
Rub in a circular pattern to wipe off dirt, then switch to a vertical, then horizontal, stroke until the liquid has disappeared.
6. Clean the window edges
Finish by wiping off excess water or suds from the edges and windowsill using an absorbent cloth. Repeat the process on the inside of your windows.
Most window edges will be left gleaming after washing with soapy water. However, if you have white PVC Lynsey recommends using a cream based cleaner or a whitening product to keep them looking new. 'You could use a white toothpaste. Leave it to do its work and that will whiten the frame,' advises Lynsey.
7. Get the timing right
You might think washing windows on a sunny day is the ideal time, as the light makes it easier to spot smears. In reality, it's best to aim for a cloudy day. Sunshine will create glare on the glass, making it harder to see how clean they are. It could also dry the cleaning solution before you have a chance to wipe it off, leaving unsightly streaks.
What is the best thing to clean a window?
There are loads of gadgets out there to help you cleaning windows easily. For example cleaning sensation Mrs Hinch swears by the Vileda Windomatic, available on Amazon, a window vacuum cleaner which acts like a supped up squidgee to ensure a streak-free finish. However, while gadgets like this are effective, at £70 they are also expensive.
According to the experts you can still achieve effective results on a budget with soapy water, a squidgee and clean microfibre cloth.
'There are lots of options when it comes to cleaning your windows,' says Dean Williams, Window Expert at MD Windows. 'If you're looking for an at-home remedy, I'd recommend the simple, old fashioned way of using warm soapy water.'
'Ensure you're using a squeegee so you can remove the streaks straight after giving the glass a clean. White wine vinegar is another at-home remedy, or you can simply buy a glass cleaner product to use if you need a quick fix.'
How do you remove stubborn marks on windows?
If you're struggling to get your windows clean using soapy water or a window cleaner, Leo Pyrah at Pilkington UK recommends trying something a bit stronger. 'Use a mild acid (e.g. vinegar) or a mild solvent (e.g. methylated spirit), taking care not to spill any of these on other surfaces of materials.'
However, never use and abrasive or harsh cleaning agent like bleach advises Rachael Munby from Anglian Home Improvements, as they can cause lasting damage to the window itself.
Get the Ideal Home Newsletter
Sign up to our newsletter for style and decor inspiration, house makeovers, project advice and more.
Tamara was Ideal Home's Digital Editor before joining the Woman & Home team in 2022. She has spent the last 15 years working with the style teams at Country Homes & Interiors and Ideal Home, both now at Future PLC. It's with these award wining interiors teams that she's honed her skills and passion for shopping, styling and writing. Tamara is always ahead of the curve when it comes to interiors trends – and is great at seeking out designer dupes on the high street.