30 Christmas hallway decorating ideas for a festive first impression
Fill your entrance with Christmas cheer with our Christmas hallway decorating ideas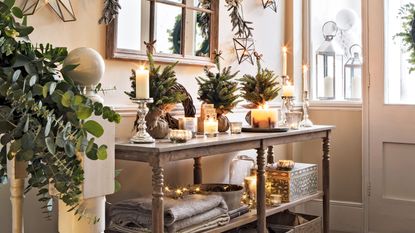 (Image credit: Future PLC / Dominic Blackmore)
It's never too early to start planning your Christmas decorating ideas, and as the first impression guests have of your home, the hallway's the best place to begin. Don't be put off by a narrow space, because small hallways will make even relatively low-key decorations more impactful.
Christmas hallway decorating ideas are a chance to get creative – first, decide which elements you want to include. A mini Christmas tree paired with a beautiful garland climbing up the bannister? Twinkling candles and fairy lights arranged on your side table along with baubles and a homemade advent calendar? What about scent?
Christmas hallway decorating ideas
Look at all the surfaces available and where decorations will be least likely to get damaged. You might want to order some tape, Command hooks and wreath hanging hooks, £3 at Dunelm before the fun stuff. Not only do Christmas hallway ideas set the tone for festive gatherings, they also add some sparkle to the everyday.
1. Make a paper advent calendar
The hallway is the perfect spot to hang a homemade alternative advent calendar. Fill plain paper bags with treats and stamp the days of advent onto cut out stars on brown wrapping paper and attach with string to a metal hoop from somewhere like Hobbycraft. This fills an empty wall and brings the excitement of the Christmas countdown to your hallway.
2. Make guests feel at home
As much as we love making our homes look great for Christmas, how it feels is just as important. 'Make your guests feel like they're in their own home by providing plenty of space for their shoes and coats,' interior designer Juliette Thomas says. 'For decor, soft lighting immediately makes a space feel warmer and cosier.' This hallway side table looks inviting with candles, star wall lights and a trio of mini trees, and with hallway storage baskets for shoes and spare blankets, it's practical, too.
3. Make use of surfaces
'If you have a table, sideboard, radiator cover, or any other surface you can make use of in your hallway then put it to good use!' says Jennifer Derry, interior design expert and Chief Merchandising Officer at Balsam Hill. LED tealight holder cones placed on a windowsill create a cosy and atmospheric display.
'For longer surfaces, garlands can be a great way to make use of these surfaces. If you're using a garland as a focal point but have multiple surfaces in your hallway to tie together, try adding other ornaments such as baubles or pinecones across them all and dotted throughout the garland to create one cohesive look.'
You could also fill large bowl, basket, or dish with baubles of different shapes and sizes, and some mince pies and sherry for Santa.
4. Hang stockings for instant festive feels
Set the tone from the moment you cross your threshold with matching stockings for each member of your household. 'Stockings must feature for me in the hallway, which many will think is not their traditional resting place as it's usually by the fireplace,' says Becca Thurston, Visual Specialist and owner of Sewn. 'But, for me, walking in to see stockings just says Christmas and always gives me a smile.'
5. Go for a rustic look
Create a gorgeous, textural Christmas hallway by decorating with rustic ornaments, from brushed steel candle holders and lanterns to wooden Christmas decorations and boxes. Wicker boxes and baskets provide handy hallway storage and somewhere to put gifts for guests. Hang Christmas tree decks on branches of pussy willow in a vase on a hallway side table to make things feel festive without overwhelming what's often a narrow space.
6. Repurpose existing decor
One of the best budget Christmas decorating ideas is making use of what you've got, adding some seasonal sparkle to your everyday furniture. 'If you're looking to be sustainable, then get creative and repurpose your pre-existing decor – why not jazz up your lampshades with tinsel or pompoms?' says James Mellan-Matulewicz, Creative Director and Designer at Bobbi Beck.
Lanterns, fairy lights, some affordable paper bell decorations, and a perfectly placed gold wreath-style mirror bring a festive vibe to this hallway, leading guests to glittering Christmas tree beyond. Repurposing existing pieces is a
7. Give the hallway its own tree
Multiple Christmas trees in a home are having a serious moment right now. Porches and kids' rooms seem to be the most popular places for an extra tree, but we think the hallway is an under-used opportunity. It's an ideal spot for guests to leave presents, or for you to have yours ready to gift when the recipient drops by. Plus, who wouldn't love the joy of seeing a lit-up Christmas tree as soon as you open the front door?
8. Layer with festive greenery
There are so many places in a hallway which are just begging out to be used for Christmas decor ideas, so pick a theme and go all out.
Greenery - real or faux - is an excellent example of something which can be used in excess without overwhelming the space. Wrap garlands along the top and bottom of your bannister, adorn mirrors and picture frames and include a mini Christmas tree.
A lovey touch is to add a swag to the inside of the door - a nice nod to the wreath on the other side, but you don't have to worry about inclement weather ruining your hard work.
9. Forget about being practical
Don't save your most dramatic designs for your Christmas living room dorating ideas. If anything, your hallway is better at coping with elaborate displays.
While in a room where you'd be spending a lot of time, it's impractical and, frankly, annoying, to lose a whole chair just for a Christmas decoration, in the hall you won't have that issue.
Take an occasional or armchair and pile high with oversized paper decorations, cascading from the wall above to the floor below (double sided sticky tape does wonders - just test it on your paintwork first to prevent any unwelcome surprises in the New Year.
10. Light it up
Staircases have so much decorating potential, with plenty of places to wrap, tie and hang decorations from. This year, add a little extra sparkle with the best Christmas lights display.
A curtain of fairy lights is an easy way to achieve an incredibly effective look - plus the result makes a magical Instagram backdrop, which is always a plus.
Attach the length under the edge of the bannister and allow the strings of lights to drape down. Nearest the bottom step, you will most likely have excess lights and can just casually pile these if you like. However, if you have kids or pets (or simply tend to trip!), then arrange on a small side table or into a glass vase for a bonus light effect.
11. Hang baubles between balustrades
Don't forget the stairs! 'Stairs are another area of your hallway that shouldn't be overlooked when it comes to your decorating,' says Jennifer Derry. 'Fairy lights are another way to add a bit of sparkle to a hallway. A warm light, similar to that of candlelight, is a fantastic way to add warmth or you can use multicoloured lights for a nostalgic bit of festive fun!
'Many garlands are also available pre-lit so a great way to add both greenery and light to the stairway. Another option for the stairs is to hang baubles between balustrades. Hang at different heights by using different lengths of thread.'
12. Scent with a seasonal arrangement
A statement flower arrangement in a hallway will set the scene for festivities the moment you step through the doors. But it can also help to add seasonal fragrance, with floral aromas. Choosing a festive vase adds a further hint of decorative colour and texture.
A reflective vase will enhance the surrounding light glow of fairy lights and candles (opt for LED for safety, if left unattended).
13. Decorate a doorway with a lit up garland
Embellish the door frames of the living room or dining room with a simple garland of foliage and add some copper wire lights. Hang a glittering disco ball or oversized bauble from the centre to draw the eye into the room beyond, towards the twinkling tree.
14. Update your window ledges
Many hallways include a window, either beside the front door or if a detached or end terrace, along the side of the wall. Make the most of this otherwise wasted space and treat the sill as an extra surface for decorating.
Christmas window decor ideas are having something of a moment right now, so you'll have more inspiration to explore than you'll know what to do with.
In a hall, go for an extra splash of fun. A window ledge in a living room or kitchen is most likely decorated in tandem with the rest of the room, so use the stand-alone area of a hall to have a good play. Any display which incorporates Christmas cards works especially well, as you can add in new ones from guests as they arrive in your home.
15. Create a graphic display
Not every home and personality suits a traditional Christmas look. If you've got a cool contemporary scheme going on, you can still make this work over the festive period.
Simple displays on shelving can be made really chic, and you can even take inspo from Christmas mantel decor ideas. Stick to monochromatic pieces, but don't be afraid for a touch of metallics, too - it is Christmas, after all! Display a mix of shapes and heights for a styled look.
16. Line pillar lights up the stairs
Clear your hall of clutter and line the stairs with pillar candles in jars. Brave real candles or play it safe and avoid any potential fire risks by opting for LED candles. Wrap the bannister is a garland bursting with fragrant natural greenery, fairy lights and sparkly baubles.
17. Adorn the bannister with blousy blooms in a bouquet
Tie a beautiful bouquet at the bottom ion the stairs to add a wow factor. Choose large headed to create a colourful statement. blooms The use of ribbons, flowers and foliage helps to add a country touch to the staircase and surrounding hallway space. This also helps to fill the room with scent.
18. Layer tones to make a lasting impression
Becca Thurston always advises opting for less is more and choosing gentle tones and colours when it comes to any decorations or products. 'For me a buzzy, bright, in-your-face experience that resides in your hallway is a no-no. Especially when Christmas is a sensory overload in so many ways.'
Mix materials in neutral colours to create a subtle, layered interest for the look. Blend subtle taupe and white large-scale paper pom-pom balls, natural wooden cut trees and gently glazed glassware.
19. Guide the gaze up the stairs with foliage
Use a garland of foliage to dress the full length of the banister, to make every use of the vertical space for decorating.
Mix things up by hanging your stair garland at the bottom of the spindles rather than along the handrail – and if you regularly mist the foliage with water it will keep it vibrant and fresh throughout the festivities.
20. Style up a cosy nook
Take inspiration from wintry woodlands and country copses this season. Cosy up a window seat with twinkling lights, colourful cushions and snug throws with forest elements to emulate the views beyond.
With a nod to a more refined Nordic style, this look blends neat furnishings with painted and light-toned woods, wicker and woven textures.
21. Dress a bench with simple seasonal touches
A little can go a long way in a small space, such as a hallway. A few simple decorations on a hallway bench can instantly set the scene for a warm welcome.
A display of frosted twigs in a glass bottle vase, alongside star-shaped votives and reindeer ornaments are enough to inject an instantly festive flourish to this hallway space.
22. Welcome guests with a wellness offering
Invite guest in from the cold with an offering of warming natural blended tea. Served from a tray of wellness inducing scented candles it's the perfect way to warm the hearts and souls of seasonal guests. Team alongside a decorative display of natural foliage to enhance the holistic experience.
23. Add opulence with a touch of gold
Don't be afraid of a little bling! From soft, aged tones to brassy and rich bronze shades, gold adds warmth and elegance. It's a no-brainer at Christmas, but gold can be used as an accent colour all year round to lift and finish a simple room scheme
24. Welcome with wreaths and garlands
Greet guests with a sparkly scene. Put on a wonderful wintery welcome in a hallway with snow-frosted wreaths, garlands and mini Christmas trees. Go for a cool, contemporary look.
Choose decorations in icy shades of grey and steel, with a hint of Scandi style. Arrange frosted sprigs all along a console table, keep the look fresh and green, and spruce up decorations made from natural materials.
25. Make a statement with paper lanterns on a bannister
Lace a stair garland with touches of foliage, lights and oversized paper lanterns – in gold if you want to bring opulence to proceedings. Opt for a eucalyptus garland as a modern spin on traditional holly and ivy.
26. Captivate with a characterful Christmas display
Take a palette of icy whites, forest greens and woodland browns, add cosy Nordic accents and a sprinkling of Narnia for a bewitching festive scene to greet your guests come Christmas Day.
Create a pretty display by bunching a set of fairy lights into an elegant glass cloche. Add colour with a lush stair garland to provide a warm welcome and fill the space with a gorgeous woody scent.
27. Fashion a stylish display
Keep colourful throws in a simple metal unit under a display of coats, scarves and bags. Beat winter chills with a woven blanket used as a door curtain and add texture with rustic baskets.
Bring in a few Christmas touches, such as baubles hung from a peg rail, tealights and candles, mistletoe and sprigs of spruce for festive fragrance.
28. Hang an oversized garland of fresh foliage and herbs
Line your hallway door with aromatic evergreens, such as eucalyptus, which make wonderful garlands as they release their scent when brushed past.
Use delicate herb wreaths, hung as window decorations to add further delicate fragrance. And why not throw some fairy lights into the mix to add an extra bit of Christmas sparkle?
29. Create advent bunting
Craft a pocket advent calendar and hang it from peg rails. The joy of Christmas is as much about the anticipation as the celebration itself. This is an fun twist on the traditional advent calendar. A deep green panelled wall is the perfect backdrop for a bijou buttoned chair, where you can grab a little peace and quiet.
Give a country hall a very modern twist with charcoal paint and gather the season's deep winter palette of pine green, holly red and winter white to set the scene.
30. Adorn the bannister with subtle foliage
A subtle garland of eucalyptus and pine cones adds a lovely and fresh festive touch to this gorgeous dark balustrade.
The owner has added an extra Christmassy touch to the garland with small paper decorations in cream, red and plum that match the surrounding colour scheme. If you are a fan of this Christmas hallway decorating idea find more tips on how to add subtle yet festive touches to a house on the owner's blog Style the Clutter.
How can I decorate my hallway for Christmas?
Use one of our many Christmas hallway decorating ideas to create the perfect scheme for your home, or mix and match to have fun! We love to include a garland running up the stairs, and you can mirror this with mini versions above pictures, mirrors and doorways. A bunch of mistletoe is a lovely retro nod, too. Layer up candles and fairy lights to create a really warm and welcoming effect. 'There is nothing more magical at this time of year than candlelight,' says Chrissie Rucker, OBE and Founder of The White Company. 'I love a combination of tall and short lanterns to create a welcome entrancing and subtle warmth to a home. Lanterns and tea light holders placed on windowsills inside glow beautifully outside too!'
What should be in a small Christmas hallway?
When decorating a smaller hallway for Christmas the key is to keep a sense of space. Avoid adding extra clutter - piles of presents on the floor, for example, seem messy rather than stylish if they don't have room to breathe. Take garlands, wreaths and decorations that bit higher of the wall or staircase to draw the gaze upwards and make the space appear larger. Similarly, strings of fairy lights can trick the room into seeming taller by being places over doorways or the top of bannisters. Play with proportion, too - mini Christmas trees will help the space seem larger by comparison.
How do you add warmth to a hallway?
'To incorporate added warmth into a hallway, incorporate a statement wreath crafted with entwined, natural-looking branches, says Amanda Telford, creative manager at CTD Tiles. 'Use a full display of faux festive ferns and eucalyptus. This is a perfect finishing touch for those wanting to give their home a simple seasonal update without going overboard.'
Get the Ideal Home Newsletter
Sign up to our newsletter for style and decor inspiration, house makeovers, project advice and more.
Jennifer is the Deputy Editor (Digital) for Homes & Gardens online. Prior to her current position, she completed various short courses a KLC Design School, and wrote across sister brands Ideal Home, LivingEtc, 25 Beautiful Homes, Country Homes & Interiors, and Style at Home.