Enjoy a wander around this renovated old farm steading in Scotland
This family is living the dream by the loch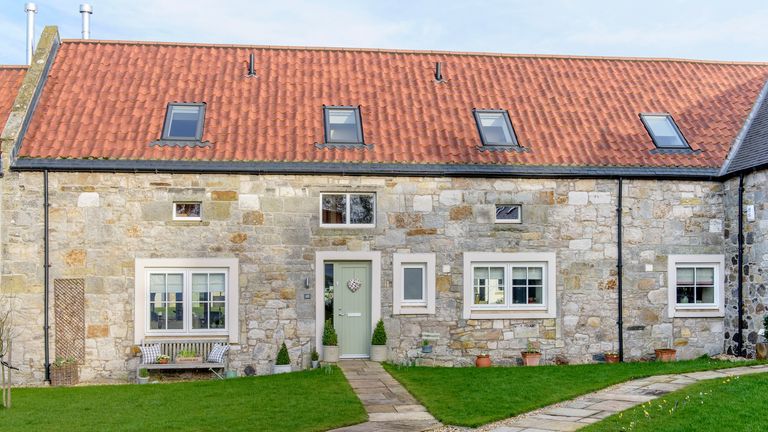 (Image credit: Future PLC/Polly Eltes)
'We love being so close to Loch Leven and the Heritage Trail. We step out of the garden gate and we're on the path down to the loch' says the elated homeowner. This converted Victorian farm steading, with three bedrooms, enjoys impressive views to Bishop Hill, part of the Lomond Hills.
The homeowner had always dreamed of living in Scotland, inspired by fond childhood memories, 'My grandfather was Scottish, so I had happy memories and roots here. Scotland has always been my second home as we used to come during the summer holidays.' The possibility of relocation came about because her pilot husband, who had been in the RAF in Oxfordshire, decided he wanted to work for a commercial airline based in Edinburgh.
Related: Take a turn around this warm and cosy country cottage in Leicestershire
At first, the family rented outside Perth and waited for the right house to come up – it took a year. Then they struck lucky – finding a ruined farm steading close to Loch Leven that was being converted. 'I phoned the estate agent straight away. I knew the area as I walked our dog around the loch. The agent suggested I meet the developer, so I went to see him that afternoon. We looked at renovations he'd completed and we looked at the ruin and I could see the loch. I put an offer in then and there.'
Even before its conversion, the owner knew the property was right for her family.
Exterior and entrance
The work to the steading took around six months. 'I had input on everything,' says the owner. 'We had a budget for features and fittings and we could add to it. Our developer had good craftsmen and he went beyond – I knew what I wanted but didn't know where to get things from. He did all the research and found me traditional latch doors and stone flooring, as well as the bathroom suite and taps.' The key is a successful renovation is a good project manager and skilled team of builders.
A bench and peg rail provide plenty of storage for this busy family hallway.
Get the look
Buy now: similar Hungarian Settle Bench, £450, Garden Trading (opens in new tab)
Kitchen
The favourite room in the house is undoubtedly the kitchen. 'The Aga is very special,' says the owner. 'We've lived in RAF accommodation on and off for years. On our honeymoon I said to my husband that I'd like a cottage in the country with an Aga one day, so when we were talking to our property developer about the kitchen in the steading, my husband said, "Don't forget to put the Aga in", and I cried. He had remembered. It symbolises a promise and it means home.'
In the kitchen a mix of wooden and painted cabinets helps to add character. In addition to an Aga, another classic staple for any country kitchen is a butler sink.
Get the look
Buy now: Downtown Abbey Butler Kitchen Sink, £239, Victorian Plumbing (opens in new tab)
Buy now: Rabbit and Cabbage Tea Towel, £15.25, Not on the High Street (opens in new tab)
Dining area
'What makes this house a home? The way it changes with the seasons – in spring it's bright and airy and in winter it's warm and welcoming'
Living room
The homeowner was keen to put period character back into the house. She also wanted to create an informal and relaxed cottage feel with lots of fabrics and texture. She used checked and tartan materials to incorporate Scottish influences, and combined them with florals. 'I've always loved blues and greens, along with yellow. I like to have a neutral backdrop and bring in colour with fabrics and accessories,' she says.
Get the look
Buy now: Walls, painted in Oxford Stone NO.264 Matt Emulsion, £45 for 2.5L, Farrow & Ball at B&Q (opens in new tab)
Buy now: Mortimer Sofa, from £1190, Laura Ashley (opens in new tab)
Bold blues help to make a style statement in the living room.
Buy now: Footstool upholstered in Gypsy Garland Fabric, £52 m, Vanessa Arbuthnott (opens in new tab)
Bedroom
'When we lived in Oxfordshire, it was what I thought life should be like. Now I feel I'm where I'm supposed to be. I love living by the loch as it draws you out and down to it. We can see the weather systems coming in over the Lomond hills – the light is always changing. We have the permanency we didn't have with the RAF and with that comes contentment.'
Bathroom
This house originally featured in Country Homes & Interiors, March 2018.