10 clever kitchen bin ideas for recycling and waste
These smart kitchen waste solutions make recycling easier than ever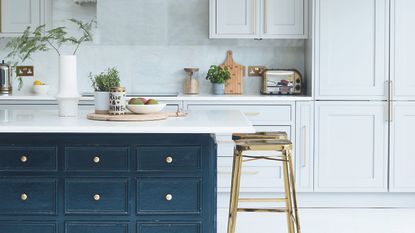 (Image credit: Future)
When you wake up in the morning, you're probably not overwhelmed with the urge to research kitchen bin ideas. But despite this, the right kitchen bin can make or break a kitchen - especially if you're a recycling wizz-kid or you only have a small kitchen to work with.
There are so many things you can add to a kitchen that aren't technically necessary, like the best cast iron cookware or the best coffee machine (although we would like to point out that caffeine is sometimes very necessary). But we like to add these things, anyway, because they make us happy.
And that's why we're bringing your attention to the humble kitchen bin, which is considered to be the total opposite. As many people see this as a necessity, they fail to realise that a kitchen bin can be a stylish and practical addition to your kitchen. But if you need a little push to become a member of the Kitchen Bin Appreciation Club, take a look at these clever kitchen bin ideas for inspiration.
Kitchen bin ideas
1. Hang a food caddy inside a kitchen cabinet
If you're struggling to work out how to organise a small kitchen and are limited on countertop space , opt for a door-hung design like the Puro Caddy from EKO. This means your food caddy is close to hand when you're preparing food. Mount it on the outside of the cabinet door when you're cooking so you can scrape scraps and leftovers straight in, then when you're done, move it to the inside of the door. Just be sure to organise kitchen cabinets so you can shut the door without the caddy knocking things over inside.
Use compostable food waste bags inside your caddy to stop it from getting mucky, and either compost it in your own garden or put it out for your council if they offer a food waste collection service.
Joseph Joseph Compo 4L Food Waste Caddy
Seamlessly sliding onto your cupboard door and with an adjustable air vent to keep smells at bay, this Joseph and Joseph creation can be kept out of sight and out of mind.
ELPHECO Kitchen Compost Bin
This hanging compost caddy can either be stuck to the inside of your cabinet or hung using the hook provided. And with a bin bag fix ring, you won't have any accidents, either.
2. Use drawers to divide up your recyclables
If you've got the space, consider dedicating a set of drawers to your recyclables; one for plastic, one for paper, one for tins and so on. This industrial-style design comes with made chalkboards for labelling. You could create a similar effect easily enough with stick-on chalkboard labels.
Mistana 4 Drawer Chest Of Drawers
If this multi-coloured chest of drawers doesn't match with the style of your kitchen, it also comes in dark grey with a stylish distressed finish.
Pacific Devonshire 5 Drawer Chest
With wicker storage baskets that are perfect for your empty bottles, cans, and paper waste, you could keep your spare bin bags in the top drawer. Use Dunelm discount codes to help stick to your budget with this one.
3. Scale up your recycling station
For busy family kitchens that produce a lot of recycling and waste, you may find the compartments in your store-bought separation bin fill up quickly. 'Instead, line up several tall, freestanding bins alongside each other to create a recycling station', advises Jane, co-director at Binopolis. 'This gives you increased capacity and enables you to easily sort rubbish as you go'.
To make it even easier, assign coloured bins, like these Brabantia ones from Amazon, for different categories of recyclables, green for glass, black for paper, white for metal etc.
Curver 34 Litre Recycling Bins - Set of 3
With a bin for your glass, plastic, and paper, this set of three recycling bins will ensure that you're stepping up your recycling game.
SONGMICS Waste Separation Pedal Bin
This 3-in-1 recycling station offers airtight lids to keep unseemly smells out of your kitchen. And as it's black, it should blend into the background perfectly.
4. Create a recycling hub on wheels
Tired of trekking back and forth to the bins? Take all your recycling out in just one trip with a recycling hub on wheels. Then simply roll it outside and unload. Create your own by attaching castors to the bottom of a wooden fruit crate. Then place sturdy plastic boxes (lined with handled canvas bags) inside.
Strata 75L Wheeled Trunk With Lid
With a storage capacity of 75 litres, you can really take your recycling efforts up a notch with this trunk. Its lid will also keep rubbish smells out of the kitchen.
Wovenhill Kubu Rattan Basket on Wheels
Storage baskets don't have to be ugly, and we love this rattan basket on wheels. Stylish but practical, it should tick all the boxes.
5. Keep essentials within easy reach
Rather than hide bins away in a utility room, make a feature of them. Set up a smart recycling station with all the essentials stored close to hand. Metal tins, crates, boxes and buckets conceal unsightly items such as bin-bags, deodorisers, wipes and rubber gloves and, when organised thoughtfully, make for a smart display. Create a similar look on a smaller scale for a stylish kitchen shelving idea, too.
We love these retro-style metal bins for sorting recyclables. To make them feel less imposing, stick to a uniform colour palette, as shown in the cream utility room idea above. Label with understated brown luggage tags.
Habitat Bamboo Laundry Bin
Technically a laundry bin, this bamboo bin could make the perfect addition to a utility room or kitchen. It has 'stylish recycling bin' written all over it.
A budget but beautiful option for those who want to go down the more traditional route, this bin comes in either black or white.
6. Hide bins behind closed doors
While we can't live without our kitchen bins, we can live without looking at them! Switch to an integrated design built into kitchen cabinets to keep recycling and waste organised and out of sight. Tucked neatly behind cabinet doors, you'd never even know it was there.
'It's a good idea to keep waste and recycling bins out of sight as much as possible in the kitchen to maintain a clean space for food preparation and cooking, says Lizzie Beesley, Head of Design at Magnet. 'Pull out bins for instance, are an ideal way of keeping rubbish and food waste neatly stored away, without ruining your overall kitchen aesthetic.'
Note that by opting for an integrated bin in your kitchen layout, you'll sacrifice storage space in your kitchen cabinets. Something to bear in mind if you're organising a small kitchen layout.
Made from a heavy steel frame and offering a 70-litre capacity, you won't even know this bin exists until you open up your cupboard and take full advantage of it.
Brabantia 10 Litre Built-In Cupboard Bin
Opt for a smaller waste bin like this if you have a smaller family or want to try and reduce your normal waste and up your recycling antics.
7. Reserve a small bin for 'proper' rubbish
We're all guilty of being a little less diligent than we should be at times when it comes to recycling. The bigger your rubbish bin, the more tempting it is to pop things in it that should go in the recycling. By choosing a small main bin, you're more likely to filter out recyclable items to avoid overfilling.