IKEA spice rack hacks –14 ways to give this £4.50 basic a clever new twist
These IKEA spice rack hacks are certified genius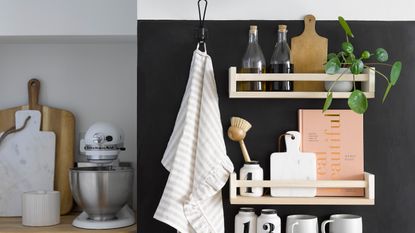 (Image credit: Future PLC/Max Attenborough)
IKEA's BEKVÄM spice rack – a super simple little wooden shelf designed to store spice jars – has got to be one of the most versatile products the Swedish giant sells. At only £4.50 per rack, the value and potential of this IKEA staple is hard to beat, with DIY fans across the globe coming up with a host of uses beyond storing herbs and spices (although it's obviously great for that, too). From bathrooms to craft rooms, kids' rooms to your workspace, this little superstar shelf can deliver big time.
With IKEA hacks a great way to customise IKEA favourites such as BILLY, KALLAX and KURA, we think the genius ways you can transform the humble spice rack put it up there with some of the most ingenious solutions.
Interiors stylist Nicky Phillips, has recently photographed a whole host of new and brilliant IKEA spice rack hacks for Ideal Home. 'The BEKVÄM spice rail is incredibly adaptable and can be used either upright or upside down by just switching out the fixtures,' says Nicky. 'Thanks to its unfinished surface, changing its colour is super simple and just requires a quick coat of paint. My favourite area to use them would be in a small bathroom, as a towel rail, toilet paper holder, or just as the perfect spot to hold toiletries.'
IKEA spice rack hacks
If you're looking to add some nifty extra storage to any room in your home, we've got all the best ways to reimagine the BEKVÄM spice rack, at IKEA. From hanging clothes, to organising your desk, to finding a space-savvy way to stash your craft kit, this affordable product should be top of your list. Here are our favourite ideas..
1. Create a cane-fronted clothes rail
An upside down rack works perfectly to hang a neat array of tiny tops in a nursery whilst racks fronted with on-trend cane provide clever storage for baby books and toys. For a totally bespoke look, attach strips of cane webbing (you can pick up a 1m roll at Amazon) to the open edge of the shelf using a staple gun.
An alternative to the cane is to replace it with a wooden facade by attaching strips of 4mm MDF with glue. Simply paint the shelf and strips in a coordinating shade and you've got yourself the perfect stylish solution.
2. Organise your necklace collection
During her time as Ideal Home's Style Editor, Nicky was responsible for a whole host of clever ways to transform IKEA classics for photo shoots. With a degree in product design followed by over 25 years directing photo shoots for interiors magazines, Nicky's creativity is well-honed. Nicky now works as an interiors consultant and professional organiser, so she knows her stuff when it comes to spotting great storage solutions.
Prevent tangles as well as creating a pretty display by hanging jewellery from a rack mounted to the wall upside down. It also provides a small ledge for arranging a mini shelfie of framed pictures and perfumes. Paint a headboard shaped stripe up the wall, allowing the jewellery to have a background colour to pop against.
For a small bedroom idea if you're lacking bedside table space, replace a table lamp for a light bulb on a cable. This vintage-style plug-in pendant light cord from Amazon is a great option. Loop it through the rack so it hangs down underneath as a pendant.
3. Tidy up your toiletries
The clever hack for an IKEA spice rack is perfect for small bathroom ideas. Transform racks so they act as a place to keep all of your beauty essentials neat and tidy, then finish by hanging a towel over the upturned bar. For a streamlined look, hang a neat row of racks end to end and from wall to wall.
Fancy adding a luxe Scandi finish? Paint the racks matt black.
4. Make a gift wrap station
Build a custom storage system for keeping crafts, wrap and ribbons in perfect order. Attach IKEA spice racks to the back of an office, bedroom or hallway cupboard - you'll be able to grab what you need in an instant. This idea works for any craft storage, too. Simply swap out gift wrap for rolls of felt or fabric, then fill the shelves with jars of threads and pins, for the perfect sewing storage area.
Stylist and organising Nicky Phillips has yet another top tip for your craft room idea. 'Create an easy cutting system for rolls of tape,' she says. 'Stick a serrated strip from an empty foil box onto the top lip of the rail.'
5. Attach a clever bedside table
No room for a nightstand or bedside table idea? Hang a spice rack to hold books, a glass and even a handy bedside lamp. A clamp light like this reading lamp from Amazon is the perfect addition for some night time reading.
6. Save on surface space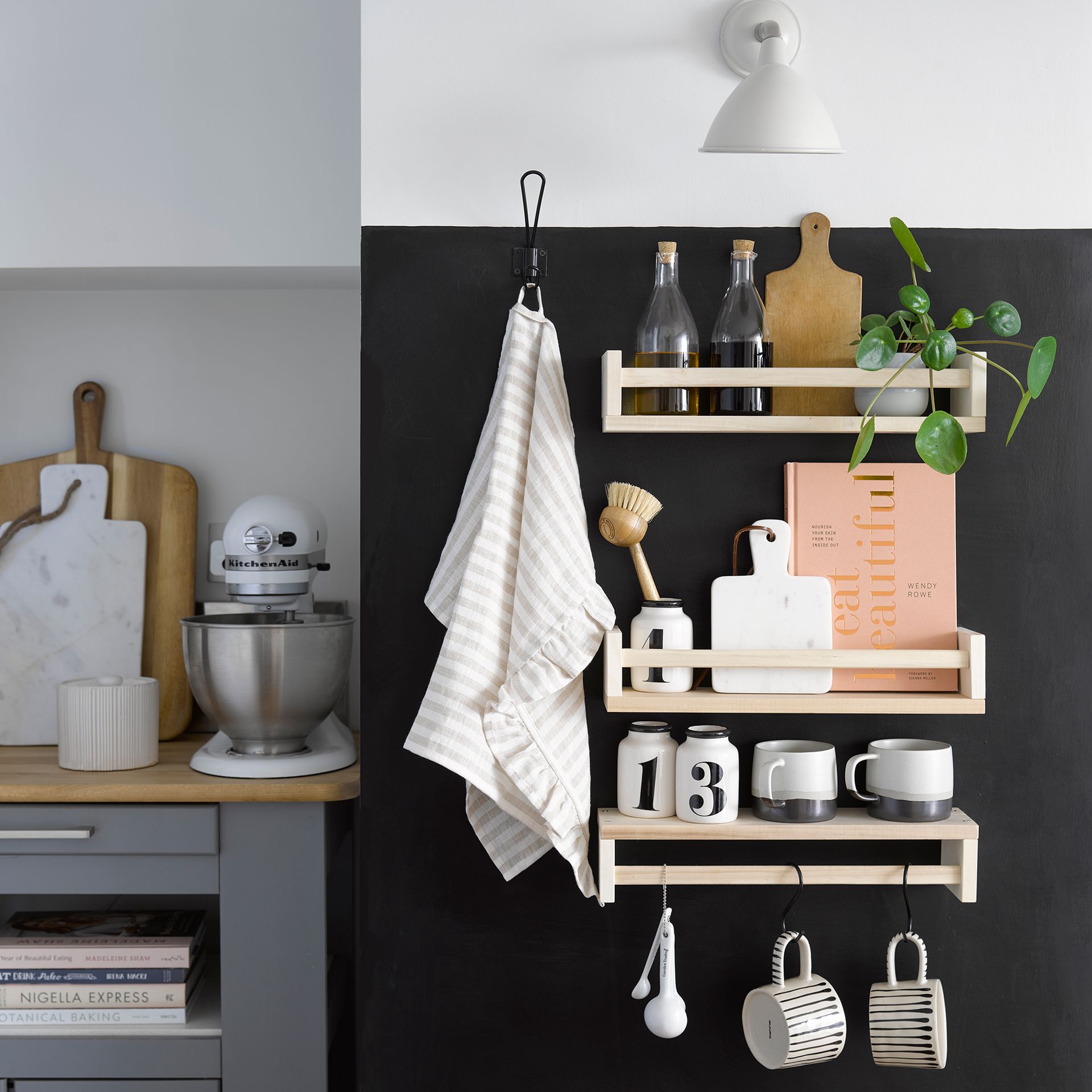 Store mini chopping boards, cookbooks and mugs in easy reach and use a rack mounted upside-down to hang mugs and other kitchen kit from s-hooks when looking at how to organise kitchen utensils. You can also attach cup hooks to the underside of the rack to hang keys, mugs or tea towels.
Introduce a clever chalkboard idea – use a background of blackboard paint for scribbling last minute shopping lists and memos.
7. Contain everyday makeup and hair products
If you're rapidly running out of space for your makeup and hair products, hang a few racks on the wall, with the lowest one upside down to create a hanging rail. Add a few S hooks, available at Amazon and revolutionise your morning routine. It's a super easy DIY project that'll mean all your everyday products are right where you need them.
8. Build bespoke home office storage
With a lick of paint, you can easily upgrade this IKEA basic into a 'where did you get that?' Attach the spice racks to a peg board, at Amazon, to create a stylish and functional home office idea. This particular IKEA spice rack hack is ideal for anyone who just cannot work at a messy desk, as it'll help keep stationery and notebooks tidy. Add a couple of small houseplants and polaroids of family and friends and you'll have an inspiring space you actually want to work in.
9. Toilet paper storage, but make it chic
Change up your bathroom storage ideas by hanging a rack on your wall, attaching some leather straps and a dowel. Display books, prints and a small vase as a finishing touch. 'Chic leather straps add practicality to a simple bathroom shelf and elevate it into a piece that's as fabulous as it is functional,' comments Ideal Home's Assistant Editor Thea Babington-Stitt.
10. Add character to a nursery
Stack a few IKEA spice racks and create a personal nursery idea that gives you somewhere to place toys and books. Hang the lowest one upside down and hang small person clothes onto it to free up space in chests of drawers and wardrobes. Keep the natural wood tone or give them a lick of paint to make them blend in with your wall colour.
11. Maximise wall space in your home office
Use a variety of home office storage ideas, from plastic tubs attached to the walls, pin boards and a trusty IKEA spice rack. Paint it to match your office colour scheme and you'll have a space savvy workspace you can easily change up with different prints and photos on display.
12. Hang kids' fancy dress
Testament to its versatility, the IKEA spice rack can also be transformed into a fancy dress station. Hang up your little ones' clothes and use the shelf surface as extra toy storage. 'A dressing-up corner is a lovely, colourful addition to kids' room or a playroom, and an IKEA spice rack allows you to do it for less than £5,' says Rebecca Knight, Ideal Home's Deputy Editor.
13. Create a calming reading nook for bedtime stories
Incorporate the spice racks in a soothing, Scandi-style nursery scheme and keep your little one's favourite bedtime stories handy. Display artwork in frames or simply taped on the wall to soften the look.
14. Attach them to the inside of a cupboard
Create extra, concealed storage in your home office by hanging spice racks on the inside of cupboard doors. This is great if you prefer a streamlined look in your workspace and makes use of every spare inch. If you've got lots of cleaning products under the sink, you could try this trick on the inside of kitchen cupboards, too.
Will you be trying any of these hacks? If you don't have an IKEA near you, there are similar wooden spice racks at Amazon.
Get the Ideal Home Newsletter
Sign up to our newsletter for style and decor inspiration, house makeovers, project advice and more.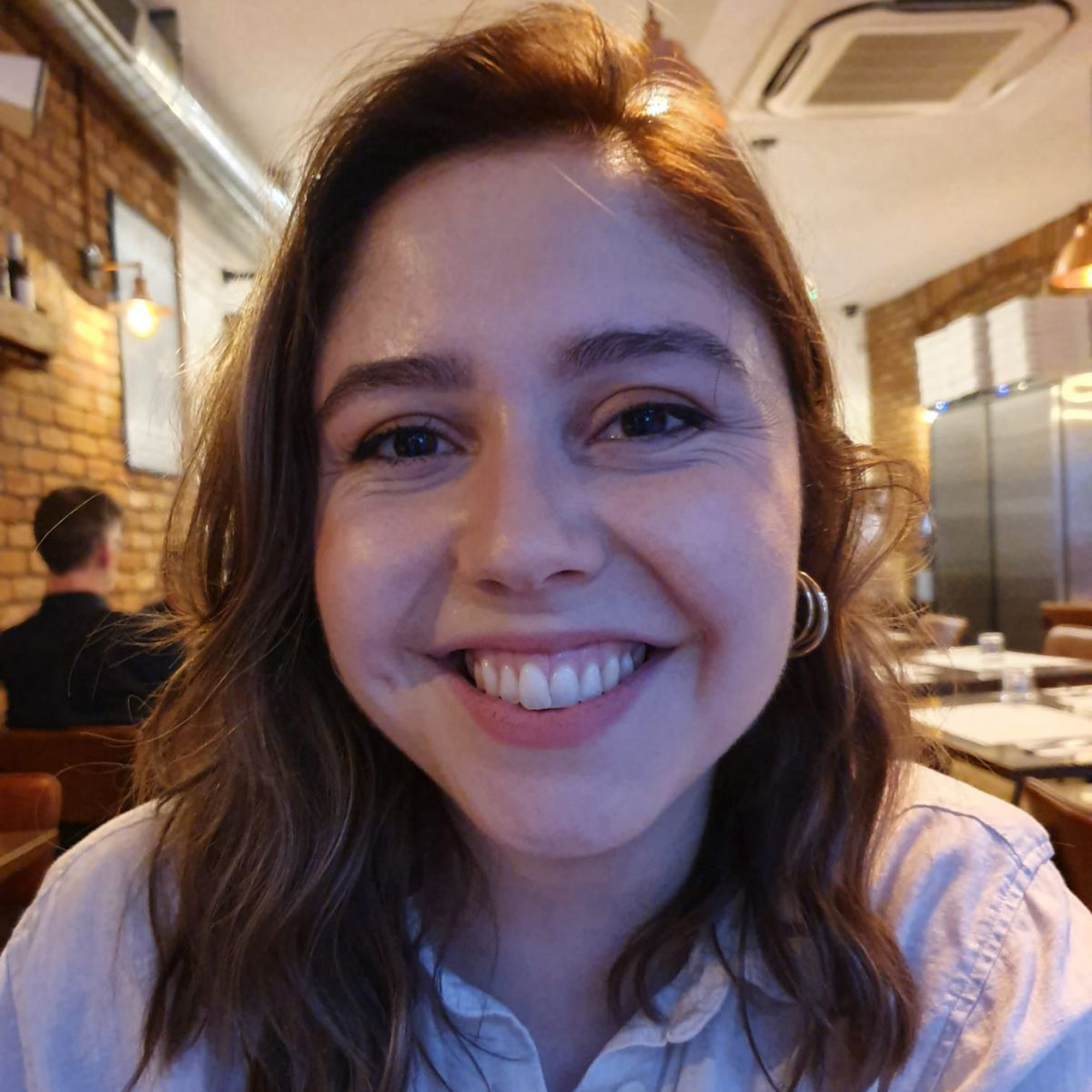 Millie Hurst was Senior Content Editor at Ideal Home from 2020-2022, and is now Section Editor at Homes & Gardens. Before stepping into the world of interiors, she worked as a Senior SEO Editor for News UK in both London and New York. You can usually find her looking up trending terms and finding real-life budget makeovers our readers love. Millie came up with the website's daily dupes article which gives readers ways to curate a stylish home for less.