Budget living room ideas – 25 pocket-friendly ways to update your living space
Want a new look on a budget? These living room updates will give your space a new lease of life
(Image credit: Future PLC/Tim Young)
Interior inspiration can result in us constantly wishing to revamp our homes, but the budget for that isn't always available. Everyone wants a super stylish lounge to relax and socialise in, but decorating a living room on a budget is often an essential rule to stick to. So if you don't have an endless budget to spend on living room decor (let's face it, who does?) then where do you start with your budget living room ideas?
The most simple living room ideas are sometimes the most effective, so think about small ways that you can update your living room that will have a large daily impact. Whether you're no longer a fan of your cushions or your wall art can do with a refresh, there are many ways that you can change the appearance of your living room with money left to spare.
Budget living room ideas
As the saying goes, don't move - improve, and with housing in short supply and the high cost of moving, staying put but changing up your interior has to be a better plan and can be totally transformative at very little cost.
1. Restyle shelves
Often, the easiest budget living room ideas is by taking items you already own and restyling them around your home. One place we love to repeat this is on built-in shelves as living room wall art inspiration, as a quick reposition can leave your space feeling brand new.
If you're struggling for inspiration or want to avoid buying any new decorative accessories, take a look around your home for any books, magazines, or catalogues that could make a clever design feature. Whether you choose to stack them or position them outwards in a gallery-inspired fashion, they can add an artistic element to a living room that also serves as reading material for an afternoon coffee break.
2. Opt for an ottoman
If your ideal living room update involves creating a new space to sit or rest your feet, then an ottoman could be your answer. But the best sofas are investment purchases, which likely don't align with a smaller budget. Instead, you can add to an existing seating arrangement with an ottoman or stool in either a matching tone or contrasting print - depending on your style M.O.
'Not only do they add a splash of personality to a room, but they're also a multi-purpose piece of furniture,' adds Kelly Collins, head of creative at furniture brand Swyft. 'You can sit on them, use them as a footrest, or even use them as a coffee table.'
Multi-purpose is the way to go when searching for budget living room ideas. Sometimes it isn't about initial low cost, but how much use you will get out of an item over time, and an ottoman will easily become a daily feet-up essential.
3. Go antique hunting
When it comes to decorating your home on a budget, it might be worth searching through a vintage emporium to achieve a mid-century living room look. The thrill of the chase makes your furniture finds that little bit more exciting and gives you plenty of bragging rights to family and friends.
There are a plethora of dedicated marketplaces for shopping second-hand, such as eBay and Vinterior, so you can decide whether to go searching in person or browse from the comfort of your sofa. This is also the simplest way to create a unique living space that is specific to your taste and feels well-curated. Plus, vintage furniture is known for standing the test of time meaning you won't need to spend on your living room in the near future.
4. Relish in rattan
It's safe to say that rattan is having a serious moment in our interiors, with many affordable furnishings available to instantly update your living room on a budget. Not only is rattan all over the high street, but it's also easy to buy second-hand on sites such as eBay and is known for its durability.
'Rattan's versatility allows it to tie into existing décor while maintaining its unique character seamlessly,' explains Cleo Allen, design account director at Andrew Henry Interiors. 'Rattan furniture stylish and an excellent investment that will last through the years - with proper care and cleaning, it can retain its natural lustre far longer than other materials.'
So if you're looking for a trend-infused vintage living room idea that meets your budget and will wear well, consider adding rattan to your space.
5. Max out on colour
If minimalist, modern living room ideas aren't your thing, you might be searching for a bold colour injection to update your interior. Continuing your wall colour throughout the entire room, onto skirting boards, doors and built-in furniture, is the latest trend in making a living space look expertly-designed.
And even better - you can easily achieve this as part of budget living room ideas by using up any leftover paint, costing almost nothing but providing a huge impact.
6. Be style-savvy with a luxe wallpaper
Wallpaper is an easy way of making a plain living room feel more plush, but opting for living room wallpaper ideas wall-to-wall can work out pricey. Using just a small amount of a pricier design is a canny trick that creates the impression of a rich, allover pattern, but for the price of just a roll or two.
Reserve a patterned wallpaper for a feature area, such as a chimney breast wall or in the alcoves either side. Colour-matching the wall colour to the wallpaper is a trick that stylists often use, that creates a tonal, complementary scheme. Just match your paint to the background colour of the wallpaper design and then try to work in extra accents of this colour around the room.
7. Double up with rugs
Large, open expanses of floor can make a living room feel chilly over winter months, but covering up with an extra-large area rug can work out costly. Try doubling up, by using a combination of different smaller-sized rugs to make your living room feel extra warm and cosy.
Opt for two rugs in complementary colours and textures for a warm tonal, look or make a statement by choosing two contrast colours or patterns. Circular rugs are great for small spaces and can help soften the lines of boxy furniture.
8. Fake a fitted look
Built-in living room shelving ideas can solve a whole host of storage issues, but can be a big expense if you opt for a bespoke build. Buying off-the-peg floating shelves can work out a lot less-pricey and can be stacked one above the other to make full use of the height of living room walls.
If you have a large expanse of wall area to cover, consider buying extra-long floating shelves to span across, or try joining up several shelves to create a longline, linear effect. Butt the shelf ends together to give a neat, streamlined look.
9. Paint your own wall art
Instead of splashing out on original wall art, cut costs by creating your own bespoke gallery as part of your budget living room ideas. Create a colour grid by framing pieces of coloured card or paper, colour-matched to complement your living room decor. You could even use tester pots of paints and paint your own papers or try framing remnants of fabrics in different colours or contrast patterns for a bolder look.
Use simple square-shaped picture frames - try Ikea for inexpensive click frames - or opt for front-loading album frames like these. Arrange the layout in a square or rectangular grid format, above your sofa or a living room sideboard.
10. Go dark for a plush look
Paint is one of the cheapest and easiest ways of updating a tired living room. And opting for an immersive colour-drenched scheme will bring an outdated living room bang up-to-date. For clever living room paint ideas, choose a wall paint colour that complements existing furniture and flooring, so that your room redo won't work out too pricey and then accessorise with cushions, throws and lamps in a contrast shade or pattern.
Choosing a dark or dusky wall colour can help make a chilly living room feel super warm and cosy. Opt for continuous colour on walls, skirting and woodwork for an on-trend look. Using the same colour throughout means that there are no harsh breaks in colour and can make a large space feel more enclosed and snug.
11. Cover-up the sofa with faux furs
A shabby or tired-looking sofa can ruin the vibe in any living room, but can be easily remedied on the cheap. Investing in a few new sofa throws or fleeces is a less costly option than replacing a sofa or buying new loose covers, and if you take the time to style the sofa properly it can look a million dollars.
Just chucking on a single, extra-large throw is a definite 'no no' that'll do your living room no favours. For a more polished look, consider layering up the sofa with a combination of throws and different cushions in toning colours and patterns that complement your sofa's colour.
Start with your main throw positioned centrally or just off-centre, taking time to fold it into a neat size, smoothing it down and tucking behind the sofa to secure it. Then layer on cushions and a couple of extra throws draped casually over the arms or the back cushion. These extra touches are also a perfect way to work a cosy living room idea over the winter months.
12. Get classy with continuous colour
Give inexpensive off-the-peg storage a built-in look by painting it to match the wall colour. Painting walls and fixtures the same shade throughout will create a seamless, unified look that feels bespoke, rather than flat-pack.
A dark background is a clever way to hide a TV so that it isn't the centre of attention in a living room. A black TV screen will blend in with a dark wall colour and not look so prominent. Likewise, dark colours can also make a striking backdrop for display pieces, with bright colours and bold shapes 'popping' against a dark background.
13. Use ledges for a changeable display
Switching around artwork season by season is an easy way of brightening up a living room if it's feeling a little drab or lacklustre. Instead of putting pictures up in a fixed position on walls, using narrow picture ledges offers more flexibility allowing for an interchangeable display, with living room wall art ideas easily shifted around or added to from time to time.
Opt for a single longline ledge behind a sofa with artwork propped against the wall and small ornaments dotted along and in-between to add extra colour. Alternatively, fill the wall space with an arrangement of shorter shelves, positioned at staggered heights.
14. Refurb budget basics
Transforming a standard Ikea flat-pack buy into a one-off piece offers huge creative satisfaction and is a great way of saving some cash too. There are plenty of Ikea hacks to be found, some fairly straightforward and others requiring a bit more know-how and ingenuity, but they are a great way of changing a fairly ordinary piece into something more unique and exciting.
Upgrade a set of basic pine storage units by painting them a matt black colour and adding leather tab handles to give a smart new look. Line-up several cabinets in a row (or mount on the wall) to create a longline bank of storage that will come in super handy in a living room or dining area.
15. Boost basic lighting
A single light pendant can lose its impact in too-large a living room, but doubling up or hanging several standard pendants in a cluster is a great way of adding wow without costing a fortune. When planning living room lighting ideas, try mixing different size and shape pendants - woven pendants or coloured glass always look great together - and hang at staggered heights to create more visual impact.
16. Update your walls with artwork
Have you got plain walls and don't want to decorate? Then fill your walls with art. Buying prints and framing has really come down in price in the last few years, so you can dress your walls with very little money, it's an ideal example budget living room ideas.
Choose a theme for your living room wall decor ideas, like this neutral palette and make sure you got the spacing right, about 5cm between each frame is a good benchmark. And if you are renting, use Command 3D picture mounting strips to put them up which peel off easily without leaving a mark.
17. Use plants to decorate
Plants are a lovely, and inexpensive way to add life to your living room, and they are proven to be good for our mental health and wellbeing too. Arrange them in corners, next to the sofa, on the sideboard, on shelves. Mix faux with real ones and add to them whenever you have some extra cash, or better still take cuttings and grow your own, or ask friends for cuttings of their plants that you particularly like.
18. Rearrange the furniture for free
For a no-cost update try rethinking how to arrange living room furniture. It' amazing the difference simply moving the furniture around can make on the feel of your living space. Better still, get someone else to do it for you, so you can step back and act as the curator. A fresh eye on your space could give you a completely different perspective.
19. Zone with a new rug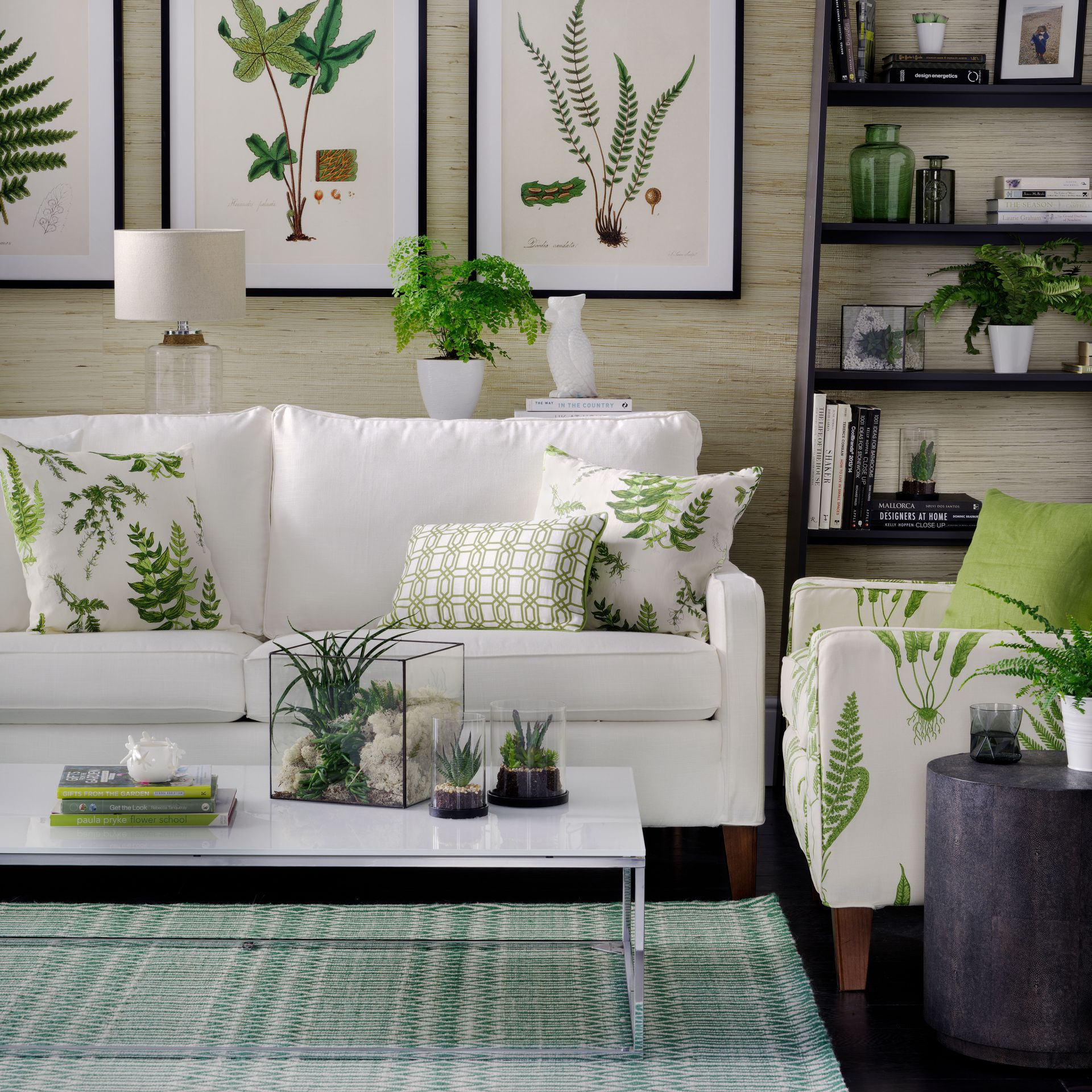 Rugs are the best way to zone a space to create a different perspective and there are plenty of designs that are inexpensive. Wayfair and IKEA have a good selection. In a plain white room with grey and navy sofas, adding colour really brings this room alive.
Place the rug between the sofas to 'anchor' the space, then you can use the accent shade to add colourful cushions too for a quick room refresh and a great budget living room idea.
20. Paint the walls
Freshening up the walls with a coat of paint is such a simple thing to do for a new look and doesn't cost the earth. These panelled walls have been painted in two colours, a café au lait colour, Brave Ground at the bottom and a pale blue, Faded Sky on the upper part, both Dulux.
Two soothing neutrals, there is just enough colour to make it interesting without being overpowering. It's the perfect look for an alcove. The door and door frame are also painted in a matching shade to add further interest – without costing anything more.
21. Welcome a wall mural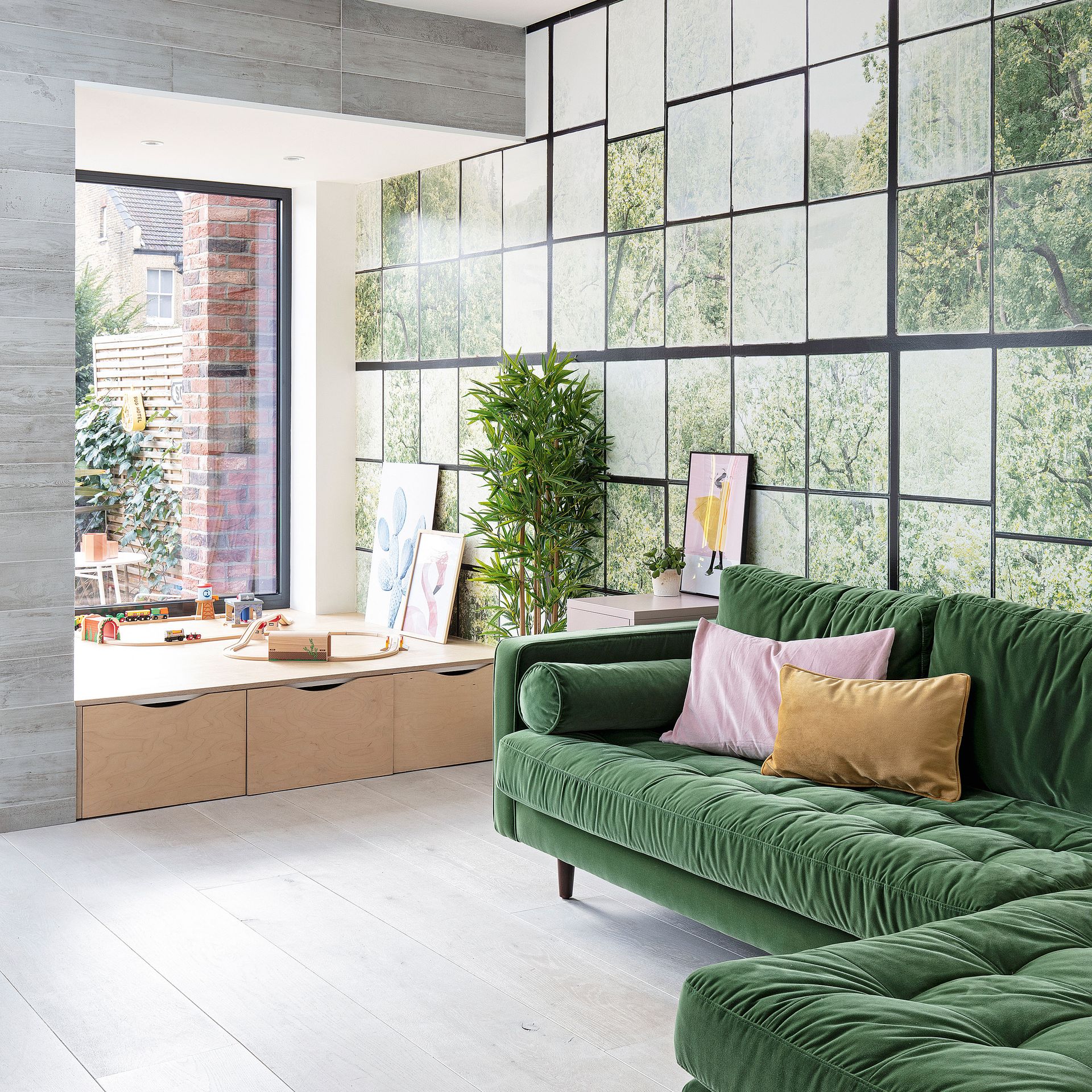 Go for the wow factor and paper one wall with a mural – a great way of decorating the wall behind the sofa. Choose a big design like this, to really make an impact, then pick out the colours from the wall for cushions and other accessories in the room.
22. Introduce warm wood
Wall panelling ideas and rustic wooden walls are big news in interiors right now, but they can be expensive. However, there is an alternative budget living room idea – sustainable, real wood wall coverings for the perfect quick-fix design update. Wooden wall panels are so on-trend right now and will give your living room instant style and character. And there is now a really inexpensive way to get the look – real FSC Certified wood self-adhesive panels! Lightweight and easy to fit, you could have a new look in a day.
'Choosing small areas to focus on can brilliantly transform the feel of a home. Your walls are the main feature of any room, by refreshing these you'll instantly impact the look and feel,' says Olivia Crosher, lead interior designer of Naturewall.
'Accent walls are great for emphasising the atmosphere. Use them to zone a space or create contrast, give them a dual purpose and you'll immediately breathe new life into your room. For an even better budget option, self-adhesive planks have to be the way to go.'
23. Jazz up your lighting
Dating lighting can be the quickest way to let your living room decor down. There are so many different styles out there and affordable retailers like Aldi, Wayfair and B&M have some trend-led lighting options that will update your space for less.
With the savings in mind, your living room could benefit from combining multiple light sources for added-depth and ambience for cosy evenings spent inside.
'Layering your lighting can make an immense difference in your living space even if you can't install permanent fixtures,' advises Kelly from Swyft. 'Don't be afraid to combine ceiling lights, pendant lights, wall lights, floor lamps, desk lamps, under-cabinet lights and more to add depth to a room.'
If the base of your lamp is perfectly fine, you could even change the shade or create your own using a fabric of your choice. Even switching out lightbulbs from cool white to warm white will change the atmosphere of a living room.
24. Update with throws and cushions
Yep, one of the simplest, new cushions and throws can really change the look of a room, and again you don't have to spend a fortune. Or maybe think about adding embellishments to cushions you already have?
There are groups online who sell inexpensive trims, tassels etc. to add a personal design touch to your cushions or think about adding a bobble trim to a throw in a contrasting colour.
25. Create a cost-effective gallery
If you would love a library corner but are worried about the cost, you can do it yourself by cleverly using the classic Mosslanda picture ledges from IKEA. For IKEA picture ledge ideas, the 55cm wide Mosslanda version is only £5 so it won't break the bank. Stack them on a blank corner, and paint them the same colour as the walls so they blend in. Then fill with your favourite books, prints and small mementos that can be easily updated or changed around when you want to give it a refresh.
How can I decorate my living room on a low budget?
'If you're looking for a way to transform your living room on a budget, introducing a feature wall by using eye-catching, patterned wallpaper is a good option.' Says Susie Spence, Trend Expert and Head of Interiors at B&Q.
'We offer a wide range of styles that suit all tastes from contemporary to rustic, with brick-patterned wallpapers in particular being used as a clever way to bring an urban or rustic flair to interiors without breaking the bank. Some great options from include our Tanlay Red Brick Effect Smooth Wallpaper and Fine Décor Ledgestone White Stone effect Smooth Wallpaper.'
'Another effective way to update your living room on a budget is to embrace the biophilic trend and bring more indoor plants to your space. From air purifying peace lilies to prickly cacti, B&Q has a large range of house plants to choose from that will bring a whole new meaning to the term 'living' room.'
We also swear by using home furnishing discount codes to find savings on all the top brands. And don't forget local charities, The British Heart Foundation have shops that sell second hand furniture across the country. Also Sue Ryder is another charity with an online shop that sells new items at reasonable prices.
How do I make my living room cosy on a budget?
'Create a cosy home that is both aesthetically pleasing and liveable in equal measures,' says Annica Wallin, Executive Creative Director at Desenio. 'By using expressive paintings and illustrations in creamy beiges and warm colour tones then add family photographs to form a cosy and inviting space for friends, family and pets.'
Get the Ideal Home Newsletter
Sign up to our newsletter for style and decor inspiration, house makeovers, project advice and more.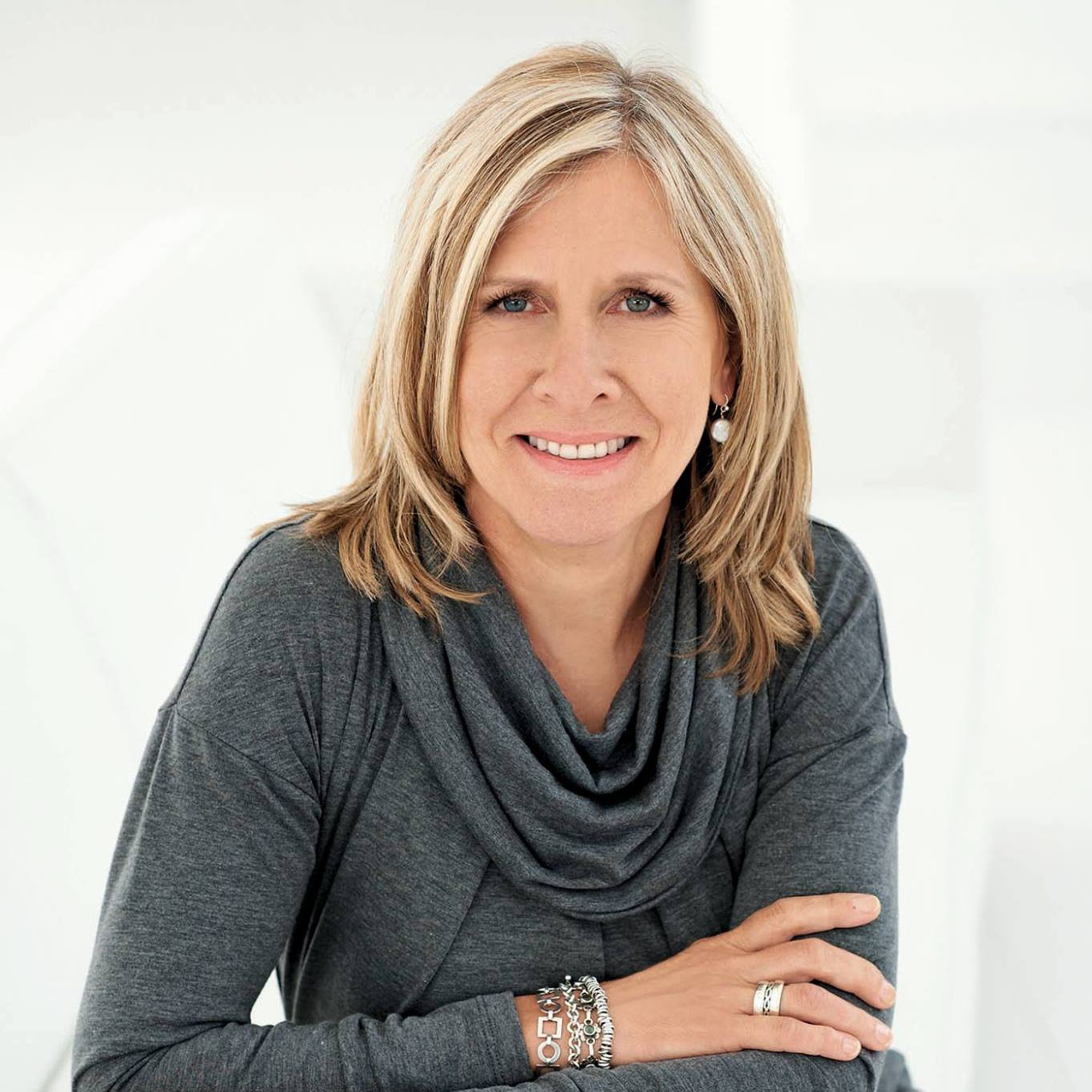 Alison Davidson has been working as an interiors and lifestyle journalist for over 30 years. She has been Homes and Gardens Editor of Woman & Home magazine and Interiors Editor of House Beautiful magazine, she has also freelanced and worked for most of the interiors magazines at one time or another. She is currently embracing the move to digital using the same knowledge and expertise to produce high quality features.