Family living room ideas to create a space that both kids and adults will love
Keep everyone happy with design inspirations that will work for everyone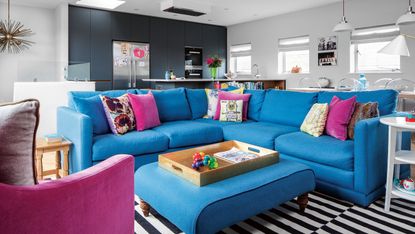 (Image credit: Future PLC/James Balston)
Lounges have different requirements depending on who they're accommodating. More than any other, family living room ideas have to work that bit harder in order to satisfy everyone's needs.
Traditionally, living room ideas were centred around comfort and entertainment - both in terms of socialising as technology. However, a family space needs to cater to much more. Not only are you catering to a range of ages, but you may also have to integrate a desk space for WFH days or homework.
Storage also becomes even more important than usual. 'When it comes to family living rooms, it's important to create an inviting space that the whole family can enjoy,' notes Lou Petersen, Creative Director, dwell. 'Often these rooms can also be short on space, therefore maximising on storage is crucial. In a home with a big family, it can be difficult to find room to store toys as well as other items.'
Family living room ideas
'The living room is the heart of the home, so creating a living room which is a perfect space for every family member is key,' says Jen Porter, Senior Design Consultant, Neville Johnson.
'Keeping in line with seasonal colour trends and ensuring family living room ideas are kept fresh with practical, bespoke renovations will guarantee an enviable home.'
1. Try the broken plan layout
Although open-plan living room ideas are still very popular, recently the trends are starting to turn towards the more versatile broken plan.
This layout is essentially halfway between closed floor plans and the open-plan style. The reason why it works so well for family living room ideas is because of its flexibility. The rooms can be separated by pocket, sliding or glass doors, so you keep them open when you're having family time, but can close them away if the kids are playing or watching TV and you're trying to have a conversation in the kitchen. It's a win-win.
2. Be playful with decor
When decorating family living room ideas, use it as an excuse to have a bit of fun. Living room wall decor is a great place to start, as you can experiment on a budget and without too much commitment. After all, paint can always be painted over.
'The best finish for family spaces is matt,' advises Justyna Korczynska, senior designer, Crown. 'This is because it can more often than not be wiped clean of any marks and stains and it's tougher than sheen surfaces.'
'Where possible, opt for a paint that's been classified as 'wipeable'. It's perfect for pen marks and sticky fingers and it's been designed and tested for the best stain and scrub resistance.'
3. Build in storage
'A key thing to consider is ample storage,' says Juliette Thomas, Founder, Juliettes Interiors. 'The living room is often the most used room for families, so it needs to remain a clutter-free and relaxing environment, whilst also being multifunctional.'
'Bear in mind how best to use the space and where living room storage ideas can be incorporated. If you have alcoves, optimise them with built in cupboards of shelves to store away items like toys and games.'
4. Prioritise seating
'It's important to ensure that your home works for you, rather than you work for your home,' says Dani Burroughs, Head of Product, Snug. 'Comfort is King when it comes to seating. Whether you want a large corner sofa with deep hugging seats, or a compact 2-seater that fits like a glove into alcoves or smaller areas, it's all about the space available and personal preference.'
'Ideally you want enough seats for each member of the family to have a place to sit back and relax,' continues Dani. 'But if you're working with small living room ideas a great alternative is a 1.5 seater snuggler that offers all of the comfort of a regular sofa.'
'If you have then space, then a deep and cosy sofa, large enough for the whole family is ideal. Something just as luxurious to look at as it is to flop on is a real winner. We would recommend a plush corner or even a corner chaise for ultimate TV viewing comfort.'
Since seating is one of the most expensive purchases for a living room, it's always worth checking out current home decor discount codes to see where you could make extra savings.
5. Think practically
'When taking into account family living, nothing is bomb proof but it's always wise to think ahead,' says Martin Waller, Founder, Andrew Martin. 'If you don't want to be rummaging under a sofa for a button-eyed animal, try looking for living room sofa ideas without legs.'
'If your stomach fills with dread every time you hear a clatter in the living room, swap cream linen upholstery for a thicker, darker plain or a fabric with a colourful pattern.'
'You might consider using throws or covering the arms with sleeves,' suggests Emma Sims-Hilditch, Founder, Sims-Hilditch. 'These can be taken off and washed, keeping the sofa good as new.'
'It is wise to avoid fabrics such as velvets and silks when planning the upholstery in a child's or family room. These are fragile and are best saved for formal sitting rooms or entertaining spaces suited for adults.'
6. Make it multifunctional
Use a range of furniture to keep your family living room ideas as flexible as possible. When deciding how to design a living room, keep this in mind. Ottomans are a great example as they can work as coffee table or seating, depending upon what is required.
A couple of smaller chairs are a great addition, too. You can separate these when more privacy is desired, or situate them by the sofa when it's a social gathering.
7. Go for fitted furniture
To make the most of modern living room ideas, if you can afford it, then bespoke is the way to go. You can use your space cannily, so every inch is utilised and you're making sure your family living room ideas are serving the family as you desire.
'The cost of fitted furniture is more than freestanding furniture,' notes Jen from Neville Johnson. 'However if you go for a premium fitted furniture specialist, your furniture will be durable and will retain its quality for a long time. This means it really is a fantastic investment, especially for families who need that extra durability.'
8. Zone areas for all the family
When deciding how to arrange living room furniture, keep everyone's needs in mind. Design allocated zones for lounging, dining and working to keep the room organised.
Dedicate an area of the room, whether large or small, to ensure everyone has a place for their needs. Set up a workstation at a small table in the corner of the room away from the central hub of entertainment to avoid any distractions.
9. Welcome a sizeable sofa bed
It may be one of the more simple living room ideas, but consider adding in a sofa bed. It's a great bonus so little ones can lay down for a nap but still be within sight.
They'll stay in use through the years, too, as teenagers might need a place for friends to crash. Plus, they're a godsend when extended family has come to visit.
10. Create a gallery wall
Family living room ideas shouldn't have to take themselves too seriously, so use this as a chance to create a fun gallery wall.
Decorate the wall behind the sofa with a mixture of prints, photos and your children's artwork. For ultimate flexibility you may want to include a picture wall so you can swap the home-made creations in and out with ease.
11. Stay on top of clutter with a storage wall
If storage space is at a premium or you want to avoid plastic boxes lined up in the living room, look to the wall to help clear the clutter with savvy storage solutions. As well as being practical, it's a cool alternative to living room feature wall ideas.
Hang wall baskets for a quick end-of-day tidy-ups for toys, books, magazines, iPads and other stuff that tends to lay about. Tech can be stored out of reach in the higher baskets. Use sturdy, decorative metal hooks that can take plenty of weight.
12. Set up a flexible work space
A full family house may mean space is at a premium and a separate room for an office or homework station just isn't an option. To create a slimline workspace within a living room, use adjoining floating shelves within an alcove or across an empty wall. Bear in mind the shelves may be leaned on, so secure with heavy duty floating brackets.
Using this minimalist trick in place of a desk or traditional home office furniture means it won't intrude on the living room. Pick a comfortable and supportive chair that doesn't look too 'officey' allowing it to blend into the decor of the room.
13. Utilise every nook for storage
Make the most of the floor areas with a built-to-fit seat in bay window ideas. Drawers under the seat add storage and are more practical than a lift-up lid.
The storage space is perfect for the speedy tidy up before guests arrive. Give each drawer a purpose to help keep it organised. Stash anything from toys and books to tech, chargers, consoles and games. The angled end section doubles up as a built-in side table.
14. Invest in adaptable modular furniture
'If you're looking for something versatile, think modular,' advises Dani from Snug. 'Look for a sofa that grows with you and your lifestyle as the needs of your living room seating ideas change. This will mean you never have to worry about your sofa being left or right aligned.'
'Want to give you sofa a makeover? Try swapping out the arms and feet for other options to give you sofa a completely new look for that new home you just moved into. Young family that's growing? Turn your 3-seater sofa into a corner sofa by simply adding new pieces.'
15. Add a hidden bed
A multifunctional piece like a bed in a box or a trundle bed this is ideal if you don't have space for a guest bed in a spare room or bedroom – it's a sleepover saviour!
These options are are great for smaller spaces, as you're not as limited with only having to look for sofa beds when it comes to sofa ideas for small living rooms.
16. Create an area that's made for play
If you don't have a separate space, it's wise to turn one corner of your living room into playroom ideas for the kids. Without one, toys could spread everywhere turning your entire living room into one big playroom – not ideal!
Family living rooms require plenty of storage, so make sure everyone in the family has an assigned cupboard, drawer or trunk to hide their things inside. Make sure there is plenty of it – at the end of the day, you'll be glad of somewhere to banish the toys so that you can enjoy some much-needed adult time.
17. Display photographs
Personalise your living room with an arrangement of favourite family photographs. If you're wondering how to break up a large wall in a living room, use this as the perfect spot to display family snapshots.
Choose frames that are identical in size and colour and arrange in a grid formation to make a visual impact.
18. Incorporate media units
Although we love to find ways for how to hide a TV, sometimes it's easier to keep it on display. In these cases, create a media-friendly arrangement in your family living room ideas Choose low units that won't overwhelm the room and keep the wall space above feeling open by putting up simple floating shelves.
'TV units are a great way to hide away those game consoles and controllers that can clutter a snug/family/TV room,' says Dani from Snug. 'Choosing something in a natural finish will help keep the space cosy.'
19. Childproof furniture for young kids
While you don't want to compromise on style, your furniture choices need to be thoughtful in family living rooms with very young children. An easy way to make furniture more child-friendly is to soften the edges on coffee tables.
Budget living room ideas this simple and effective check all the design boxes for a busy family home.
20. Choose durable furniture
Who says you can't have a stylish and sleek family living room ideas? Just pay attention to the materials you're using.
'Consider durability when selecting materials,' advises Emma Sims-Hilditch.'It is a good idea to select durable fabrics, particularly if you have children and pets. For living room upholstery we recommend choosing fabrics with a Martindale rub count of more than 18,000. This should ensure the longevity of your furniture for years to come.'
21. Use family-friendly flooring
There are numerous living room flooring ideas to choose from, but for a family space consider the most practical options.
Choose wooden floors for a classic look that is easy to clean. Keep it feeling snug with one large or several smaller rugs and look for machine washable versions so you're not as concerned about the inevitable spillages.
22. Go for wall-to-wall storage
Use a basic free-standing unit in multiples to create a bank of storage to fit your space. You can keep all your items in this one unit so you're not having to deal with pieces stored all over the places.
If you have a piece that includes both open and closed storage then keep the messier items tucked away and use the shelves on view as display for your prettier belongings.
How do I make my living room family friendly?
'Think about child and pet friendly soft furnishings when dealing with family living room ideas,' advises Juliette from Juliettes Interiors. 'Avoid incorporating expensive materials that are easily stained or damaged. Instead, opt for fabrics that are easily to clean and maintain, paired with accessories that won't break if dropped or knocked over.'
'The sofa is at the heart of a living room, so there are a few things to consider for a family space. As above, the fabric is essential so choose a low maintenance fabric that can stand the test of time.'
'Think about the size of the sofa - avoid choosing a piece which is too large and therefore won't allow for space on the floor for activities / games etc. However, make sure the sofa is large enough for every family member to enjoy - whilst also being comfortable. The living room is a social space, so it needs to be inviting.'
What is the difference between a living room and a family room?
Spacious homes with the luxury of a family room and a living room dedicate very different purposes to each living space.
A family room will be a room dedicated to hanging out as a family to play with toys and enjoy movies and home entertainment, while a living room will be more of a formal setting for entertaining guests and enjoying some grown up time.
The best of both worlds, of course, is creating dream family living room ideas so you have two in one.
Get the Ideal Home Newsletter
Sign up to our newsletter for style and decor inspiration, house makeovers, project advice and more.