Grey kitchen ideas – 42 ways to use grey from cabinets to walls
Grey is here to stay - style up a versatile scheme that will last for years to come with these grey kitchen ideas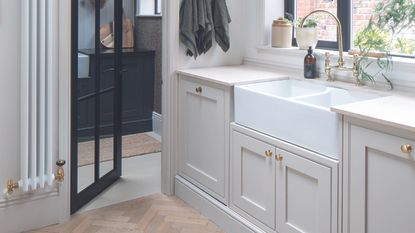 (Image credit: Future)
Grey has become one of the most popular shades to welcome a modern upgrade from white, and it's not going anywhere. Grey kitchen ideas work in any style of home, from farmhouse to ultra-contemporary, so there truly is something for anyone. Plus, it doesn't date, so you can feel safe in the knowledge that your investment will stand the test of time.
Tone is important, probably even more so within the grey family where warmer greys can create an entirely different feel from blue-based shades of slate. When it comes to kitchen ideas in shades of grey, consider if you want to go for a full-grey look or a two-tone look with a contrasting darker colour.
It's also important to find ways to style it up (of which there are many) so that your grey scheme feels entirely unique to your home and personal taste.
Grey kitchen ideas to inspire
When it comes to incorporating a grey colour palette within kitchen design the possibilities are endless. For subtle contrast, two different shades of the same calm colour tend to work better on cabinetry than three or four, which can look like a design mistake.
An island painted in a deeper or contrasting colour to that of the wall cabinets will make it a focal point in your grey kitchen.
Base cabinets in darker shades than wall cupboards enhance the design and prevent it looking top heavy. For stronger, contrasting kitchen colour schemes, think light and dark, or two bold greys of the same 'weight' and balance. Too much heavy colour can make a room feel smaller, so you may want to balance things with a neutral floor and walls.
For balance, clever kitchen lighting is all-important in a grey kitchen. Delivering the right level of brightness and warmth as and where you need it.
1. Create a contrast
Grey and white is a classic kitchen colour scheme that goes together naturally and a great choice if you want a timeless look that won't date. The devil is in the detail with an understated look like this, with luxe surfaces and accent fittings that will keep a simple grey kitchen from looking too plain.
Start with worktops, opting for luxurious white marble or composite to add a feeling of spaciousness. Continue with glossy white tiled splash backs for a seamless, uninterrupted look. Floor tiles are a great way of bringing in pattern with a classic, all-over design adding a subtle hint without overpowering the room.
Finish off with luxurious fittings, from drawer pulls and handles to tap fitments to light pendants. Copper or brass will stand out and make more of a statement than standard stainless steel.
2. Can't decide which grey? Try a two-tone kitchen
If you're having trouble choosing between the shades of grey, using one as an accent colour is the way to go. A two-tone kitchen cabinet colour scheme allows the use of bolder more confident shades without overwhelming the space.
Keep to the paler coloured cabinets for the majority of the kitchen, opting for grey (or the bolder colour choice) on a third or less of the total space, so that it isn't too overpowering. Introducing a freestanding island or a single bank of wall cabinets are great devices when putting a two-tone kitchen colour scheme together.
3. Balance with black accents
If you want to keep the base of your kitchen scheme light and pared-back, then grey is the way to go. However, you might also want a slice of a statement look that takes inspiration from the latest kitchen trends.
In this case, punctuate a light-grey look with black features. Whether it's via a sink and tap, cabinet handles, or even ultra-sleek Crittall doors leading to a utility room, it provides a premium look and takes grey to the next level.
4. Perk up plain grey with playful terrazzo
Lively patterns help bring punch to a plain kitchen. One of the biggest tile trends right now, terrazzo is hardwearing, easy-clean and resistant to water, so the perfect choice for practical spaces like kitchens and utility rooms.
Try a tiled splash back in a muted mix of black, white and grey to tie in with kitchen cabinets. Extend tiling to take in the floor for a bolder look, or embrace colour with a bright colour-pop terrazzo in sunny primary shades or soft plaster pink tones to give your kitchen a hint of the Med.
5. Consider greige as an alternative tone
The benefit of grey is that it comes in so many tones, so you can really work to find the exact shade that works for you. 'Greige' is a great choice for those wanting a warmer scheme as it sits somewhere in between beige and grey, hence the name.
As a result, it's easy to style up with warm-toned accessories and will create a more inviting ambience. For example, it works particularly well with light wood worktops or a farmhouse kitchen table that will coax the whole family into spending time around.
6. Frame your work zone in an open plan kitchen
Contrast is always good in a grey kitchen or otherwise the space can feel a bit flat and lifeless. Framing a bank of grey units with contrast units in a glossy black finish grabs the attention and gives the space focus. The longline island acts as a room divider with outward-facing sink and hob so cooks can still socialise while they work.
7. Add a purple island to make grey cabinets pop
Introducing a bold accent colour on a central island will give a plain grey kitchen new focus. Keep cabinetry style the same for a cohesive look, but choose a vibrant, contrast shade so that the island takes centre stage.
Keep worktops consistent throughout the kitchen to tie the colour palette together. And in an open-plan kitchen-diner, choose a table in a wood with a similar tone or grain, to echo the feeling of continuity.
8. Mix up cabinets with grey curtains
Choosing a grey kitchen design doesn't mean you have to commit to new cabinetry, instead, opting for cupboard curtains will be an affordable and unique update to a layout.
'Cafe curtains are versatile and work well in a variety of interiors and rooms. Whether used in the kitchen, living room or bathroom they create a cosy ambience that complements the room's look and feel,' says award-winning designer, Kelly Hoppen.
Sticking to a grey colour scheme for the curtains will allow them to blend seamlessly into the design, but there's plenty of scope to opt for a patterned fabric - whether you're DIYing them yourself, or having them made.
9. Banish hard angles with a curvy kitchen
Consider curves to bring life to a standard grey kitchen and break up hard edges and harsh angles. Give a compact kitchen a better sense of flow by opting for a central island with rounded corners and contoured profile so access around the kitchen is smooth and uninterrupted.
Combine several shades of grey to prevent a grey kitchen from feeling flat. Consider going a couple of shades lighter on top cabinets and choosing a pale, light-reflective work surface to add sparkle and bounce light around the space.
10. Add a lively pattern to perk up walls and floors
Too much grey can be overpowering in a tight space so soften the look of an all-grey kitchen by bringing in lighter elements and glossy surfaces. A tiled splash back in a lively pattern and contrast colour is one of the easiest ways of lifting a dark scheme.
A Victoriana-style porcelain tile takes on a modern twist teamed with classic grey units. Try a simple tiled splash back on its own to add an instant hit of pattern, or go all-out for pattern and continue the same design on floor tiles too.
11. Turn up the heat with timber
Turn to softer shades of grey to create a soothing colour scheme that feels less harsh than dark charcoal tones. Match walls and cabinets in the same stone grey shade throughout to create a calm and cohesive backdrop that will make a small kitchen feel bigger.
The most successful colour schemes need some form of contrast to make them work.
So introduce an accent material to keep an all-neutral kitchen from feeling too bland. Tactile woods, rich grains and washed timbers across flooring, furniture and fittings will all add extra warmth and colour.
12. Add modern country style
Dark cabinets top and bottom can feel a bit overpowering in a small kitchen or area that doesn't have much natural light. Give a grey kitchen some breathing space by taking out a run of top cabinets and replacing them with a single row of open shelving.
Installing a simple panelled splashback above units will give a modern grey kitchen a relaxed, country vibe. Paint panelling in a soft, warm white finish to contrast dark grey cabinets and finish off with a length of narrow wooden shelving to complement timber worktops and flooring.
13. Select a Scandi-inspired design
To many people choosing a grey kitchen design, minimalism is the ultimate goal. It's the perfect opportunity to completely pare a look back so that a cooking space feels clutter-free.
To enhance this, opt for Scandi kitchen idea with slab cupboard doors, alongside ultra-simplistic handles. This creates an uninterrupted swath of cabinetry that is easy on the eye, and keeps kitchenware out of sight. You can take the look even further by going for large cupboards instead of smaller drawers to avoid the amount of joins.
14. Go glam with luxe gold and grey
You don't get much more glamorous than marbled kitchen cabinets shot through with accents of gold. While we're used to seeing marble on work surfaces and splashbacks, glossy marble-front cabinets take grey kitchens to a whole new level of luxury.
Break up large expanses of cabinet by adding pockets of shelving for storage and display. And add colour balance by introducing a free-floating island in a contrast white marble finish. Gold trims and plinths add to the luxe effect.
15. Add personality with a grey-painted kitchen
If you're looking to revamp your kitchen on a budget DIY painted kitchen cabinets is the way forward. Give your existing units a refresh with a lick of on-trend grey. It's easier than you think, the hardest part is choosing the shade!
Grey is a chameleon of a colour that can lend itself well to all kinds of settings. For a subtle take on the look opt for a light grey hand-painted finish. But if you're looking to completely transform your space try dark grey. A striking shade of grey will bring out the best in other colours, so team grey paintwork on kitchen cabinets with a freestanding island painted a characterful shade such as olive green or mustard yellow.
16. Put the focus on the floor
In a smaller kitchen, opt for pale and mid-toned greys that won't absorb the light as much as dark-toned greys tend to. Team easy-on-the-eye grey with a striking black and white checkered floor in a small kitchen. Bold flooring like this will grab the attention, so that cabinets recede into the background, making a small kitchen feel stacks bigger.
17. Blend contemporary designs
Create a sophisticated grey kitchen by mixing contemporary design materials across cabinets, worktops and flooring, seen here in this grey and white kitchen. Combining different materials adds interest to the space, allowing the design to reflect the character of the rest of the house.
Streamlined matte grey cabinets welcome a throughly modern vibe in this white kitchen idea, while the natural wood worktop helps to ground the look, and stop it from feeling too stark. It's all about balance.
Expert advice for mixing materials comes from Melissa Klink from Harvey Jones.
'A wooden worktop adds warmth in a kitchen, but it is a soft material which can become scratched or scorched during wood preparation. Confine the use of wood to soft-use areas, such as breakfast bars for eating or entertaining. Use a harder surface which is easy to clean, such as granite or quartz composite, for food prep areas.'
18. Extend a grey kitchen into a utility room
Grey is a practical choice for an open-plan kitchen thanks to its versatility. If you have a layout where multiple rooms, and therefore functions, are instead in one open space, then you'll want a colour scheme that flows seamlessly between them all.
The subtle appearance of a light grey palette means that it will look spacious, but it's also easy to style up in unique ways for each area. Creating a utility room in the same colour as a kitchen will make it look expertly designed while adding to a cohesive look.
19. Frame grey units with brass detail
The devil, they say, is in the detail. But we find this subtle use of brass to edge these deep grey units positively heavenly. It's a great way to bring extra glamour to existing cabinetry. Or to make new off-the-shelf furniture look a whole lot more expensive. Coordinating kitchen lighting ideas up the ante even further.
20. Unite an open-plan living area
Choose a warming shade of grey to make an open-plan kitchen and living area feel like a comforting haven. Use the same rich tone of grey throughout, from kitchen cabinetry to the paint colour on the walls of the living area to unite the spaces, making them feel like one.
Enhance the warmth by using natural wood worktops, flooring and accessories. Textured fabrics with a tactile quality will help to add depth and a sense of cosiness to the open-plan elements.
21. Match your paint shades
Create a uniformed look by matching the paint colour on the walls to the chosen grey shade on the cabinets. This helps to seamlessly blend one into the other, helping to create the illusion of a bigger space.
This is an especially useful technique if you're looking for small galley kitchen ideas. With paint matching services, and many kitchen fitters even making their own paint range this look has never been easier to achieve.
22. Introduce a colour match for all work surfaces
If you're looking for a matching grey colour scheme, choose one tone to incorporate throughout all of the work surfaces. To keep the look unified choose the same finish for all surfaces, so if the paint finish is matte choose the same for the floor tiles and the splashback.
This new matte splashback features a coarse finish that forms the surface of the Smoked Ember panel, ideal for complementing natural finishes and enhancing a soothingly soft colour palette.
Keeping the walls painted white helps to highlight the grey choices on the furniture and flooring. Finish the look off perfectly with a statement butler sink and wicker accessories.
23. Work the pastel trend with a grey backdrop
Last on-trend in the early noughties, pastels have been reworked for 2021 with a new emphasis on sherbet oranges, violet whites, peaches and muted greens.
And the best backdrop to these mouthwatering array of colours? Grey – in this case Misty Mirror by Dulux, paired with Tranquil Dawn cabinets. A change of wall colour can transform every other element of a kitchen design.
24. Add interest with a feature wall
Add interest and character with a feature wall that mimics the grey colour scheme. Shaker-style units in an easy-going mushroom hue keep the look light and fresh. Original Victorian wooden flooring adds warmth, and a woodland-inspired feature wall for the dining area gives this space depth and detail.
Wallpaper can work well in a kitchen. Go for a dramatic design to create a feature wall. Although the pattern is bold, the colour is a subtle grey, which brings tranquility to a large, open-plan room like this.
Bright wallpaper is a great choice if you're looking for ways to add colour to an all white kitchen, too.
25. Echo grey elements of stainless steel
Enhance the natural tones of stainless steel. The brushed-chrome finish offers as close a colour match as you'll get within the grey colour palette. Encase an industrial-style sink with tonal cabinetry to present a uniformed finish.
Go one step further by adding matching taps and fittings, even industrial-style pendants to tie the cohesive scheme together.
26. Mix materials and finishes
With an increasing trend for championing natural materials in our homes, designers are looking for more and more creative ways to incorporate wood into their kitchen designs.
This example is a perfect partnership of contemporary high-gloss cabinets alongside natural-look wood worktop and splashback. The contrast creates a harmonious blend of modern design with the warmth and grounding ethos of wood.
27. Brighten an outlook with a splash of yellow
What brightens up a cloudy day? A little bit of sunshine, of course! The same can happen in a deep grey kitchen.
This yellow glass splashback beside the window is a smart colourful kitchen design idea, as it sits ready to attract the light and shine a warming glow onto the surrounding space.
Yellow works brilliantly, thanks to its association with sunshine, but you could use any bright colour to create the same effect.
28. Balance the light with darker hues
Go for stylish and sophisticated with dark design choices. Feel emboldened to use brooding dark greys and walnut wood by getting the balance right with lighter tones.
Keeping the walls white will allow the light to fill the space more freely. Teaming a white tiled splashback and a light grey herringbone floor adds the perfect fashionable finishing touches that won't date thanks to the muted colours.
29. Create the perfect grounding with concrete
Draw on the natural grey tone of concrete to create a contemporary, authentic grey scheme. Start from the floor up, tailor your kitchen to create a vision in grey.
Polished concrete flooring has become increasingly popular in recent years with the rise of open-plan living. The look can be easily achieved now thanks to a luxury vinyl to save on the expense of having your flooring professionally tailored.
The beauty of vinyl over the real thing is the maintenance. Faux flooring measures are more durable and easier to clean than the real thing because the material is less porous and harder to mark. That can't be a bad thing in a busy kitchen!
30. Embrace exposed brick for an industrial look
The kitchen trend for industrial style remains hugely popular. Grey is the perfect shade to help achieve the look, because it's not too far removed from industrial steel.
This contemporary look is characterised by raw materials like exposed brick, natural wood and metal paired with rich greys and urban-style accessories like prominent metal pendants and matte black bar stools. The mix of dark grey tones and textures creates a sophisticated industrial finish.
31. Say yes to Shaker units
Want a kitchen that looks both sleek and stylish? Then bespoke Shaker units could be just what you're looking for. And this design doesn't have to be traditional, as this Shaker-style kitchen idea proves.
While handleless is all the rage, we think these stylish copper handles add wow factor here. White metro tiles also help set off this striking look.
32. Add natural vibrancy to grey with accents of green
There's no danger of this grey kitchen looking gloomy thanks to an injection of forest green. The splashback tiles are a smart green kitchen idea, especially when complemented by real-life greenery in the form of succulents and fresh herbs.
Leather handles are a smart finishing touch that makes the off-the-shelf units look high-end.
33. Welcome warmth with wood furnishings
Grey has a reputation for being a cool and clinical colour but by mixing in some wood, you can create a positively warm and cosy look. The trick is to find the right shade, and mix in the right tone of timber.
In this grey kitchen idea, almost purple-grey units have been teamed with a chunky pale oak worktop and knotted floorboards to harmonious effect. If you wanted something that works with a darker, charcoal grey, you could try a deeper walnut.
34. Layer tones of grey
Using various layers of grey shades to pick out individual elements of the room creates a cohesive feel in this modern kitchen idea. The walls and island are painted a dark, slate grey, the cabinetry is a softer shade, and darker flecks in the marble of the work surface and splashback prove an effortless transition between light and dark.
Keeping the rest of the scheme light keeps the room feeling airy despite the abundance of dark grey.
35. Smarten up compact kitchens with colour
In a smaller space, some might worry that grey will prove an oppressive choice, especially darker shades, but this well-ordered kitchen shows that doesn't have to be the case.
Using the same dark shade on the lengthways run of cabinetry, sink area, upstand, kickplate, stool and lighting is a cohesive, eye-catching choice, and the pale shade of grey used throughout the rest of the scheme keeps the look airy.
36. Add grey shelving for a casually cohesive look
We love these smart grey kitchen units but using them on the walls, too, might have been a step too far. Instead, this simple grey kitchen shelving idea makes for more casual – even rustic – storage that doesn't make the room seem too dark.
Marble worktops, a Belfast sink and worktop-to-ceiling metro tiles in bright white further lighten the mood.
37. Choose French grey for a rustic scheme
Grey is just about the most flexible colour for a kitchen. In charcoal, it can feel very modern, but opt for a French grey like in the small kitchen idea shown above and you're immediately transported to the Gallic countryside. Even if you do live in Grimsby.
A soothing green-grey, French grey takes its name from the shade heavily featured in French design and wallpapers from the 19th century. It's as popular now as it was then thanks to its unique soothing quality, which makes it perfectly suited to relaxed rustic kitchen-diners like this one.
If you're going to introduce a few different colours in accessories, it's best you keep to one single tone for the backdrop so make sure your splashback, cabinets and flooring all match. Otherwise the overall effect will be less stylish and more shambles.
38. Go white on the walls