46 home office storage ideas to keep your work space organised to perfection
Keep your focus by keeping mess out of sight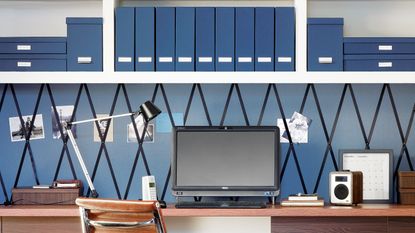 (Image credit: Future PLC/Dominic Blackmore)
Creating a workspace in the comfort of your own home is more essential now than ever before. Whether its a separate room, a corner of a kitchen or an understairs nook, ensuring you have the best home office storage ideas is the best way to streamline a work zone and boost productivity.
Not only are homes now the space for WFH days, home office ideas will provide a spot for working on a side-hustle business or a creative hobby. Plus, they can be used by the whole family, whether it's for kids' homework or even for household admin. Each purpose has a different need, so it's important that the space works for you, and storage is integral to creating a useful space.
'To maximise storage in an existing office, carefully consider what you use and recycle items that you don't for a streamlined space,' advises Philipp Nagel, Director, Neatsmith.
'For a home new office, time spent with a designer, going through exactly what use you will have for the space is key. A lawyer working from home will have different requirements to a broker or musician's space. Work out the physical requirements e.g., screens, charging points, camera positions, filing type, bookshelf depth and make it work with the available space.'
Home office storage ideas
There's a style of storage to suit every working from home area, no matter the size or style. One thing that's essential to consider with any type of home office storage ideas is what you actually want to be on show.
Do you like to spread out your work and inspirations? Or are you working in an open plan space and want everything to be neatly tucked away when you're finished for the day?
Whatever your dream office, there's a way to make the storage benefit both your work and your design goals.
1. Go for mid-century style
While storage is essential in a home office space, you also want it to be creatively inspiring. This means choosing furniture that reflects your personal style so it feels energising to work in, even through long days.
'A home office should be an eclectic extension of one's personality and in sharp contrast to a corporate environment,' echoes Sarah Kocher, CEO of Life of Riley.
Taking inspiration from mid-century living room ideas is also a great way to achieve an on-trend look, but it also often comes with ample space in drawers for office essentials.
2. Double up with wall and base storage
If you're trying to pack in as much storage as possible, it's important to make the most of the height of a room with both wall and base units. Opting for a built-in look, similar to kitchens, means that you maximise every inch of space available.
No matter whether you have a large or small home office, making the most of cupboards at both heights offers plenty of room for keeping things within arm's reach or tucked away for safe keeping.
3. Create a bookshelf wall
If you're looking to achieve a reading room aesthetic, then opting for a floor-to-ceiling bookshelf is the way forward. It's a great way to make the most of wall space and can even work in smaller home offices as it limits chunky furniture and adds to a cosy feel.
You don't just have to decorate with books either – a whole-wall shelving system will act as the perfect place for showcasing photographs, knick-knacks, or even a printer. There are so many shelving ideas to suit any household so you can easily match it to your taste.
4. Keep it tucked away
We're not all blessed with a separate space for a home office, so combining an office area with storage will give you the best of both worlds. Making use of a wardrobe or going bespoke with a built-in cupboard can provide a spot to pull up a chair and work, with it also being easy to shut away.
The key to effective storage is making it work with the wider room and decor. So, if you have a pop-up home office within an open-plan kitchen, for example, then having the storage system work with the rest of the interior will streamline the overall layout.
5. Prop up a ladder
Don't be afraid to make the most of the height of a room, as adding a ladder is an easy way to make home office essentials accessible.
While you might still want to put your least-used books or officeware on the top shelf, a ladder will mean that you can still get to it when needed. It also adds to a quintessential home office design that feels like a grand at-home library.
6. Add on-trend rattan
Rattan is one of the latest trends and there are a plethora of storage cabinets in this style on the high street. Alternatively, you can DIY your own with IKEA hacks that make it simple to transform flatpack furniture.
This takes a storage unit from plain to on-trend, providing plenty of space for bulky home office equipment such as a printer or cables while ensuring your workspace feels pretty to sit in.
7. Make room for memos
Juggling work, chores and a social life can be tough, so creating an organisation method in a home office that helps you remember key events will make daily life that little bit simpler.
A memo board is a great way of achieving this as you can easily pin up notices such as invitations or post-it notes to keep them right in front of your eyes. It also acts as a home office wall decor idea, creating the opportunity for you to pin inspiring images and art to keep you going through tiring days.
8. Add stylish floating shelves
When it comes to choosing storage for your modern home office ideas, floating shelves are the way forward. They can be as thick or thin as you desire, but can create an especially contemporary style statement when there are strong, wide lines above your working area.
For a cohesive look, make sure the colour of your shelving matches your desk and other office furniture.
9. Use picture rails for flexibility
For creative minds, craft room ideas or simply those who like to mix things up, then look to picture rails.
This simple way of arranging prints, frames and other slim objects means as well as being an example of neat and narrow home office storage ideas, it's easy to change things up for a new display.
10. Use every inch with bespoke storage
Whether you're working with a large or small home office, going down the bespoke route can be a gamechanger.
'We prefer bespoke solutions which incorporate floor to ceiling shelving and built-in desks utilising as may walls as possible within the room,' says Tom Rutt, Founder, TR Studio. 'This allows for maximum usage of the space for storage and complete flexibility also.'
'The floor to ceiling shelving can be used for stacking books and storage baskets are a sophisticated way to house paperwork. Intermixed with pieces of art and objet, shelving can be a very sleek way of using storage in the home office.'
11. Create wall decor out of storage
Get two for one by combining your home office storage ideas with home office wall decor.
Shadow boxes can create quite the statement when attached to the wall to use as open storage. Choose interestingly shaped frames to make further impact, and if your space could do with a hit of pattern or colour, then wallpaper their backs.
12. Keep things uniform
Home office storage ideas don't have to be purely practical - they can add to your interior scheme, too.
Avoid home office design mistakes by sticking to a strict uniform. As you do when designing a room, choose 2-3 colours to become the main focus. Use these for your storage boxes and shelves in addition to your walls and furniture. As well as colour, consider shape.
Either go for linear and geometric designs, or choose shapes and patterns with a rounded or curved element.
13. Take things up high
When considering home office layout ideas, keep potential storage solutions in mind - and don't just look around you.
Utilise the space above your desk and, if possible, add in shelving near the ceiling. This is a perfect spot for items you don't need on a daily basis. Plus, being out of eyeline this won't make the area feel cluttered.
14. Blend shelves in with the wall
Shelving ideas don't always have to shout about their existence. Paint your shelving to match your walls so they disappear.
This is great for a more minimalist look, but also works in maximalist settings as the colours of objects on the shelves look even bolder and brighter by comparison.
15. Stick to a colour scheme
Tie your home office storage ideas in with the rest of your scheme.
Choose pieces with match your home office desk ideas, seating and lighting. If you have a statement paint colour or wallpaper, link this in through storage boxes or objects on display.
16. Get creative with open storage
Open storage can be much more multipurpose than you might think. Fill cubbies with objects and books as you already would, but alternate others will storage boxes and baskets.
This is an especially great ideas if it's linked to kids rooms – perhaps for homework – as it's easy to keep organised, but can also be quite creative and playful.
17. Use unexpected pieces
There's no rule that says you can only use purpose made home office furniture in the space. If you have – or find – a piece you love, then why not repurpose it to become unique home office storage ideas?
As long as it sits neatly in the space and holds what you need it to hold, then go for it!
18. Use wall storage to house tech
Squeeze a slimline desk in with your kitchen diner ideas or an alcove, so you've somewhere to set up desk on a working-from-home day.
A wire rack makes a handy noticeboard above a desk and with the addition of a few clip-on baskets gives somewhere to store phones and tablets. Position your desk near a power source so equipment can charge while you work.
19. Hide everything away in a 'cloffice'
The latest WFH trend, a 'cloffice' is a combination of 'closet' and 'office' - or in other words, a desk in a cupboard. A great way of solving all your storage issues in one hit, an office-in-a-cupboard has the added benefit of everything getting hidden away behind closed doors when work is done.
Try and opt for a cupboard that has room for a monitor, pull-out keyboard shelf and cupboard space underneath for a printer. The addition of a pinboard on each door for notes and reminders can be extremely useful, too.
They're not typically the cheapest of items to pick up, so it's advisable to go through home furnishing discount codes to find the perfect piece for less.
20. Squeeze desktop storage into an alcove
Make use of an empty alcove if you're needing to set up desk in a bedroom or living area. A slimline ladder-style desk won't protrude into a room too much and makes a great landing spot for a laptop or tablet.
Choose a design with several shelves so you have space for books and files and discreet hidden drawers like this one so you can tidy smaller odds and ends away.
21. Build a wall of storage
Take office storage floor to ceiling with a flexible shelving system that can be tailored to suit your space. Position it adjacent to your desk, so you can grab paperwork and essentials as and when you need it.
Start your set-up with uprights and support brackets to create a framework, then add a combination of shelves, racks, panels or drawers as required.
22. Work with moveable furniture
Keep craft tools and supplies to hand by storing them in a mobile storage cart. Go for a trolley on castors that can be slotted underneath a desk – it can be rolled away out of sight when you've finished working.
Choose a tiered trolley to help you keep the contents organised. Plastic cartons and shallow trays inside each tier make great dividers so you can keep small-scale items separate.
23. Set up a freestanding family hub
Keep the dinner table free for food prep and mealtimes by squeezing in a mini landing table for the family laptop.
Go for a compact, floor-standing design, with a couple of drawers and shelves for storage and a memo board above for notes and reminders. And make sure to position it by a power source for easy charging.
24. Make a 'micro' work space in a corner
If you're super-pushed for space, consider setting up desk in a hallway or on an upstairs landing. A compact, triangular-shaped desk will slot into a vacant corner and will provide enough space to sit with a laptop or work on paperwork.
Keep a 'clear desk' policy and make sure you put everything away when you've finished working – cluttered desks will make a room look untidy. A desk with one or two slimline drawers will give storage for paperwork.
25. Keep clutter out of sight
If not kept super-tidy, open shelves can easily look messy, especially if you're working out of a living room or bedroom ideas.
Corral small-scale clutter away into pretty baskets or decorative storage boxes and stack neatly on shelves. Choose a colour theme that ties in with your decor for a co-ordinated look.
26. Work 'on-the-go' with a mobile storage unit
If your WFH set-up varies depending on which family member has nabbed the best spot, then a storage unit on wheels is a brilliant open-plan living room idea.
It will keep all your essentials organised and in one place, so you can wheel it into play when you need it, whether you're working at a desk or from the kitchen table.
27. Organise your desktop with see-through caddies
Store stationery, pens and small-scale bits and bobs in clear plastic boxes so you can see where everything is at a glance. These come in a range of sizes and stack neatly on top of each other.
'Make sure everything has a home, so tidying is something you do almost without thinking about,' says professional organiser Vicky Silverthorn.
'Desk tidies are useful if they suit your belongings, but not if they're too small and fiddly. And don't have excess supplies, bulk buying just creates the need for more storage.'
28. Choose a desk with a drawer to hide that laptop
If you're working out of your living room ideas then set a 'clear desk' policy so that office clutter doesn't encroach on your living space.
Add a desk with a drawer, so that as soon as you are ready to clock off, you can hide your laptop away and not be reminded of that still-to-be-completed to-do list.
29. Set up an easy filing system
'When it comes to filing paperwork, avoid an over-complicated system,' says professional organiser Vicky. 'Anything too complex requires too much brain power. A good filing system should work with you and not against.'
It could be as simple as a plastic folder with tabs for different aspects of paperwork. Or treat yourself to a desktop unit with a drawer for each aspect of your work life.
30. Go incognito with hidden storage
Double-up with seating and storage combined with a neat filing ottoman. A perfect example of home office storage ideas when you don't have a separate study, you can choose an option with a memo board on the back of its lift-up lid, plus space for hanging files inside.
31. Choose a design classic
Keep things stacked with filing cabinets, desk tidies and box files.
As iconic as an Eames chair or a Smeg fridge, the Bisley is the ultimate filing cabinet. It comes in a smorgasbord of colours and sizes, so there is honesty one for every office.
'These are my favourite and come in five, ten and fifteen drawer options, so you can choose how many you need to suit your work load,' says Vicky. 'And they're slim and compact so can stand neatly next to a desk or slot underneath it.'
32. House tech in a dedicated unit
Store office tech, like printers and hubs, alongside other home media so that electricals don't take over your living space.
Select a media cabinet with mesh doors that blur tech from view but allow infra-red signals through, so you can still operate equipment. And to avoid a tangle of wires, the back of the cabinet is open for easy cable management.
33. Choose a modular set up
Create a tailor-made storage solution to suit your space using modular pieces. Carve out a corner plot or build a whole wall of storage with an off-the-peg system that includes corner sections, ladder shelving and desk add-ons.
34. Repurpose containers
Simply wash out your prettiest tin cans after use and use them as cost-effect savvy home office storage ideas solution. Ensure there no sharp edges of course. Ideal if you have never needed to work form home and suddenly find yourself with a makeshift office.
35. Keep clutter behind closed doors
Out of sight, out of mind is the best motto for a home office. Ensure your work space doesn't encroach on your living space by keeping it hidden away using thought out home office storage ideas. Give all your storage a dedicated cupboard with a trolley you can wheel desk-side and lot of boxes, files and jars to keep it all under control.
Not surprisingly, given how many more of us are working from home, it's becoming one of the hottest kitchen trends – or you could try it in a bedroom.
36. Style it out with beautiful storage boxes
If you don't want to have your home office impact on the rest of your decor, try using beautiful solutions for storage – so they blend in seamlessly. Use wooden crates, and storage trunks and trinket boxes to hideaway any telltale signs of work papers and other office accessories.
This type of home office storage ideas can be pushed under the desk at the end of each day and won't look out of place within the interior.
37. Add in a trellis
Whether it's a montage of your favourite photos or a shelf full of quirky accessories, group items together to create an inspirational focal point.
Look to your garden trellis ideas and make your own handy wall organiser. This is a perfect addition to garden home office ideas, too, as it will feel bang on theme.
38. House your printer in a chest of drawers