Where to buy Christmas decorations - The best places for baubles, tree toppers and garlands
Looking to give your home a twinkling makeover this December? Here's our pick of where to buy Christmas decorations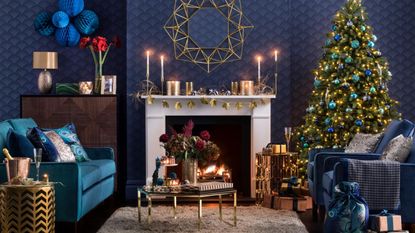 (Image credit: Future PLC/Blackmore Publishing Ltd)
Wondering where to buy Christmas decorations this year? And the very best Christmas decorations at that? We don't blame you: decking the halls with boughs of holly is so 1862, after all.
When it comes to making our merriest and brightest Christmas ideas a reality, it's important to know where to source the best decorations – and, with countless stores getting in on the festive action, that can feel... well, it can feel an overwhelming task, to say the least.
Thankfully, help is at hand! We've pooled together our expert knowledge to make a list (which we've checked twice, Santa-style) of our absolute favourite places to buy Christmas decorations.
Hey, you need the best baubles to pop on one of the best artificial Christmas trees, right?
Where to buy Christmas decorations – the quick list
Why you can trust Ideal Home Our expert reviewers spend hours testing and comparing products and services so you can choose the best for you. Find out more about how we test.
11 of our favourite places to buy Christmas decorations
The Grinch may have taught us that Christmas doesn't come from a store (Christmas, he says, means a little bit more), and yes, the spirit of Christmas can be found wherever people come together to celebrate the holiday.
That being said, we've looked into the very best places to buy festive decorations if you're hoping to tap into the year's big Christmas trends. Because, admit it, there's nothing quite like hanging a few extra-special baubles on the tree, right?
Keep calm, then, and prepare to jingle all the way to the checkouts...
1. John Lewis & Partners
If you're wondering where to buy Christmas decorations this year, might we be so bold as to point you in the direction of John Lewis & Partners?
Why? Because, as their must-watch adverts make abundantly clear every December, this store takes Christmas (and Christmas living room decor) very seriously indeed...
Our favourite Christmas decoration in John Lewis' bumper selection of 2023 decs has to be this striking Winter Fairytale Moon Santa Bauble.
Simple and striking, it taps into this year's big zodiac homeware trend perfectly – but, to be honest, there are so many gorgeous decs to choose from at John Lewis this year. Like, so so many.
2. The Range
If you're looking for a purse-friendly place to buy Christmas decorations, then you'll definitely want to check out The Range.
Oh sure, they might be bigging up their impossibly wide range of Christmas gonks this year, but there are still plenty of other festive treats to be found in the mix, if only you look hard enough...
There's no getting away from the fact that gonks are going to be a VBD this Christmas, so it makes sense that The Range is leaning into the Nordic festive trend in a big way. And, let's face it, these little winter critters – said to protect our homes in winter – are pretty cute.
Still, that doesn't mean we have to stick to a strict gonks-only rule when shopping to make our best Christmas tree ideas a reality...
3. Dunelm
All hail Dunelm for giving us a one-stop shop to buy Christmas decorations at!
This year, the online store has vowed to help people find their Christmas style, whether that be traditional, evergreen, joyful, or magical, so you can go in expecting to have your head turned in plenty of directions...
Our star (of wonder, star of light) product from Dunelm this year is the set of 7 Green and Gold Fan Wall Decorations seen above, not least of all because it helps us transform even the starkest bit of wall into something stylish and festive.
Still, there's also plenty of Christmas decorations on our hot list, including a cute pot hanger, a foldout village scene that's perfect Christmas mantel decor, and that all-important disco bauble...
4. IKEA
When it comes to IKEA, you better believe that their bumper range of Christmas decorations hits all of our favourite hygge high notes...
If you're on the hunt for Christmas wall decor ideas, you'll undoubtedly be as impressed with IKEA's bamboo wall hanging as we are: it's the ultimate when it comes to space-saving Christmas trees!
That being said, you don't need to go elsewhere to buy Christmas decorations if you're looking for something a little different, as the range is filled with everything from garlands to elf doors...
5. The White Company
If you ask anyone where to buy Christmas decorations, you're pretty much guaranteed that they'll steer you in the direction of The White Company, and little wonder: this shop somehow manages to bottle and sell pure festive vibes every year running...
Honestly, The White Company is selling the perfect space-saving Christmas tree alternative this year – its compact size makes it ideal for smaller homes, without scrimping on the festive spirit.
That being said, there are plenty more Christmas decorations to lose your heart to in The White Company's Christmas shop, of course...