Modern small bedroom ideas - create the ideal sleep space, no matter how compact
Discover a wealth of modern small bedroom ideas and inspiration to help you transform your compact sleep space into a super stylish room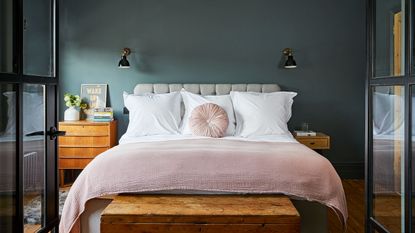 (Image credit: Future/Chris Snook)
Not all of us have the luxury of large bedrooms. So when looking for modern small bedroom ideas - more often than not - we're all on the hunt for ways to make our compact, contemporary spaces look larger than they actually are.
There are plenty of tips and tricks that you can use to maximise your space to make your small bedroom ideas a success. Unlike larger rooms, you just need to be a little careful with your choices, as not everything that works in a big space transfers well to a more compact area.

Traditionally, bedrooms used to be large and spacious with plenty of room for a whole array of furniture, from an oversized bed, wardrobes, chest of drawers, bedside tables, ottomans, armchair and in some cases, a chaise longue or sofa.
But nowadays, with new builds and apartment living, as well as those who renovate to make bedrooms smaller to squeeze in ensuites, the rooms we sleeping tend to be smaller.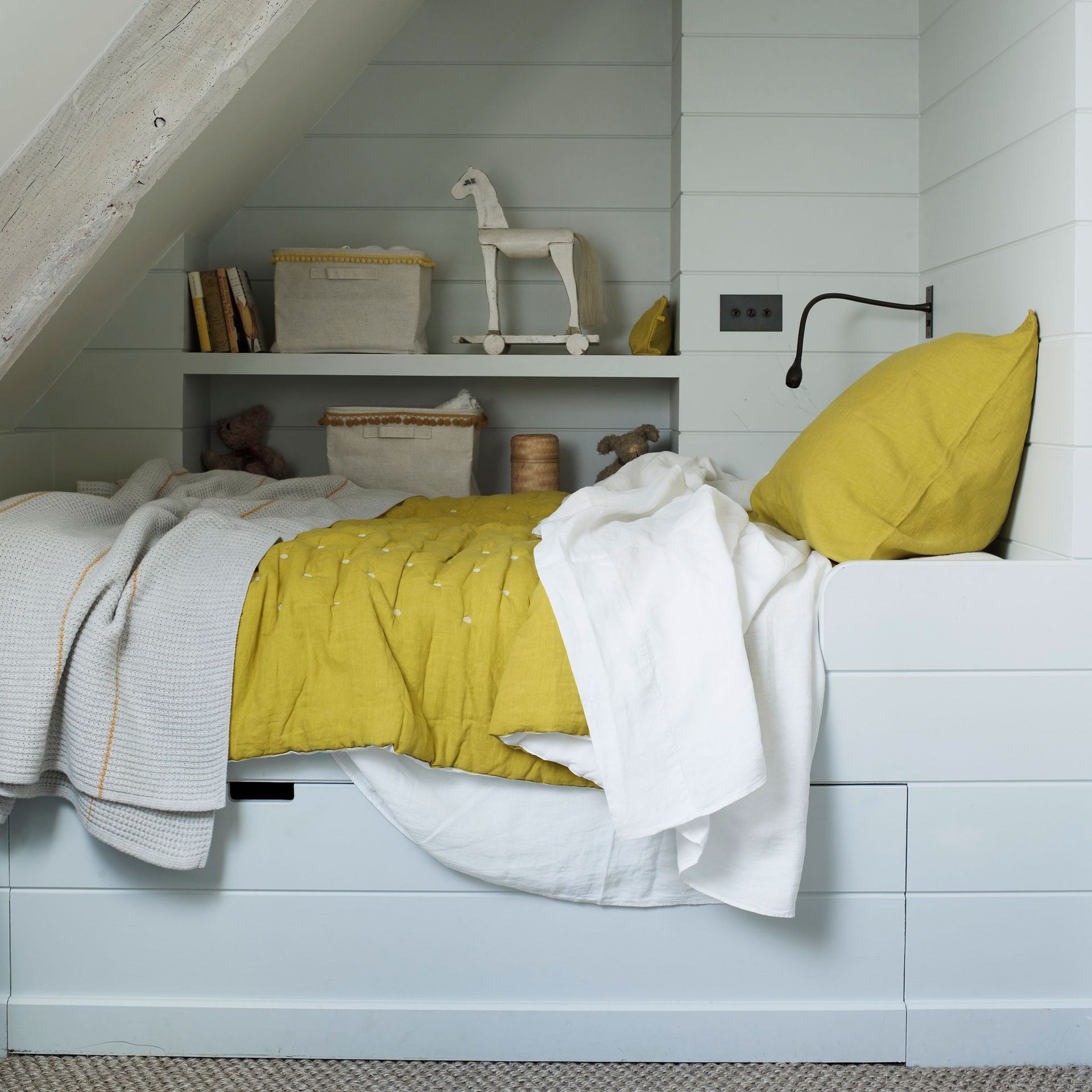 Modern small bedroom ideas
'Usually dedicated purely to sleep, rest and relaxation, modern-day life has seen us demand more out of our bedrooms,' explains Emma Deterding, Founder and Creative Director of Kelling Designs and KDLoves, 'from including a home-office space, workout/meditation space and more. It's really important to consider what you need out of your bedroom and how you're going to use it.'
'This will allow you to plan the design thoroughly to ensure it's as practical as it is stylish. This will enable you to make easier decisions on elements like the size of the bed, what kind of storage you need and what other furniture pieces you will need.'
Decorating your compact space in a modern, contemporary style is the perfect solution as it tends to avoid the overly fussy, instead embracing clean, classic lines and on-trend colours and finishes.
Nadia McCowan Hill, Resident Style Advisor at Wayfair agrees: 'Clever furniture configuration and minimal styling touches can optimise a small modern bedroom to its full potential.'
From pared-back, boutique hotel-style minimalist looks to a bold and vibrant maximalist schemes, modern small bedroom ideas can be adapted to pretty much anyone's taste.
So read on and get ready to gather plenty of inspiration and design ideas to help transform your poky bedroom into a sleek and spacious sanctuary for sleep...
1. Don't cram your furniture in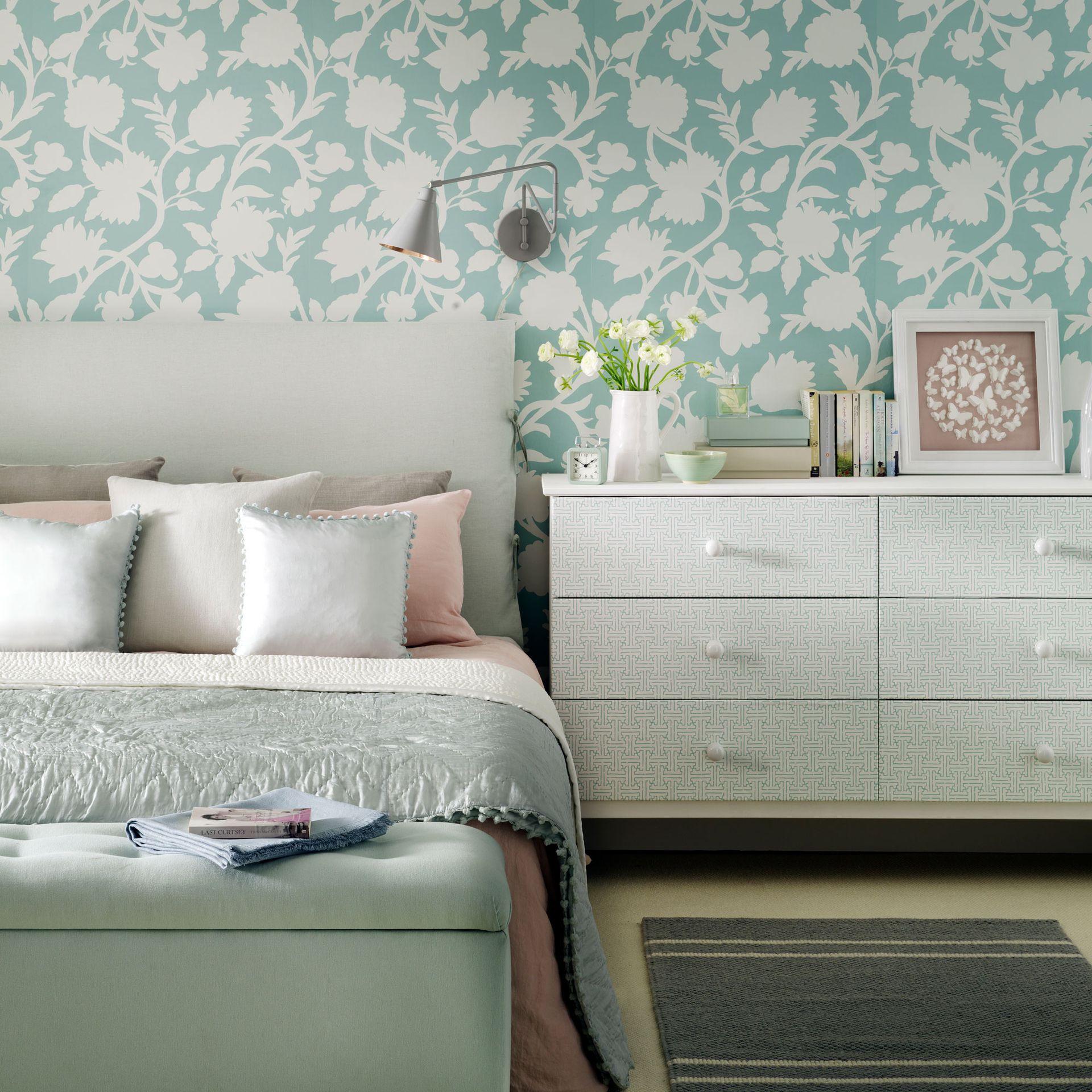 If it's a squeeze to get both a chest of drawers and a bedside table into the room without making it look obviously shoehorned in, ditch the latter. A chest of drawers can easily double up as a bedside table idea if required, provided it's not too tall and you can reach the surface when lying in bed.
'Strip it back to the essentials,' suggests Nadia McCowan Hill from Wayfair. 'Start getting rid of unnecessary pieces of furniture and keep functionality at the forefront. Try to cut back on accessories, replace the accent chair with a fold-away stool for space efficiency without sacrificing style. Remember: less means more!'
Modern schemes tend to favour an uncluttered look so it's also important to keep surfaces clear of unnecessary knick-knacks.
'Tricky as it is,' continues Nadia, 'cutting back on clutter is a must. Keeping sides tidy frees the mind. Even hiding cables in cable boxes have a calming and spacious effect. Easier said than done, but highly effective in a small space!'
2. Invest in built-in furniture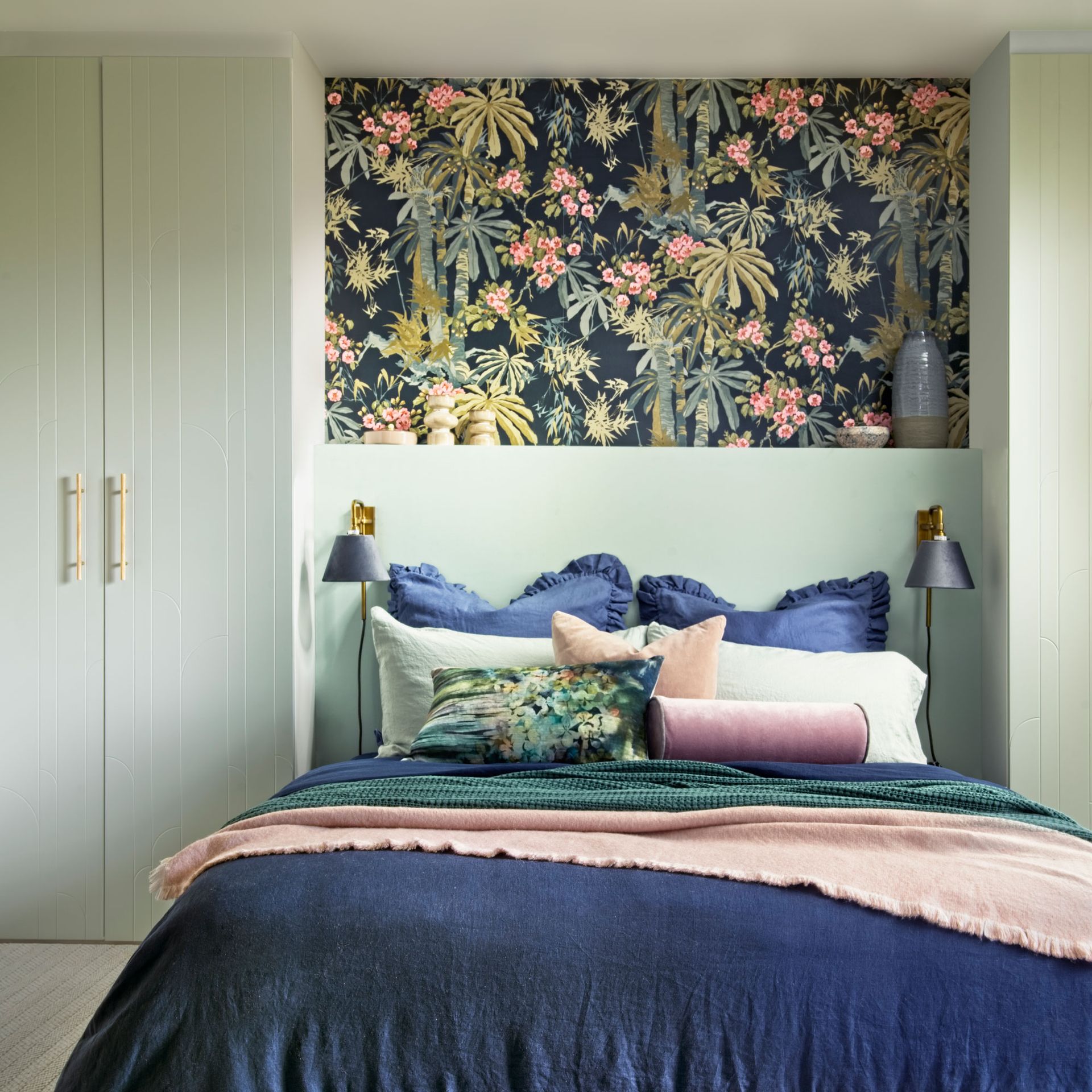 'Storage is something that we all need in ample amounts,' explains Emma Deterding from Kelling Designs, 'so it's always important to consider choosing bespoke, built-in joinery over freestanding designs.'
'Going for a bespoke, built-in design will not only allow you to make your mark on the space in terms of design and colour, but you can also maximise the potential of elements such as alcoves, recesses and even bay windows,' continues Emma.
'Also, if your room isn't perfectly square, you can make sure you're using every inch of the room properly. Ultimately, you'll be able to keep the bedroom clear and clutter-free with ease, whilst also being able to display your most prized possessions without losing vast amounts of space in an already small room,' she adds.
This bedroom features a built-in headboard which doubles as a handy bedside shelf. Flanking the bed with floor-to-ceiling fitted wardrobe ideas utilises every single inch of space for much-needed storage. The panel of bold wallpaper above the headboard draws the eye to the focal point in the room, namely the bed.
3. Free up surface space with pendant lights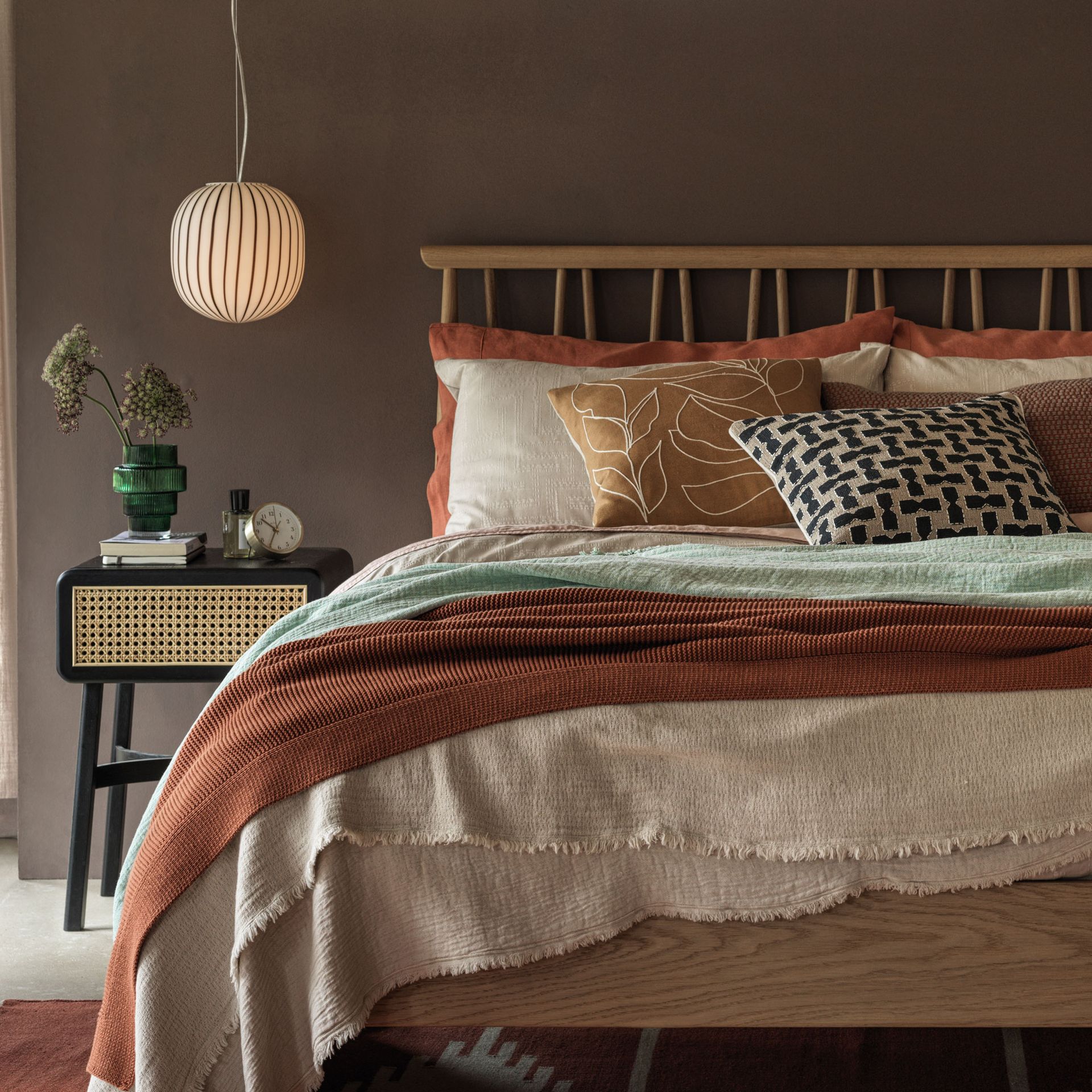 If you lack the space for a bedside table or you only have room for a very small one, Alexandra Fryer, Home Design Stylist at John Lewis & Partners has a clever alternative. 'Using pendants as bedside lights is a great solution for some extra bedside space,' she says.
It will involve getting an electrician in as they'll have to be wired up but once installed, they will frame your bed beautifully. 'Pendant lighting provides snug low light that frees up space on the bedside table and effortlessly frames the bed for a streamlined bedroom,' says Nadia from Wayfair.
4. Hang high shelving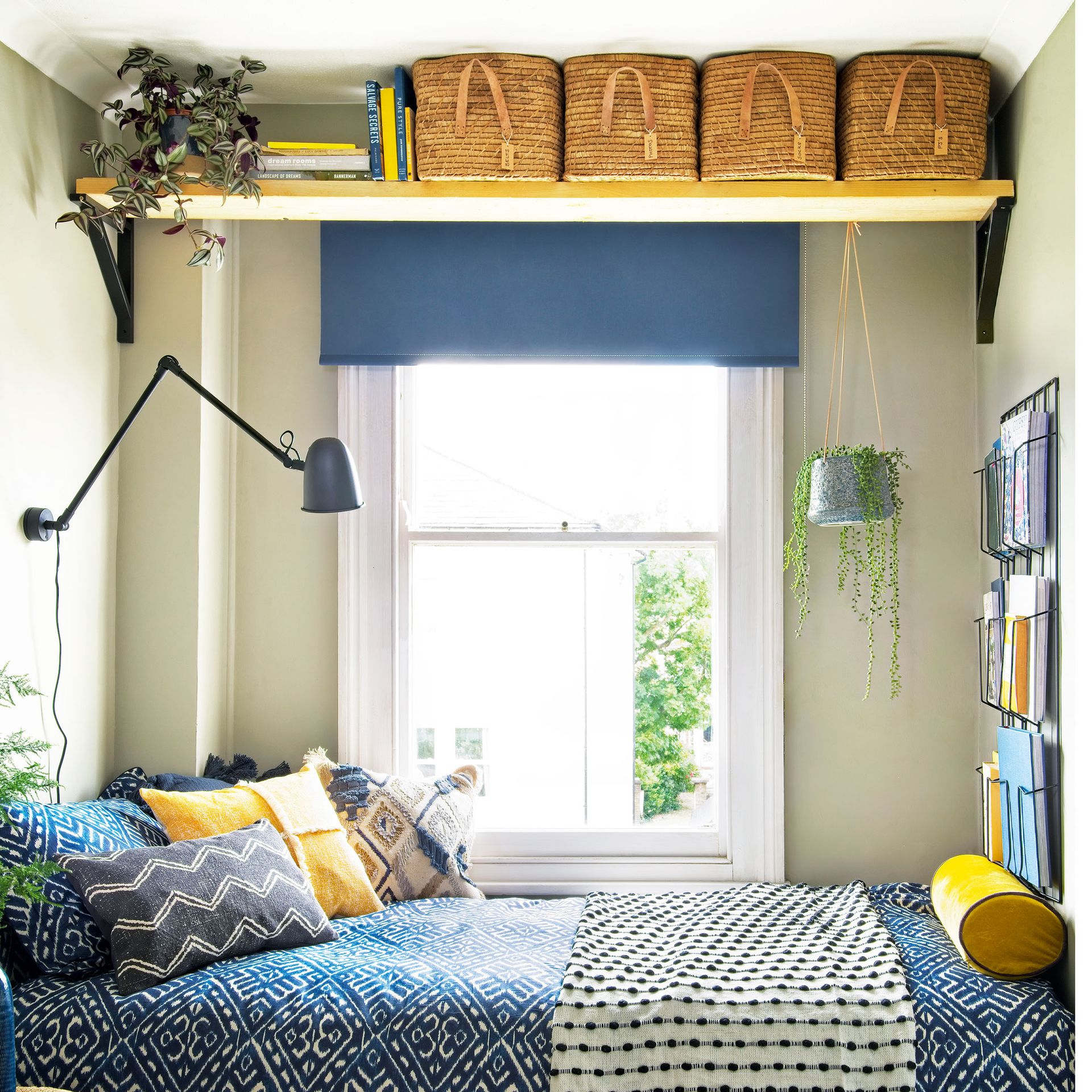 You need to be creative when ekeing out every bit of storage in a small bedroom, without making the space look cluttered.
Hang a long shelf high up near your ceiling - IKEA's Lack wall shelf is a great buy - you can double up several shelves too, making them stretch the length of a room. Because of their high placement, they don't clutter the space up visually, yet they still provide loads of storage space for books or baskets.
When it comes to storage furniture, Alexandra at John Lewis & Partners believes the style you choose will make a difference to the space, too. 'Introduce open-framed furniture to allow for extra storage,' she advises, 'and opt for floating shelves.'
5. Invest in a bed with hidden storage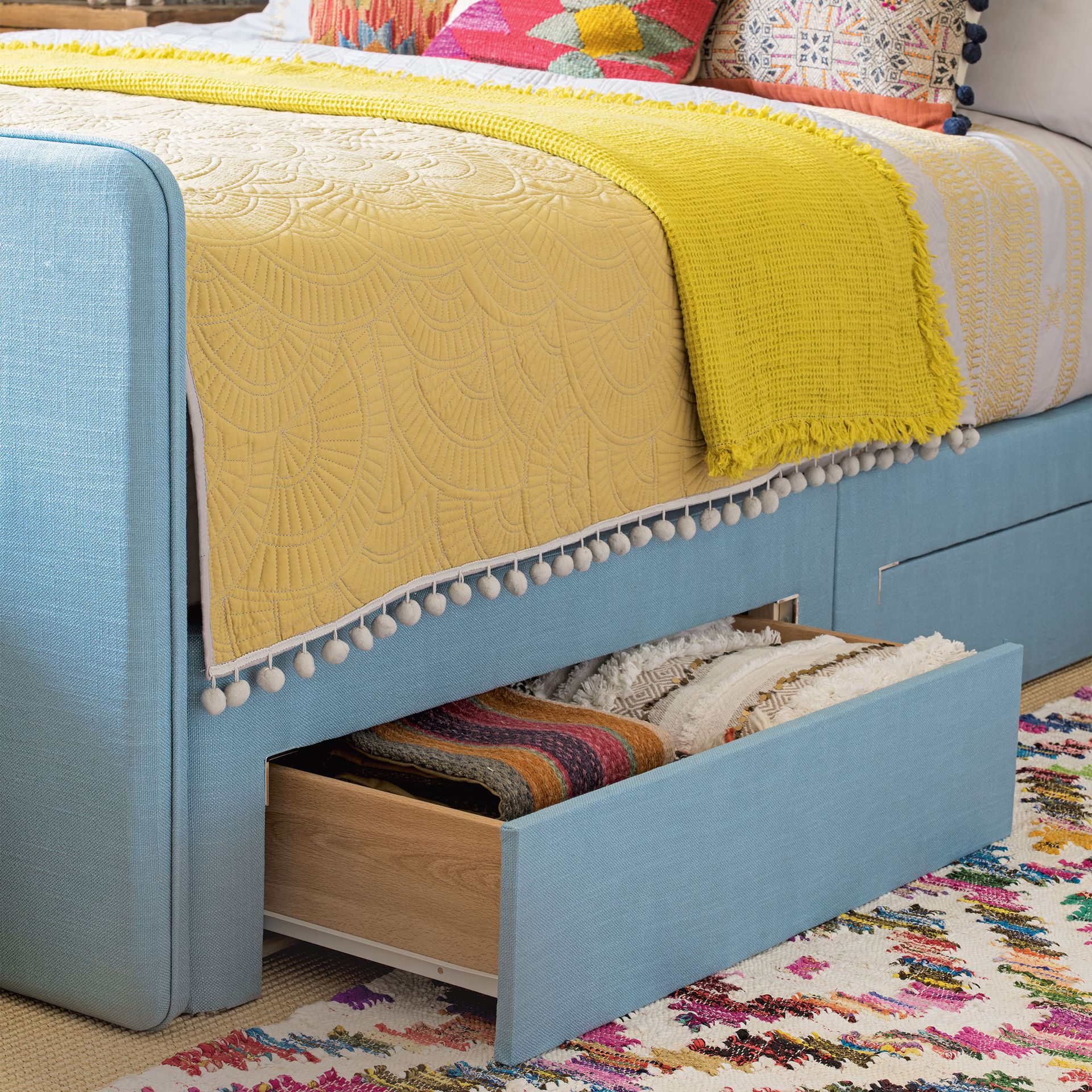 'Even if your bedroom is small in space you still want it to act as a sanctuary where you can go and unwind and relax after a long day, meaning the space needs to be both calm and tranquil,' says Adam Black, co-founder of Button & Sprung.
'Storage beds offer all the aesthetic and visual qualities of a standard bed but with the added benefit of storage,' continues Adam, 'allowing homeowners to create a more spacious, stylish and on-trend modern bedroom scheme without compromising on functionality.'
'Storage beds are also fantastic for those all-important items that you want to keep out of sight, such as spare pillows, shoes and essentials. Pick a divan over a classic bed frame,' he says.
'This will allow you to maximise the storage space available without taking up any additional floor space,' adds Adam, 'which is especially important in small bedrooms. Drawer storage seamlessly blends within the divan base to safely store away any essentials.'
6. Stick to pale, neutral decor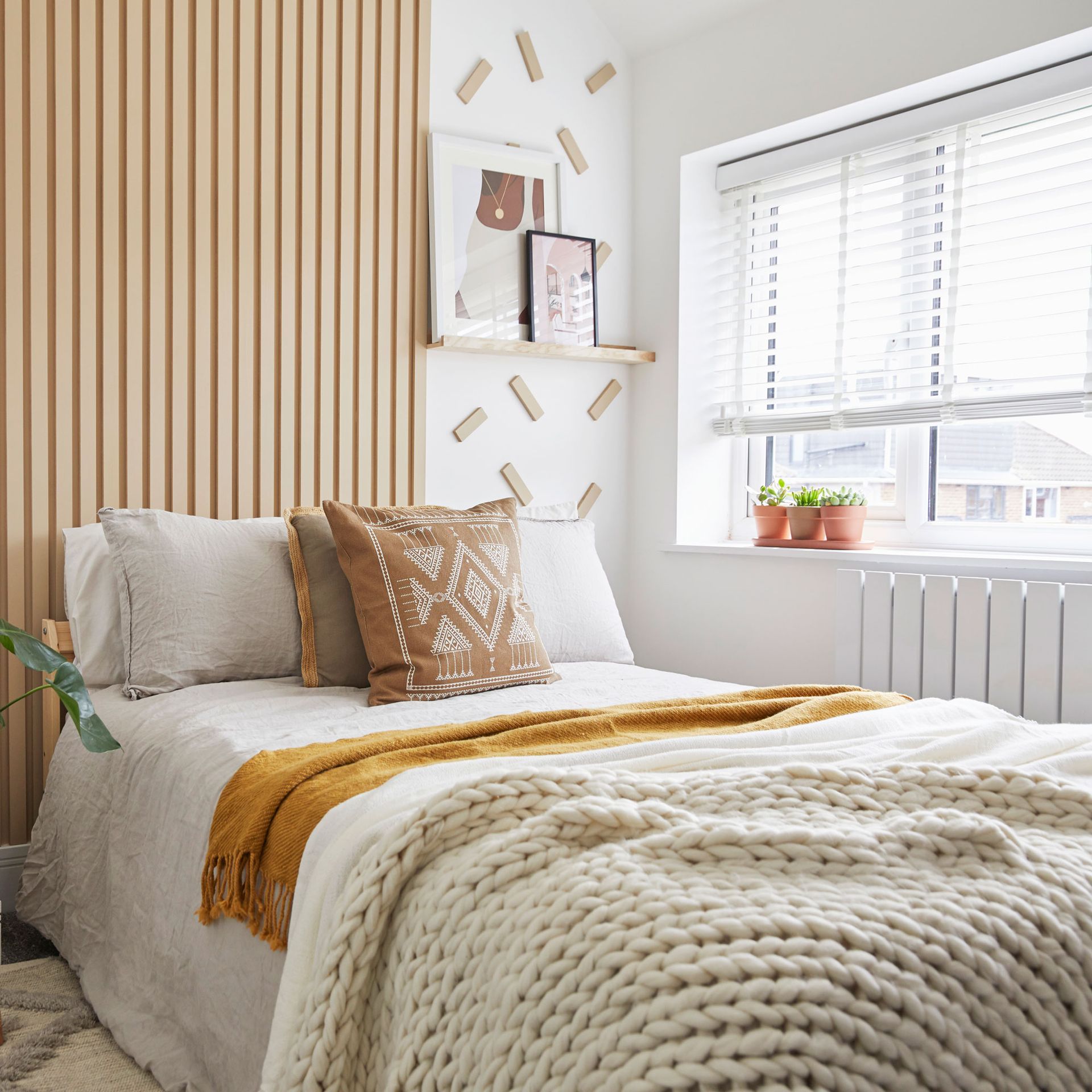 As a general rule of thumb, neutral decor tends to make a room feel more spacious. But don't fall into the trap of thinking that you need to have white walls all round for this to work.
Neutral wallpaper and panelling are excellent choices for small bedrooms, provided you don't choose really large-scale prints as they'll only end up looking cramped in the space.
In a small room, it might be an idea to leave one wall free of pattern if possible. This can even be the wall where the main window is, provided you choose plain curtains or shutters in the same shade as the wall they sit against.
7. ...or go for deep, cocooning colours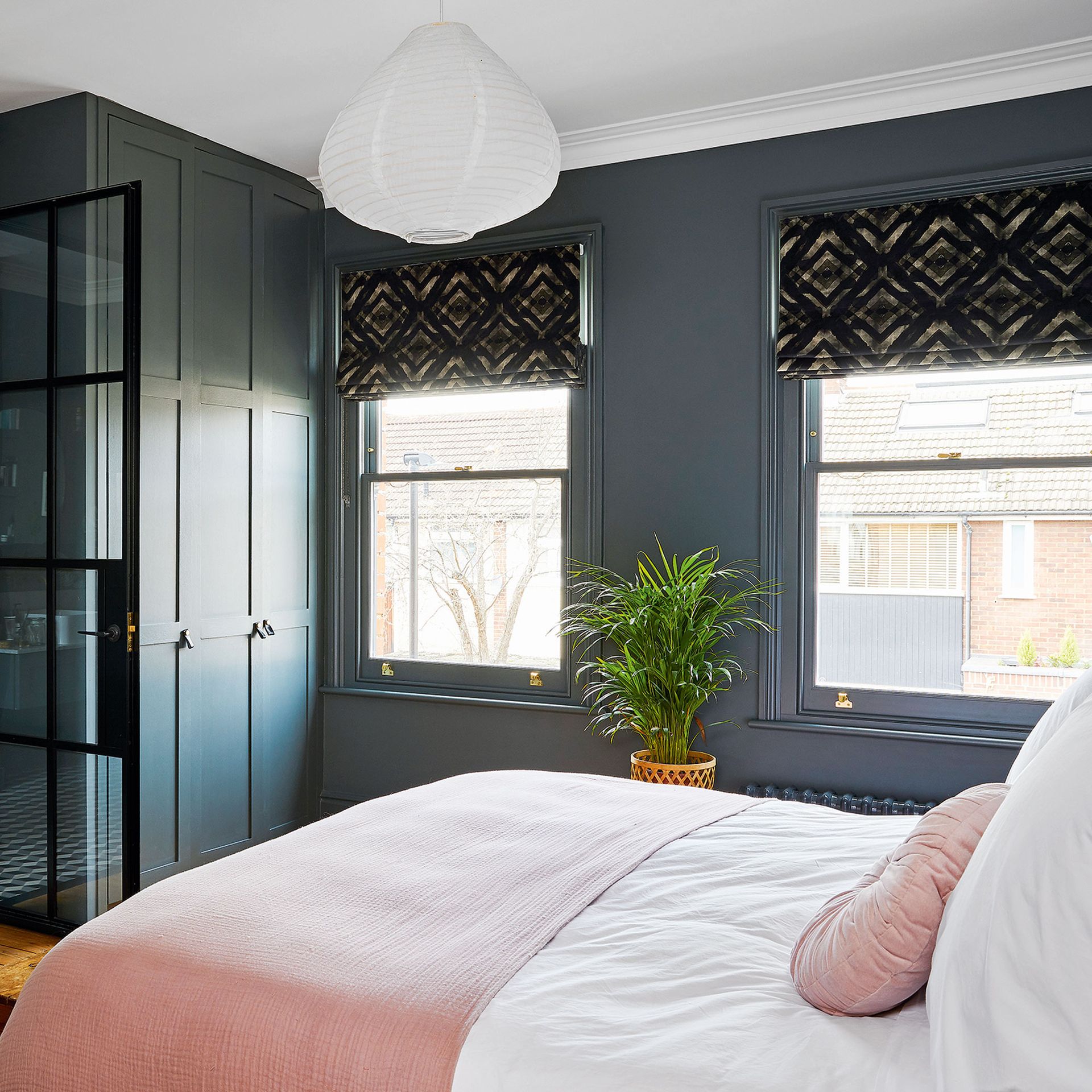 If however, you're keen on darker shades, don't hold back. It's a bit of a misconception that dark colours shouldn't be used in small rooms as they make the space feel smaller. Not so.
As well as being a perfect example of a bedroom design tip for better sleep, you can create a wonderfully cosseting atmosphere in a small bedroom (no better place for it) using dark shades on the walls.
'Go bold with colours!' says Alexandra at John Lewis & Partners. 'Deep blue or green make a statement and can create a cosy, moody feel. If you want to soften the colour, painting the wall three-quarters of the way up can transform the space whilst adding character.'
If you're worried that your room may feel too dark, especially in spring and summertime, go for white or light bed linen to brighten up the room.
8. Reflect light with mirrors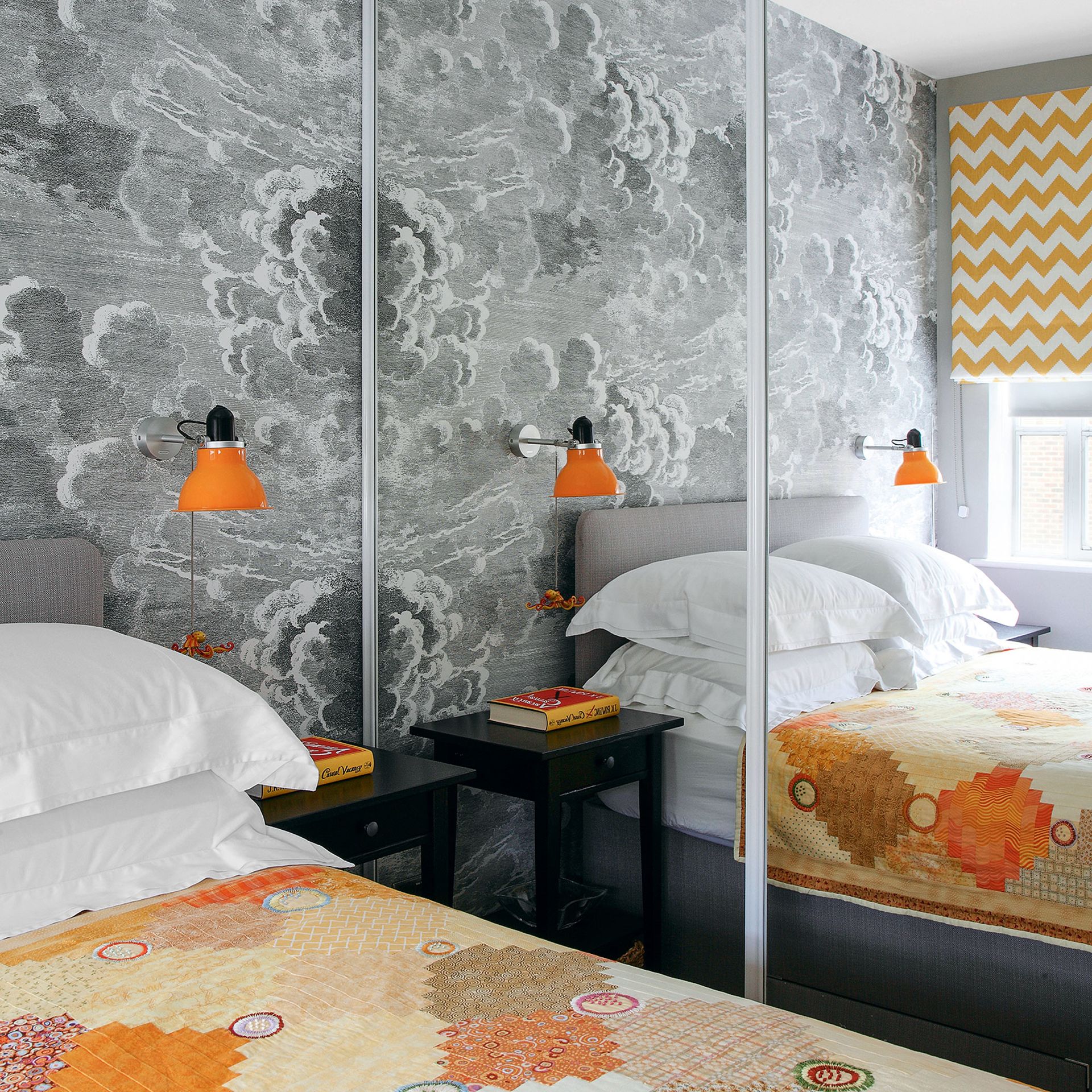 It may feel like a decorating cliché but it's a cliché for a reason, and that's simply because it works. Mirrors in a small bedroom reflect the light from windows, giving the illusion of a larger space.
Ann Marie Cousins, interior designer and founder of AMC Design agrees. 'Positioning a large mirror opposite a window for example is a great way to bounce light around the room and make it feel more open.'
There are other ways too that you can use light and mirrors to your advantage, as Emma Deterding from Kelling Designs and KDLoves reveals: 'Position matching mirrors behind each bedside lamp,' she says, 'to help create the illusion of space, whilst reflecting more light back into the room.'
'In any small space,' says Jane Rockett from Rockett St George, 'mirrors are your best friend and the bedroom is no exception. If you're feeling particularly savvy, storage mirrors with a shelf are perfect as they not only help create the illusion of extra light and space in the room but also provide a place to put everything from candles to make-up and skincare essentials.'
9. Don't shy away from a large headboard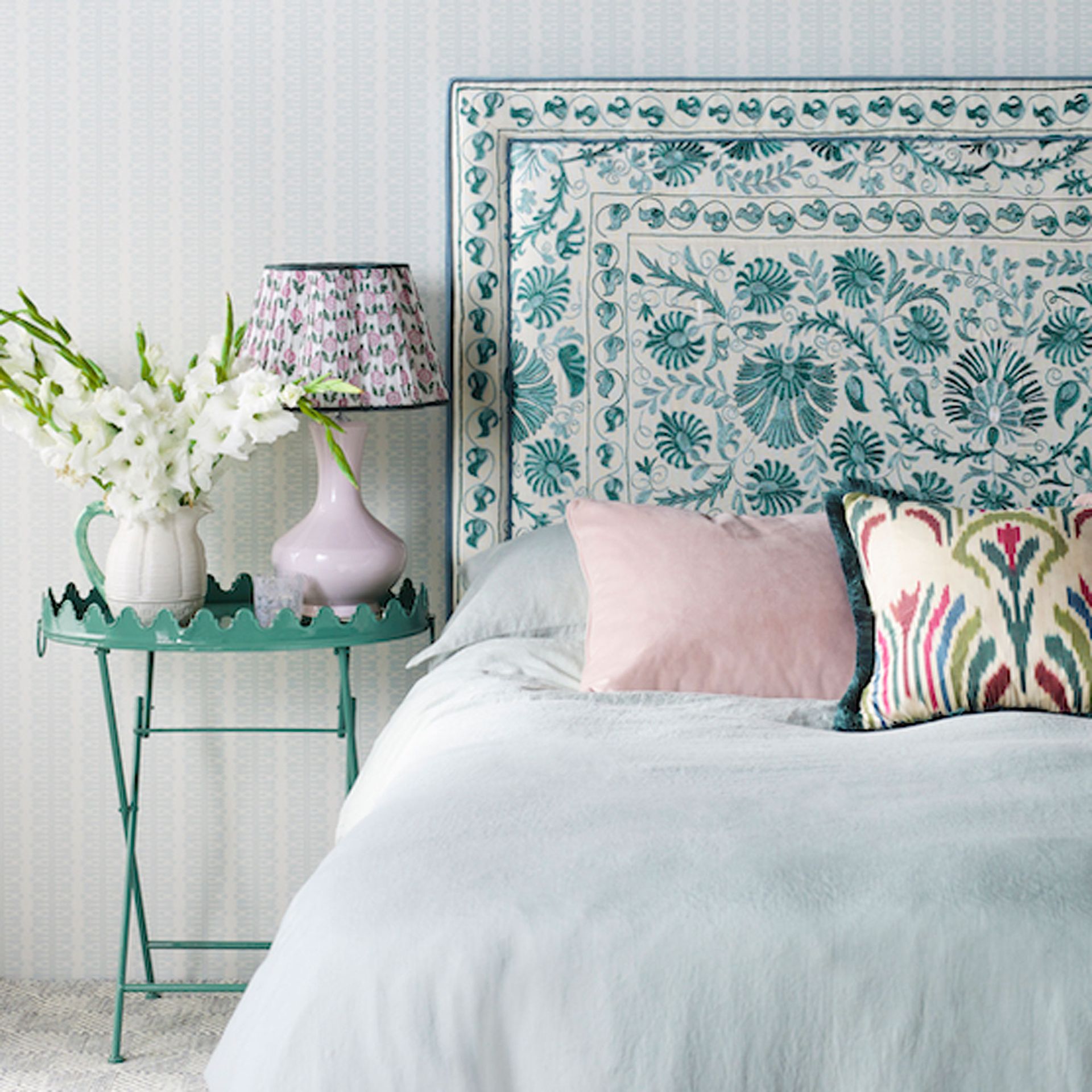 Just like a sofa is a focal point in a living room, a bed is the first thing that your eyes are drawn to when you walk into a bedroom. Don't shy away from making it even more eye-catching. If you choose an oversized or colourful headboard for your bed, you can afford to keep the rest of your space fairly neutral which gives the illusion of more space.
'Opting for an upholstered headboard will allow you to introduce colour and pattern to the space,' explains Emma Deterding from Kelling Designs, 'whilst creating a focal point and anchor on which to base your design scheme around.'
'Pick a design you truly love and remember that an oversized headboard can help to make a small room feel more spacious,' she continues. 'It's about playing with scale and getting the balance right to create the illusion of space and height.'
If buying an upholstered headboard is out of your budget, why not get creative and have a go at making a DIY headboard ideas yourself?
'Highlight key colours from the headboard fabric and use cushions and accessories in these shades throughout the room to create a cohesive look,' continues Emma. 'Meanwhile, carry the same colours throughout the space bringing that all-important balance and creating that luxurious look.'
10. Install solid shutters to create an extra wall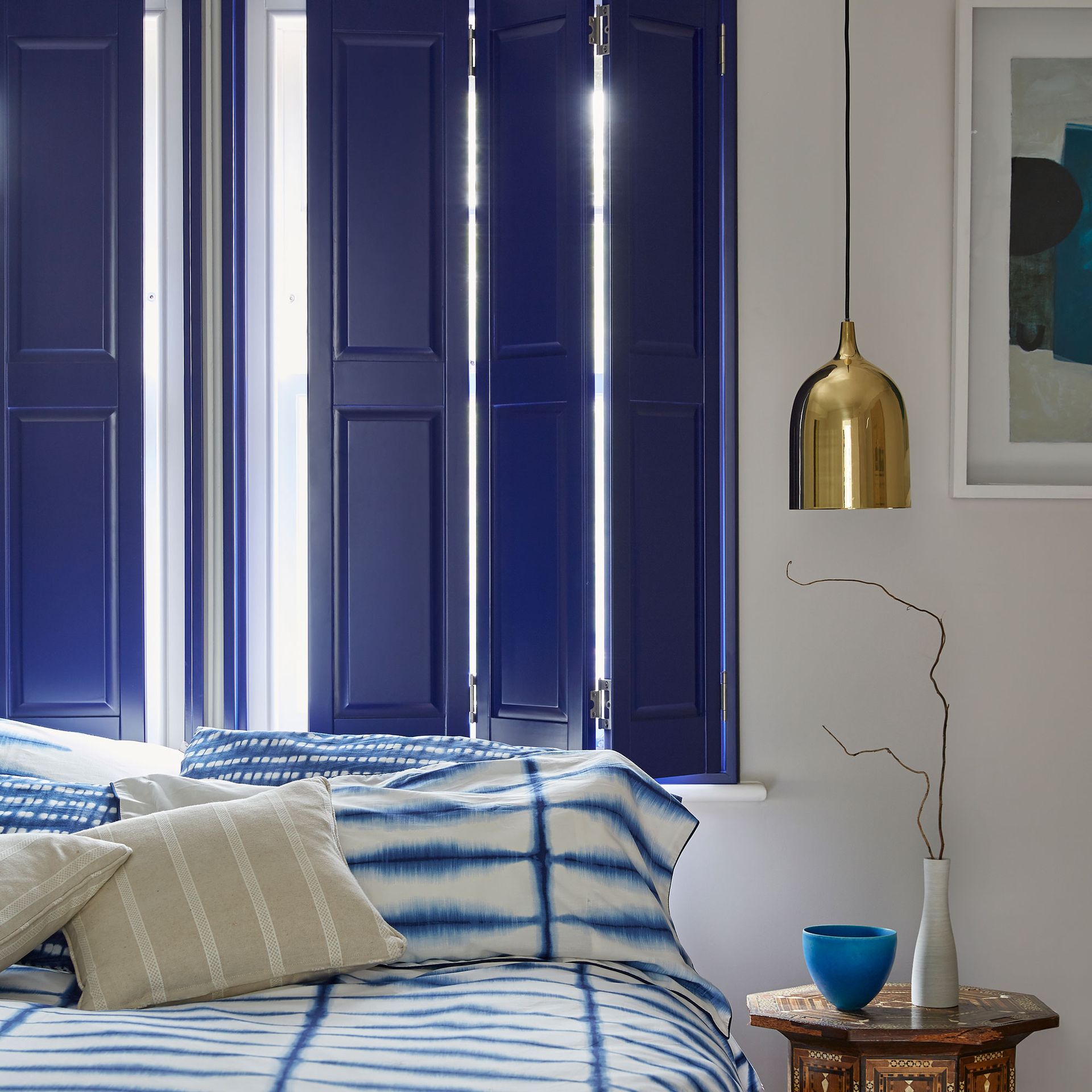 As a rule, most people tend to avoid putting the head of their bed against a window. Perhaps it's the worry of draughts, or the concern that you won't have a wall to lean against.
However, as the space is limited, when it comes to bedroom layout ideas, sometimes placing the bed head against a window is the best and only solution for more space. If that's the case, look into investing in solid shutters for your bedroom. They'll transform a visually open space into a solid wall instantly.
'If you're working with a small space,' explains Sally Denyer, Digital Marketing Manager at Shutterly Fabulous, 'opting for bespoke shutters in a bright shade can help to create a focal point. Offering complete light control, the daylight will reflect off the coloured shutters, drawing the eye to the window and creating the illusion of more space.'
11. Factor in extra storage wherever possible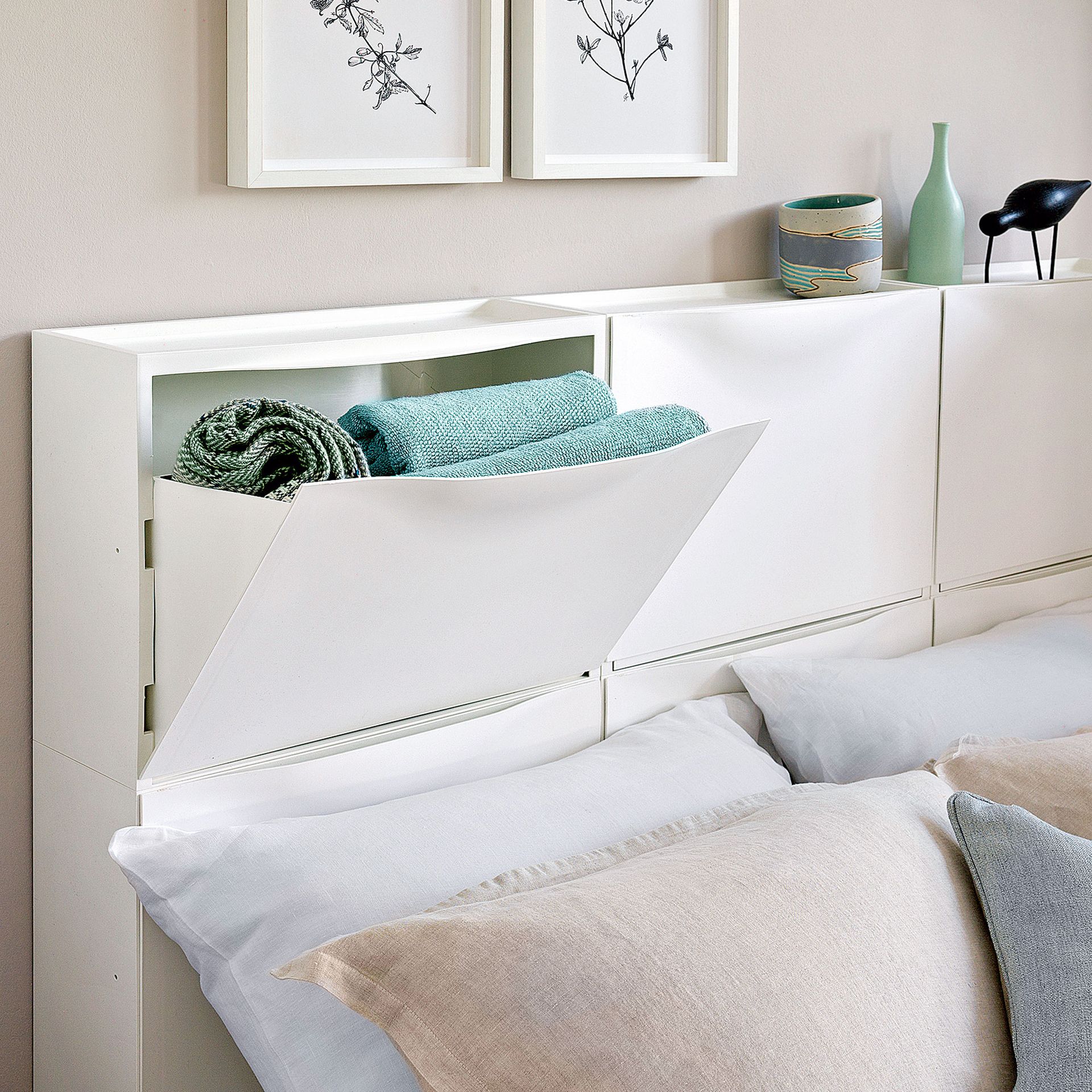 Be creative with your storage in a small bedroom. Don't just choose a simple bedside table. Opt for a design with drawers or pull-out ledges. Buy or create a chic modern headboard with hidden storage or shelving for a place to hide all your bedside clutter. Just push yourself to think a little more creatively and not just plump for a plain design.
'A good bedside table can act as a useful storage spot for all of your essentials,' says Jane Rockett, co-founder of Rockett St George so it's important to choose a design with drawers and plenty of storage space.'
'If floor space is limited,' she adds, 'wall-mounted bedside tables that appear to float on the wall are a great alternative.'
This IKEA hack headboard has been created by combining three very inexpensive IKEA Trones shoe cabinets together, secured to the wall.
2. Squeeze in a small home office space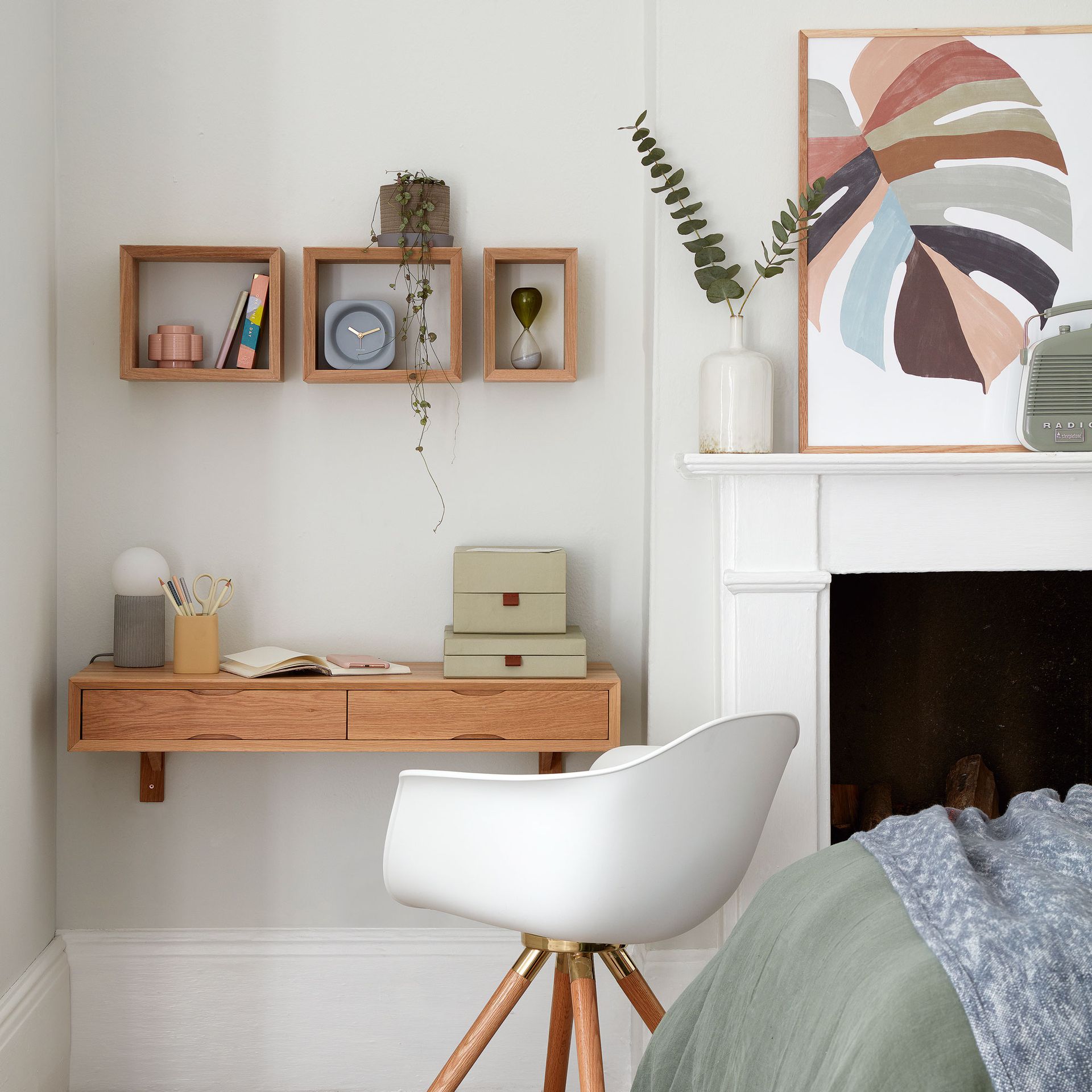 In the same way that wall-mounted bedside tables give the feeling of space, so do wall-mounted desks. If you need to create some space for small home office ideas in your bedroom, keep it as clutter-free as possible.
If you'll be using it often, don't compromise on a good chair or you'll end up with back pain, but you don't need to settle for ugly office furniture either.
A simple wall-mounted desk, positioned at the right working height in relation to your chair, will give you a handy place to work, but won't dominate the space either.
14. Choose simple, unfussy furniture and accessories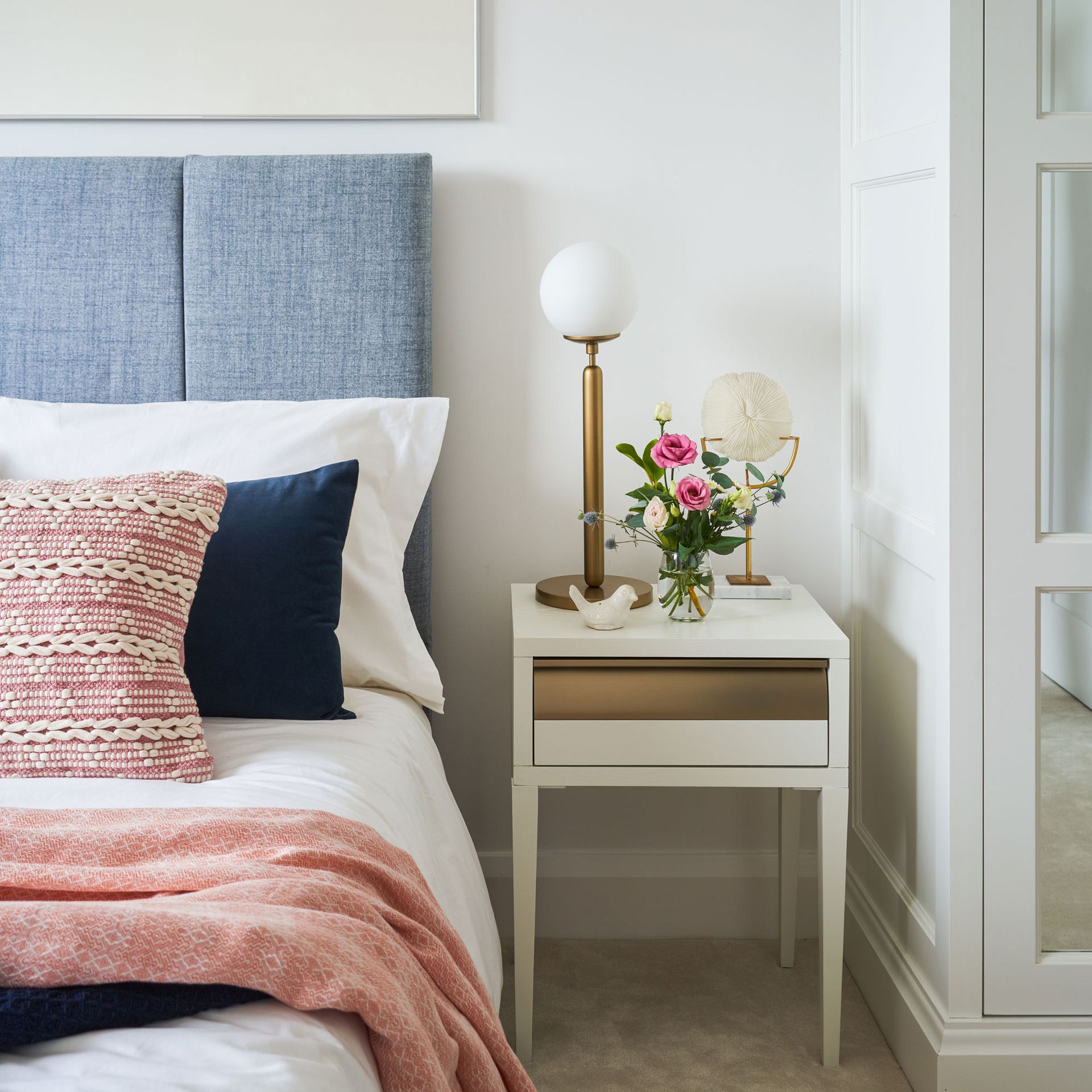 Time to channel those clever Scandis and their clean lines and unfussy design. No wonder it's this style of design that most who love modern interiors naturally gravitate to.
But modern bedroom ideas don't have to be boring. Look for furniture and accessories with elevated shapes, tapered legs, mixed materials and beautifully textured plain fabrics.
'Never underestimate the effect of lighting in small bedrooms, either, says Nadia McCowan Hill from Wayfair. 'Pick an abstract pendant light to free floor space for a unique finish that creates a zen and cosy environment, whilst doubling up as contemporary art.'
'Or try some DIY LED strip lights placed around the base of the bedroom furniture,' advises Nadia, 'bringing in mood lighting with minimal space used.'
14. Consider open storage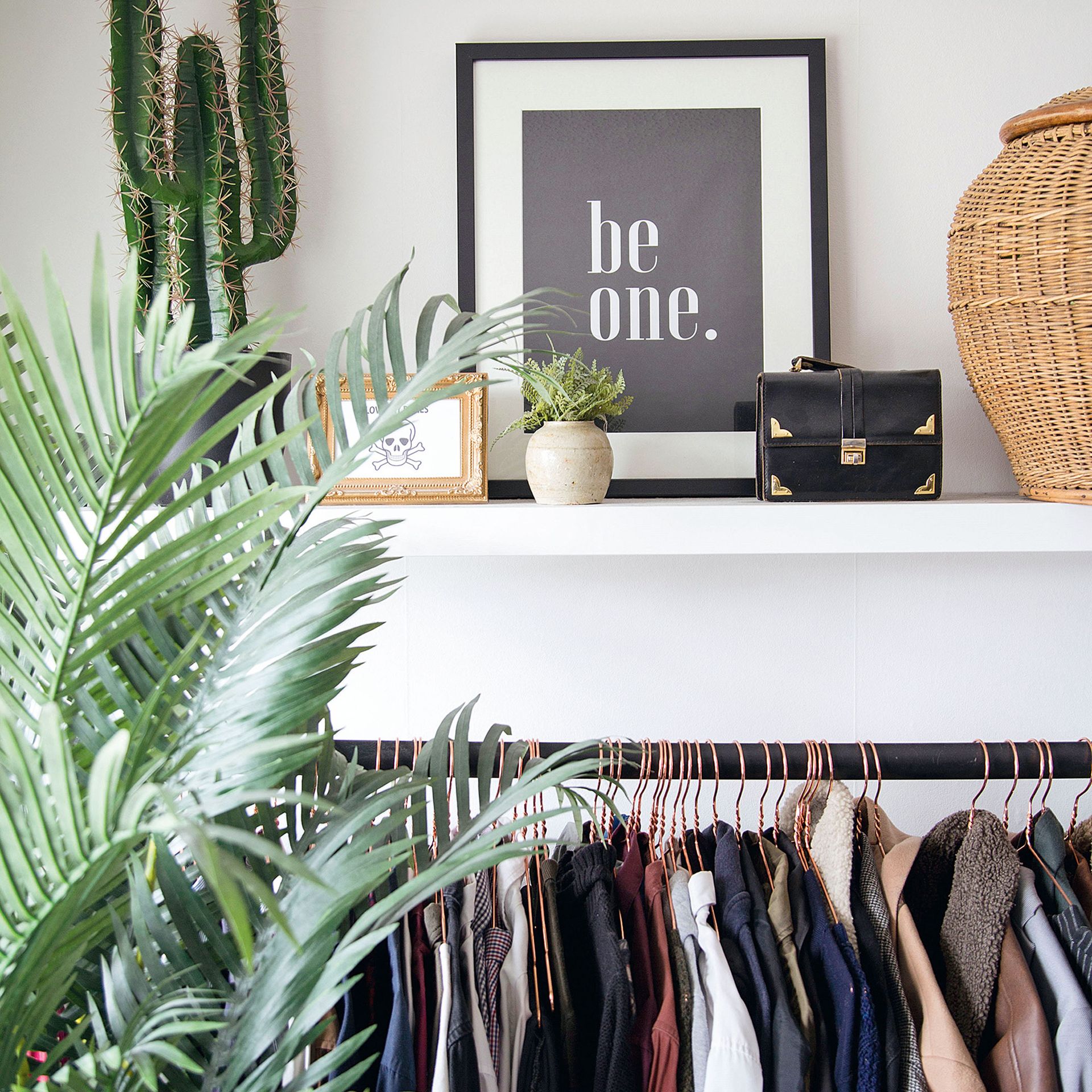 Squeezing a small wardrobe into a small bedroom, let alone an attic bedroom is often more hassle than it's worth.
So if you don't have the room for a wardrobe and you can't afford a bespoke design to make use of the space in a more effective way, Jane Rockett from Rockett St George has the solution: 'Instead of a wardrobe, why not consider a clothes rail?'
As a far more affordable option,' she says, 'a clothes rail can be installed in alcoves to help make the most of every inch of space.'
15. Introduce multitasking furniture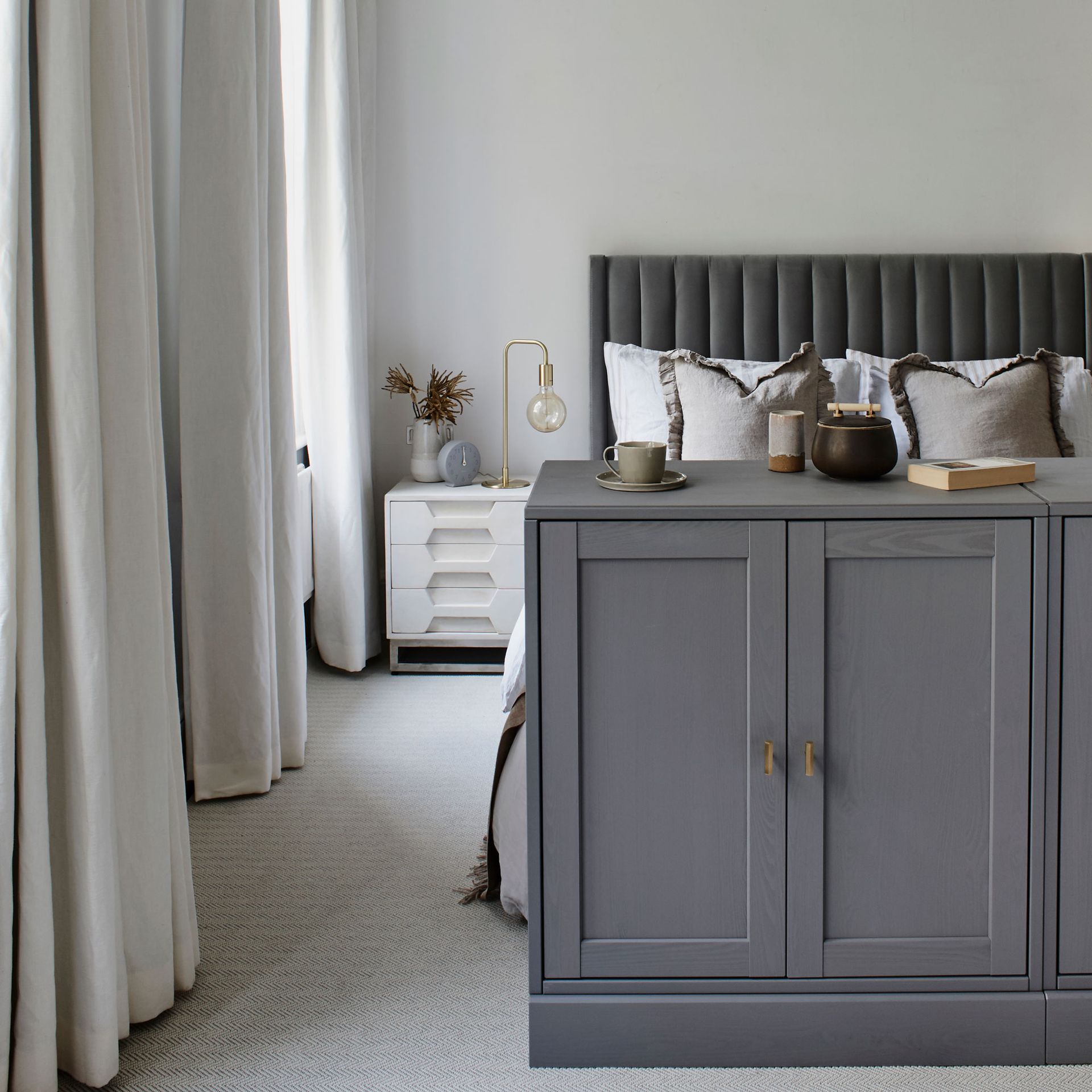 'Avoid large and bulky pieces of furniture that you have to squeeze past as they block potential walkways,' advises Ann Marie Cousins from of AMC Design.
'Instead try and opt for furniture that serves two functions to maximise on the space available to you. For example, a bench at the end of the bed with shoe storage underneath, a bed that doubles as a wardrobe for your clothes, a wardrobe with drawers or shelves built into it etc.'

Here, a cupboard at the end of the bed provides much-needed storage space, while also affording an extra surface for accessories or even a perch for your morning cup of tea while you get dressed.
16. Choose wall lights for the win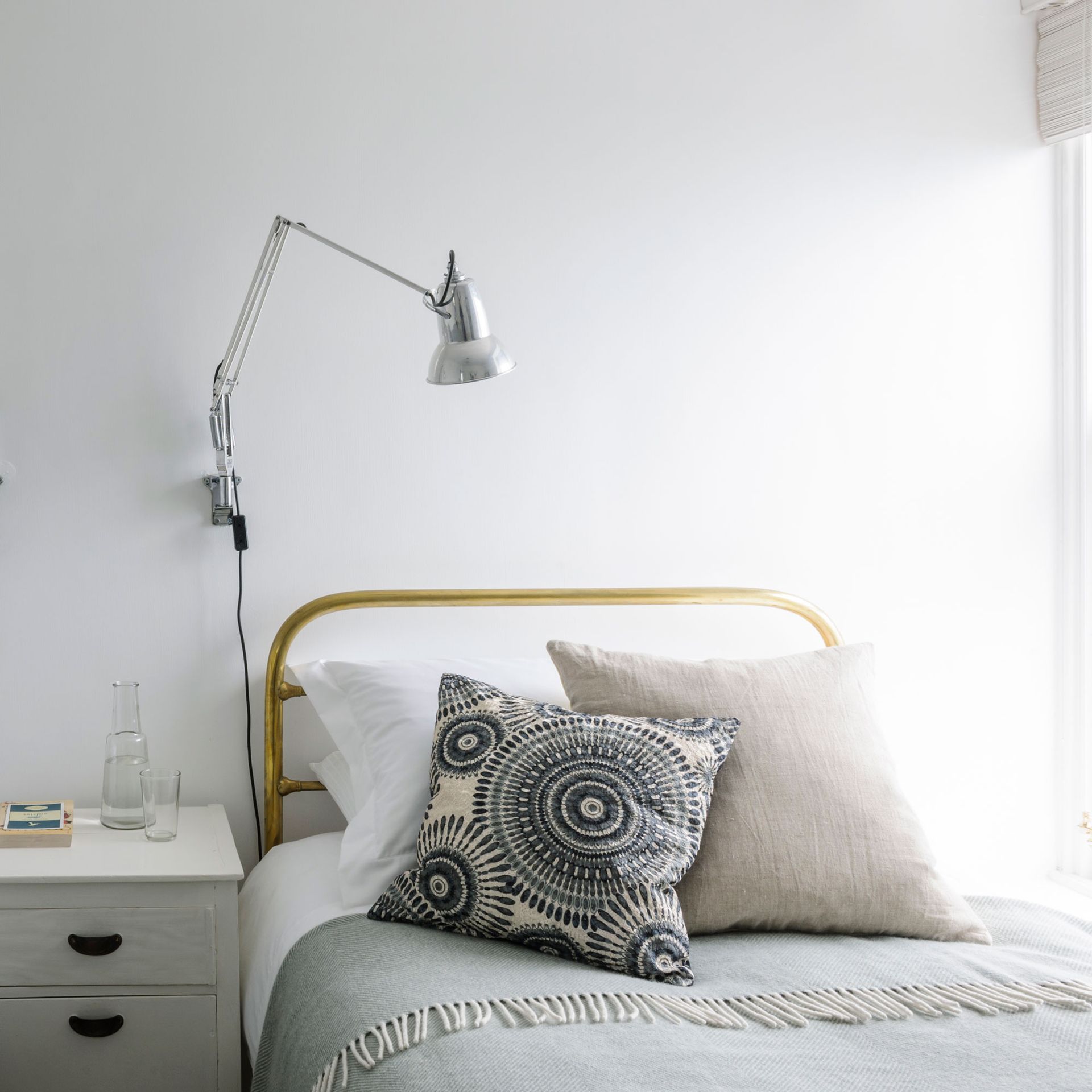 'Lighting is a key consideration in every room of the home, but is more important than ever in the bedroom,' explains Jane from Rockett St George. 'If you are short on space, then wall lights are a brilliant choice.'
'Taking inspiration from glamorous boutique hotels, installing wall lights on the wall helps to create a luxe feel in even the smallest bedroom spaces.'
Don't have the electrical set up for a wired wall light? Then search for plug-in wall lights instead, Dunelm has a great selection. Looking exactly like a standard wall light, these feature a power cord that hangs from the base of the lamp, that you simply plug in to use. Consider installing best smart lighting bulbs to give you complete control over the colour, scheduling and dimming of the lights.
'An extendable or swing arm wall light is an excellent alternative for a table lamp,' explains David Amos, CEO at Amos Lighting + Home, 'as it provides just the right amount of illumination without overpowering the space.'
17. Don't shy away from bright colour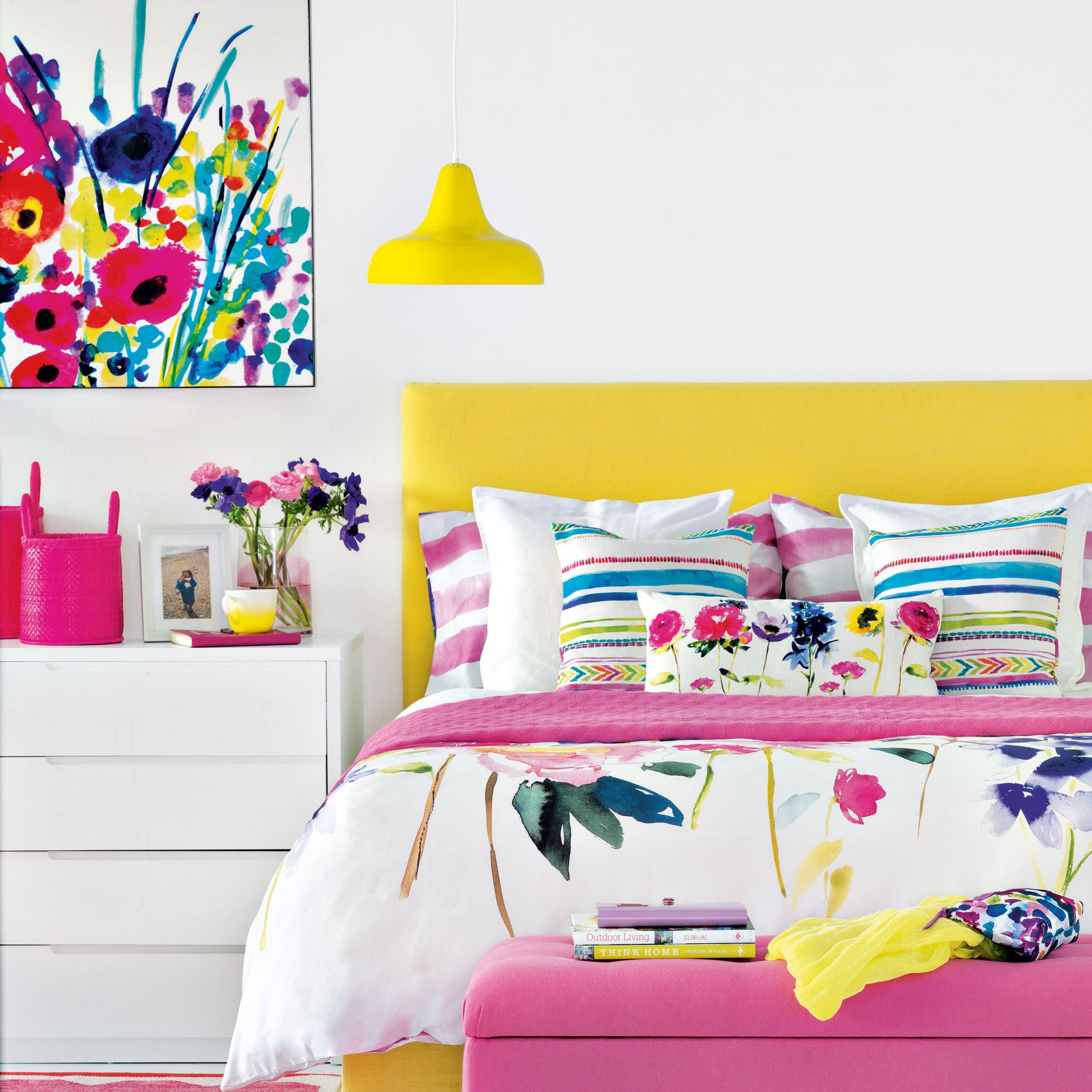 With modern small bedroom ideas, the choice of colour schemes that you can pick from are pretty endless. From pale neutrals to make the space feel bigger and airier, to deep hues for a more cocooning atmosphere, you're bound to find a colour combo that you'll love.
If you use it as a multifunctional space, like a home office, you may want to consider a more vibrant colour scheme to encourage creativity.
'Bedrooms are spaces to wind down,' explains Ann Marie Cousins from AMC Design, 'so opt for a design which suits your personal taste but also encourages relaxation.'
'However, if your bedroom also doubles as a home working space for example,' she adds, 'you may need it to serve a creative purpose too. So don't be shy and instead be bold with your space, without it being too busy.'

Here, a brightly coloured scheme is focused mainly on pieces that you can swap out easily should you fancy a chance - bold patterned bed linen, and bedroom artwork ideas can be replaced for a new look as and when the notion take you.
18. Create a feature wall focal point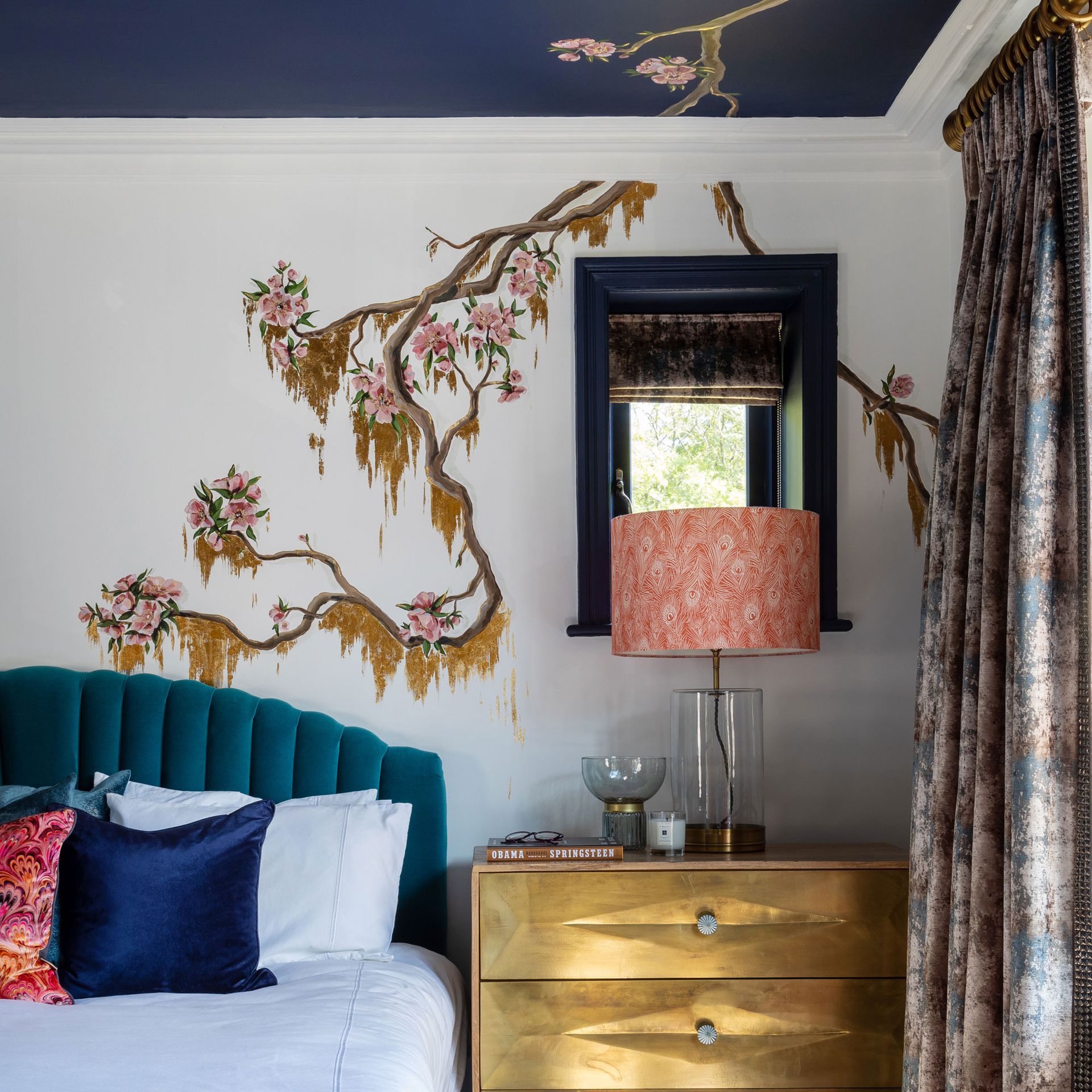 Wallpaper is wonderful in small modern bedrooms, both single rooms and master bedroom ideas, particularly behind the bed headboard to create an eye-catching focal point.
If you don't fancy the uniformity of a wallpaper print, a painted mural offers a decorative point of difference that makes your bedroom unique and as it's bespoke, you can go as big or as small as you like with the design. If, however, you're not very artistically inclines, a made-to-measure wallpaper mural can do the job just as well.
Instead of painting or wallpapering all four walls, consider painting the ceiling in a dark shade for a cosy feel and keeping the remaining three walls clear of pattern to retain the feeling of space.
19. Choose a deep headboard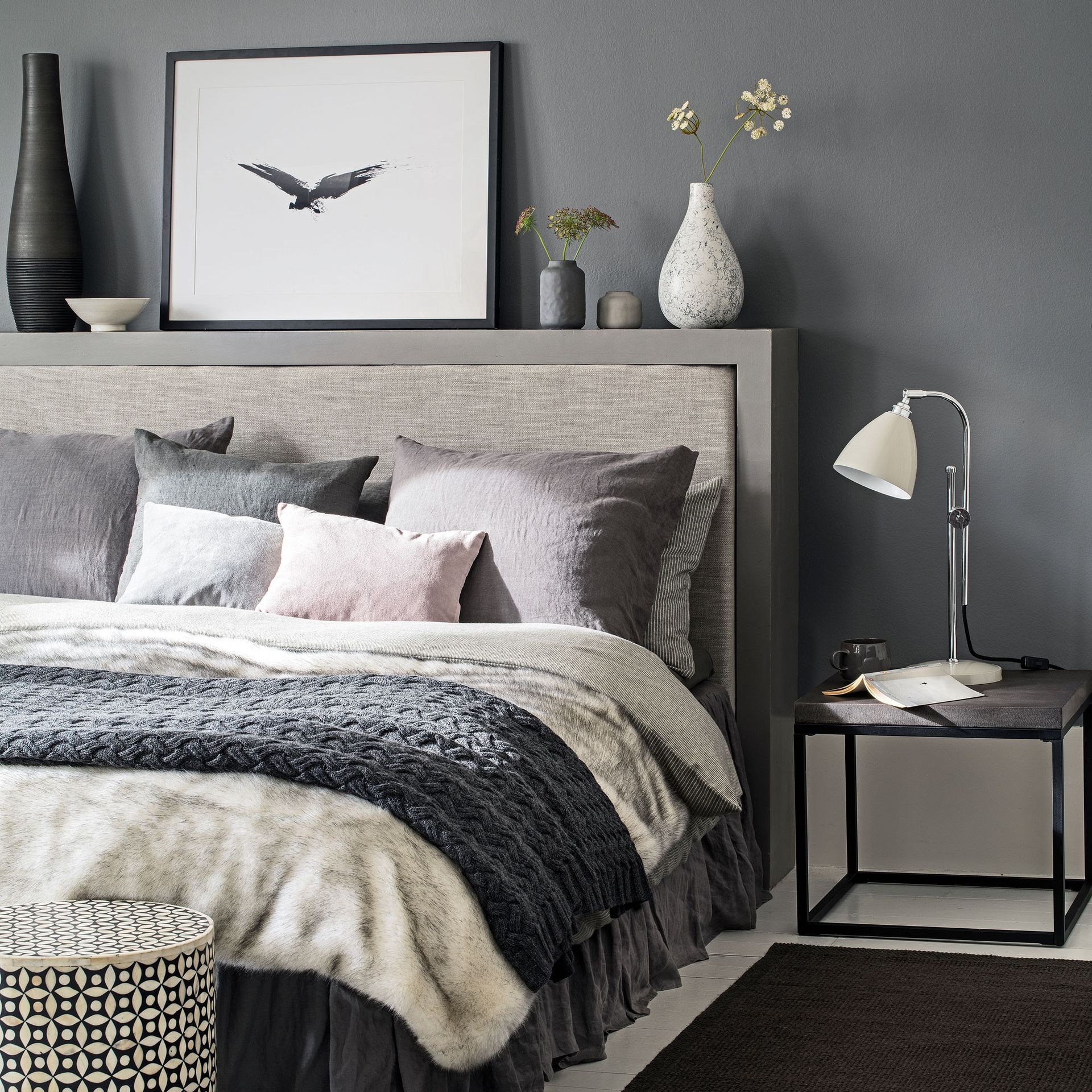 A deep headboard with a solid frame offers you added instant storage, a must-have in a small space.
If you can't find a design that you like or will work with your bed frame, consider making your own by combining a shop-bought (or homemade) fabric-covered headboard with a deep wooden frame, painted in the same or a similar shade as the fabric.
20. Use every inch of space for storage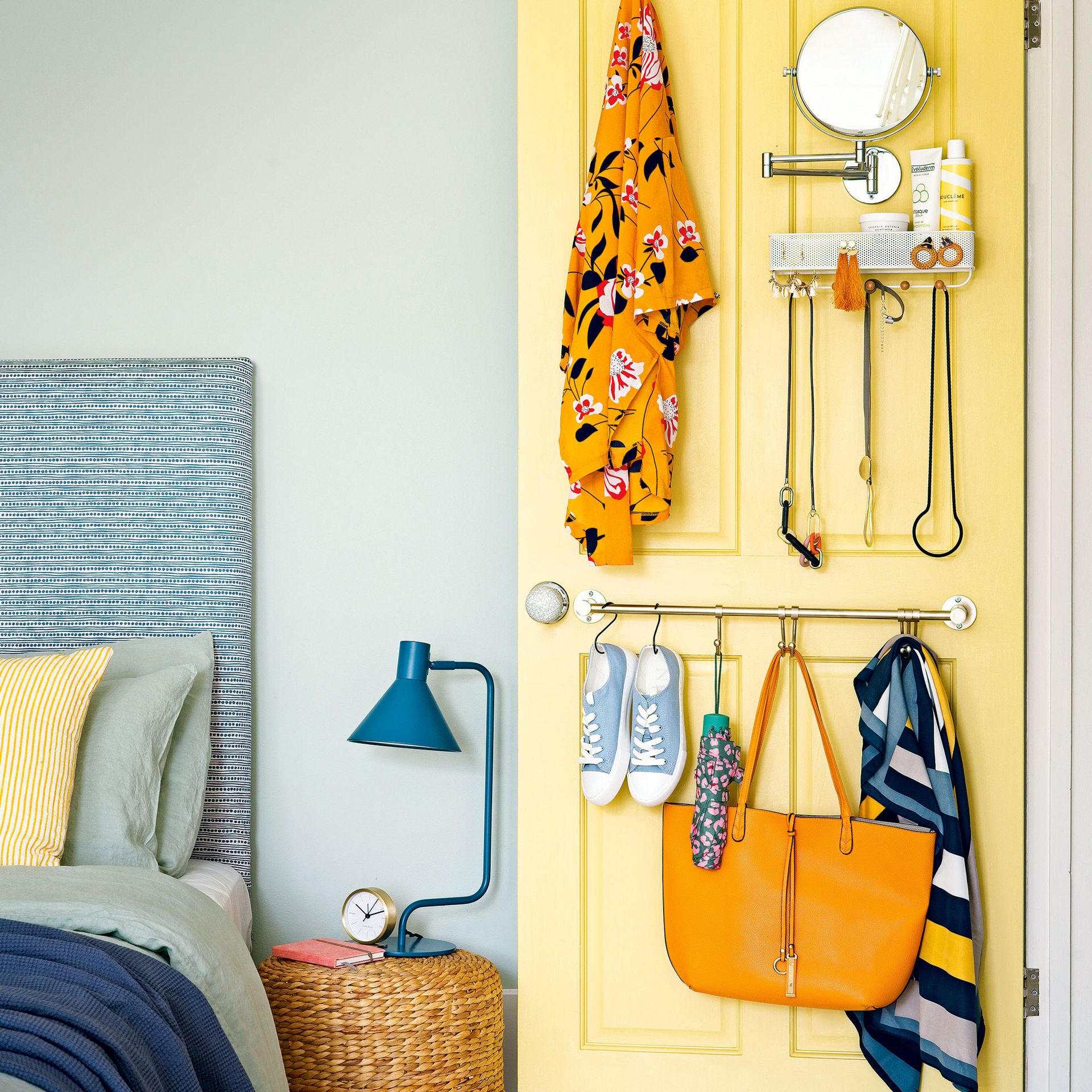 Too much clutter will kill the feeling of space in a small modern bedroom. Emma Deterding from Kelling Designs agrees. 'Decluttering and making sure all your clothes and belongings are organised is crucial in creating a calming environment.' sha says. 'It can really help make you feel better and make the day-to-day of finding things much easier.'
'Go through and get rid of anything you no longer use or need, advises Emma, 'this will instantly open up space for storing the things you do need properly, as well as creating space in your bedroom to maybe add a reading nook or a space to do some yoga and meditation when you wake up.'
Make use of space that is otherwise unused. Over-the-door hooks, a key organiser and a kitchen rail with s-hooks have been used on the back of this door to create a vertical dressing table.
How do you make a small bedroom modern?
There's a fine line of difference between modern small bedroom ideas and traditional ones. The main building blocks of how to decorate with small bedroom ideas remain similar across both styles with decorative choices being the only difference between the two styles.
Modern schemes tend to reference the past or a more classic vibe in certain areas but in small touches not an overall feel. So you can including traditional decor like panelling, pattern and shutters, provided you keep the classical references to a minimum.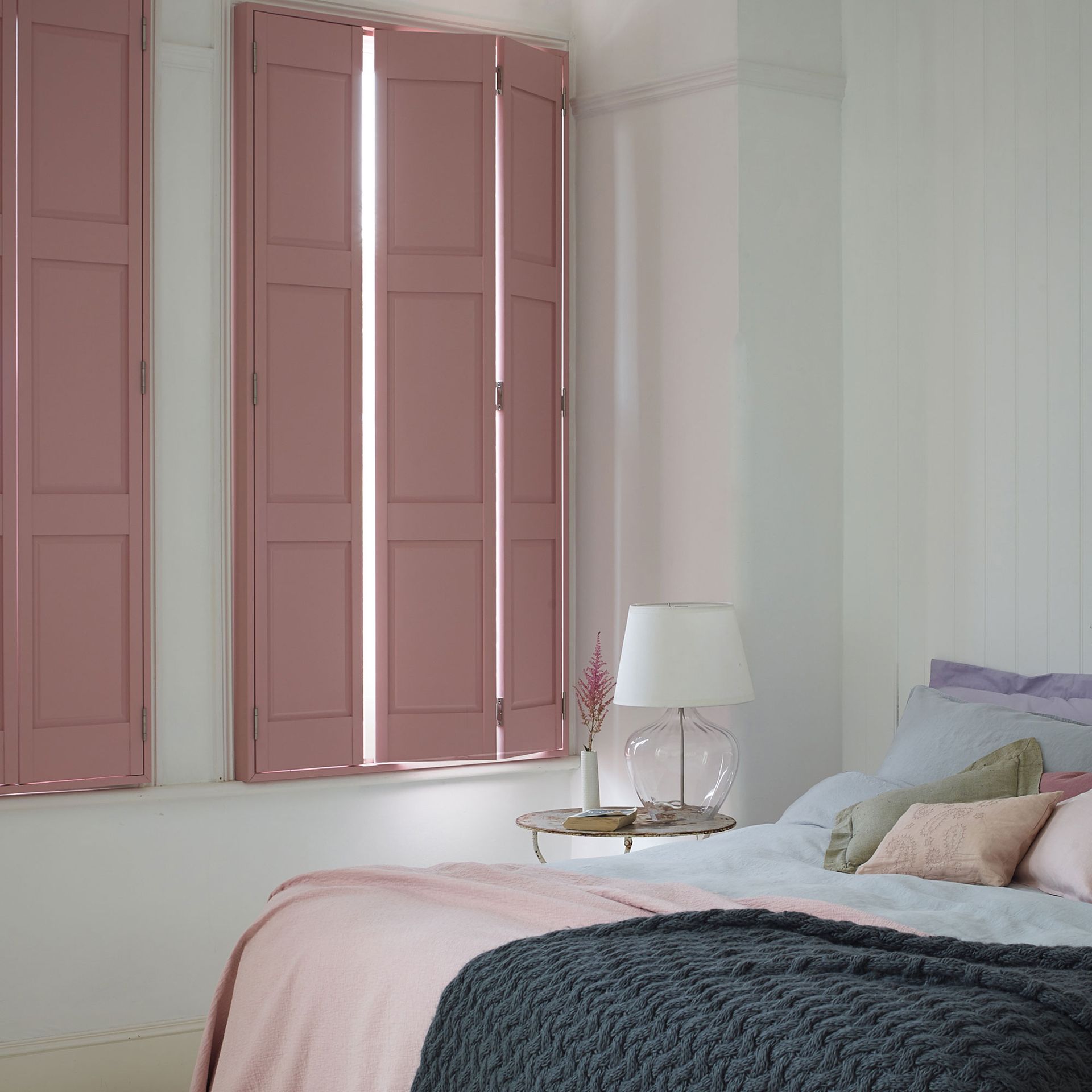 Lighting is a huge consideration in a small space - it can make or break a scheme. Too much bright lighting can give the room a bleak cold atmosphere, but ignoring overhead lighting altogether is also a mistake in such a small space.
'Lighting is a crucial element in a bedroom, especially when it's more compact,' explains Emma Deterding from Kelling Designs, 'so it's important to make sure you have different layers. It's where you spend a lot of your time, so it is definitely worth investing in.'
'Think about how you use the room, continues Emma, 'is it purely just a bedroom where you relax, sleep and unwind, or do you have a reading nook or a yoga/workout space there too? This is important as it will help you decide where to place lighting, which types and how many sources you'll need.'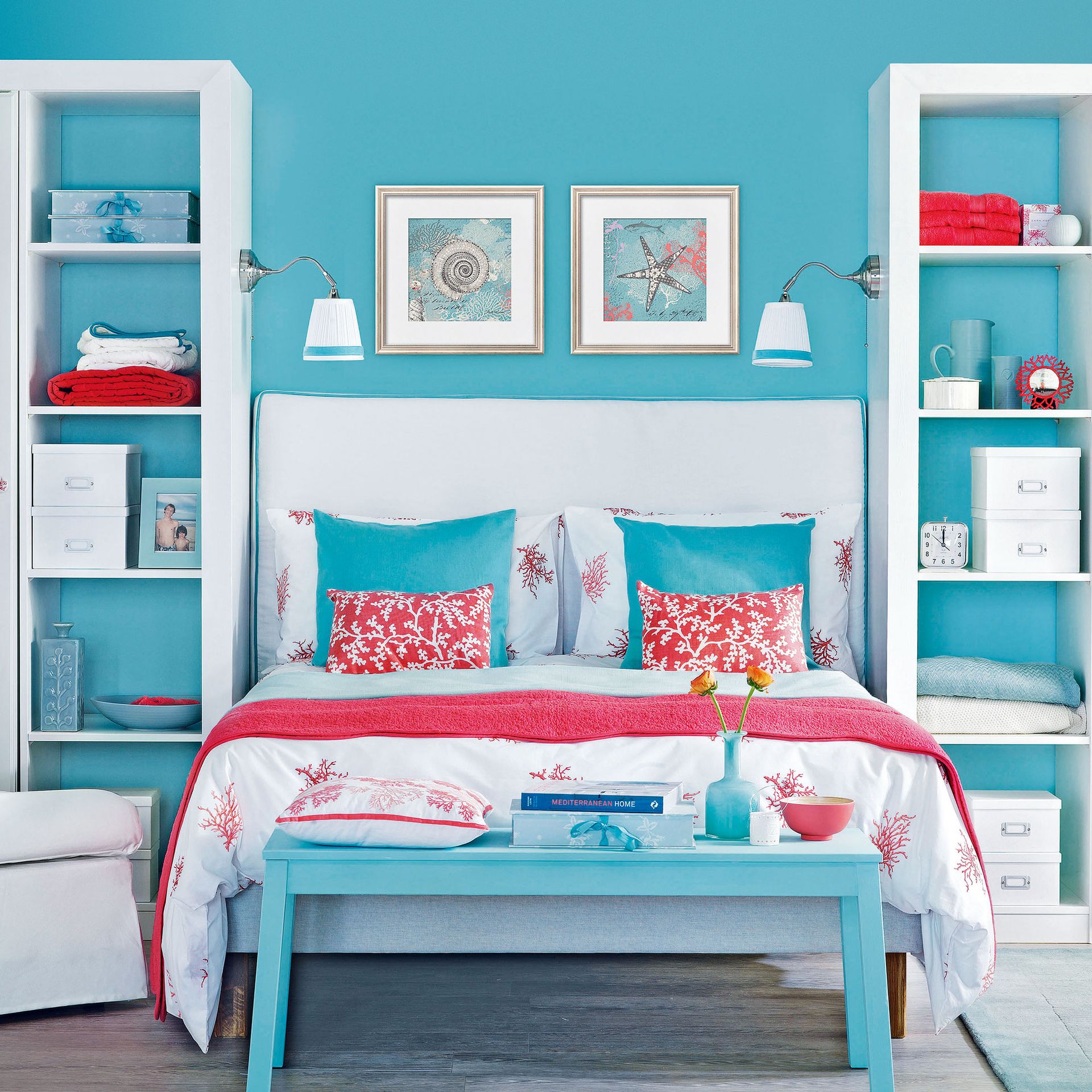 'Start with your main light source,' Advises Emma, 'and choose a ceiling light that will bring enough general light into the room, covering you from getting dressed to kicking back with a good book.'
'In terms of designs,' she continues, 'if you want to make a statement of the lighting fixture, then a pendant in glass, metallics or something in wood or rattan will look the part and create a focal point on the ceiling. After all, your lighting should look the part whether switched on or off. Be sure to fit a dimmer control as it will allow you to change the mood and atmosphere with ease, whilst creating a calm and cosy feel when needed in the evenings.'
Good storage, too, is a must when planning modern small bedroom ideas. Either invest in a bed with hidden storage or buy a selection of sturdy storage boxes that you can slide under your bed out of sight.
'People are increasingly looking for ways to utilise their bedrooms more efficiently,' explains Adam Black, co-founder of Button & Sprung, 'which seems to be the effect that the influx of influencers such as Marie Kondo are having.'
'The idea of clever organisation and storage,' continues Adam, 'coupled with decluttering unwanted items, has been linked to a happier mindset. In spaces that are much smaller, you have to be clever about storage.'
'Ottoman beds allow for instant storage via a mechanical lifting system' explains , explains Adam. 'They're ideal for larger, bulkier items, storage is located within the base of the bed rather than split into individual compartments or drawers.'
What is the best design for a small bedroom?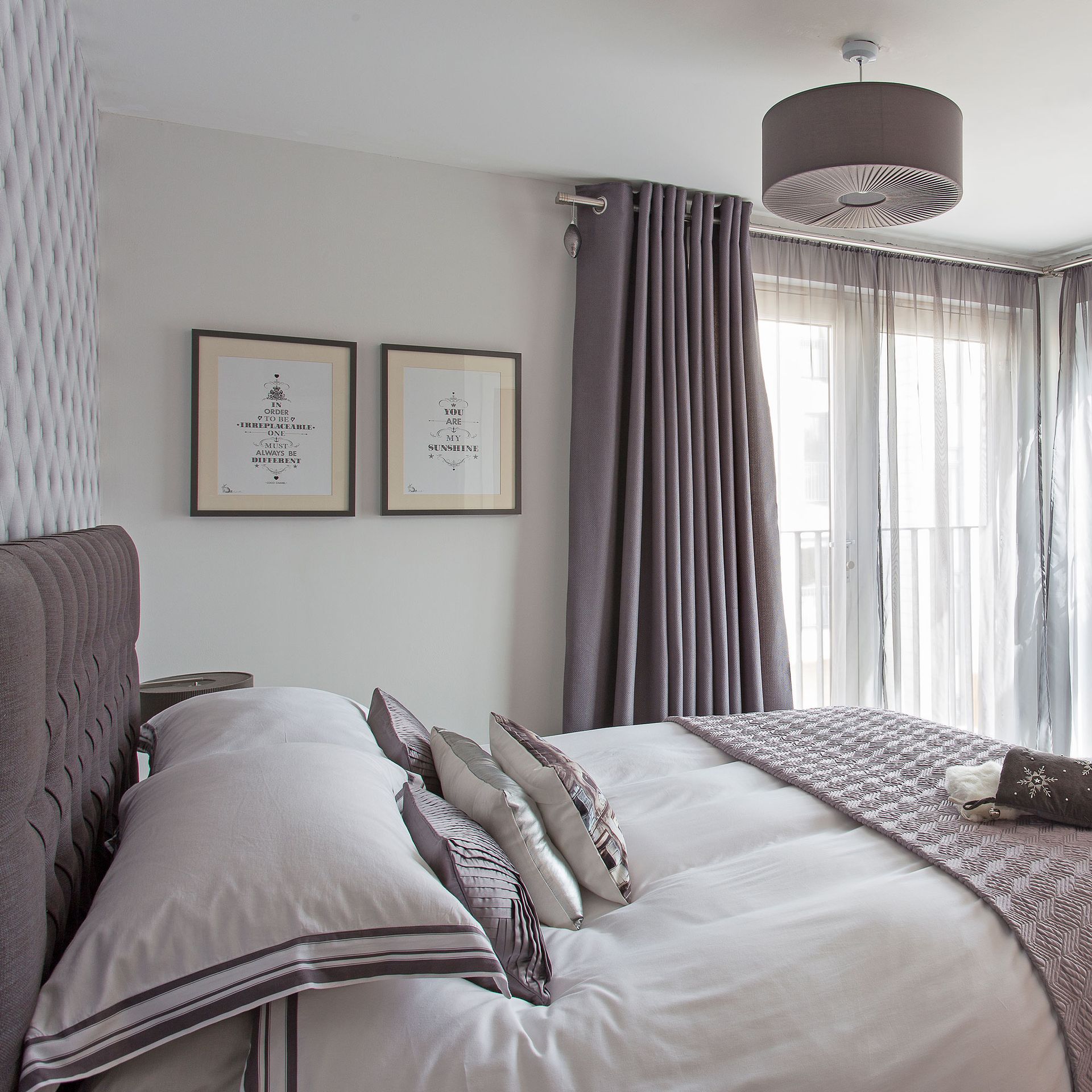 'If your bedroom is on the smaller side, you need to be smart with storage to ensure it is a comfortable yet practical space,' Ann Marie Cousins from AMC Design. 'Try and use every nook and cranny available to you - from floating shelves above the bed, to an ottoman bed with storage underneath, to bedside tables with storage underneath.'
'Keeping your bedroom tidy and clutter-free is key to helping it feel bigger,' continues Ann Marie, 'so hide away items you don't use everyday and keep the design simple - as a busy room can also make it feel more cramped.'
There are plenty of clever visual tricks and hacks you can use to make the space feel bigger, too. Nadia McCowan Hill from Wayfair advises to 'hang curtains higher than the window to trick the eye for a heightened sense of space. Opt for a wall-mounted headboard, in order to minimise the amount of furniture, all whilst looking sleek and stylish.'
'Try playing around with hero pieces to find the most spacious layout,' she continues. 'Add character with plush cushions and layer throws to embrace a soothing atmosphere.'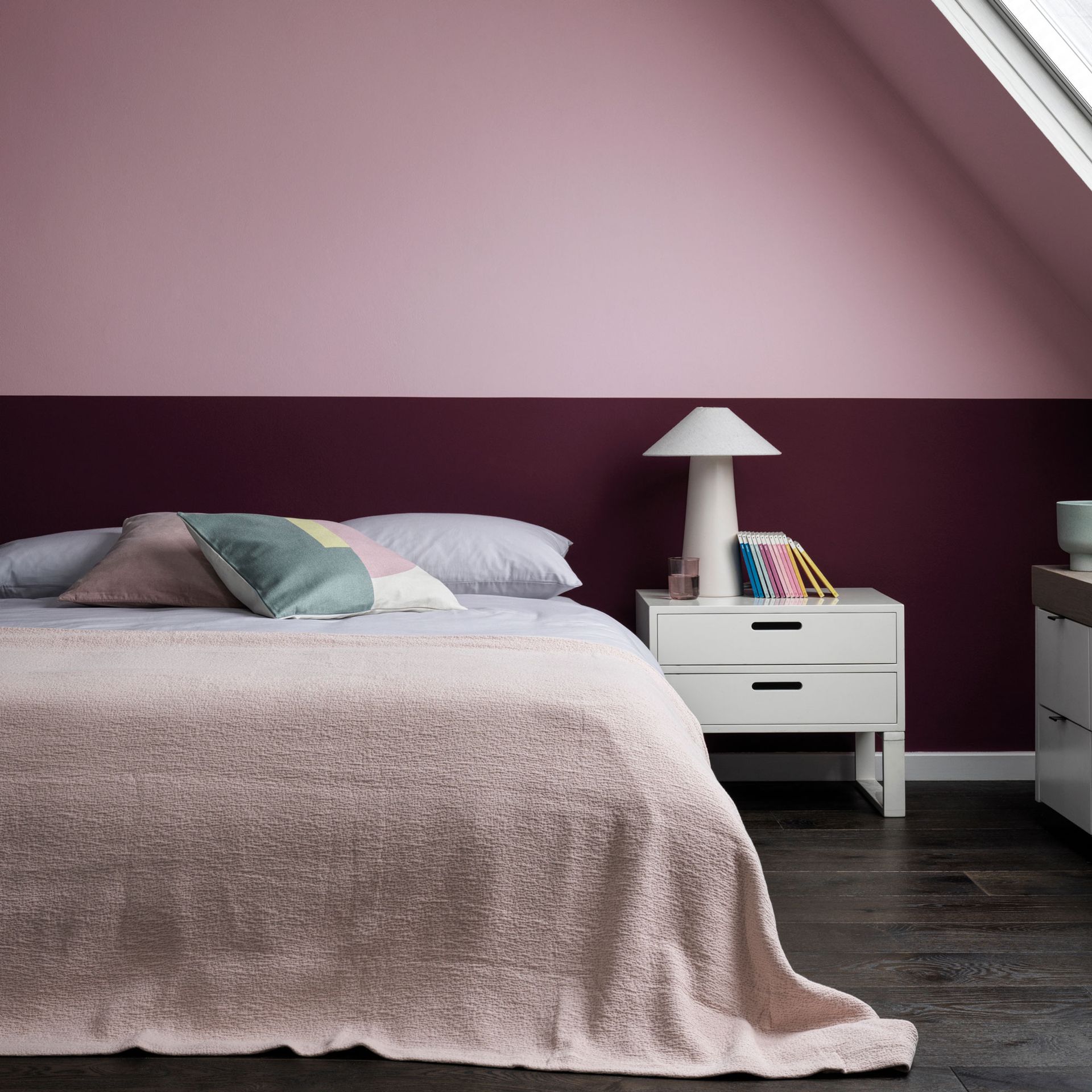 While decorative choices are important, as it's a bedroom, comfort is key, too. 'Always get the best quality and biggest bed and mattress the room can take,' advises Emma Deterding from Kelling Designs, 'and spend the most you can as these are investment pieces that will be with you for a long time.'
Not cluttering the space with furniture and knowing how to arrange furniture in a bedroom should both be approached carefully and with a lot of consideration. As once everything's in place, you won't want to have to move it all out again if after a while you find it doesn't work.
'Too much furniture can make a room feel cluttered and oppressive,' says Jane Rockett from Rockett St George, 'so, we always recommend investing in a few key pieces of bedroom furniture that you will love forever. This is especially important for smaller bedroom spaces where every piece of furniture counts.'
What colours make bedroom look bigger?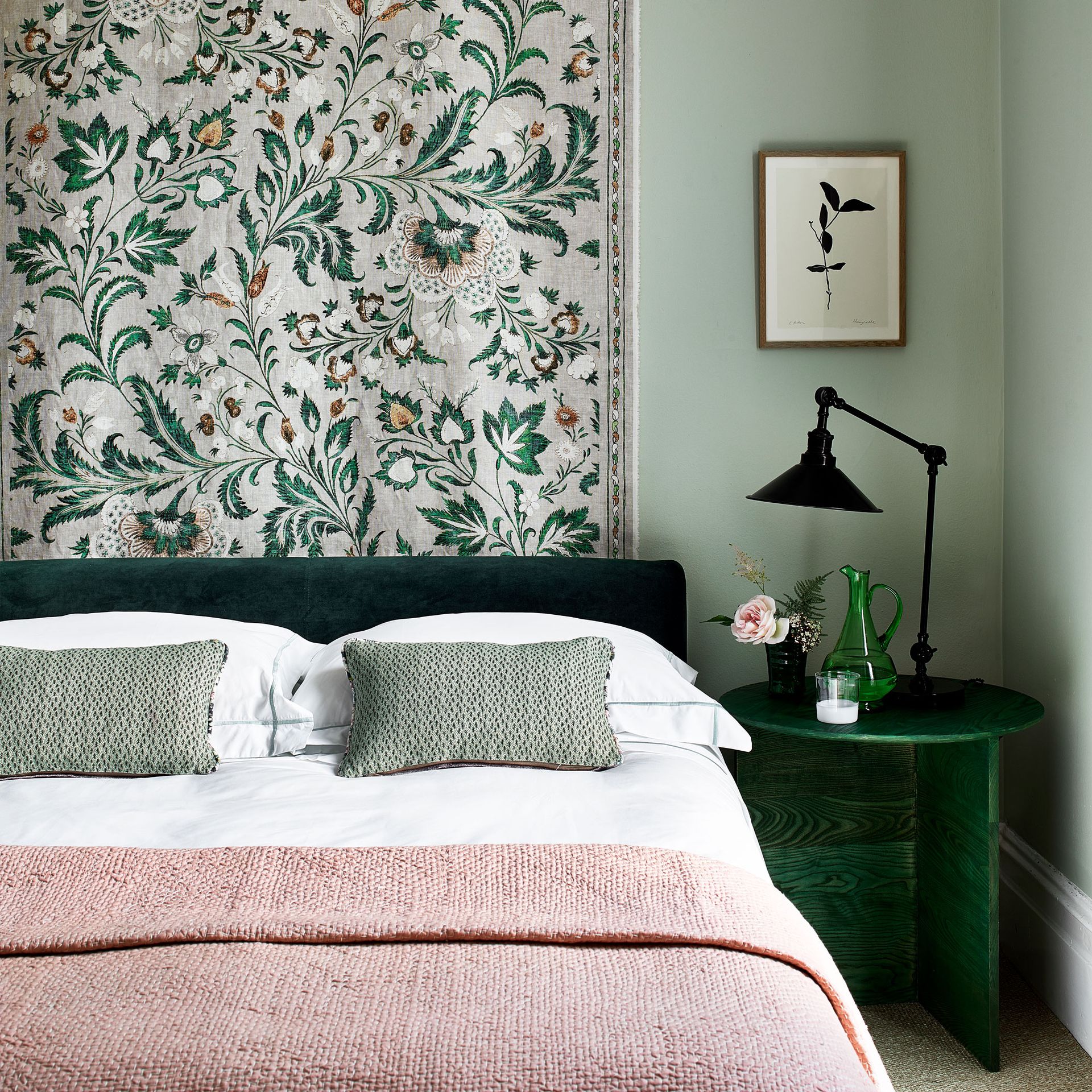 When it comes to colour, anything goes in a bedroom. It's the way you apply it and where that will make a difference to the space.
'From a style perspective, your bedroom, regardless of how big or small it is,' explains Emma Deterding from Kelling Designs, 'should be a true reflection of your personality and be filled with furniture and accessories that you truly love. But with a few clever tricks, you can also create a calm, relaxed and luxurious atmosphere.'
'You don't need to stick to a muted, neutral colour palette, continues Emma, 'brighter colours can be just as soothing when used correctly. Whether you opt for zesty yellow tones, inky blue hues or rich red and green shades, it's all about using colour in a way that is balanced and easy on the eye.'
'Although some advise that painting a small room a dark colour can make it feel more compact,' says Ann Marie Cousins from AMC Design, 'this is not always the case. Opt for dark coloured walls, but continue the paint onto the ceiling to give the room depth - this will result in the room feeling taller and therefore larger.'
'A neutral palette of off-whites and delicate ecru can be a powerful springboard for a small bedroom,' says Nadia McCowan Hill from Wayfair. 'Weave in accents of olive and fuchsia pink with scatter cushions for a pop of colour. Alternatively, pair crisp white sheets with navy for a more refined and sleek look.'
Get the Ideal Home Newsletter
Sign up to our newsletter for style and decor inspiration, house makeovers, project advice and more.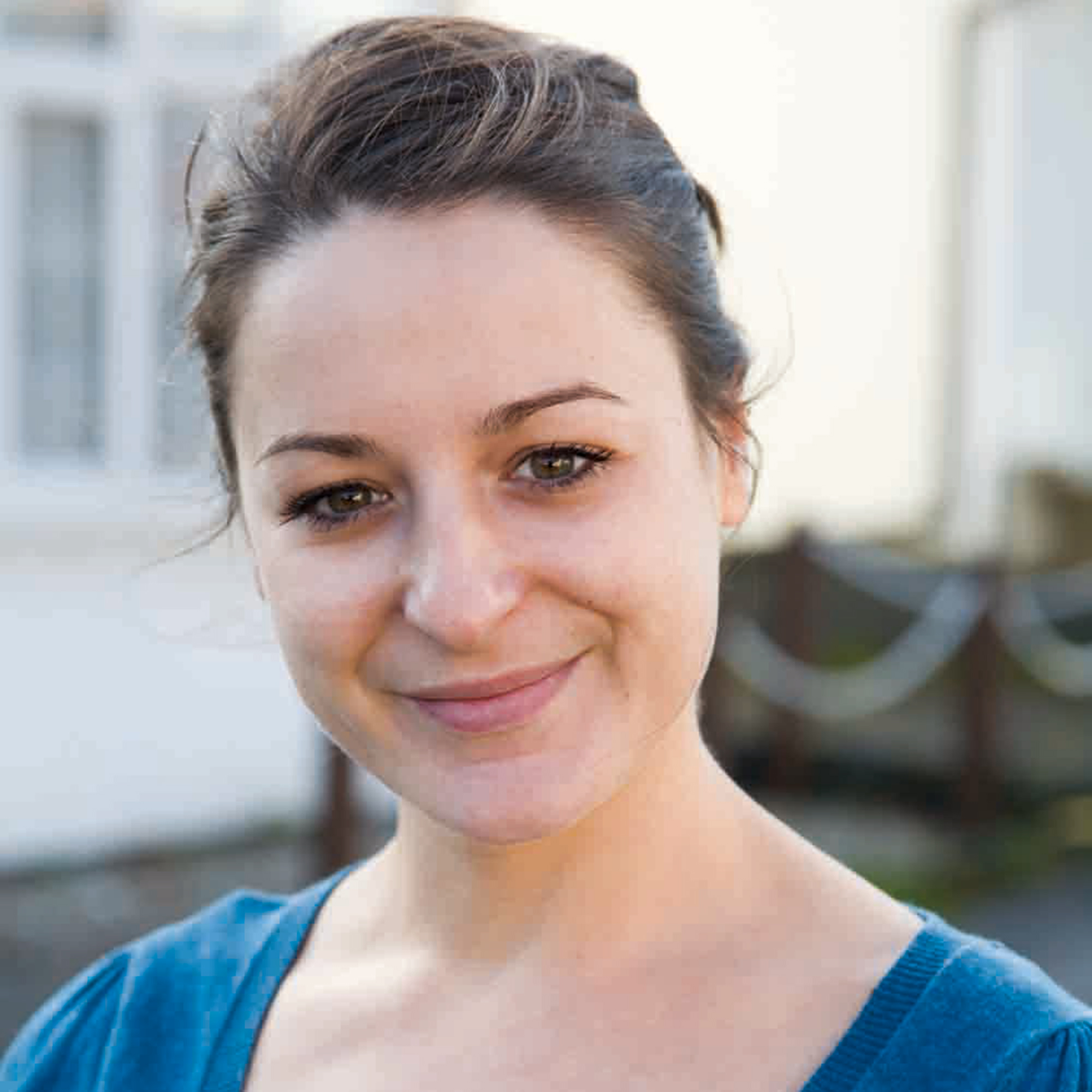 Ginevra Benedetti has been the Deputy Editor of Ideal Home magazine since 2021. With a career in magazines spanning nearly twenty years, she has worked for the majority of the UK's interiors magazines, both as staff and as a freelancer. She first joined the Ideal Home team in 2011, initially as the Deputy Decorating Editor and has never left! She currently oversees the publication of the brand's magazine each month, from planning through to publication, editing, writing or commissioning the majority of the content.