Calm bedroom ideas – 11 style tricks to create a soothing sanctuary
Calm and beautiful bedroom inspiration to help you sleep better and feel relaxed every day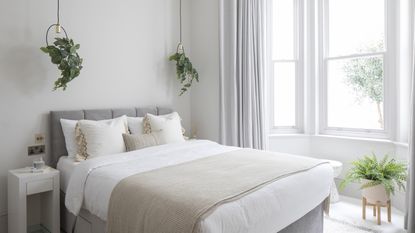 (Image credit: Future PLC/James French)
Now more than ever, we're craving calm bedroom ideas for a peaceful retreat – a place to escape the hubbub of daily life and relax, read and, of course, sleep. That's not so easy when your bedroom is also a workspace, your dressing room, hair salon, the kids' playroom and more. But there are simple fixes that can add a sense of calm and ease to your bedroom ideas, whether it's a multifunctional space or a dedicated place to sleep.
'The bedroom should be your personal sanctuary, a space free from the stresses of the day and one that encourages you to relax and unwind,' agrees Lou Petersen, head of design innovation at DFS. 'With so much of our time spent there and rest so intrinsically linked to our wellbeing, the bedroom is a space worth investing in, to make sure it suits your tastes and your needs.'
Calm bedroom ideas
Choosing cocooning upholstered furniture, the best mattress to optimise sleep sleep, decluttering surfaces, reducing intrusive sounds and layering in warm, soft textures are all go-to calm bedroom ideas. But top of your list to create a peaceful space will be colour.
'Colour has a powerful effect on the atmosphere of a space, and on how we feel when we're in it,' explains Lou Petersen from DFS. 'To create a sense of calm, consider using shades of green and blue, which reflect the colours of nature and encourage feelings of restfulness and relaxation.'
We've spoken to interior designers and brand experts to discover the best calm bedroom ideas. Don't get caught napping – see how many you can apply to your space, then relax…
1. Pick pastels for a calm mood
Your bedroom colour scheme is key when it comes to planning your calm bedroom ideas. And there's no denying that neutral bedroom ideas and light tones are most associated with calm and peaceful decor.
'Our emotions and wellbeing can be hugely influenced by the colours we surround ourselves with, and the bedroom is a space when you come to find comfort,' explains Helen Shaw, director of marketing at paint experts, Benjamin Moore. 'It should be a relaxing sanctuary that you can retreat to at the end of a day and wake up feeling positive the next morning.'
Helen suggests opting for gentle tones for your calm bedroom ideas. 'Choosing light pastels such as soft pinks, sky blues or sage green is encouraged as these evoke a strong sense of calm and serenity due to their association with the peaceful natural environment,' she says. 'These shades can be used from ceiling to floor or combined with crisp whites and pale greys to create smart Scandi decorating ideas.'
2. Use colour-blocking to define zones
If your dressing table does double duty as a desk, or your bedroom is also your home gym and yoga studio, then defining each zone with colour can help to instill a sense of calm when you're ready to sleep.
'A fantastic benefit of colour blocking is that it allows for zoning, which is practical when the space is fulfilling multiple roles, such as an office or dressing room,' agrees Helen Shaw from Benjamin Moore. 'Using different shades of the same hue creates this subtle divide while maintaining harmony and tranquility.
'For a subtle look, sage green and lilac pair beautifully, making them the perfect entry point for those looking to apply a lighter touch to their bedroom.'
3. Introduce natural materials and houseplants
Houseplant ideas are useful in interiors for their air-purifying and oxygenating qualities, which makes them ideal additions to bedside table decor. But just the look of them can be an essential ingredient of your calm bedroom ideas, as proximity to plants and nature is shown to lower stress levels and boost our sense of wellbeing.
'Think about accessorising the bedroom with natural materials, woods and elements of greenery to elevate the calming effect of the space,' advises Patricia Gibbons, from the design team at sofa.com.
And she has another nature-inspired suggestion to add to your calming bedroom ideas – nesting. 'Complement a natural scheme with an upholstered bed,' Patricia says. 'It can also add a pop of colour that balances out the neutrals.' A cosy armchair, squishy pouffe or upholstered ottoman can also bring a softness to your bedroom furniture that promotes a cocooning, comforting vibe. Finish with soft, ambient lighting.
4. Build in sleek storage
Clutter and chaos are calm's worst enemies. The answer? Streamlined and sleek bedroom storage ideas will help you achieve serenity (extra calm kudos if you've nailed how to organise your wardrobe and drawers, too).
'Maximising storage space will ensure that the space feels calm and organised,' says Rachal Hutcheson, national retail manager, Sharps.
'Always start with the placement of your bed, and think about where you want to incorporate your storage around it. Alcoves on either side of the bed can be used for fitted bedsides or storage, creating seamless designs that feel like they are part of the room rather than a piece that has been placed within it.
'Wardrobes can also be fitted flush across one end of the room, making your space appear larger than it is and providing twice as much storage as freestanding wardrobes.
'Another clever design includes integrating a "bed bridge", which maximises the area around your headboard. This solution helps to keep items off the floor and works particularly well in small bedrooms.
'Finishing touches are also an important consideration in your design. Bedside tables that coordinate with other furniture in the room will help to create a calm and cohesive style for the room.'
5. Add a rug or carpet for extra cosiness
A wooden floor is sleek and modern but cosy bedroom ideas cry out for the extra level of comfort provided by a carpet or rug. When thinking about how to choose carpet, consider the warmth of stepping out of bed onto soft and cosy flooring, but the thick layer of material also helps to soundproof a bedroom, giving it a more serene atmosphere.
'Bedrooms are one of the most important rooms in the home, a place where we go to relax and unwind,' says Punam Chada, carpet buyer at Carpetright. 'There's nothing like a soft, deep-pile carpet underfoot to create a cosseting and luxurious feel. With practical benefits of helping to maintain warmth, as well as working as a versatile canvas to carry colour, they make a perfect choice for every home.'
6. Embrace a pre-bed tidy-up routine
There's no point in ticking off your calm colours, adding storage options and investing in a houseplant or two if your bedroom still looks cluttered and chaotic. Whether it's hanging up your daytime clothes, or packing away the computer from your bedroom desk, a five-minute sweep of your sleeping space before bed can help to promote a calm atmosphere.
'Bedrooms should be a tranquil haven where we feel relaxed and able to clear our minds for a deep sleep. We know that mess and clutter affect our ability to switch off – a busy bedroom equals a busy mind,' says Adam Black, co-founder at furniture makers, Button & Sprung.
You'll need somewhere to clear surface clutter into – think baskets on open shelves when organising make up, a dressing table drawer to store a laptop, phones and chargers, and even a toy basket if your kids tend to play in your bedroom.
'Upgrading your bed to an ottoman or divan will add valuable storage space, helping to reduce clutter and transform your bedroom into a calm oasis,' says Adam. 'These discreet, space-saving designs streamline the look and feel of your bedroom while keeping your storage items tidy and dust free.'
A stool or window seat with built-in storage are more great options.
7. Go tech-free in the bedroom
From pinging notifications to insomnia-inducing blue light, TVs and mobile devices are designed to keep our minds active and our fingers swiping. Broaden your calming bedroom ideas to include bedroom design tips for better sleep. And create tech-free downtime before bed. Go old-school with a battery-powered or wind-up alarm clock, have a DAB radio on your bedside table so you can listen to music instead of scrolling social media, and be sure to have an angled light so you can relax by reading a book before bed.
'Sleep is our biggest superpower, but it's not always easy to achieve quality sleep every night. A sleep routine is the best way to set you up for sleep success,' says insomnia and sleep consultant, and founder of The Sleep Care Company, Anne Marie Boyhan.
'Make the bedroom a tech-free zone. While it can be tempting to scroll your phone when you get into bed, it can actually prevent you from drifting off. The artificial blue light of a phone screen suppresses the release of melatonin, the sleep-inducing hormone, making it harder to fall asleep. To combat this, set a bedtime curfew for your electronic devices two hours before bedtime, to allow your brain time to wind down.
8. Choose a deep and calming colour
You don't have to go for a pale and ethereal spa-style look if that's not your interiors style. Immersive dark colour schemes, such as deep grey bedrooms, rich green bedrooms and inky blue bedrooms can also bring a sense of comfort and relaxation.
To keep the look restful, consider colour drenching your bedroom, with walls, woodwork and even artworks in the same or similar tones. Panelling and textured surfaces can add interesting shadows and depth to the scheme.
9. Avoid visual distractions
Decorative objects and personal items bring heart and soul to any space, but when you're aiming to create calm bedroom ideas you'll want to keep visual distractions to a minimum.
There is a trick to having a beautifully designed space full of displays that draw the eye but that doesn't overwhelm and distract – simply organise your shelfie or gallery wall so it's behind the bed, rather than being in front of it. That way, you can enjoy the look as you enter and move around the room but have visual quiet when you lie in bed. Win win…
10. Make your bed a sleep sanctuary
Tossing and turning does not make for a restful night's sleep, so any calm bedroom ideas should include personalised bedding for your best duvet. Consider if you prefer a duvet, comforter or blankets, cotton or linen sheets, and plain or patterned designs.
'Bed linen is central to the design of the room and by experimenting with layers and different patterns and textures, you can express what relaxation looks like to you,' says Daniela Boleto, design director at bedding brand Camomile London.
'Function is as important as aesthetics, and natural materials such as cotton and linen will create the best sleeping environment as they are breathable and will keep you cool and comfortable throughout the night. These lightweight materials can be layered beautifully for a feeling of cover and warmth without feeling overbearing.
'To create a space with comfort and relaxation at its design core, start with a colour palette or pattern you enjoy and build up contrasting layers with duvet covers, pillows, cushions and throws. Be bold with contrasting patterns and materials or pick out key tones and build them up through the space for a beautiful depth and texture.'
11. Turn your desk into a dressing table
If you're working from home, your bedroom may also be your office space, with your computer taking up space on your dressing table. To restore tranquillity to your sleeping environment at the end of your nine-to-five, be sure to hide away items to do with your job and bring out your personal and beauty or grooming products instead. You could even incorporate light a scented candle at this point, to mark the transition from work to relaxation.
'Essential oils have a direct impact on the area of brain that deals with emotions, memory, mood and heart rate, so we can choose fragrances to increase calm and reduce stress and tension,' explains Cheryl Hook, founder of candle and home fragrance brand, Melt.
'Lavender can promote restful sleep and relaxation. Rose geranium calms and balances emotions. And Petitgrain is uplifting and good for exhaustion.'
How can I make my bedroom calm?
'Rid your space of clutter. It's particularly important that your bedroom feels free from all things stress-inducing and clutter can be a key culprit,' says Lou Petersen, head of design innovation at DFS. 'With this in mind, storage should be a key consideration when you create your calm bedroom ideas. Ottoman benches and bedside tables are a great way to add hidden storage, providing an easy to reach spot to hide away any clutter from the day, as well as acting as a stylish occasional piece to lend your space a boutique feel. If you're working with a smaller sized bedroom, make the most of every square inch of space by opting for an ottoman storage bed frame.'
What colours are best for a calm bedroom?
'Colour has a powerful effect on the atmosphere of a space, and on how we feel when we're in it,' says Lou Petersen. 'To create a sense of calm, consider using shades of green and blue, which reflect the colours of nature and encourage feelings of restfulness and relaxation. However, don't feel like you're restricted to one shade. To add points of interest, try layering different shades of your key colour across your furniture, accessories, and even on your walls, with painted arches or borders.'
How can I make my bedroom feel relaxed and cosy?
'Seek comfort from texture,' advises Lou Peterson. 'To create a cosy atmosphere in the bedroom, choose tactile fabrics that are soft to the touch and offer a feeling of warmth – velvet is a great option for your upholstery, and you can dial up the cosy factor further with cushions and throws in chunky knit, wool or soft boucle. For a luxurious feel, take inspiration from boutique hotels and go for a statement bed with a comfortable upholstered headboard, then layer multiple cushions and throws. Or for a more pared-back look, try adding natural textures of cotton, linen and rattan to bring the calming properties of nature indoors.'
Get the Ideal Home Newsletter
Sign up to our newsletter for style and decor inspiration, house makeovers, project advice and more.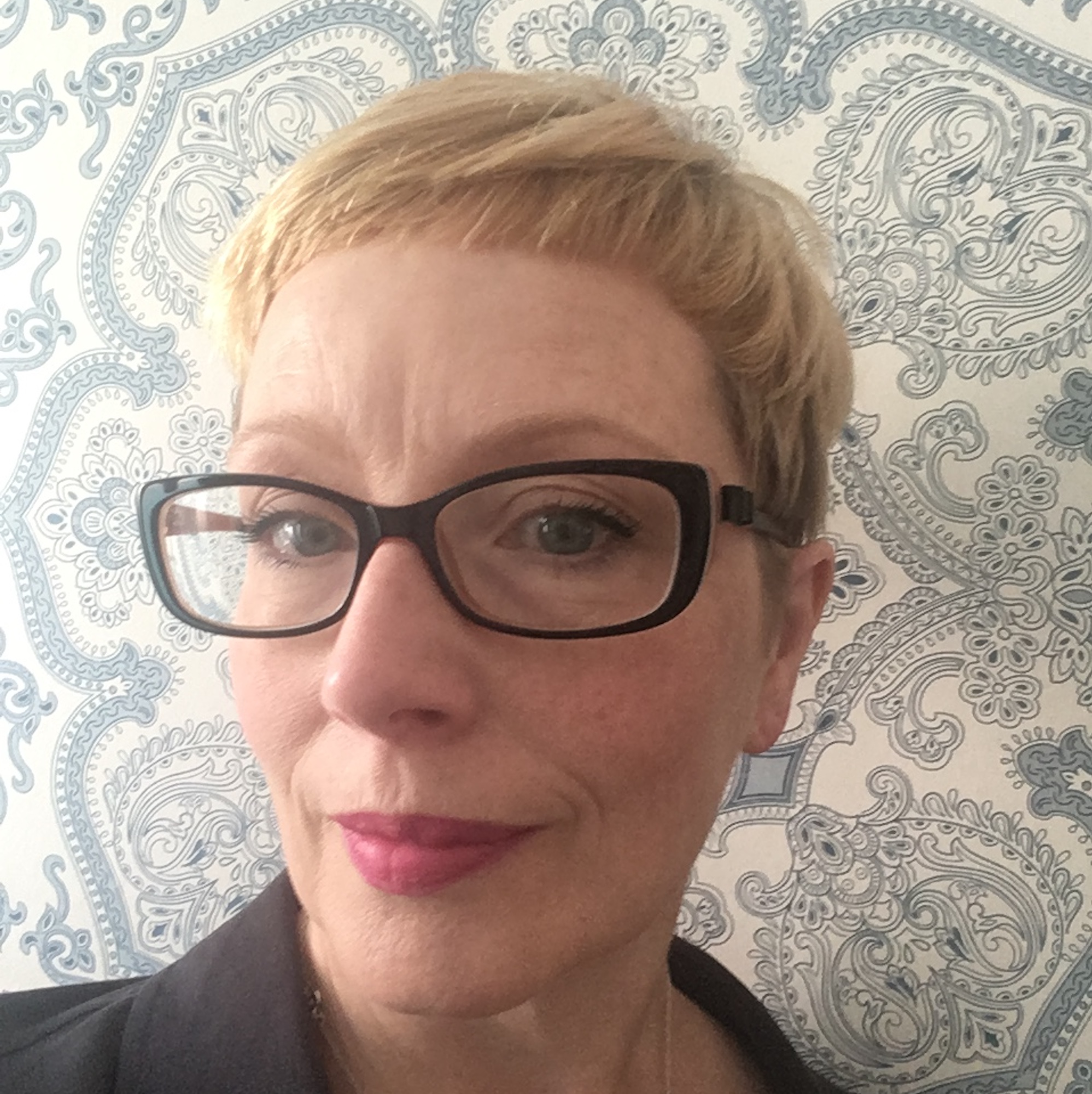 Andrea began her journalism career at Ideal Home and is currently Editor of our sister title, Country Homes & Interiors, which celebrates modern country style. Andrea is passionate about colour and how it can transform both our homes and our sense of wellbeing, and has completed The Power of Colour course with the prestigious KLC School of Design. Andrea's career spans interiors magazines, women's lifestyle titles and newspapers. After her first job at Ideal Home, she moved on to women's magazines, Options and Frank. From there it was on to the launch of Red magazine, where she stayed for 10 years and became Assistant Editor. She then shifted into freelancing, and spent 14 years writing for everyone from The Telegraph to The Sunday Times, Livingetc, Stylist and Woman & Home. She was then offered the job as Editor of Country Homes & Interiors, and now combines that role with writing for idealhome.co.uk.