Best Shark vacuum of 2023 in the UK – our top 9, reviewed
Looking for the best Shark vacuum cleaner? Read our ranking, complete with reviews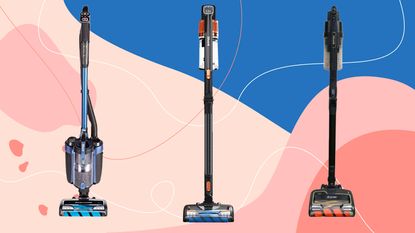 (Image credit: Future/Shark)
QUICK LIST
Looking for the best Shark vacuum? We've reviewed many of these top picks, including upright and cordless models, to help you make your decision.
Choosing the best Shark vacuum can be tricky due to the sheer amount of models on the market, which is why we've created this list to help you narrow things down.
There's a reason that the best Shark vacuum cleaners also feature heavily in our guide to the best vacuum cleaners overall. While the price can vary massively, we're big fans of the quality and innovation you'll get with a Shark vacuum.
Design perks such as the DuoClean brush head, which toggles between carpet and hard floors with the touch of a button, and Flexology, which easily pivots to reach under furniture, will make an instant difference in your cleaning routine.
Below, you can find links to the specific Shark vacuum reviews for models we've tried and tested so that you can read more before you make your final decision and start making use of Shark discount codes.
Quick list - the best Shark vacuums
Short on time but looking for the best Shark vacuum around? Take a look at our quick list below to find the one you're looking for quickly.
Best handheld
Best handheld
+ One touch bin emptying
+ Neat storage/ charging dock
+ Not too loud
- Expensive
- Short run time
Best upright Shark
8. Shark DuoClean Upright Pet Vacuum NV702UKT
Best upright
+ Can be used on all floor types
+ A pet-friendly choice
+ A great colour

- Some might prefer a cordless design
Best cylinder
9. Shark Cylinder Pet Vacuum Cleaner with DuoClean and Anti Hair Wrap CZ500UKT
Best cylinder
+ Large capacity
+ Easy to move around
+ Often on sale for a great price
+ DuoClean makes it versatile

- On the heavy side
- Cord makes it restricted
Best Shark vacuum overall
Best Shark vacuum cleaner
Specifications
Cordless?: Yes
Dust tank capacity: 0.7 litres
Weight: 4.58kg
RRP: £249.00
Reasons to buy
+
Deep and effective cleaning
+
Nifty storage
+
Immense power
+
Smart charging
Reasons to avoid
-
No pet attachment (although it still did a great job on hair)
Buy it if: you need an affordable, reliable Shark vacuum.
The Shark Anti Hair Wrap Cordless Stick Vacuum Cleaner with PowerFins & Flexology is one of Shark's trademark exports, and boy did it wow us when we took it for a spin. Firstly, it feels incredibly sturdy and well-made, with a separate charger for up to two batteries at a time, meaning you can double your runtime for larger homes.
Switching between carpet and had floors is very easy thanks to the DuoClean brushrolls, which switch over with the touch of a button. It's also possible to go between three power levels, although we found the lowest level perfectly strong enough for the majority of tasks.
At under 5kg it's a sturdy but not too hefty model, and if you struggle with storage, you'll enjoy the fact that the Shark Anti Hair Wrap Cordless Stick Vacuum Cleaner with PowerFins & Flexology hinges forwards to fold when stored. It does have a smart touchpad at the top of the vacuum that shows battery level very clearly, too.
Features we loved during testing
The newer feature that Shark added to the Shark Anti Hair Wrap Cordless Stick Vacuum Cleaner with PowerFins & Flexology is its PowerFins tech. These are essentially flexible silicone paddles that dig deep into carpets and effectively pick up dirt from right down at the base of rugs and carpets. This was immensely successful at picking up pet hair and dust that we didn't even know was there during our tests. Opt for the Shark IZ300UKT Anti Hair Wrap Cordless Stick Vacuum Cleaner for a double-battery model, or the regular Shark IZ300UK if you're happy with just the one battery.
Our Shark IZ300UK Anti Hair Wrap Cordless Stick Vacuum Cleaner review has the full details.
Best new Shark vacuum
The best new Shark vacuum
Specifications
Cordless : Yes
Dust tank capacity : 0.8 litres
Weight : 4.07kg
RRP: £429.99
Reasons to buy
+
Great amount of power
+
Hair doesn't get caught in the brushroll
+
CleanSense IQ is good for high-traffic areas
Reasons to avoid
-
Lacks a stand to keep tools tidy
-
Dust tool doesn't do a lot
Buy it if: you have the budget for a brand new, top-of-the-range Shark vacuum.
The Shark Stratos goes further than other vacuums from the brand to make debris and dust pick-up as easy, and nice-smelling as possible. It showed unbelievable suction power during testing, and left carpets visibly cleaner, with no issues with pet hair or human hair.
There's no doubt that our testing process proved that this vacuum is worth the large price tag that it carries. Even if you don't have pets, the ease with which this vacuum does away with hair is astounding, and our Ecommerce Editor Molly found that it was unmatched when it came to suction.
Features we loved during testing
The capacity of this vacuum to transform into a smaller handheld model is phenomenal, and you'll be reaching for the smaller attachments all the time to quickly resolve smaller messes all over your home. The battery life is also stellar, and 60 minutes was available during testing on non-turbo mode. Another highlight is the new anti-odour capsules that you can pick up with this vacuum, which make that horrible dusty smell a thing of the past.
You can fork out more for the two-battery Shark Stratos model if you think you need a spare pack on charge while the other is in use, but it's not a necessity if you live in a small or medium-sized home. All in all, this is admittedly a pricier vacuum, but if you can afford to fork out, it will impress you time and time again. We just wish it had a stand to make storing all of the elements easier, and to keep small spaces tidier.
Our Shark Stratos IZ420UKT cordless vacuum review has the full details.
Best new Shark vacuum for 2023
The best new Shark vac
Specifications
RRP: £349.99
Cordless: Yes
Dust tank capacity : 0.4 litres
Weight : 2.76kg
Reasons to buy
+
Unbelievably lightweight, but still powerful
+
Best looking Shark vac we've seen
+
Four different detection technologies
+
Run time of 60 minutes
Reasons to avoid
-
Dust tank is very small
-
Won't cut it if you need a heavy duty model
Buy it if: you love to have the latest Shark on the market.
We were very excited to test the brand new Shark Detect Pro for a few reasons. The first is that it's unbelievably lightweight, at just 2.76kg, so your days of lugging around a heavy vacuum are behind you.
The second was the wealth of new technologies that Shark boasted about with this vacuum when we got a first glimpse of it at IFA 2023. This vacuum has four detection technologies so that cleaning your home is more thorough than ever. When we were testing, we found dealing with high-traffic areas much easier thanks the the amped up suction and the FloorDetect technology makes transitioning into different rooms across your home much easier too.
Features we loved
The RRP of £349.99 is steep, yes, but the cleaning performance of this vacuum very much impressed us during testing. You gain design points too with this new release, which is available in a swish white colour scheme and has a stripped-back LED control panel.
It performed excellently in our at-home tests, and the new detection features go a long way to improve day-to-day vacuuming sessions. I'm a huge fan of the stand system too, even though it comes at an additional price, and would be keen to try out the self-emptying bin system next, which seems like a lifesaver.
Our Shark Detect Pro Cordless Vacuum Cleaner IW1511UK review has the full details.
Best powerful Shark vacuum
Best Shark vacuum cleaner for serious power
Specifications
Cordless?: Yes
Dust tank capacity: 0.6 litres
Weight: 6.2kg
RRP: £429.99