Discover Scandi seating for growing kids
The incredible chair that's sold 10 million and counting…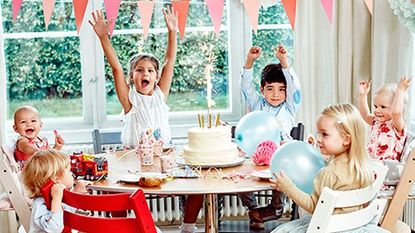 (Image credit: TBC)
Ideal Home Newsletter
The Home Of Great Ideas For More Than 100 Years
Thank you for signing up to . You will receive a verification email shortly.
There was a problem. Please refresh the page and try again.
Promotional feature
When it comes to picking your children's furniture, lots of parents will tell you the only chair you'll need is the brilliant Tripp Trapp chair, £209, from Norwegian brand Stokke.
It's one of the most recognisable Scandi designs, combining sleek minimalist style with amazing practicality - you simply adapt the chair as your baby grows, meaning your Tripp Trapp lasts through the early years and beyond!
With the Tripp Trapp chair, your kids can enjoy sitting at the table with the rest of the family - plus it also helps to encourage your little one to bond and communicate with you as they develop.
To celebrate selling 10 million of the chairs, Stokke is releasing a limited edition anniversary collection of the Tripp Trapp. In two oak finishes - black and white - there are only 2,000 being made, so don't hold off snapping one up!
So how does it work? The intelligent, adjustable design allows freedom of movement with both depth and height adjustable seat and footplates. When adjusted correctly, your child is ensured a comfortable and ergonomic seating position at any age. And to personalise your Tripp Trapp you can add comfy cushions in different colours and designs - the 2016 Anniversary one is most in-keeping with the neutral Scandi colour scheme.
Aesthetically, the limited edition Tripp Trapp chair is a welcome addition to any home. There's an option to have it finished with on-trend rose gold hardware details, which work well paired with other metallic accents in your home such as a copper lampshade, or a statement gold fruit bowl. Alternatively, you can plump for steel metal finishes.
Each chair also features an engraved signature from the designer himself, Peter Opsvik, who came up with the innovative idea back in 1972 when he struggled to find a high chair that his son wouldn't outgrow and that didn't compromise on style. And what a stellar job he did, with over 10 million parents choosing the multi-functional Tripp Trapp, which can be customised with a great range of Stokke Tripp Trapp accessories including cushions, trays, baby sets and newborn boosters.
To see the full range and find out more about Tripp Trapp chairs, visit stokke.com/tripptrapp (opens in new tab)