Rented garden ideas – 35 genius ways to revamp on a budget without upsetting your landlord
Our non-permanent rental garden ideas will help you create a wonderful space that will feel like yours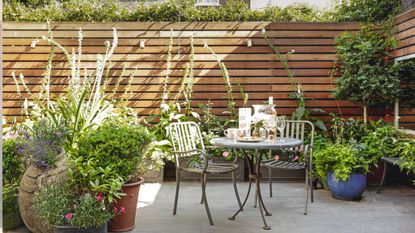 (Image credit: Future)
For a very long time, we assumed that our rented garden ideas had to be seriously small scale, so we didn't annoy our landlord.
As it turns out, though, there are plenty of ways to incorporate the latest garden ideas and garden trends into your rented outdoor space – and, if you're really clever about it, you'll even be able to take them away with you when you leave.
'Check your contract,' advises Zoe Claymore, who has designed The Renter's Retreat garden on behalf of The Wildlife Trust for this year's upcoming Hampton Court Flower Show.
'And then, once you've read the small print, have a think about how you're going to garden in a way that enables you to do all the things you want, without breaking any rules.'

Around one in three households in England are rented and over seven million of these properties have access to outdoor space. We could all be making so much more of our rented gardens, if only we knew where to start.
Thankfully, help is at hand! From container gardening to hot composting, DIY cinemas to portable pizza ovens, here's our pick of the very best rented garden ideas, to help you transform even the tiniest of spaces into your own little oasis.
Rented garden ideas
If you have permission from your landlord, there are some brilliant budget garden ideas that will boost your outdoor space without breaking the bank. However, if you don't, these rented garden ideas will serve you well if you're not able to make any permanent changes.
1. Install a raised pond
Think all of your garden pond ideas have to wait until you own a property? Think again. In fact, Zoe has installed a raised pond (similar to the one seen above at the RHS Chelsea Flower Show) in The Renter's Retreat, to help show renters that it is possible.
'The brief I set myself was that everything had to be dismantled and be able to fit through a standard UK door,' she says. 'And, as renters can't dig into the soil, I would have to work above ground.'
Explaining that her shady courtyard was designed to 'give me the garden I wanted in my early 20s,' she adds that she has included a raised pond 'because it's one of the most important wildlife features in a garden.'
'I also wanted it because it gives people a sense of contemplation,' she adds, 'and it's beautiful, too.'
2. Try rain harvesting
You can save money on your water bills (and keep your rented garden blooming) if you try your hand at rain harvesting.
'Ask your landlord if you can attach a rain water diverter to the pipe,' says Zoe, who has done exactly this in The Renter's Retreat.
'It will give you an excellent chance to top up the water reserves in your garden to water your plants and support wildlife over periods of drought.'
3. Embrace the Scandi trend of pelargonsjuka
Embrace one of our favourite Scandi garden design ideas and try your hand at pelargonsjuka: plant your pelargoniums and geraniums in pots, so you can bring them indoors for overwintering when the colder months take hold – or spirit them away to your new home when your tenancy is up.
'Aim for a container garden on steroids,' suggests Zoe, who has used plenty of potted plants and trees throughout The Renter's Retreat.
4. Invest in some potted trees
If you love the idea of a woodland garden, but don't fancy buying a tree and planting it in your landlord's garden, then hack the system: shop one of the best trees for small gardens and keep it in a nice big pot.
'One of the things everyone should have in their rented garden is, for me, a containerised tree,' says Zoe, who has included this very thing in The Renter's Retreat.
'Make sure you'll be able to fit it through the door, and you will be able to bring it with you when you next move. Hopefully, it should add a sense of permanence to the chaotic world of renting.'
5. Have a go at a hügelkultur mound
If you are looking for an innovative way to build a bed that a) doesn't involve digging into your landlord's garden or b) forking out for a raised bed, then have a go at making a hügelkultur mound.
A centuries-old, traditional way of building a garden bed, all you have to do is mark out an area for a raised bed, clear the land, and then heap up partially rotted woody material topped with compost and soil. Then, you can use it as you would a raised bed!
'The only caveat is that this form of permaculture really works best over three or four years,' says Zoe. 'So it's probably most appropriate for people who are in either a long-term tenancy, social rented housing, or somewhere where they feel that they're going to hand over to the next group of people.'
The added benefit of a hügelkultur? Well, it improves the diversity and quality of soil, while retaining moisture and nutrients in the earth, reducing the need to water and significantly improves fertility, helping plants to grow while benefitting insects and other wildlife.
6. Try hot composting
'Everyone who wants to garden sustainably needs some form of home composting in their rented garden,' says Zoe. 'Especially as you can buy super skinny ones.'
Thankfully, you don't need lots of room to make your own compost, especially if you buy the best hot composting bin for renters with small gardens (it's slimline, it doesn't smell, and it makes brown gold for your beloved plant babies? Win!).
7. Plant raspberry canes in containers
One of the easiest edimentals around, not many people realise that raspberry canes grow really well in pots and containers.
That's right: just as you can learn how to grow chillis in pots, the same is true with these deliciously sweet and moreish summer berries.
Better still, raspberries tend to be a very low maintenance GYO option, making it the ideal solution for time-poor renters who want to get in on the trend.
8. Turn your garden into a cinema
Hands up if you love chilling with a great movie! One of the best rented garden ideas is to invest in a projector (available from £60 on Amazon). They're reasonably priced and you can easily set them up in the garden with an extension lead, large white sheet, canes to attach it to and a ladder.
Gather together comfy cushions, blankets and nibbles and you can have film night every night of the summer!
9. Create a cosy corner
Balcony and patio spaces are ideal for creating a styled corner for al fresco lunches and friends round in the evenings. This easy garden idea is all about choosing the right accessories that you can take with you when you move.
'Complete your garden décor with a variety of outdoor TruGlow® candles placed upon table tops or on the floor, and select the optional 6 hour timer function for automatic illumination each evening.'
'The gentle flicker of candlelight will uplift your outdoor living space, for a simple yet effective way to transform your garden for the summertime,' says Emily Kelsey, Lights4Fun.
10. Add a moveable pizza oven
Nothing beats pizza at the best of times, so having your own portable oven ensures you can make your own in your rented garden. Many of the best pizza ovens can easily be placed on temporary stands so your landlord can't grumble.
'Purchasing a freestanding or portable oven for your garden is a fantastic investment as you can take it to your next home when your rental term is complete,' says Vicky Naylor, general manager, ACR Stoves.
'The great thing about pizza ovens is that they aren't just for pizza! Anything you can make in your regular oven or on the grill, you can make even better using your pizza oven. Bread, fish, meat, desserts and vegetarian dishes, the list is endless.'
11. Opt for double use solutions
If you're looking for small garden ideas for your rental, doubling up seating and storage is a great solution. Benches with a high back can be used for hanging baskets from, planters and useful items like watering cans.
Some might even come with storage under the seat that can hold gardening paraphernalia like tools, cushions or blankets. Pop a cushion on your bench and enjoy an evening cocktail or two.
12. Add impact with colour and pattern
Treat your rented garden space as you do the interior. If you adore colour and pattern then follow the same approach outside for a cohesive look.
'We make it part of our daily routine in the summer months to create a beautiful outdoor living space, and bringing our cushions outside is a quick fix that makes the difference between us choosing to sit indoors or outside. The addition of a rug really helps to zone the space, adding style and comfort and making it feel more like a room,' says Jamie Watkins, co-founder, Divine Savages.
Divine Savages have recently launced a new collection of outdoor rugs with the masters of luxury vinyl Beija Flor, are waterproof and highly durable making them ideal to use outdoors. Alternatively, machine washable rug brand Ruggable has an amazing range of outdoor rugs loved by the Ideal Home team.
13. Perk up your side return
It might be that all you have is that awkward side return space that comes with a Victorian terrace, but fear not as they can be prettied up with a spot of masonry paint (get permission first). Then pick pots that fit – tall and narrow for the corners, a beautiful camelia in a large pot for colour and train a climber up a trellis.
Raised planters are a smart addition to add a variation of height in your greenery. However, an outdoor chair is an affordable alternative to a new plant stand that can look just as stylish.
14. Add in tip top shelving
If you're a keen gardener – which is totally allowed in a rented garden – then you'll welcome a storage system that's simple and stylish.
'Our ingenious String Outdoor is a flexible system that allows you to furnish your outdoor space with beautiful and timeless functional furniture,'says Bo Hellberg, CMO, String Furniture.
'Easily attached to a wall or fence, the system is ideal to keep compact spaces clutter-free. But it can also be freestanding, single or double-sided. Even the smallest of spaces need plenty of storage and with its unique shelving, you will have a natural place to keep all your garden tools pots and other rough objects all year round.'
15. Get crafty with moveable pallet furniture
The beauty of this rented garden idea is that it's a great value option and if you pop wheels on each piece then you can move it whenever you want within your garden, and onto a removal van when you move.
Pallet furniture ideas can be left rustic or sanded down and painted, zone them with a paved area and group them around a coffee table as a focal point.
16. Give your fencing a refresh
A super quick update and one that most landlords will love is to paint your fence. Rather like painting interior walls, it's an instant improvement and can quickly change the feel of your rented garden.
'Before you start just make sure you get the permission of the landlord – you wouldn't imagine there would be an objection to improving things but they might not want you to go too crazy,' advises Ben Thornborough, director, Thorndown. 'You may have noticed with garden makeovers on TV they start by painting the fence, it has a massive impact on the look and feel of the garden.
'Simply refreshing a traditional brown can really tidy up worn and weathered areas. Greys look spectacular in urban areas and really set off planting and tubs, and you can zone areas and have brighter spaces that can cheer up a socialising space,'
17. Pick a bijou bistro set
Bijou bistro sets are the best garden furniture choice for smaller rented gardens. This is because they take up less space physically and visually – due to their sleek lines and slimline form.
They're usually stackable too, or choose designs that can be left outside all year round. Cosy them up with seat cushions and blankets. The table can be used as a makeshift potting table during the day and the most perfect dining table in the evenings with candles.
18. Keep it simple in a compact yard
Small paved gardens can be tricky at the best of times, let alone when they're rented. Keep furniture compact yet practical and if you can, utilise the top of a built up border as a seat too, just pop some cushions on it for extra comfort.
Ask permission from your landlord first and if you get a yes, plant up the borders with plenty of lush plants that grow tall like foxgloves, snapdragons and stocks to add interest.
19. Add a portable garden bar
For those handy with a power tool, this is a simple and inexpensive DIY job that will turn your garden into a social haven. Dismantle a palette, saw it in half and reassemble it with a hinges and strong chains, so that it can drop open and fold shut.
Make sure your bar is safely secured to a wall and sturdy enough to hold bottles of your favourite tipples. Then place a flat surface to serve from and pretty glassware. Do check with your landlord first that they are happy for you to attach things to the wall.
Voila, sundowners at the ready!
20. Introduce a standalone herb garden
If it's easier to leave the flowerbeds as they are, introduce a standalone herb garden idea that you can take with you when you leave.
The added bonus of one like this, is not just that it looks charming and unique. It barely costs anything to do either. Scour Freecycle or Gumtree for an old table to upcycle and give it a lick of outdoor paint in a bold colour.
It's a win-win - you've saved a perfectly good piece of furniture from landfill, made an attractive trough and you'll have fresh herbs for making tasty meals.
21. Make the space look bigger with a mirror
Think of your garden as an outdoor room and give the illusion of increased space with a wall-hung garden mirror idea. If your garden or patio is dark it will make it feel brighter too, as it will reflect any sunlight it does get.
Choose a mirror with a frame that is made with robust materials, such as steel, so it can withstand the British weather. Or make sure you have a shed or somewhere to store it during the winter.
22. Relax in a swinging chair
One of the hottest pieces of outdoor furniture, the swinging egg chair is a great addition to a garden or patio. B&M's rattan version is so popular it flew off the shelves again when it was relaunched earlier this year.
'An egg chair is a great statement piece to make a rented outdoor space feel more stylish without making any permanent changes,' says Rebecca Knight, Ideal Home Deputy Editor. 'I invested in the Aldi egg chair this year to give the balcony of my rented apartment an on-trend twist.'
Many other retailers, such as Homebase, B&Q and Very have similar styles, so bag one for your space. Accessorise the area with rattan plant pot stands, then kick back and relax.
23. Put up a party tent
If it's not possible to install a permanent pergola to create shade in your garden, there's an attractive alternative. if you want to beat a retreat from the sun's glare, put up a traditional-style tent or gazebo.
A heavy cotton canvas number like this can withstand a summer shower. So could stay up for the length of the school holidays, providing a place for kids' parties or playdates and casual soirees.
24. Hang a hammock
If you're lucky enough to have a large mature tree in your garden, hang a hammock from its branches. Make sure the branches are sturdy enough to take the weight of whoever will be hanging in the hammock. and secure it properly, so as not to damage or snap any branches.
Once the sensible stuff is out of the way, you'll have the perfect spot for reclining in the dappled sun. No tree? No worries, there are plenty of hammocks available with their own stands.
25. Pretty it up with a parasol
If it's not possible to attach an awning or pergola to a rented home and you'd like some shade in the summer. Bring a touch of Bali to your back garden with a pretty parasol instead. Designs from the East London Parasol Company will add a taste of the tropics and some light relief when the sun is at its hottest.
Choose outdoor furniture and cushions that coordinate with the colours for the greatest effect. The best bit is you can move it around if you need to – and take it with you when you move on.
26. Invest in potted plants
A few potted plants can transform a concrete yard into a peaceful oasis. Just be careful not to get too ambitious with your pot plant choice. While a small tree in a hefty terracotta pot might look lovely now, think about how you are going to move it when your lease is up. Elevate smaller pots on side tables and wooden stumps to add height.
27. Decorate the space with home furnishings
As with the interiors of a rented house it's hard to make it feel like home when you can't undertake big decorating projects. In this instance a splash of colour can go a long way to make it feel more like your own.
Using outdoor rugs and shower-proof soft furnishings to invigorate a rented garden is one of or favourite easy garden ideas. This way, you can give the space a hint of your own personal style and an injection of personality.
28. Grow vegetables in an alternative planter
Join the grow your own revolution, even as a renter. If you are keen to try growing your own, but not sure your landlord would like you digging up their garden consider investing in a planter. You can pick up some clever vertical planters from Homebase that are perfect for growing herbs and tomatoes – without using the garden grounds at all. Alternatively, you can start small with a Vegebag, which won Chelsea garden product of the year 2020.
29. Make accessories moveable
Firepit ideas have morphed from being a Love Island-inspired trend, to a garden staple. In the volatile British weather we could argue that they're almost a garden essential. The beauty of a fire pit is the freestanding nature, meaning they are the ideal design for renters because they risk no damage to the garden. Get one that is elevated from the ground and easy to move, for when the time comes to move to pastures new.
30. Add a decorative garden screen
Garden screens are an ideal solution to revamp your outdoor space. They offer a decorative touch but also privacy in small garden or terraces, and can also be used to cover up unsightly bins.
You can opt for a simple willow screen or something more spectacular like one of these from Screen With Envy which come in a range of designs from Moroccan geometrics to floral prints. When it's time to move on they can easily be taken with you.
31. Add atmosphere with lighting
Fairy lights or solar-powered lighting are an affordable way to add some ambience to your garden. Try weaving fairy lights through a garden screen or stringing them across a garden table for a striking garden lighting idea.
This brings a magical touch and enables you to enjoy your garden after dark.
32. Hang baskets of beautiful blooms
Hanging baskets will make any garden look impressive, front or back. They can add a pop of colour to any doorway or patio. Fill them with succulents, herbs and sturdy green plants for a modern look that is easy to care for. Just be sure they are well supported where you choose to hang them, to avoid causing any damage should they fall.
33. Decorate the fence
If your landlord is happy enough to let you paint the fence – great, but if it's a stretch too far you will have to think outside the box. A low cost, low effort and non-permanent way to revamp tired-looking fence panels is an injection of bright colour.
Use these homemade planters and tealight holders for inspiration, all made from upcycled tin cans simply secured to the fence with a detachable wire fastening. A great way to add colour and ambience to pretty up the perimeter of a rented garden.
34. Level with freestanding furniture
Use this savvy ladder storage idea to conceal a less than attractive corner of your rented garden. When growing a climbing plant is not an option use this clever solution to fill the space with potted plants, decorative garden trinkets and lanterns to add a personal touch.
Will you be updated your rented garden with these simple tips?
35. Bring in some solar lighting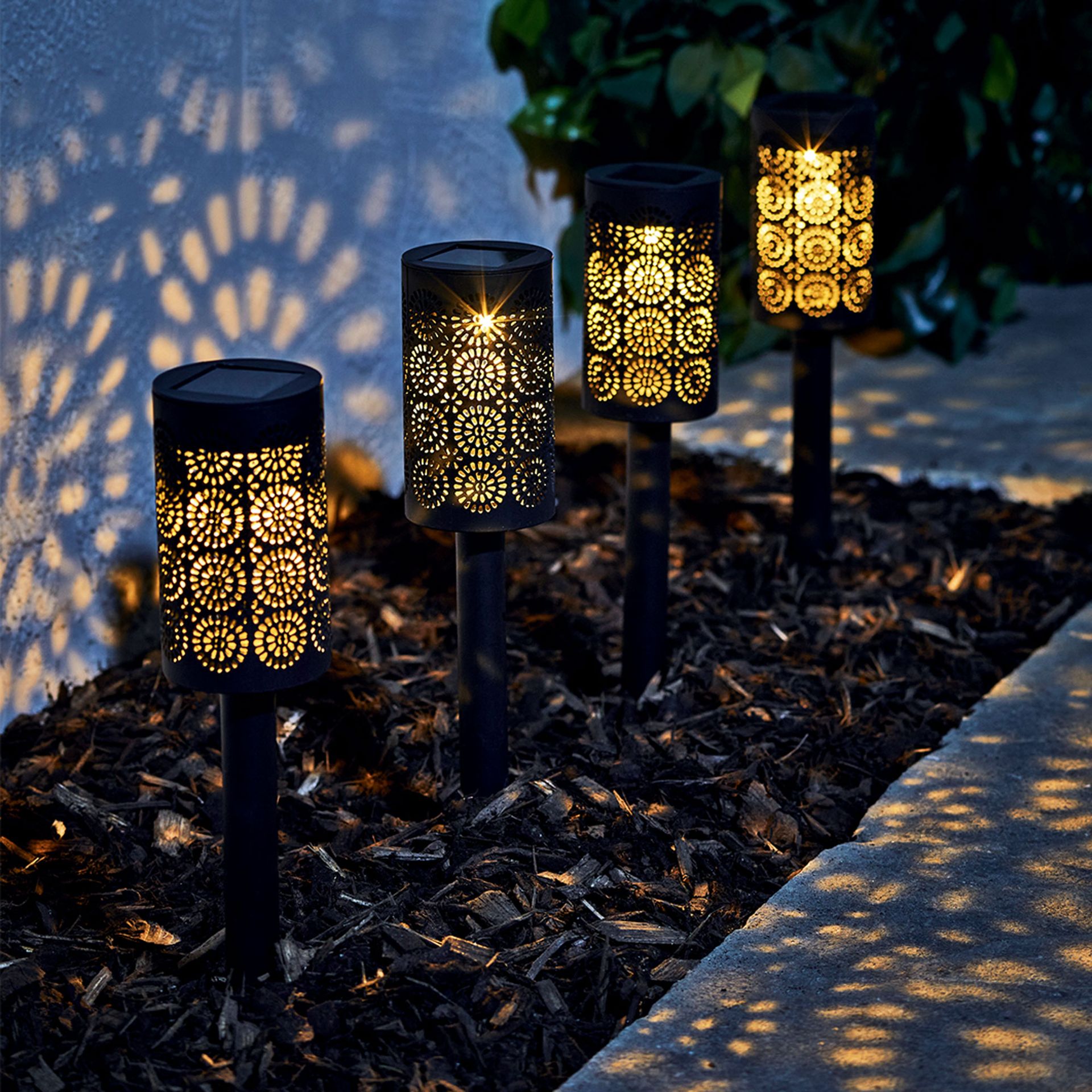 Like to spend your evenings outside? Check out the great solar lighting ideas on offer.
'As the warmer days are on the horizon, we look forward to spending time outdoors, dining alfresco and enjoying evenings in the garden,' says Emily from Lights4Fun.
'Solar lights are the perfect choice when it comes to lighting up your garden for the summer months, they'll soak up the sun during the day and gently illuminate as dusk begins to fall without the need for permanent installation, making them ideal for a rented garden.'
How do I build privacy in my rented garden?
Decorative screens would be the number one choice for ensuring privacy in a rented garden. Or pick an organic design like a bamboo or willow screen – both would be a great value choice. Ornamental grasses grow high too and are a lovely natural element to consider.
You probably don't want to invest too much in a space you won't be living in permanently, so we suggest making use of garden discount codes to keep costs low.
Can you change the garden in a rented house?
This will depend on the terms of your lease, however, it is unlikely that you will be able to make any changes to the garden. Unless you agree on permission to do something with the landlord. If the garden needs some love, it's worth speaking with the landlord and discussing your ideas. They may be receptive to anything that is beneficial to them in terms of improvements.
However, if the garden is already established, you may have to do what you can with portable or temporary ideas that you can remove or take with you when you leave.
'Artificial grass is a great option for rental properties, where tenants don't want to spend their time cutting the grass and landlords won't worry about its condition,' says Sarah Hooper, grass buyer, Carpetright. 'There are many benefits to artificial grass, and the styles available have taken big steps in the last few years. Its natural, vibrant and lifelike appearance offers renters a cost-effective way to take pride in their outside space, without the hassle of maintaining it,'
How do you garden when renting?
How do you garden when renting? You garden smart, that's how. Renting restricts how much you may be able to do to the grounds, depending on what your relationship is like with your landlord. In most instances, a landlord would be happy for the tenant to take on any garden maintenance, such as mowing the lawn and cutting back the hedges – to save them the job. But in terms of gardening, you may be limited and therefore you need to seek savvy ways to do so.
Growing vegetables in freestanding planters is an ideal way to grow your own without digging a veggie patch. It also opens up the possibility of living off the land, even if that land is a balcony in a second-floor flat or a small courtyard. in a city centre. For the main part, garden in pots that you can enjoy in the space but can take with you when you move – because gardening isn't cheap, so be careful not to effectively waste money on a garden you may leave behind.
How can I make my rented garden look good?
You can make a rented garden look good by adding a touch of your own personality to the space. A cost-effective way to do so is with a garden furniture set, outdoor rugs and soft furnishings that will make the space highly useable no matter how