Hallway wallpaper ideas – transform a hall with wall coverings and murals
Welcome pattern into your hallway with wallpaper that will wow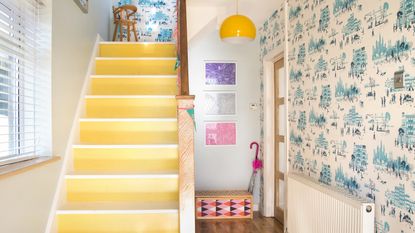 (Image credit: Future / Colin Poole)
Wallpaper is a welcome way to instantly add pattern, colour and intrigue to walls – an expression of personality in any room. With so many different designs and colours available hallway wallpaper ideas offer maximum design impact in a hallway.
Whether you're looking for something bold and bright to enhance a modern scheme, calm and elegant to complement a period home or a bright retro wallpaper, there's a wallpaper hallway idea for all tastes.
Hallway wallpaper ideas
Patterned wallpaper can totally transform a room in an instant. With the right preparation and research, using colour and pattern is a rewarding way to make the most of any room.
Better still, you don't have to spend a fortune to achieve a fresh and exciting new look – saving costs with feature walls and wallpapering small spaces. Our ideas are the perfect guide to bringing a little (or a lot) of wow to your walls.
1. Team wallpaper with wood panelling
Panelling part of the wall with timber cladding is a beautiful way to break up an expanse of patterned wallpaper.
In this instance the grey cloud print wallpaper has been taken into the window alcove and across the ceiling. If the wallpaper was covering the entire height of the walls as well, it could feel over-powering.
Situated between the wallpaper and the patterned tiles on the floor, the navy hallway wall panelling idea brings balance to the scheme.
2. Create a kaleidoscopic effect
The hallway is the perfect space to get creative with colour and pattern, going big and bold. 'Wallpaper can work in almost any room in the house including the hallway, so don't be afraid to make a statement,' says Ann Marie Cousins, Founder, AMC Design. 'Opt for fabulous patterns that really draw the eye in and pack a punch!
'Consider how much natural light the hallway has and think about your design scheme as a whole before choosing so that it looks cohesive at the end. Whether your hallway is small or large, don't feel restricted with the wallpaper you choose.
'If you want the wallpaper to stand out, pick a design with a larger print to take the eye directly to the walls as soon as guests walk in. If you opt for a wallpaper in a darker design and wallpaper every wall, this can also give the illusion of space rather than making the room feel smaller.'
3. Introduce a sense of adventure
What better way to introduce an adventurous spirit to your home than with images of boats set sail like this Mini Moderns design?
Wallpapering a narrow wall at the foot of the stairs adds colour and character to your hallway. If you're concerned about how much wallpaper you need, it would likely take just a single roll, so you could splash out on a pricier print too.
A job like this is one you could do yourself in a weekend, once you've worked out how much wallpaper you need. 'Pattern repeats can vary so always check what it says in the manufacturer's instructions,' says Lorraine Aaron, Founder, Curious Egg.
'Terms like 'half drop' are common where you lay one length then drop the next length by the drop measurement the manufacturer gives you, for example, 65cm to line the patterns up. This applies to both small and large pattern repeats.'
4. Wallpaper panelled sections
Pattern all over the hallway walls too much? It does have to be something you know you can live with for some time at least. Take a different route by wallpapering doors and panelled sections of your under stair storage instead.
Team the wallpaper with painted woodwork in a tonal hue and you'll create a stylish feature out of this often neglected part of the decor. 'If you're decorating a hallway, staircase or landing then lean into your limited space with a decisively bold print,' says wallpaper designer, Elizabeth Ockford.
'Wallpaper with a meandering pattern will lead the eye and create a feeling of movement in a connecting space. In narrower areas, pattern adds visual interest without encroaching on precious square footage.'
5. Add a tropical flavour
Palm prints have been a popular home decor trend for some time, bringing their tropical beauty to UK homes.
Hanging palm print wallpaper throughout a hallway will instantly inject your home with personality and pizazz, not to mention holiday vibes. Keep it looking tidy with a rack for coats, shoes and bags, so the focus stays on those vibrant walls.
6. Hang pretty wallpaper panels
There are numerous ways to introduce pattern and colour to walls. If you've seen a wallpaper or two that you love but don't want to cover your entire hallway in them, get creative.
Consider framing sections of the paper in a trio or triptych instead. This makes a smart alternative to a feature wall or hanging artworks or prints.
Select the darkest tone in the pattern and paint the frame in that shade. This will set it off and create a sharp contrast against white walls.
7. Add interest with texture
When we think of wallpaper, we tend to think of busy patterns and bold colours. Yet there are plenty of subtle and textured wall-coverings that can change the feel of a space too.
'Hallways can vary greatly in size, so if you want the space to feel bright and open, choose a wallpaper in a neutral colourway or opt for a delicate pattern or texture to offer a soft backdrop,' says Juliette Thomas, founder, Juliettes Interiors.
'This will show enough attention to detail to capture your guests' attention, without diverting too much away that it becomes overpowering. In narrow hallway ideas especially, this will make a big difference as it will give the illusion of space.'
8. Go for a graphic print
A simple graphic wallpaper print will enliven a hallway and look smart too.
If you're not brave enough to adorn all your walls with pattern, then zone a certain spot or area to break up the space. Depending on the size, establish a cosy corner or a welcoming walkway, with a different feel to the rest of the hallway.
9. Turn storage into a feature wall
Make a style statement out of the under stair storage in your hallway with a quirky wallpaper in a vibrant print. Paint the door in a bold colour that flatters the wallpaper idea for a fun feature.
If you know how to hang wallpaper and are confident in your skills, this would make a great DIY project on a rainy weekend.
10. Make your mark with monochrome
Keep your hallway feeling fresh and bright with an eye-catching black on white wallpaper print. These water lilies look gorgeous blown up to this large oversized scale in monochrome.
This simple palette offers a calmer atmosphere than colour would, and it doesn't matter if doors are left open, as it's easy to work it with whatever schemes lie ahead in the rooms beyond.
11. Coordinate a colour scheme
11. Coordinate a colour scheme
Create a cohesive colour scheme by picking out a key colour from your wallpaper design to paint the woodwork which frames it. As this beautiful example by Little Greene shows a matching colour scheme creates a big impact, giving the wallpaper design more prominence.
In this bright hallway the green and blue wallpaper is accentuated by the woodwork in the same shade of blue.
12. Add fun design in a family hallway
Welcoming pattern to walls is a great way to add depth to a decorating scheme. In this family hallway a pegboard-style design gives the space a sense of fun, making the empty under stair area feel more thoughtful and creative. The wallpaper design adds a touch of nostalgia to the scheme, especially in a vibrant yellow colour palette.
The name tagged storage baskets and colourful patterned rug adds to family aspect of the space.
13. Match wallpaper throughout a hallway and landing
Use a wallpaper design to create a seamless flow to guide you through the space, transitioning through from the entrance hallway up onto the landing idea and the first floor above. Choose a design that intrigues to make the space come alive with pattern.
As with this bold hallway decor it's a great idea to paint the adjoining walls in a paler shade that coordinates with the design but doesn't overpower the print.
14. Wow with a feature wall
In a hallway where you have one full length of wall, while the opposite walls is broken with doorways, the layout naturally lends itself to wallpapering a feature wall idea. Choose a design you love to make a statement style impact from the moment the door is open, setting the tone for the rest of the decor throughout your home.
Take a daring approach to decorating your hallway - this beautiful blousy floral wallpaper is sure to brighten your mood as soon as you walk in the door.
15. Wallpaper the stairs
Where you want to add wow with wallpaper, without overpowering the walls in a small space, try papering the stairs instead. Adorning the threads on a staircase is a creative way to welcome colour, pattern and interest to a hallway colour scheme.
16. Take pattern to a higher level
To create depth in your hallway decorating scheme and naturally draw the eye upwards, guiding you up the stairs, choose to wallpaper at waist height and above. Save the bottom panel of the wall with a neutral to ground the scheme and allowing the pattern to really stand out.
Use a dado rail to gauge a natural divide, but fear not if your home doesn't have this architectural detail – simply create your own divide by measuring a dividing at roughly waist height. Use a spirt level and masking tape to the determine a pleasingly sharp line to paint up to and wallpaper beyond.
17. Add wow with a statement wallpaper
A bold patterned wallpaper is a great way to add an instant hit of personality to hallways. Choosing a monochrome colour palette allows the pattern to dominate without overpowering. Compliment the colours with co-ordinating furniture pieces and lots of natural materials to keep the look grounded.
This is an especially effective small hallway idea – so do't let that narrow or tight space faze you.
18. Liven up a storage unit
Choose a geometric grey wallpaper for a thoroughly modern way to jazz up a white storage unit in your hallway. Cover the wall before you fit the unit, and any gaps in the shelving will appear beautifully decorative. Circular hooks such as these will add to the futuristic effect.
19. Go bold to the ceiling
Your hallway may seem a functional space, but Keith Stephenson and Mark Hampshire, founders of retro wallpaper brand Mini Moderns, see it as a playground where the past's motifs inspire future ideas. And they believe you shouldn't be put off by a lack of light.
'When faced with a room or corridor without natural light, it can actually be more successful to use a darker colour,' say Keith and Mark. 'Include pattern to open it up visually,' they recommend. And we recommend you wallpaper the ceiling, too, to take the look to a powerful and cocooning next level.
20. Add a touch of luxe with gold
Shine out with a white and gold wallpaper that demands attention. This design is a great example of a large-scale, uncluttered design that loses none of the eye-catching powers of a more busy print. It's light and bright feel is ideal for a hallway, where natural light is often lacking.
21. Bring the outside in
Choose a trailing trellis design to create the look of a summer garden in your hallway. Paired with a gardener's table painted in a distressed green shade, this look is for those who can't bear to be parted from their gardens when indoors. An abundance of cut flowers could barely be more appropriate as an accessory.
22. Set the scene
Choose a scenic wall mural to add a characterful touch to an entranceway. Watch as visitors stand and stare at this striking wallpaper, which features a traditional landscape oil painting as its design. You'll almost feel as though you could walk into this scene and the space will seem larger for this trick of the eye.
When using such a statement wall mural stick to furniture that will blend in, rather than add contrast.
23. Fake wood cladding with wallpaper
Create a rustic hallway scheme by choosing a wallpaper that looks like weathered wooden boards. Distressed wall finishes are a popular look just now, and wallpapers are an easy way to get the look without the need for expensive wooden cladding.
A sleekly painted blue door, neutral wicker accessories and a striped storage seat show that this space isn't in the slightest bit neglected.
24. Add character with a bold print
Add a sense of fun to your hallway with a dog-print wallpaper. Go for a neutral design so that the colours are versatile and choose a print that features small dog motifs so people have to look at it quite closely to determine the details. A wooden rack mounted on the wall breaks up the design and provides a practical spot for hanging bags, umbrellas and dog leads, of course.
25. Travel the globe
Adopt a super subtle approach to decorating with wallpaper by choosing a design that is so neutral it almost looks like a coat of paint. Travel enthusiasts who favour an understated way of conveying their passion will love this design. The cushion also picks up on the theme, while furniture in dark neutrals adds some contrast.
Can you wallpaper hallways?
Yes you can wallpaper hallways, in fact it's a great place to use wallpaper to make a real wow statement for first impressions. If your wallpaper is maximalist and bold choose to wallpaper the largest expanse of wall, one that is not broken by doorways to avoid it feeling too overwhelming. For smaller, more subtle designs you can afford to wallpaper all walls – regardless of layout.
How do you pick wallpaper for a hall?
Pick a wallpaper for a hall that sets the tone for the rest of your decor, if you want to create a seamless flow throughout the downstairs layout. Pick out a dominant key featured in your chosen wallpaper to paint doors, door frames, cornicing and skirting boards to ensure the colour scheme matches perfectly.
With colour matching services in DIY retailers you can take a sample of your wallpaper along with you to get the exact colour match.
To create an impact from the minute you walk through the door choose an on-trend maximalist wallpaper that stands out, in comparison to your wider decorating scheme.
Get the Ideal Home Newsletter
Sign up to our newsletter for style and decor inspiration, house makeovers, project advice and more.
Jennifer is the Deputy Editor (Digital) for Homes & Gardens online. Prior to her current position, she completed various short courses a KLC Design School, and wrote across sister brands Ideal Home, LivingEtc, 25 Beautiful Homes, Country Homes & Interiors, and Style at Home.