Landing ideas – how to decorate large and small hallway spaces
Wondering what to do with the strip of space that links up your bedrooms? Our smart landing ideas will transform this corridor into so much more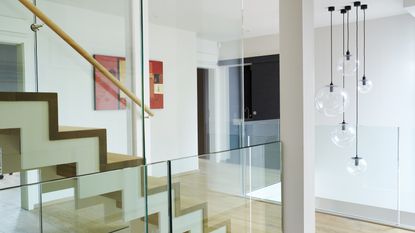 (Image credit: Future / Racheal Smith)
These wonderful landing ideas will help you see this typically abandoned space in a different light.
Landings are a woefully underused space in most homes, often treated as an area to quickly pass by, not one to spend time in. But every square inch counts in a functional modern home, making a humble landing a valuable space deserving of as much thoughtful decorating as your hallway ideas.
Whether your landing is small and restricted on what you can do with the decor, or large in size and feeling like a wasted opportunity to utilise the space, there's an idea to suit every need. From thoughtful feature walls – that make more of a design statement – to using the empty landing for alternative storage, it's time to capitalise on this unloved space in our homes.
Landing ideas for stairways of all sizes
The landing is most likely the last place you consider when it comes to styling your home, but the right idea goes a long way to unifying your decor and making more of the space you have. With a beautiful range of staircase ideas on offer, it's a shame for statement stairs to lead onto an underwhelming landing.
You can make a landing more than merely an area with rooms leading off it, and all it to become its own entity.
Here are our favourite uses of this undervalued extra space…
1. Give it some star quality
Making more of your landing doesn't have to cost a fortune. It's easy enough to give it some design love even on a budget.
Stripped wooden floorboards are a nice complement to dark stair decorating ideas that look great teamed with white painted walls and are an inexpensive option. But they can be noisy upstairs. So solve two design dilemmas in one with a black and white star patterned rug.
Its soft texture will help absorb sound from heavy footsteps, while the rug's graphic design will create a stylish focal point. Repeat the shapes or motifs on artworks or wall hangings to pull the look together.
2. Flood it with light
If your landing is dark, adding a skylight or two can make a huge difference. It may not be as expensive or involved as you think either. Velux windows can often be installed in a few hours.
Want it even brighter? Be inspired by open stair ideas and take it further with a glass balustrade, so all that extra natural light can flood through the floors.
3. Contrast woodwork and walls
If your home is blessed with beautiful architectural features, such as original bannisters, skirting boards and door architraves, contrast them against the walls, so that they stand out.
It is easy to learn how to paint skirting boards to make a statement. Against white walls, woodwork painted with black eggshell looks eye-catching and elegant.
'Skirtings and architraves see more action than walls so require a stronger paint,' says colour and paint expert, Annie Sloan. 'Something with a sheen will give greater protection. Paint walls first then the architraves, using a small brush and masking or painter's tape to protect the walls from the other colour.'
4. Opt for an ombre effect
Many landings have a narrow wall with a long drop between two floors. If that's the case for you, turn this into a fabulous feature wall idea with a gorgeous graduated ombre effect.
Designers Guild's Saraille wallpaper with its beautiful ombre toning would work well here. Alternatively, find a good professional decorator who may be able to achieve a similar look for you with paint effects.
5. Jazz up the floor with striped carpet
A bold striped carpet will give your landing a lift visually, it may have many other benefits too.
'Patterns are perfect for high-traffic areas like hallways and staircases, where dust and dirt are repeatedly trodden into the carpet,' says Lisa Conway, manager at Brintons.
'The flooring is the item which is likely to have the longest life span in an interior so it's important to get this right and to invest in quality,' adds Jodie Hatton, residential design manager at Brintons.
'Wool carpet provides comfort underfoot whilst insulating your home and helping to reduce energy costs. Wool has the ability to bounce back so your carpet will be much longer lasting, as well as being inherently hypo-allergenic and stain resistant.
'It absorbs sound to give a sense of calm and tranquillity and is naturally fire resistant too. In addition, a wool carpet will also pick up less dust as wool is naturally anti-static.'
6. Encourage a climbing plant
Plants love light and some species can grow extremely tall. So encouraging a climbing plant from the ground floor up through the bannister rail is a fun houseplant idea to add greenery to your landing.
Make sure your plant has a moss pole or stick to wrap itself around, then you can train it to climb. 'Great climbing plants for beginners are the Epipremnum varieties like Devil's Ivy also known as Golden pothos,' says Jemma Charman, co-founder, Green Rooms Market.
'They are such quick growers and tolerant of low light levels. Although they will grow quickest in bright indirect light. They will also tell you when they need water as the leaves will start to curl.'
7. Choose a cheerful colour
Consider taking your hallway wallpaper ideas up on to the landing. This will create continuity between the ground and first floors. And if you choose a cheerful colour like yellow for your wallpaper or paint, you'll be lifted by its sunshine hues even on the greyest of days.
8. Hang family photos in white frames
The landing often provides a good expanse of wall space, which is why along with stairway walls they're popular places for gallery walls. If you have tons of gorgeous family photos on your phone, get them printed and framed and hang them in your hallway or landing.
This will personalise your space and enable you and others to enjoy the treasured memories. For a smart uniform look, print the photos in black and white and choose white frames.
9. Paint panelling in an accent shade
If you'd rather not repeat the wall colour in the hallway across your landing walls, use it as an accent shade instead.
Here the blue on the hallway walls has been used for the wall panelling and as a trim below the bannister and on the door frames to visually connect the two floors.
The blue border on the stair runner and bright curtains enhances the effect.
10. Fit a full length mirror
The narrow space at the end of a landing is often just the right size for a full length mirror. This is a brilliant way to increase the amount of natural light on your landing, reflecting it from surrounding windows.
It also provides the opportunity for a last minute outfit check, before you head out of the door.
11. Set up a space-saving home office
Small home office ideas have become the must-have for the modern home, where multiple family members might need their own quiet spot to do business. And while working at home is great, it can feel a little bit like you live in the office if you don't have the luxury of a dedicated space you can walk away from after work hours.
The expanse of space on this landing is plenty big enough for a small desk and means you don't have to work in rooms which feel more personal, such as bedrooms or living rooms. Having the ability to step out of a main living room into a desk area that is detached from where you socialise helps to adjust your mindset to work mode.
12. Keep it clutter-free and simple
Avoid overcrowding a landing space by keeping the decor simple. As this home shows, you don't have to do a lot to your landing to make it stand out.
We love the statement glass stair panels and complementary globe drop glass pendant stairway lighting idea. Simple artwork on brilliant white walls provides a chic gallery feel – simple yet highly effective. The vast glass windows adds light and a lovely view as you head back downstairs.
13. Reflect light with mirrors
When a landing is small and lacking natural light a mirror is the answer. Hanging a decorative mirror helps bounce light around the space to make it feel airy and more open.
Using multiple mirrors creates an alternative gallery wall, to add a stylish touch to the decor. Similarly a large mirror in the same place, on the wall at the top of the stairs, helps to fill the space with extra light and interest.
14. Introduce a focal point with a feature wall
Make more of a statement of this 'passing-through' area of the home by creating a feature wall with a decorative wallpaper idea. The landing is often neglected when it comes to using pattern and colour because we tend to save that for rooms where we feel a closer connection, such as living rooms and bedrooms.
But when you think about it the landing is one of the most-used 'rooms' in the house, albeit one that we're constantly passing through. Give this space the attention it deserves with a focal feature wall.
15. Turn a landing into a library with bookshelves
A landing space is the ideal spot to place slimline bookcases, to avoid overcrowding the living room furniture layout. Choose slimline bookcases to line the corridor between rooms – we guarantee the whole household will love this homemade library. Colour-coding books will add a further decorative touch to this practical idea.
If adopting this idea just be sure not to restrict the width of the pathway too much. In an already small space the key is balance – serving purpose without compromising on needed space.
16. Create a quiet and contemplative seating corner
The landing might not seem like the most obvious space to stop for a sit down, but this set up is a great way to dress the space so it feels more inclusive with the rest of the decor. This can also be a great hallway idea if your home's entrance is big enough.
A statement chair layered with decorative throws sat beside a small side table dressed with family photos and potted plants does the job. Even if you never sit here it styles an otherwise empty space and creates a homely feel.
A wall-hung mirror not only adds another decorative element – it also helps to reflect light back into the small space to make it feel bigger.
17. Use the space to store toys
Use the landing space off a child's bedroom to better effect as shown in the toy storage idea above. This frees up much-needed space in what is often a small box room. Opt for moveable storage solutions, from baskets to wooden crates on wheels, to transport the toys into the child's room when needed.
Storing the toys in this space not only helps free up storage space within the room for clothes storage and more, it helps to keep toys out of sight – handy at nap time, when less distraction is welcome.
This landing area is purely for storage. We wouldn't recommend encouraging play beside a staircase unless there's a secure stair gate in place.
18. Set up a small living room scene
Perfect for a cottage-style house, these owners went for full living room comfort with this landing idea. By adding some curtains, a bright rug and two tempting armchairs this otherwise ignored space is transformed into the ideal spot for a social gathering. The window with a garden view beyond helps to add to the ambience.
19. Give a console table pride of place
When you are looking to make more of the space but want to avoid overwhelming it with big furniture pieces go for a console table. The intention of the design is that it fits in narrow spaces such as landings and hallways, with its half table dimensions.
A slim console can be just enough to provide a surface on which to place a lamp for ambient lighting and photo frames to give the space a homely feel.
Choose a design with hidden drawers for secret extra storage to use as an overspill for surrounding rooms.
20. Enliven the space with plants
Plants are always a good way to breathe new life into a landing idea. With the help of a few potted plants, this space has been transformed into a lush corner filled with nature.
Not only great for the interior, plants are a good way to purify the air too. Just be sure you choose the right house plant that can thrive in the living conditions – in a light deprived landing area look for plants that don't need a lot of natural light.
If placing plant pots along a staircase ledge, as this example shows, secure them in place to prevent any mishaps of falling plants as you descend the stairs.
21. Fashion a gallery feature wall
Take some inspo from your favourite edgy gallery and turn your landing into a post-modern masterpiece. We love the combination of the uniformed prints with colourful cushions on small bench beneath. It may not be a place you'll want to sit down with a cup of tea, but it definitely makes a statement!
22. Go glam with a chandelier
Dress the landing and staircase with statement pieces to make it feel glam and not an afterthought. This grand glass chandelier exudes a glam vibe that is then echoed in the sophisticated grey colour palette, to ensure the landing feels well decorated to lead into the rooms beyond.
A smart radiator cover helps to enhance the look, ensuring the space feels well curated.
23. Add a skylight to maximise brightness
Let there be light! Natural light really is the best thing to decorate any living space, point architectural expert Charlie Luxton stresses in his advice for renovating a staircase . Skylight windows above the staircase transform an otherwise simple space into one worth shouting about.
These owners wanted to draw attention to their landing without breaking the lovely neutral tones of the rest of the house. Keeping the decor stripped back and simple allows the extra sunlight to be the shining star of the space.
24. Fill a gap with purposeful storage
Rather than taking up valuable space in an alternative room use an awkward landing space to fulfil a much-needed storage purpose. If your stair return leaves a gap at the end, as this example above demonstrates, look to utilise the space for a sizeable chest of drawers to cater for multipurpose storage.
It can hold everything from extra bedding and blankets for the spare bedroom to out-of-season clothes you don't want taking up valuable wardrobe space in individual bedrooms.
To prevent the furniture piece from feeling too out of place style it with homely touches, such as a table lamp and mirror. Here a fresh flower arrangement adds the perfect finishing touch. You could also consider revamping unloved furniture – here's how to upcycle a chest of drawers using stencils and furniture paint for an on-trend design.
25. Curate a display area
Turn an unused landing area to house a display of curios and keepsakes for all to enjoy. A classic glass-fronted sideboard is perfect to achieve the look, ideal for storing everything from books to beachcomber finds.
A slimline cabinet will sit flush against the wall, providing valuable storage without taking up too much space. A piece of artwork hung above your chosen unit will help to balance the look, drawing the eye up to take some of the weight out of the furniture piece.
26. Establish a reading nook
Make more of an unused space between rooms by carving out an alternative reading corner idea. Simple shelving provides a valuable place to create a library of books for the whole house to enjoy. Pop an understated seating solution beneath to complete this ingenious landing idea, for some quiet time away from the other rooms.
27. Welcome a wardrobe
Clever storage solutions make the most of awkward or unused spaces. There are plenty of under stairs storage ideas that allow you to hide items away but you can also use a valuable landing space to accommodate a wardrobe for extra storage.
If the budget allows, have a bespoke, bulit-in solution to use the space most efficiently. But moving a bulky freestanding piece of furniture into the unused space is just as good as it frees up floorspace. In fact, it's the perfect idea if you've run out of storage space in a small bedroom.
The wardrobe in this communal space provides storage for out-of-season coats and accessories. Paint it the same shade to match the wall colour to avoid it standing out too much.
What should I put on my landing?
What goes on a landing very much depends on a number of factors. Firstly, how big is the space? Can you afford to move bulkier furniture pieces out onto the landing to free up bedroom floorspace?
If the answer is yes, it's ideal to use the space to lighten the load on the smallest rooms within the house. A chest of drawers on the landing is the perfect storage space for bathroom or bedroom essentials, such as towels and extra bedding.
'If the space is narrower, you might still be able to fit in some display shelving, or maybe some floor-standing pot plants,' says Ideal Home's Amy Cutmore. 'Do consider, though, the traffic coming through. So don't display precious ceramics or glass where there's a danger they'll get knocked as people rush by.'
What do you do with a landing space?
Use a landing space to supplement your bedroom storage needs. Alleviating rooms of bulky furniture pieces where you can goes a long way to improve the use of space. This valuable extra storage can be for any purpose you need, from trunks filled with extra bathroom towels to bookcases filled with archive collections.
How do you make a landing with no windows feel brighter?
Suntile makes an inexpensive clear plastic tile that can replace an existing roof tile. It is suitable for all types of roof including slate, clay and concrete, and allows light directly into the house. Suntiles can provide up to 1,000 watts of light and work effectively in period and listed homes as well as modern properties.
The basic Suntile Kit costs £132 plus VAT, but if your landing is not directly under the eaves of the roof you may need an extension kit. This is a DIY product so there should be no installation costs.
Alternatively, Monodraught makes the Sunpipe, a tube with an internal mirror finish that reflects natural daylight and pipes it to a room where light is diffused by a ceiling fixture. A small diamond dome replaces a tile or slate on the roof. The dome can normally be installed in a couple of hours.
How do you decorate the wall at the top of the stairs?
To give your landing a greater sense of purpose you can create a feature wall at the top of the stairs so it stands out. Decide on a feature wallpaper to inject colour and pattern to the otherwise plain space. Use a gallery wall to hang family photos to add a touch of personality to the space.
A full-length mirror is always a winning idea for the wall at the top of the stairs – not only helping to flood the often dark space with light, but providing the perfect spot to check an outfit choice as you prepare to leave the house.
Get the Ideal Home Newsletter
Sign up to our newsletter for style and decor inspiration, house makeovers, project advice and more.
Tamara was Ideal Home's Digital Editor before joining the Woman & Home team in 2022. She has spent the last 15 years working with the style teams at Country Homes & Interiors and Ideal Home, both now at Future PLC. It's with these award wining interiors teams that she's honed her skills and passion for shopping, styling and writing. Tamara is always ahead of the curve when it comes to interiors trends – and is great at seeking out designer dupes on the high street.