Step inside this small-but-perfectly-formed family home in south London
The owners of this London semi stretched themselves to buy a small, dark, former rental, then got creative to turn it into a family-friendly home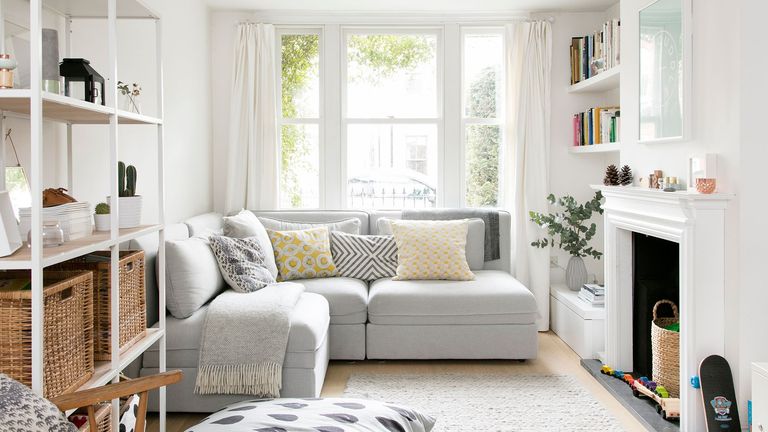 (Image credit: Future PLC/David Giles)
Desperate for a house and more space, the owners sold their Edwardian maisonette in Twickenham in 2013 and started looking in nearby Isleworth, where prices were slightly lower. 'It was the house no one wanted,' says the owner. 'It had been rented out and still had beer cans in the bedroom, but we could just about afford it! I think people were also put off by the small leaded windows at the front, which made it very dark.'
Another house tour: Step inside this modern three-bed semi in East Yorkshire
After taking advice from the owner's dad on the practicalities, the couple decided to go ahead with 
the purchase of this two-bed semi, moving in with the owner's parents for three months while the windows were replaced and the back of the house remodelled.
'Putting in bifold doors turned the kitchen into a lovely family space,' says the owner. 
'We can work or cook while the kids run in and out from the garden and the patio creates extra space. 
Bifolds also bring in loads of light and make the room feel much bigger.'
The couple could then get stuck in to the decorating and had a unified vision for their home. 'We like things to feel natural and understated,' says the owner. 'Neither of us are fans of clashing colours, overbearing patterns or shiny, blingy things. We go for subtle shades, with 
a backdrop of whites and greys. We like minimal and modern, with Japanese and Scandinavian influences. We lived in Japan for a while, so we wanted to bring 
its clean, simple design to our home.'
Exterior
'Replacing the small leaded windows with bigger sash windows in keeping with the property's age was the key to more light,' says the owner. The couple also painted the house white to cover up uneven brickwork from previous renovations.
Living room
For the first few years the couple had a dark, quite large sofa that 
had originally been bought for their old flat. 'The reception room is 
quite long and thin and the long sofa accentuated this, creating a 
real split in the room,' says the owner. Swapping to an 'L' shape sofa really
 opened up the space and tied it all together, creating extra seating
 and storage at the same time. 'It's stopped it feeling like one long corridor, as this is the room we spend most time in,' the owner says.
Buy now: Vallentuna sofa, £985, Ikea (opens in new tab)
Buy now: White Cotton Oak flooring, £49.99 a sq m, Quickstep (opens in new tab)
Painting walls white helps 
to keep small spaces with low ceilings bright and airy. The blank canvas also lets the couple add interest with accessories and meaningful keepsakes they've collected, allowing them to stand out without overwhelming the room. 'We love original artwork and quirky prints and because all the walls are white we choose pieces we won't get fed up of looking at,' says the owner.
Get the look
Buy now: Diano pure wool rug, from £174, La Redoute
(opens in new tab)Buy now: Upside down cat print, £69, Le Gun Shop (opens in new tab)
Buy now: Cuddle O'Clock print, £15, Buddy and Bear (opens in new tab)
Kitchen
'With the new bi-fold doors bringing in tons of light we opted to keep it as pale as possible in the kitchen, with white walls and simple handleless white units and our trademark wooden floors,' says the owner. 'We try not to buy anything too precious and this table in wood its in with that as it gets used for so many things.'
Home office
This area of the house was a wasted space in between the living room and kitchen. 'Now it's a handy desk area where I tend to do my designing, although soon I'm planning to move to a studio in the garden,' says the owner.
Get the look
Buy now: Lisabo desk, £125, Ikea
(opens in new tab)Buy now: Alex drawer unit, £99 each, Ikea (opens in new tab)
Bedroom
The couple made the Happily Ever After banner themselves to celebrate their wedding, and decided to hang it over our bed afterwards on the plain white walls, and to use colour in the bedding and accessories. Built in wardrobes would have made the room feel oppressive, so they opted for a wardrobe with drawer options underneath instead. 'There's room on top to store our baskets,' says the owner.
Get the look
Buy now: Dorma Hampton bedlinen, £50 for a double duvet, Dunelm (opens in new tab)
Buy now: Vermont Pink and Seafoam cushions, £10 each, Dunelm (opens in new tab)
Kids' bedroom
The couple's two young sons share this big bedroom, so they thought carefully about where to put the bed and the cot and how to make it feel like two spaces. 'Living in a small space with two little ones requires a lot of clever storage solutions,' says the owner. 'We have baskets and totes that hide a multitude 
of toys but also keep them accessible to the children.'
Get the look
Buy now: Rafferty bed, £65, George@Asda (opens in new tab)
Buy now: Circus Lion cushion, £9, Dunelm (opens in new tab)
Buy now: Hemnes chest of drawers, £100, Ikea (opens in new tab)
Buy now: Componibili bedside table, £77, Heal's (opens in new tab)
Bathroom
Much of what we buy is budget friendly, so we love places like Tiger and Hema. However, we love finding little shops and talented designers on Instagram and Etsy as it's so important to us to support small businesses too. It definitely helps to make a home unique and give it real personality rather than being like a page from a catalogue. These are the things we really treasure.
Instagram is where I find inspiration. I started my business, @buddyandbear (opens in new tab), on it and I spend a lot of time on there! Plus Pinterest, interiors magazines and travelling.
Japan had a big influence on us, both the city and the countryside, and I like to think I find inspiration in the most unexpected places.
Heather Young has been Ideal Home's Editor since late 2020, and also edits its sister title Style At Home. She is an interiors journalist and editor who's been working for some of the UK's leading interiors magazines for over 20 years, both in-house and as a freelancer.