Shaker kitchen ideas – simple yet striking, this look is timeless
This timeless yet simple kitchen design will never go out of style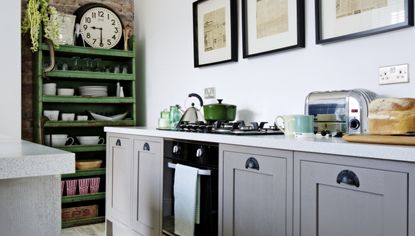 (Image credit: Future / Tom Meadows)
If timeless style is your thing, these Shaker kitchen ideas will offer inspiration and top tips on how to achieve the look with ease.
So, where do Shaker kitchen ideas come from? The routes of this popular design stem from the 18th century US religious movement of the same name. They believed in simplicity and function without embellishment or decorative features, and they structured their homes as such.
Today, these beginnings have been built on and Shaker design does offer variety in terms of colour and finishing touches but the basics have stayed the same.
Wood is the dominant material in Shaker kitchens but be careful not to tip the scale to 'vintage' or 'country' style. Choose a simple design with square doors with an inset panel and, if you have it painted, go for a matte finish.
Any furniture should follow these lines too. Spindle-back wooden chairs and a simple square or round table are what you're looking for. You'll even find you can get bar stools that fit this look, too.
Of course, you don't necessarily have to follow the Shaker style bible to the letter. In today's kitchens, an element of the classic design lends a heritage feel, but also creates a scheme neutral enough for you to put your own style stamp on a space.
What is a Shaker kitchen?
You might be able to recognise a Shaker kitchen much more easily than you recall the name for it. While a traditional style, they've had a resurgence in recent years thanks to many younger generations wanting to recreate the nostalgic, classic style they grew up with.
Shaker style originates from the mid-18th century and was designed by the 'Shaking Quakers'. With roots in Quakerism, there's a heavy emphasis placed on hand-crafted furniture that was built to last and provide timeless quality.
This ethos has continued to the Shaker kitchens we see today - they're overwhelmingly popular for the traditional style that will look stylish for years. Not to mention they're often handmade or built from heavy, high-quality materials so that it doesn't need to be replaced.
The iconic look includes a frame around the edge of the door and is often made from real wood or a wood replica. The good news is that while the style was typically more expensive, it's now much more readily available and affordable so that you can achieve the classic look on any budget.
'As we approach more recently, the cozy and rustic classic looks have gained a new appreciation. The quintessential British Shaker brings a sense of nostalgia for a simpler and more authentic way of living. This is particularly prevalent in younger generations seeking a comforting echo of better times,' says Jen Nash, senior design lead at Magnet.
Shaker kitchen ideas
1. Pick a pantry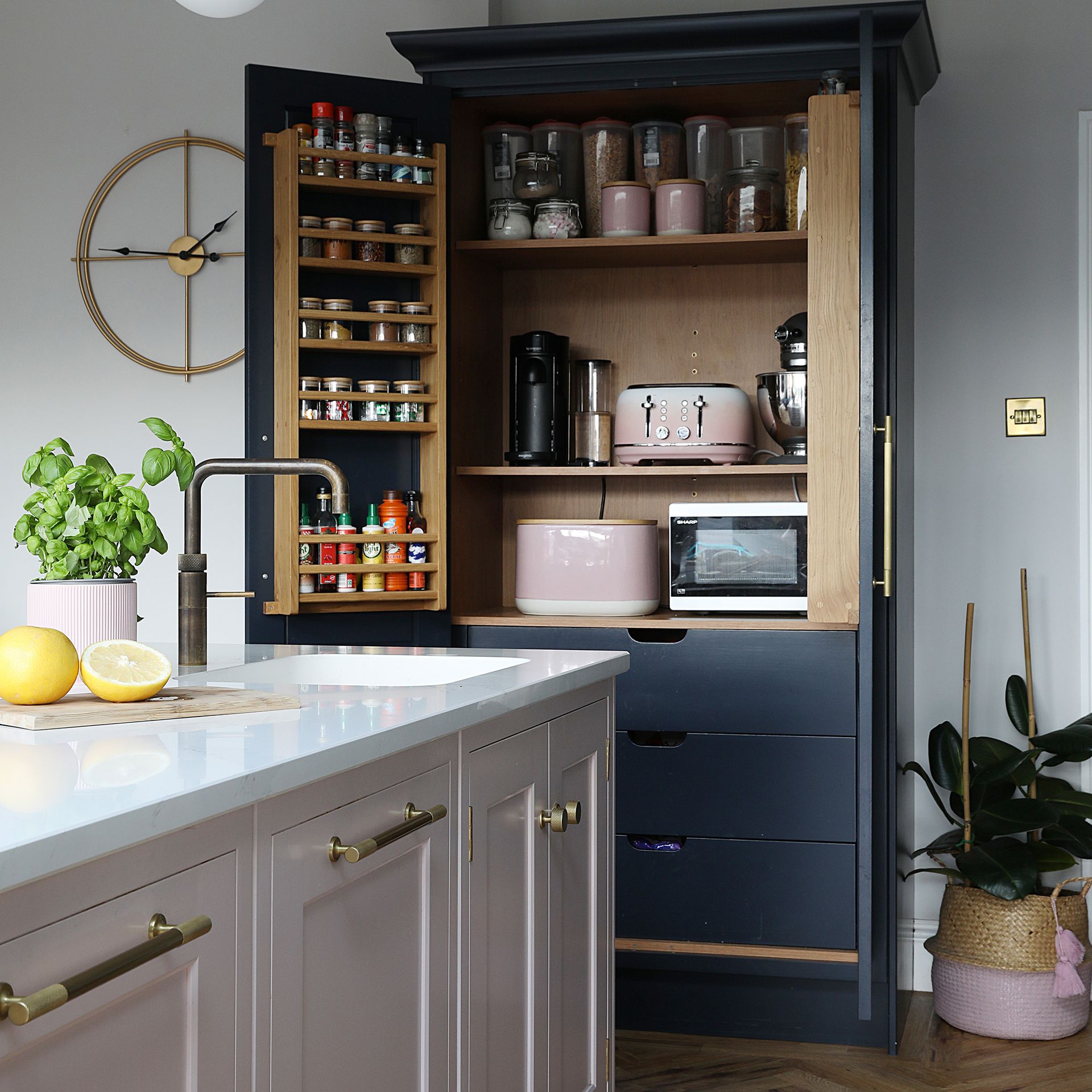 The traditional appearance of Shaker kitchens lends them nicely to other classic features, such as a pantry. While many small kitchens won't have space for a full walk-in pantry, utilising a cupboard for dried goods, spices, and small appliances will create an organised space.
It also means that when the doors are closed, you get to ignore the mess of items that would otherwise be cluttering a worktop, and enjoy the symmetry of the Shaker doors. Pantries are also commonly used as appliance garages with the bottom shelf acting as a great spot for storing a coffee machine, toaster, and kettle ready for those busy mornings.
2. Go for paintable
Shaker is designed to last a lifetime, but your taste in kitchen colour schemes might not. This is where paintable Shaker ranges (which are booming in popularity) come in.
Many companies are now selling bare doors that can be painted in the best paint for kitchen cabinets, giving you ultimate flexibility in colour choice. You can then sand and repaint when the time comes for a fresh hue, so you can easily meet current trends without needing to buy an entirely new kitchen.
3. Add authentic woodgrain
Shaker is a great opportunity to go for a full authentic approach with a woodgrain texture. The natural texture complements the thicker wood doors, adding dimension to the look.
Whether you're opting for a statement green kitchen or keeping it pared-back with a white kitchen, going for a woodgrain-effect door will enhance the colour scheme. It's also a good choice for those with kids as it will help to disguise the appearance of greasy fingerprints.
4. Mix different colours on cabinetry
Shaker style is known and loved for its simplicity, yet that doesn't mean you can't be adventurous with your kitchen colour schemes. If anything, its pared-back style provides a perfect backdrop to mix your favorite shades.
'Not every kitchen is suited to the same use of colour, and so thinking about the placement of colours in relation to room size, lighting, and the effect you want to create is the key to a truly impactful design,' says Dawn Filkins, head of creative at Smile Kitchens.
'Darker blocks of colour are a great way to add depth and a touch of elegance to the space. Using wall cabinets in a lighter colour where the base units are darker will keep the luxury feel, whilst creating the illusion of a larger space than with dark cabinetry alone.'
5. Introduce open shelving
Bare clutter-free surfaces and rows of cupboards look neat and tidy in a modern kitchen, however, can appear a little soulless too. Introducing open shelving to your kitchen design, where you can display favourite items or a well-stocked wine rack will add character.
Consider choosing contrasting colours and materials for shelving or the back panel of an open unit to add further interest.
6. Bounce light with glazed cabinets
Navy blue kitchen ideas look beautiful and they are a big design trend, however, they can feel dark if your room doesn't gets lots of natural light. So glazed cabinets can be beneficial.
'Glass is an excellent finish for kitchens. Not only do glazed cabinets break up the monotony of repetitive, solid fronted doors – especially in large spaces – they maximise the flow of light into darker corners,' explains Tom Howley, Design Director at Tom Howley Bespoke Kitchens .
'Having glass-fronted doors is as good as open shelving when it comes to displaying your prized pieces. They're also fantastic when accessing everyday essentials allowing you to see what you have and where you've put things.'
7. Be brave with colour
There's a tendency to stick with natural wood or neutral tones with Shaker kitchens. These look gorgeous, of course, but don't be afraid to shake things up with a bold colour, such as red.
'Over the last few years, we have been seeing an increase in demand for darker kitchens,' says Ben Burbidge, managing director, Kitchen Makers. 'They offer understated luxury and are more versatile than you can imagine.
'With the rise of open-plan spaces, cooking and dining areas need to be more harmonious. This, together with a move towards colour confidence has led to an increased demand for coloured cabinetry.
'English red can be used across the whole kitchen for the pluckier customer, or to create a two-tone kitchen with a strong island that forms the centre of the kitchen.'
8. Jazz it up with a geometric floor
The easy elegance of a Shaker-style kitchen in a neutral colour palette makes it perfect for putting your own stamp on through interesting surfaces, hardware and accessories. Give it an impactful edge with a bold geometric tiled floor.
Then add other elements, such as metro tiles on the walls or splashbacks, unusual door and drawer handles and copper piping as shelving fixtures.
9. Combine hardware styles
Cup handles are a classic addition to Shaker cabinetry, but they look great combined with simple knobs too. Metals with a warm or tarnished finish will give an air of authenticity.
'When it comes to giving your shaker cabinetry a timeless finish, antique metals are in a league of their own,' says Al Bruce, founder of Olive & Barr. 'Charming with a bespoke vibe, adding brass hardware to your kitchen always has a huge impact on the overall feel.
'Whether you opt for timeless cup handles, simple knobs, or both, this subtle addition adds an element of sophistication and age-old character to your space.'
10. Balance light and dark cabinetry
In a small kitchen wall hung cabinets can crowd the space and make it feel smaller. One option is to do away with wall cabinets completely and have open shelves instead.
Alternatively, if you need closed storage space, opt for wall kitchen cabinet ideas in a light colour, the same shade as the walls, with a darker tone for the base units can make a kitchen feel bigger.
11. Make the most of every centimetre
Maximising space is key in most UK households and especially in the kitchen. Cabinets often come in standard sizes, so when a row of them creates a gap it can leave us wondering what to do with it.
Small and slim pull out larder units are a great option for making the most of gaps between cupboards. Even if you're not buying from a bespoke kitchen company, small gaps can be utilised for storage for ironing boards, brooms, heavy chopping boards and more.
12. Round off edges with curved cupboards
If you have little ones, or plan to have them, consider curved edges on a kitchen island or peninsula. 'Softened corners on curved units and rounded edges on worktops will give a more relaxed look and are great for avoiding accidents,' says Scott Peterson, co-director, HKUK.
'Those who love to entertain should consider adding an induction hob to their island or peninsula so they can always face their guests and involved them in the culinary experience. Keep the hob and sink in separate spaces to better define the social area and ensure any dirty prep dishes or glasses are out of focus.'
13. Mix integrated and on-show appliances
With a traditional kitchen style, it can be a challenge to integrate modern or high-tech appliances. So consider what to have hidden and what to have on show. An American-style fridge can be a feature, as well as somewhere to keep food fresh.
'With a bespoke kitchen, the designer will work with the client to understand how they will use the space, what their requirements are from their kitchen and make recommendations on the layout of the appliances to beautifully complement the design,' says Tom Howley, design director, Tom Howley.
'A good choice would be to have a mix of appliances on show, and others concealed behind cabinetry. Whether you're looking to make a statement with refrigeration or want to keep the daily 'mess' concealed both will allow the simplicity of the kitchen design to shine.'
14. Factor in a free-standing unit
If you find you need extra storage, especially with small kitchen ideas, a freestanding unit in a contrasting colour will make a statement. You could even paint an old plain unit and adding traditional cup handles will give it an instant Shaker touch.
When it comes to Shaker kitchen ideas, remember the original lifestyle was one of practicality and austerity, everything had to be functional. And in a typical kitchen of the period, everything had its place.
15. Keep it simple
For the ultimate in simplicity, opt for fuss-free kitchen colour schemes for your Shaker kitchen ideas, keeping everything in as close a colour to the cabinets as you can. Light fittings, window treatments, furniture and tiles in similar shades will blend the look together.
16. Make it your own
Cream kitchen ideas are slightly more 'country' than 'Shaker', but plain floating shelves and a coat of rich cream will give it the simplistic edge it needs to boast that Shaker look.
If you love a neutral colour scheme but don't want to commit to white, then cream is a great compromise. It offers the same bright look but you won't need to worry about it showing up as much dirt.
17. Opt for an easy-to-clean design
While a wooden worktop conjures up true Shaker kitchen ideas style, there's nothing like a stone worktop for the simple and practical feel that this style demands. For a seamless look, fit a flush sink and have drainage grooves cut into the wood.
18. Accessorise with rustic materials
Classic, simple style extends to accessories too. Choose plain ceramics and storage that's made with natural materials such as wood, cork and wicker. It's worth checking out current home decor discount codes before buying, to see if you can save on these extras. This is a good way to add colour, too.
19. Display your finest accessories
Functionality is king in with Shaker kitchen ideas so choose chunky chopping boards and display in stacks or hang from pegs above the worktop, like with country kitchen ideas. For a really authentic look, hunt through junk shops for antique cake trays and stoneware flour jars to display.
If your kitchen is big enough for a table and chair, you'll find you're spoilt for choice for spindle-back chairs – keep cushion-free for an authentic Shaker look.
20. Add texture with tile
Rustic kitchen tile ideas used on the floor brings that practical feel that you're looking for. Go as dark or light as you like – the natural appearance will work whatever shade the tiles are.
21. Let it sink in
A ceramic Belfast sink completes Shaker kitchen ideas. And, although they can be expensive, they don't have to break the bank and will keep their good looks for years to come.
What does Shaker style cabinets mean?
This generally refers to a simple style of door with an inset panel, often made of wood and sometimes painted. Its influence is taken from the unembellished style and simple way the Shakers (an 18th century religious order) decorated their homes.
Get the Ideal Home Newsletter
Sign up to our newsletter for style and decor inspiration, house makeovers, project advice and more.
Jennifer is the Deputy Editor (Digital) for Homes & Gardens online. Prior to her current position, she completed various short courses a KLC Design School, and wrote across sister brands Ideal Home, LivingEtc, 25 Beautiful Homes, Country Homes & Interiors, and Style at Home.