The hot tub deals making a splash – up to 50% off Lay-Z-Spa hot tub deals and much more
We've rounded up the cheapest hot tub deals available this month – from the best Lay-Z-Spa hot tub deals to the biggest discounts on CleverSpa, Wave, and more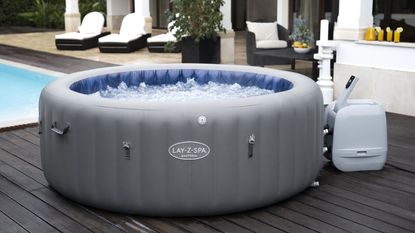 (Image credit: Lay-Z-Spa)
Quick Menu
Looking for hot tub deals? Then today's hot tub discounts will be music to your ears.
The perfect way to make more use of your outdoor living area, adding a hot tub to your garden is a great way to relax or create a focal point for a summer garden party, and with inflatable hot tub deals currently available for just £199 you could be treating yourself to a DIY spa day – or a hot tub party! – without breaking the bank.
As such we've rounded up the top hot tub deals available today to help you to transform your outside space for less.
We've prioritised deals on the best hot tubs the Ideal Home team has tried and tested, scouring the shops for the lowest prices on bestselling hot tubs from Lay-Z-Spa, Wave, CleverSpa, and many more. As well as rounding up the retailers with the cheapest hot tubs on offer. Read on to snap up a bargain!
Where to find the cheapest hot tub deals
Hot tub deals December 2023
Best hot tub deals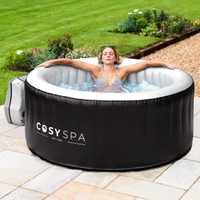 CosySpa 4-Person Inflatable Hot Tub | £199.99 at Amazon
This inflatable CosySpa hot tub doesn't need to be on sale to be great value. There's a 4 or 6-Person option available and both offer spacious capacity at great price points, especially compared to the cheapest Lay-Z-Spa deal right now, which offers less room for more money.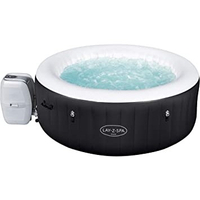 Lay-Z-Spa 2-4 Person Miami Hot Tub | was £499 now £244.99 at Amazon
Currently one of the cheapest Lay-Z-Spa hot tub deals available, the Lay-Z-Spa Miami inflatable hot tub isn't huge, but if there are only two of you using it then this is a great option for soaking your cares away. It benfits from Lay-Z-Spa's usual easy set-up and 120 massaging airjets to aid your relaxation.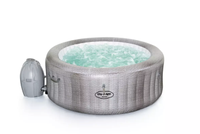 Lay-Z-Spa 2-4 Person Cancun Hot Tub | Was £349 Now £269.97 at Appliances Direct
Another cheap Lay-Z-Spa hot tub deal, the compact Cancun hot tub is similarly small at just 669 litres, but it's the perfect place for two to soak in the bubbles. It ups the ante slightly with 140 massaging airjets and benefits from Lay-Z-Spa's 'FreezeShield' technology for year-round use.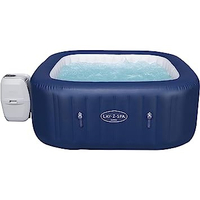 Lay-Z-Spa 4-6 Person Hawaii Hot Tub | was £699.00 now £348.99 at Amazon
What's the difference between a round hot tub and a square one? To be honest not much other than personal preference, and the fact that sometimes a square design can be a better fit in smaller spaces. Either way, if you prefer the look, then this square Lay-Z-Spa inflatable is now better than half-price and its larger capacity means there's room for 4+ users at once.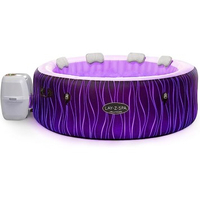 Lay-Z-Spa Hollywood Built-in LED Light Inflatable Hot Tub | was £699.00 now £412.94 at Amazon
Want to really get the party started? Then this Lay-Z-Spa hot tub with built-in LED lights is the way to do it. The remote‑controlled multi‑coloured LED lighting shines through the semi‑transparent liner to illuminate the water and creates patterns through the designs outside the liner. Choose from 7 colourways to light up the night.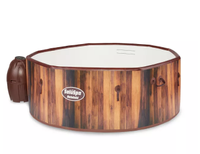 Lay-Z-Spa Helsinki 7-Person Inflatable Hot Tub | was £899.99 now £499.99 at Robert Dyas
A spacious inflatable that's ideal for families or parties, the Helsinki is somewhat unique in its thin, rigid inflatable walls that means it holds 1123 litres of water. More stylish than most thanks to its wood-effect exterior it also offers 180 airjets and an anti-freeze feature for year-round use.
Sale shopping advice
There are a few key points worth mentioning to help you find the right hot tub for you:
Size: Thinking about how many people will regularly use your hot tub at any one time is one of the most important aspects to consider before you buy. Hot tub capacities can often be a little optimistic, so if a hot tub says it will fit four people, then that can often mean four adults will fit seated, but, it's likely to be a fairly snug fit – and not necessarily the relaxing experience you envisaged. Fine for a one-off evening, but if there will regularly be four people using the spa at once, sizing up to a six-person capacity is likely to be a decision you won't regret.
Water capacity: One of the best ways to compare hot tubs – rather than relying on the manufacturer's guidance on how many people can fit comfortably which can differ between brands – is to compare water capacity. This will give a truer picture of the internal space a hot tub offers – and you might find some '4-person' hot tubs that are actually roomier than those advertised as '6-person' this way.
That said, the more water your hot tub holds, the more that water's going to cost to heat. Make sure to check out our guide to how much does it cost to run a hot tub for the latest energy calculations.
Airjets: The airjets are what create those relaxing bubbles we all love, so generally the more of them the better in an inflatable hot tub. This differs slightly in hardshell Plug & Play hot tubs which generally have a lesser number of more powerful jets.
When to shop
The best time to look out for hot tub deals is generally as the summer season is drawing to a close; between between August and October in the UK. This is when retailers launch end-of-season sales to clear summer stock and free up space in-store and online for Christmas stock.
Of course, that tends to mean that the weather for enjoying your new purchase is coming to an end, but if you don't mind storing your bargains away for the year ahead, then shopping for a hot tub deal at the end of the season is a great way to save cash. Plus, if you opt for a hot tub that has an anti-freeze feature then the fun needn't stop and you'll be able to use your hot tub all year round.
That said, retailers can launch hot tub deals earlier in the season too, especially if spring weather has been wet and cool and they're getting nervous about sitting on excess summer stock.
If you have your eye on a particular piece then the best way to stay in the loop regarding sales is to sign up to the brand's email newsletter, this way you're likely to be the first to hear about hot tub sales when prices drop – or you could bookmark this hot tub deals page, of course!
Amazon Prime Day hot tub deals
Amazon Prime Day – the brand's yearly price-slashing event – can mean some great Prime Day hot tub deals.
This year, Prime Day hot tub deals ran from the 11th to the 12th of July, with some particularly good Prime Day Lay-Z-Spa hot tub deals on offer.
Usually, Prime Day hot tub deals are a once-a-year event, although in 2022 Amazon did launch a second price-slashing event in October. Keep an eye on our Amazon Prime Day deals to be the first to hear if details of a second event are unveiled this year.
In the meantime, you could sign up for Amazon Prime membership so you're all set to shop when the next Prime Day hot tub deals take place. Generally, you need to be a Prime member to take advantage of the biggest discounts on Prime Day. You can sign up or renew your membership below. Usually, new Prime members can also access a free 30-day membership trial to test out its perks.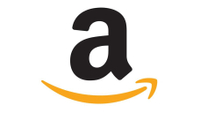 Sign up for Amazon Prime
Make sure you'll have access to the best Amazon Prime Day hot tub deals this year by signing up or renewing your Amazon Prime membership here.
Black Friday hot tub deals
The term 'Black Friday' originated in the US to denote the first day following Thanksgiving when retailers would cut prices to draw holidaymakers to shop their store's sales. Driven by global brands, the price-slashing event soon crossed the pond, and now Black Friday – closely followed by Cyber Monday – has become one of the UK's biggest consumer extravaganzas, rivaling traditional Boxing Day sales.
Often hailed as the biggest shopping day of the year, Black Friday always falls on the last Friday of November, so the next time it will roll around is Friday 24th November 2023.
That said, in recent years, the event has spread to encompass more than just one day, with retailers starting Black Friday discounting earlier and earlier so that a full Black Friday 'week' of discounts isn't uncommon. Last year, we even saw retailers running Black Friday promotions throughout the whole month of November.
Whether or not you agree with the rampant consumerism Black Friday has now come to represent, there's no denying it can be a great time for Black Friday hot tub deals and Cyber Monday hot tub deals. Although some lines may have already sold out in the end-of-summer sales, if there is still hot tub stock around by Black Friday then it's likely to be discounted to very good price.
Last year, Black Friday hot tub deals saw some great prices on popular Lay-Z-Spa models, so we'll be keeping our eye out for all this year's top Black Friday hot tub deals and Cyber Monday hot tub deals as they drop.
Make sure to bookmark the Ideal Home Black Friday home deals page to get alerts for all the biggest Black Friday homeware sales as they launch.
How we choose hot tub deals
You'll find full details of the Ideal Home product selection process on our how we test page.
In order to compile this hot tub deals page we factored in our own hands-on testing, searching out deals on the products that we consider best-in-class based on our in-house review process. That includes hot tub deals from Lay-Z-Spa, Wave, and more bestselling brand names.
If deals aren't currently available on our tried-and-tested favourites, then our product experts have used their knowledge and experience of the product category to curate a list of the best deals available today. This includes researching technical specifications and taking into account multiple customer reviews of any deals we recommend.
Get the Ideal Home Newsletter
Sign up to our newsletter for style and decor inspiration, house makeovers, project advice and more.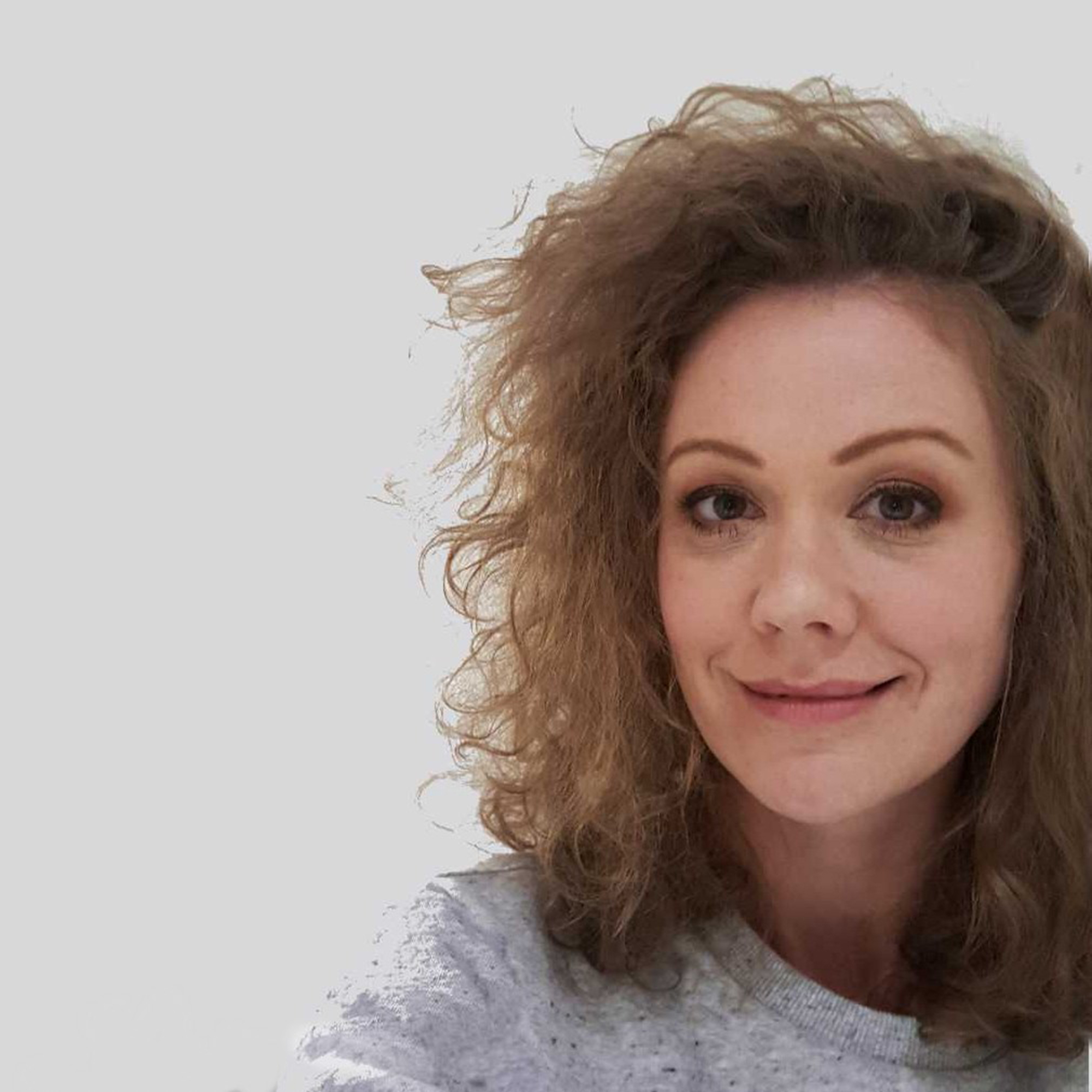 After studying Print Design at Winchester School of Art, Amy spent multiple years working in the interior industry, including styling and visual merchandising for many well-known brands. She's now Ecommerce Editor at Ideal Home, offering expert advice on the best products for decorating your home and ensuring it functions smoothly. That includes sourcing stylish yet affordable furniture – from the best sofa beds for combining style, comfort, and function, to the best artificial Christmas trees for a stress-free festive season – helping our readers to find the best mattress for their sleep style, and testing top-rated dehumidifiers and air purifiers to narrow down the best-in-class.