The best Christmas scents – candles and diffusers to make your home smell like a winter wonderland
Start festive scentscaping with our pick of the best Christmas scents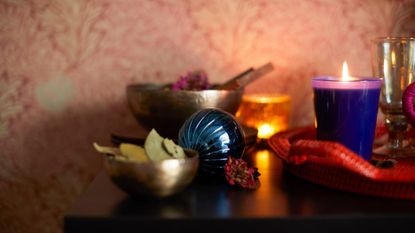 (Image credit: Future PLC/Maxwell Attenborough )
The very best Christmas scents are guaranteed to remind you, right from the very first sniff, that it's the most wonderful time of the year.
Now, plenty of people have been inspired to give their home a signature scent of late – and little wonder: using candles, diffusers, essential oils, room sprays and flowers to perfume your home is very much an extension of your home decor nowadays.
Rather than stick to the best home fragrance you always use, though, Christmas calls for something a little... well, a little special. A little merry, a little bright, and a lot festive on the nose. So, how to go about achieving all of this and more?
The best Christmas scents
When it comes to sourcing the very best Christmas scents, there are lots of places to take inspiration.
Cinnamon, nutmeg, frankincense, and sandalwood are all deliciously spice scents that are inspired with warmth, for example, making them the perfect addition to your favourite cosy living room ideas.
The orange, too, has been a big part of Christmastime tradition since the 19th century, when people began popping clementines in stockings hung over the fireplace. And there are plenty more scents that have become synonymous with the holiday season, too.
'Here at Floral Street, we don't create a Christmas candle or diffuser. It's not that I'm being a Grinch, but we want people to be able to conjure up their own festive scent,' says Michelle Feeney, founder of Floral Street.
'Rather than trying to capture the smell of Christmas into one smell, we want to encourage people to scentscape their own homes by layering a few different fragrances around the home and choosing notes that mean something to them.'
Michelle Feeney led MAC Cosmetics to become the world's biggest make-up brand, before going on to become CEO of St Tropez. Nowadays, though, she is the founder and creative force behind Floral Street, a modern British fragrance brand with sustainability and eco-responsibility at its very core.
'Why not pop two different diffusers in one room and see how you like the combination?' continues Michelle, noting that Christmas-specific fragrances can be a little prescriptive.
'By choosing your own combination of a few different candles, diffusers or room sprays around the house, you can create something custom to your own home, and something that will evoke those memories for years to come. In this country, the festive season also smells different to different people – maybe you're celebrating Hannukah or Diwali, so those typical notes of cinnamon and pine might not resonate with you.'
If you're looking to add some oomph to your Christmas decor this year, then, we recommend making sure you activate all the senses. Here's how to spread enchantment throughout your home with our pick of the best Christmas scents.
1. Vanilla
One of the best Christmas scents (albeit the most underrated) is the creamy and comforting tones of vanilla.
'I love this "good enough to eat" gourmand scent with its familiar and comforting aroma,' says Michelle, describing it as 'warming and welcoming to guests'.
'Burning a vanilla scented candle, like the Floral Street Vanilla Bloom creates a welcoming ambiance for any festive gathering,' she continues. 'Once this is done, then place a complementing diffuser in the room where you eat will create a joyful mood in that space.'
This sweet candle blends the rich, creamy aroma of vanilla cupcakes with hints of lemon and lots of buttery icing.
Diptyque Vanille Scented Candle
Crafted from dense, black vanilla pods, this candle is more than fragrant enough to perfume everything.
2. Citrus
Easily one of the best Christmas scents, not to mention the most traditional, the fresh and zesty smell of orange is one long associated with festive gifts, baking, and decor – especially if you like to dry orange slices for decorations in your air fryer.
Still, while clementines are the most famous Christmas fruit, that's not to say you can't broaden your horizons a little...
'To get me energised prepping for Christmas Day I'll burn Floral Street Grapefruit Bloom candlesin my kitchen with their uplifting ingredients of bergamot and pink grapefruit,' says Michelle.
'I love the bright and light feel to the space and this clean and crisp scent feels like freshly squeezed juice for the senses! I always say you should have your daily dose of upbeat optimism during the darker, winter months.'
Plum & Ashby Festive Spice & Clementine Glass Votive Candle
Inspired by treasured Christmas traditions, this Christmas candle blends top notes of clementine with frankincense, myrrh, amber, and pine needle. A true festive treat!
John Lewis Spiced Clementine & Pomegranate Scented Candle Tin
The fruity and spicy scent of clementine and pomegranate found in this candle are perfect for creating a festive and cosy atmosphere.
3. Pine
To quote Ideal Home editor Heather Young, 'nothing beats the smell of a real Christmas tree' at this time of year – so it makes sense that pine (and fir) is considered by many to be one of the best Christmas scents of all.
'The festive season is when scents become less floral and it's more about picking pines and ferns from your garden and bringing them indoors to stimulate your senses,' says Michelle.
'I always feel you should "go with the season" and this time of year these fresh and woody yet almost sweet scents perfectly evoke the feelings of winter.'
Pine & Eucalyptus Home Candle
Aromatic pine and enlivening eucalyptus take centre stage in this gorgeous festive candle from Jo Malone.
Fir Balsam Cinnamon Candle
A favourite with Rebecca Knight, Ideal Home's deputy editor, this wonderfully woody candle muddles notes of clove with pine and maple on a cedar base.
4. Cinnamon
We've already lauded cinnamon as one of the best ways to make your home smell good, but it's also one of the best Christmas scents.
'Smell is the strongest trigger for memories and when you want to create new ones, scent is a beautiful way to enhance and remember specific moments and special times of the year,' says Michelle.
'I lived in the US for over a decade and I have such great memories of both Thanksgiving and Christmas. One of the scents that takes me back there is cinnamon with its warming, homely aroma that reminds me of the joyful gatherings with family and friends during that time.'
This candle's scent is inspired by a garland-adorned fireplace, with notes of cinnamon, clove and cedarwood. Which means, yes, it's basically the candle equivalent of Michael Buble at this time of year...
Mandarin, Clove & Cinnamon Scented Candle
This two-wick candle diffuses the sweet and spicy aromas of cinnamon and clove with zesty mandarin to instantly evoke a festive feel.
5. Open fires
Christmas is synonymous with chestnuts roasting over open fires, or so Nat King Cole would have us believe, so it makes sense that the scent of a cosy fireplace features highly among the best Christmas candles.
'At this time of year, I like to burn a mix of our smoky Fireplace Candle, which is reminiscent of warming, cosy evenings, and crisp White Rose Candle, because the scents and the mono chrome glass vessels beautifully complement each other,' says Michelle.
So, yes, consider freshly ignited logs and smoky bonfires one of the best Christmas scents around – but don't be afraid to add your own twist to them, be that with florals or fruits!
Esteban Around the Fireplace Scented Candle
This oh-so-Christmassy candle evokes warm woods and the warmth of leather to recreate the scents of a crackling fire.
This one packs the scents of cedar and glowing embers recreate the nostalgic comfort of a cosy winter fire (a sensation which is heightened by that crackling wick).
6. Woods and spices
Easily one of the best Christmas scents around, the scents of woods and spices are everywhere at this time of year.
Thankfully, there are plenty of options available for anyone who wants to add some woodsy and spiced magic to their ds and spices,' says Michelle., who advises you blend these with dark florals wherever you can.
'Our Floral Street Midnight Tulip candle is perfect for creating a cosy ambiance with its blend of iconic black tulip, incense, patchouli and powdery damask rose. Or you can just pop the same Scented Reeds in any favourite vessel, to boost that warm and spicy room mode.'
Thankfully, there are plenty of options available for anyone who wants to add some woodsy and spice magic to their Christmas decorations...
Fir Balsam Tealight Candle Box
These warm, rich, and woody tealights blend maple and fir balsam for a truly comforting Christmas scent.
In a bid to recreate the scents of a frosty winter walk through a snow-covered forest, this reed diffuser by The White Company muddles eucalyptus and amber with a warming birchwood base for a woody and invigorating scent.