Home office wallpaper ideas - 16 ways to add plenty of pattern
Spark creativity with these home office wallpaper ideas that will instantly upgrade a WFH routine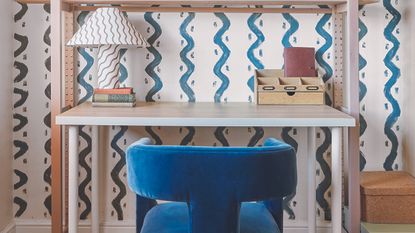 (Image credit: Future PLC)
Looking for WFH inspiration to help you plough through the day? These home office wallpaper ideas might just do the trick. If you're faced with an uninspiring blank wall in front of your desk, then this will be the perfect placement for a creative refresh.
Working from home has become more commonplace than ever before, with many office workers switching their routines to at least a few days at home. And even if this isn't in your weekly routine, a home office space is useful for life admin, children's homework sessions, and creative projects.
With this, our spare rooms and garden rooms (or even corners of our living and bedrooms) are all in need of a spruce up to accommodate this new use-case. A successful home office should be a space that you actually look forward to spending time in, not dread the sight of.
'With many of us spending more time than ever at home, our interiors have adapted to incorporate new and often multiple uses,' explains Ruth Mottershead, Creative Director at Little Greene.
'Decorating is a fantastic way of zoning an office space, allowing you to be creative and re-purpose an alcove or corner of a room, or create an entirely different mood in one area of an open plan space. Whether your office space is within a separate room or simply a corner within a space, making a focussed area can be made easier with the use of colour and pattern.'
Home office wallpaper ideas
'Rather than being grey, dull functional spaces home offices can provide the opportunity to create a truly inspiring space that sparks creativity and positivity,' says Stefan Ormenisan, Founder and Creative Director, MINDTHEGAP.
'Wallpaper is a wonderful tool for zoning a home office area with a feature wall, but also provides a way to add depth and design interest. I love wallpapers that take you away, providing escapism and inspiring thought and focus.'
Worried that home office wallpaper ideas might be too much for you? Don't worry - we've catered to the minimalists too, with paired back prints and room sectional ideas that will add style and elegance to your space so you really don't have to wallpaper the entire wall in a bold print (unless you really want to).
1. Think pink
Working from home can require some serious creative stimuli to prevent you from falling into a rut, so why not go bold with wallpaper?
'If you're tight on space but still want to introduce a statement feature, consider creating a faux accent wall using wallpaper,' advises Siobhan Murphy, interior and product designer.
'Choose a bold and flamboyant design and apply it to just one wall in your office - it works particularly well on the longest wall of your room, or the wall behind where your desk sits. This technique adds depth and dimension to the room without overwhelming the space.'
Why not go one step further with a bold wallpaper by opting for a pink palette? The tone is on-trend so it will make a workspace feel current and inspiring, plus, it pairs perfectly with plants which are great for wellbeing.
2. Embrace a grandmillennial look
Wallpaper and textiles with organic shapes are having a major moment in interiors, providing an interesting pattern without committing to a motif. A rickrack design is the perfect way of incorporating a visually interesting design, while also leaning on the grandmillennial trend.
Grandmillennial style, otherwise known as granny chic, is appearing in modern home offices too - not just country ones. However, it can still be a tricky trend to commit to if florals aren't your thing, so consider incorporating a rickrack pattern to add style to a workspace that still hinges on a contemporary look.
'We're finding that people are wanting their home offices to be every bit as design savvy as the rest of their house. Your office space should inspire and stimulate, along with giving you that space to focus,' says Tricia Guild OBE, founder and creative director for Designers Guild.
3. Pick a small pattern
Choosing a wallpaper for a home office can be challenging - you want something that will spur creativity while also being calm enough for focus time. Large murals can feel overwhelming, so opting for a smaller, repeated pattern will add style while also being more calming. It's also a great option for a small home office.
'Choose a wallpaper with a small-scale pattern to create an illusion of depth and space. This is particularly effective in cosy home offices where a large-scale pattern might feel overwhelming. By playing with scale, you can make the room feel more open and inviting,' Siobhan recommends.
4. Maximise the height of a room
Similar to colour drenching, the latest paint trend we can't get enough of, taking wallpaper up to the ceiling and architrave will make a home office feel professionally designed.
The popularity of feature walls has been replaced with a rise in entirely wallpapered rooms, and while this might not be a trend you want to commit to, taking the paper up a few inches higher will have a huge impact.
It makes ceilings feel higher, but also creates a cosy feeling that will be perfect for WFH days in the winter months.
5. Stick to one palette
To help simplify the decision of picking the perfect wallpaper, create a colour palette for the entire home office. For example, painting a built-in bookshelf blue lends nicely to wallpaper with hints of the same blue shade, tying the scheme together.
Alternatively, you can create a tonal look with variations of the same colour. This will add dimension to a home office so that it feels stimulating to work in, as opposed to a flat colour scheme with minimal depth. Blue is also known for having health benefits like boosting productivity, making it the ideal colour for a work environment.
6. Combine matching prints in different colourways
With home office wallpaper ideas, sometimes less is more. 'A more subtle change such as adding a wallpaper that uses the same colour palette as your paint colour will create a more harmonious transition,' advises Ruth from Little Greene.
Here, this super subtle print has been repeated in two different colourways, separated by a picture rail painted in the same shade as the desk. The darker print sits below the picture rail anchoring the scheme while the lighter shade is above it giving the illusion of taller ceilings.
This is a great way to tackle some small home office ideas, keeping the remaining furniture and accessories in paler shades. The lack of window dressing also allows more light to flood into the room, as natural light is a must of a good working environment.
7. Split the difference
Have your heart seat on a bold print but worriers it might be too much for a home office? A simple solution is to take advantage of one of the many brilliant wallpaper tricks available and create a piece of practical wall art with a large sample of the print.
Pick up a cork pin board for a steal using home decor discount codes, then paint the frame a shade that coordinates with the pattern. Next, stick the wallpaper down in place over the cork and hang it up on the wall. Use it as a pinboard or just fix your favourite keepsakes to it.
Want more colour in the space? Working in thirds, wallpaper from the skirting upward to around one third up the wall - or where a natural dado rail might sit. Choose a subtle, barely there pattern to add interest without being too distracting, and fix a length of moulding to cover the join between the wallpaper and the wall.
8. Section off your desk space with wallpaper
'If you are creating a zoned area for your home office area,' advises Ruth from Little Greene, 'consider your existing palette carefully. Contrasting home office wallpaper ideas will clearly define an area, creating focus and design interest'.
This bold combination of yellow patterned wallpaper and green painted wall at first sight looks like a bold contrast but on careful inspection of the pattern the touches of green in the bold print, match the painted section below the dado ensuring a coordinating look.
9. Go for a super soothing floral
This big, blowsy floral has been tamed by the choice of subtle shades, making an interesting but not distracting surroundings while you work. The shades used in the wallpaper have been picked out and used on the stool and various accessories, as an accent to the wood and wicker pieces.
10. Introduce a panel of paper in a multitasking space
Not everyone has the luxury of having garden office ideas or a spare room which they can use as a home office. The majority of us have to carve out space in our bedrooms or living rooms , yet we may still wish to define that space with wallpaper.
'Be it a feature wall, an alcove, panelling or behind shelving,' explains Kate French, Creative Director at Dado, 'adding wallpaper is a fantastic way to zone a small office space within a larger room. Wallpaper is a fantastically versatile and easy way to add colour, pattern and personality to what can often be dull and functional spaces.'
Tame bold home office wallpaper ideas using a coordinating paint colour alongside - if you're concerned that the print by be too distracting if in direct line of view, paper an adjacent panel or chimney breast instead.
11. Pick a dynamic print for a creative feel
If you work is more hands on and less screen based - like sewing for instance - you can afford to push the boat out a little further when choosing from a wide selection of a home office wallpaper ideas.
With craft room ideas, busy prints are a great option as they tend keep the brain occupied and alert, so pick an 'out there' design to encourage creativity and vitality.
12. Limit the print to a frameless pinboard
Wallpapered pinboards are one of the best home office wall decor ideas out there. They're also ideal if you have papered another room in your home in a pattern you love and have a little leftover on the roll.
As designer William Morris once said: 'Have nothing in your houses that you do not know to be useful, or believe to be beautiful.' This frameless pinboard design covers both perfectly.
Again, keep the look coordinated by choosing a shade from the pattern - not one of the main colours - and painting the walls in that colour.
13. Look for the detail
Everyone's mind wanders occasionally when at work so give yourself new home office wallpaper ideas to focus on. Stefan from MINDTHEGAP suggests choosing 'designs that make a statement when viewed from afar, but offer beautiful design detail when seen up close are wonderful for home office spaces.
'Consider Chateau in Anthracite (image above) which creates design impact with it's monochrome geometric pattern,'he continues, 'but provides mesmerising fine architectural detailing when viewed close up.'
14. Add lashings of luxe with a gold-tinted print
Whether you're a fairweather home office worker or you're glued to your desk five days a week, that doesn't mean you have to sacrifice on style. It's still your home and you can decorate it whichever way you like.
If you're in the 'more is more camp', look for wallpapers that feature light reflecting luxe metallic details to allow you to go a little more dramatic with your decor.
15. Keep it neutral and natural for a calm feel
'With so much of our time spent desk bound and in front of screens,' says Kate from Dado, 'I think choosing home office wallpaper ideas that create a connection to the outside world is key. Opt for gentle floral motifs, bright scenic designs or bold tropical leaf prints that reflects nature and the outside world.'
'Printmaker Jo de Pear's Palm Leaf design responds not only to our yearning for nature and travel, but also for the handcrafted and authentic. This Palm Leaf wallpaper adds narrative and depth to a space, whilst the tropical green colourway will have you feeling positive and calm too.'
16. Stay smart with a classic monochrome
Not one for colour? Or do you just work better in a more neutral environment? Black and white doesn't have to be boring. A fabric look wallpaper in a subtle grey shade provides the perfect backdrop to your smart new office space.
Don't forget the all-important home office storage ideas like clever shelving and smaller storage to keep the space tidy. Choose these in shade of black and white add the odd touch of red for a colour pick-me-up.
How do I choose office wallpaper?
The trick to choosing home office wallpaper ideas is to consider the look you want to achieve and pair that with your space. Whether you're looking at modern home office ideas or just would rather stick to a classic traditional feel, either way this will inform your choices.
Those fortunate enough to have a spare room for their office have more flexibility than those decorating a section of room, but if you're dead set on papering all four walls, avoid bold prints and pick a more subtle motif or colourway.
If you're papering a section of wall, you can afford to be a little more adventurous, but make sure the pattern and colourway you choose coordinates with the rest of the space.
Love a pattern but fear it's too much for an entire wall? Wallpaper below the dado rail - it won't be distracting as you work as it won't stretch over desk height but it will add variety to the space when you're not working.
Is wallpaper good for an office?
Opting for home office wallpaper ideas is an excellent choice. They tend not to be the biggest of spaces too so you can afford to splash out on a more expensive paper as you have less surface to cover – and you can save on this by using home decor discount codes, so it's a win-win. Plus, provided you keep it neat, tidy and organised, you may find it's the one space in your home that you love the most!
Get the Ideal Home Newsletter
Sign up to our newsletter for style and decor inspiration, house makeovers, project advice and more.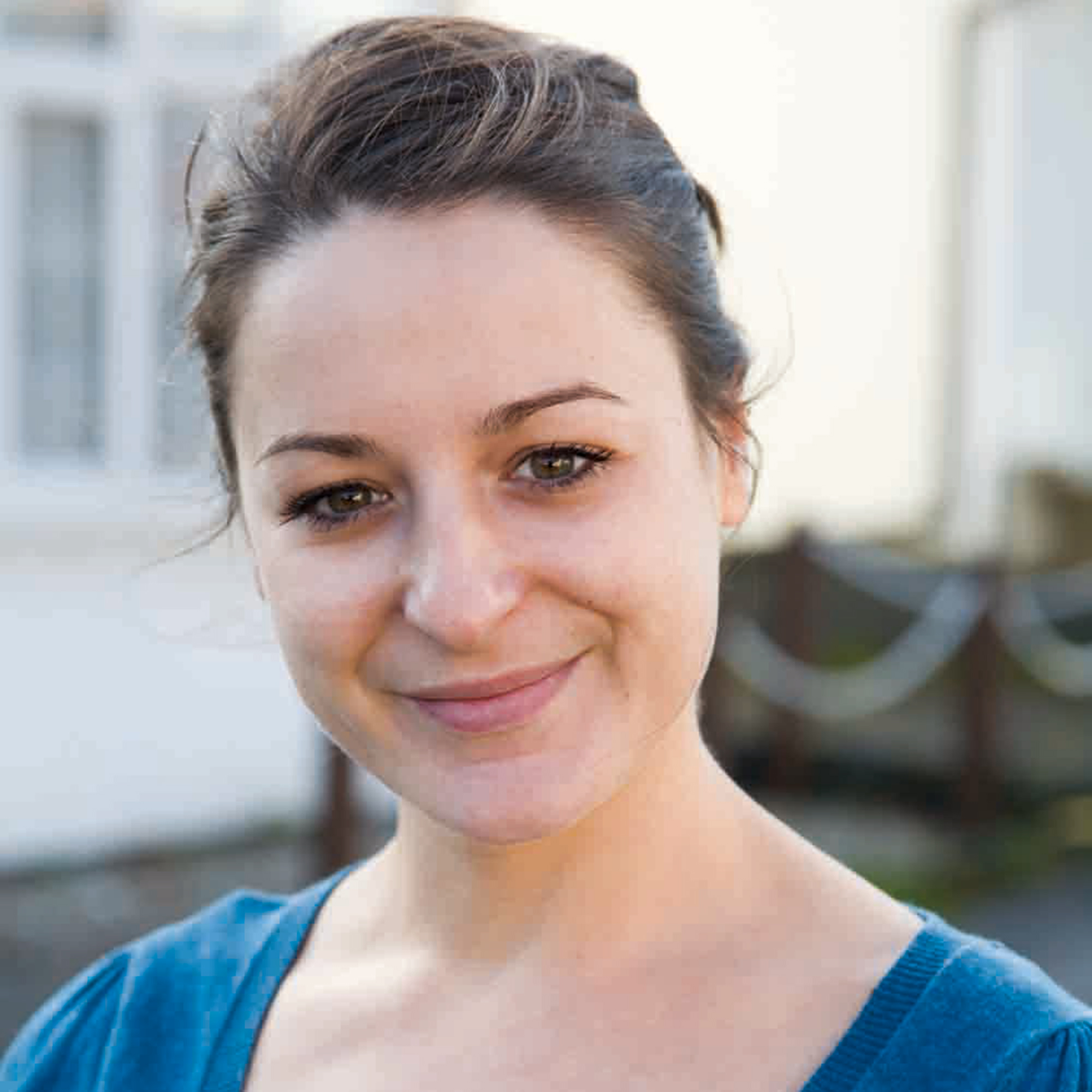 Ginevra Benedetti has been the Deputy Editor of Ideal Home magazine since 2021. With a career in magazines spanning nearly twenty years, she has worked for the majority of the UK's interiors magazines, both as staff and as a freelancer. She first joined the Ideal Home team in 2011, initially as the Deputy Decorating Editor and has never left! She currently oversees the publication of the brand's magazine each month, from planning through to publication, editing, writing or commissioning the majority of the content.