Step inside Jasper Conran's gorgeous Marrakech hotel
Our first look inside designer Jasper Conran's new Marrakech hotel has confirmed our early suspicions - it's a sumptuous celebration of modern interior design with traditional Moroccan flourish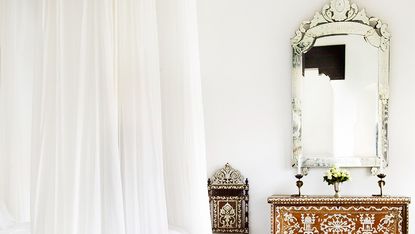 (Image credit: TBC)
Ideal Home Newsletter
The Home Of Great Ideas For More Than 100 Years
Thank you for signing up to . You will receive a verification email shortly.
There was a problem. Please refresh the page and try again.
Jasper Conran's first foray into the hospitality industry, L'Hotel Marrakech, is a stunning riad in the heart of Marrakech's famous Medina area, close to the vibrant Jemaa El Fna square with its bustling souk and the 12th Century Koutoubia Mosque.
The retreat has been fully renovated to offer five modern suites - more spacious than usually found in central Morocco, and harks back to the style of the 1930s. The typical high ceilings and intricate woodwork and window design transport you into the grandeur of a bygone era. And at night, candles are lit, creating a calming, mystical atmosphere.
Conran has combined high quality Moroccan craftsmanship with antique furniture, textiles, lighting and art from his own collection - making it feel more like a home than a hotel.
Using local craftsmen and traditional materials, the design is quintessentially Moroccan, but with a sleek, modern edge. High ceilings, simple whitewashed walls, white voile curtains flowing throughout the terraces and warm, soft, restful colours keep a relaxing, serene feel throughout.
The roof terrace offers extraordinary views of the Atlas mountains and skyline of the city, and throughout the property native plants offer up their scents, from orange blossom to jasmine.
Traditional food is served in the riad, with local ingredients arriving at the kitchen daily, that celebrate the subtle aromas of Moroccan cuisine. Guests can enjoy meals on their private balcony, on the roof terrace or in the dining room.
When you first enter the hotel, you arrive into the courtyard garden, with its central fountain and zelige tilework. Further inside is the large courtyard, containing one of the few true swimming pools in the Medina.
Warm Moroccan sun falls on the terrace, where guests can hide away from the busy city all day, or venture out into the fun of the market.
Compare Prices
The hotel is available for private hire. Find out more on its website (opens in new tab).
Heather Young has been Ideal Home's Editor since late 2020, and also edits its sister title Style At Home. She is an interiors journalist and editor who's been working for some of the UK's leading interiors magazines for over 20 years, both in-house and as a freelancer.