The 'downtown aesthetic' is the new trend championing small bedrooms – and I'm obsessed
Working with a smaller space of slumber? This trend is the one to watch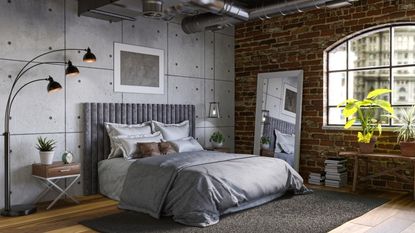 (Image credit: Pexels)
The 'downtown aesthetic' is the new bedroom trend that we think is set to champion smaller spaces – and we have to admit, we're obsessed with it.
When it comes to small bedroom ideas, you already know that you have to be a little nifty to work with the amount of space that you have, but it doesn't mean you have to compromise on style either – cue the 'downtown aesthetic' that we've been seeing everywhere. We're telling you, this is the home decor trend to keep on your radar.
The 'downtown aesthetic' bedroom trend
'The 'downtown aesthetic' is made for bedrooms. To get anyone unfamiliar with this style up to speed, it's everything opposite of the stuffy and (for most of us) unapproachable 'uptown' style that is hyperfocused on high fashion and flashy features. I love this new trend because it urbanises the hygge style,' explains Devin Shaffer, lead interior designer at Decorilla.
It's all about creating a space that's both functional and stylish while incorporating materials like concrete and wood that are both modern and timeless at the same time. Think of pre-loved vintage furniture, moody bedroom colour schemes, and personality-driven accessories, such as record players, guitars, and books.
'This trend has seen a 10,000% increase in searches year-on-year according to Pinterest trends and is centred around creating a downtown feel in your space, emulating New York-style apartments – which are usually tight on space!' adds Jonathon Warren, bed specialist at Time4Sleep.
And if that wasn't enough, Martin Seeley, CEO and sleep expert at MattressNextDay even says that the downtown bedroom trend can even help you sleep better.
'From the guitars to the pre-loved furniture, this trend focuses heavily on nostalgia. However, what you may not know is that nostalgia has been proven to be an effective sleep aid. This is because studies have shown that memories that evoke a positive emotional response help people fall asleep faster and stay asleep longer than those that don't,' explains Martin.
5 tips to get the 'downtown aesthetic' look
We've asked the experts for their top tips in achieving the 'downtown aesthetic' in your own bedroom.
1. Add a chunky throw and mismatch your bedding
'To master this look in your bedroom, start with bedding and the best purchase you can make is a chunky throw. They're big, they're fluffy, and they're guaranteed to keep you toasty warm no matter how chilly it gets outside,' says Devin Shaffer at Decorilla.
'I know that summer is coming soon, but you'll still find yourself cuddled up with this type of blanket even if it means leaving your best fan on all night.'
'Next, elevate the look with layers of mismatched bedding – it's not a 'bed-in-a-bag' type of design style. The secret to doing this right is to shop from 3-5 stores and buy individual bedding pieces (fitted sheets, flat sheets, pillowcases, etc). When doing this, always focus on getting different material types and weaves to add dimension and contrast.'
2. Play with lighting
'The key to the downtown bedroom aesthetic is to blend functionality with style – and industrial lighting is the perfect choice to achieve this look!' says Julia Barnes, head of buying at ValueLights. So understanding the ideal lighting trends for this small bedroom lighting idea is key.
'To add sculptural interest to your space, incorporate low-hanging ceiling lighting alongside accent table lamps. Stylistically, choose options with clean geometric lines, exposed bulbs, and metallic textures to bring in that industrial modern influence.'
Devin Shaffer at Decorilla adds, 'Make a statement with pendant lights featuring exposed bulbs or industrial-style sconces. Sleek floor lamps bring a contemporary vibe, while Edison table lamps infuse vintage charm. And if you're feeling bold, go for a striking chandelier as the centrepiece. Mixing and matching different styles and finishes will create an eclectic and captivating lighting scheme that elevates the overall urban chic vibe.'
'While the downtown bedroom trend borrows some key influences from NYC's contemporary loft style, be sure to soften this sleek, industrial aesthetic with softer accents, such as fairy lights, to maintain a relaxed and cosy vibe,' adds Julia Barnes at ValueLights.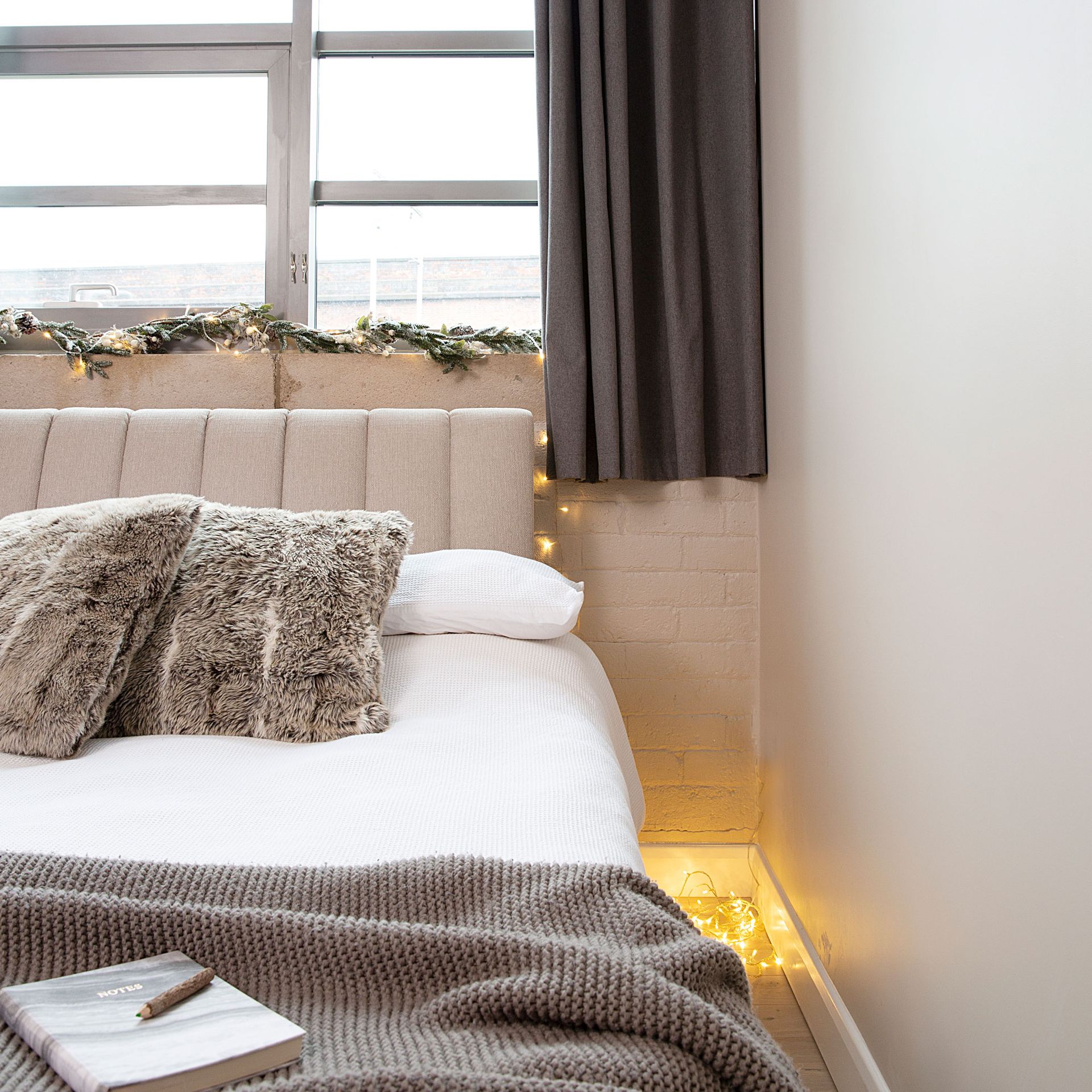 3. Decorate your bedroom walls
'Wall murals (or bedroom wall art) offer a stylishly sophisticated and modern take on this trend. Opt for a nature-inspired print with muted shades and tones to create a calming atmosphere for relaxation,' suggests Paula Taylor, stylist at Graham & Brown.
If a wall mural isn't quite your thing, decorating with art prints, sentimental photos of loved ones and memories, and other paintings also does the trick.
4. Mix modern and vintage
Considering the cosy, moody atmosphere this bedroom trend gives, we can see a lot of similarities between the 'downtown aesthetic' to the dark wood interior trend, which also mixes new and old.
'Mixing modern and vintage elements is key to achieving the perfect blend of old and new, adding visual intrigue and creating an eclectic downtown aesthetic in your bedroom,' says Devin Shaffer at Decorilla.
'Embrace sleek, contemporary furniture pieces that boast clean lines and minimalist designs. Think of mid-century modern dressers with their timeless appeal, retro-inspired bedside tables that exude charm, or perhaps a funky vintage mirror that serves as a statement piece on your wall.'
'The contrast between the modern and vintage elements adds depth and character to your space, resulting in a visually captivating and unique atmosphere. It's all about finding that delicate balance between the past and present, infusing your bedroom with a touch of nostalgia while maintaining a fresh and contemporary feel,' says Devin.
5. Finish with personality-driven accessories
Whether it's photos, books, or vinyls – anything that has your personality, tastes, and experiences written all over it – is the perfect finishing touch to the downtown bedroom trend.
After all, if you'll be spending lots of time in this space, you may as well always cater your design and decorating choices to things you honestly love and enjoy being in the company of.
I'll be real and say that as a dweller of a small bedroom myself, I've had to learn to work with what I've got to make it a space that's equally cosy and enjoyable to be in and turns out, I've subconsciously been doing a lot of these things already, so they really do hold up.
Who would've thought so many elements in my own room screamed 'downtown aesthetic' – and more that I want to try. Guess who's going to be doing some more redecorating to my bedroom soon (hint: it's me).
Get the Ideal Home Newsletter
Sign up to our newsletter for style and decor inspiration, house makeovers, project advice and more.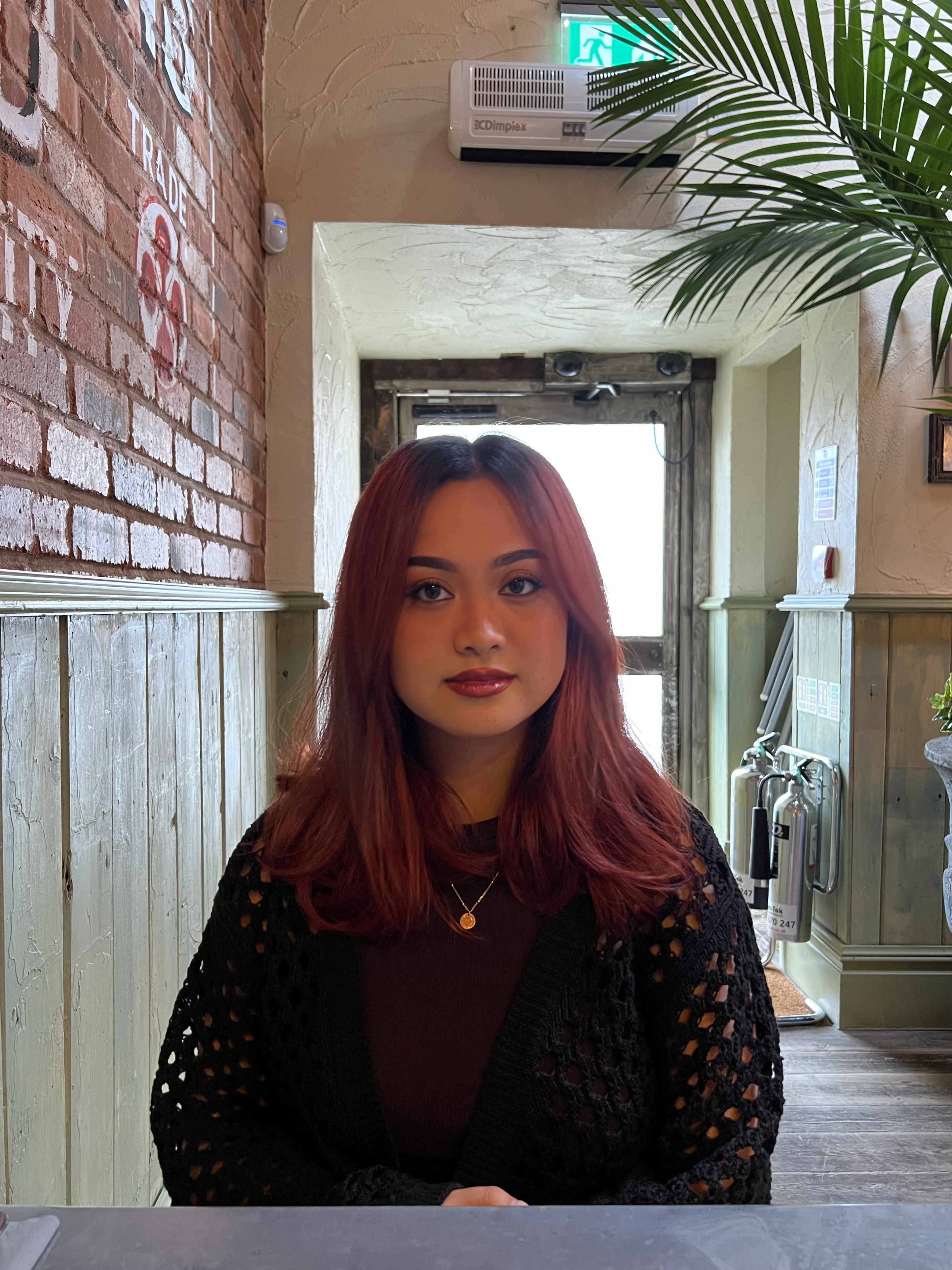 Jullia Joson is Ideal Home's Junior Writer. She's always loved all things homes and interiors, graduating with a bachelor's degree in Architectural Studies from the University of Nottingham in 2022. Previously, she was an Intern Editor for ArchDaily. Now focused on news stories, Jullia can be found down the TikTok and Pinterest rabbit hole scrolling through any new and upcoming trends, hacks, and home inspiration.