Tour an Oxfordshire barn conversion combining old, new, and a hint of Scandi elegance
The elegant interiors of this beautiful rustic barn are the epitome of Christmas chic, with roaring fires, flickering candles and plush reindeer skins.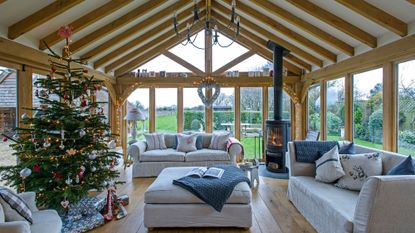 (Image credit: Future PLC/Polly Eltes)
Ideal Home Newsletter
The Home Of Great Ideas For More Than 100 Years
Thank you for signing up to . You will receive a verification email shortly.
There was a problem. Please refresh the page and try again.
The move to the barn came about some 17 years ago. The family were living in Worcestershire when the owner's husband got a job in London, which resulted in the need for a more southerly location. 'A barn in Oxfordshire came up for sale on the internet,' she says. 'I rang the estate agent but, sadly, it was under offer, so we decided to rent a flat in London until the right place came up. Then the barn popped up again on my internet search as the sale had fallen through, so I got in my car and whizzed down to see it.'
There were just two problems – the couple didn't want to live in a barn and it wasn't detached, which was one of the things at the top of their wish list. 'I drove up and almost immediately thought about driving away again – it looked so small,' says the owner. 'But then I spotted the paddock and the outlook, which I loved.'
In a classic case of appearances deceiving, there was plenty of space inside the barn, too – essential, as the owners' children, then aged three and five, needed room to run around. 'The barn had just been converted so everything was new,' says the owner. 'Also I was brought up nearby, and it felt like coming home. I fell for the barn there and then; all I had to do was persuade my husband that he had to come and see it!'
So, one summer's evening, the owner took her husband to view the property. 'He looked at the paddock and said, "This is great. We'll buy it." He hadn't even looked inside the house!'
Another fab conversion: Step inside this barn conversion with a strikingly modern industrial interior
Exterior
Originally a cow shed, the barn was converted into a four-bedroom home in 2000. Since then, the owners have added a garden room, playroom and a green-oak garage, with an upstairs gym.
Hallway
The mix of tactile fabrics and vintage finds makes this an inviting space to curl up in with a book.
Get the look
Buy now: Similar Reindeer Rug, £220, Heal's (opens in new tab)
Garden room
Initially, Sarah and Mark didn't do much work to the property, partly because it was a recent conversion and also because they had young children. However, after three years, they decided to make the barn work better for them as a family and built a green-oak garden room. 'Because of the barn's position, we only had one window that looked out over the fields,' says Sarah. 'Adding the garden room meant we could see the view all around.'
Plenty of seating and a roaring woodburner ensure that this light, open space is also cosy for festive get-togethers. Red and white is a recurring palette in the couple's home and the tree decorations are no exception. Their Scandi-style, handmade appeal adds plenty of traditional charm.
Get the look
Buy now: Similar Previn three-seater sofa, £1,959, Sofa Workshop (opens in new tab)
Kitchen
Sarah and Mark also made some changes to the layout. Next to the garden room was a living room, which they decided to turn into a kitchen. 'It works brilliantly now. We had to walk through here to get to the garden room, so it made sense to convert it,' says Sarah. 'Now the kitchen, where we spend most of our time, is the heart of the home. Everyone used to sit in the old living room while I was cooking so I felt away from all the action, but now they sit around in the kitchen or garden room, so it's a much more sociable space.'
Sarah knew exactly what kind of look she wanted for the kitchen. 'I was keen to have painted cabinetry so I could change the colour whenever I wanted,' she says. 'I chose a handmade, solid-wood design and incorporated an Aga with a fireplace surround as a focal point. I also decided to have a large island with a sink so I could look out on either side to the front and back gardens while I prepared meals.'
Get the look
Buy now: Cabinets, painted in Farrow & Ball Pavilion Gray Estate eggshell emulsion, £24 for 750ml, B&Q (opens in new tab)
Planning a new space? Check out our Kitchen ideas.
Dining area
Benches are a great option for this informal scheme and provide more seating room than the equivalent chairs.
Get the look
Buy now: Similar Gesso star, £60 for a set of three, Cox & Cox (opens in new tab)
(opens in new tab)Buy now: Similar Iona large dining table, solid pine and pebble grey, £499, Made.com (opens in new tab)
Family room
Another project involved building another barn, complete with woodburner, at the back of the house. It was originally created as a workspace for the owner to make curtains and blinds, but has now been converted into a family room for the children. It's a great place to socialise,' she says. An L-shaped sofa dressed with plump cushions and plush throws makes for cosy gatherings.
Get the look:
Buy now: Hovslund rug, £59, Ikea (opens in new tab)
Buy now: Soderhamn modular sofa with Samsta dark grey cover, from £280, Ikea (opens in new tab)
Master bedroom
The owner's signature interior style seamlessly blends Scandi and French influences with older pieces. 'I favour a shabby chic, vintage look,' she says. 'I love new things but prefer to mix them in with older furniture that has a history. We bring clients to our home so the look had to be right. Above all, though, it was important that it be an easy family home, and not too precious.'
Sarah found the elegant sleigh bed in an antiques shop, while the mirror and bench are both available in her shop, Vintage Barn Interiors (opens in new tab).
Guest bedroom
More barns you'll love: Step inside this converted barn, with statement lighting, bold artwork and strong colour
Splashes of red enliven the neutral palette.
Get the look
Buy now: Evie day bed, £249, Feather & Black (opens in new tab)
The homely house definitely comes into its own at Christmas. 'We have a logburner in the garden room and we put a big tree in there,' says Sarah. 'We wait until Dan's birthday on 18th December is over, and then on the 19th we buy the tree and have mulled wine while we decorate it. I love Christmas here. The children are home from university and we have family and friends round. It's a really special time.'