Boys' bedroom ideas – 33 steps to a super cool space that boasts style and function
Design a kid-approved boy bedroom that they'll want to show off to their friends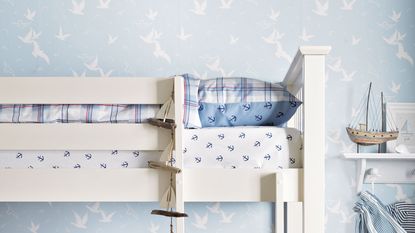 (Image credit: Future PLC / Tim Young)
The right boys bedroom ideas will allow to you take the smallest room in the house and transform it into a fun and personal space for your child to rest their head. From storage solutions to beds, colour schemes and themes, we've rounded up loads of inspiration to help you create a new bedroom fit for any budding young man.
Children's room ideas should be playful, with their personalities and hobbies front and centre. Involving your child in the process of creating boy room ideas will mean you can share ideas and gently encourage them to make choices that won't totally compromise the style of your home.
Boys' bedroom ideas
At first thought, a boys' bedroom might not be the most inviting room, but these spaces can be every bit as stylish and stimulating as the rest of your home. It's a case of choosing the right themes, colours, materials and furniture which, together, will make a welcoming space for sleepovers and chilling out.
Choosing a colour scheme is the first port of call, and while classic blue is a popular choice, why not consider cool monochromes, energising yellows, oranges, reds and restful neutrals, for your boys bedroom ideas too? From playful places for pre-schoolers to on-trend dens that tweens will be proud to show off to their friends, take a look at these creative and colourful boy room ideas that are super awesome.
1. Make a creative corner
Create a colourful corner with plenty of space for your child to draw, paint, make collages or play with LEGO, alone or with a friend. The walls, desk and shelving here provide a lovely blank canvas for brightly coloured accessories and wall stickers that you can easily switch out in your boy room ideas as time passes and tastes change.
'Young minds benefit hugely from the use of colour, invention and playfulness in their bedrooms to stimulate their imaginations and their playtime,' comments Annie Sloan, Founder, Annie Sloan. 'Unexpected side effects can include instilling in your child a strong sense of pride in their own environment.'
2. Set sail with a coastal scheme
Create a beautiful seaside theme in boys bedroom ideas by seeking out patterned wallpaper and bedding with coastal details, from anchors and seagulls to lighthouses and beach huts. Off whites and pale blues create a really calming bedroom colour scheme, and wooden boats bring natural texture.
'Paler colours work well in a child's room,' agrees Justyna Korczynska, senior designer at Crown, 'as they tend to be more calming and soothing – both for the child and parents. A background of soft blues or aqua can be a good basis from which to add more colour.'
3. Go for a superhero theme
Choose a fun and empowering superhero theme for both girls bedroom ideas and boy room ideas that inspire confidence.
'Superhero motifs will help your kids feel like they can conquer the world, even if they're having a tough time,' says Nadia McCowan Hill, Resident Style Advisor, Wayfair. 'When it comes to colours, opt for bold poppy tones like monochrome with kicks of yellow for a mood-boosting space.
4. Chalk it up
If your child's been known to doodle on furniture, Chalkboard paint, at Amazon could be a perfect solution for boys bedroom ideas.
Bedroom wall decor or piece of furniture that doubles up as a chalkboard will mean always they have somewhere to draw and write, and friends can leave messages.
5. Hang graphic prints
Graphic prints bring loads of visual interest and personality to boy room ideas, whether you go for bold typography, Andy Warhol-inspired pop art prints. Use brightly coloured washi tape to tape prints directly onto the wall.
Or frame them up and use Command Strips, at Amazon so that you can move things around easily.
6. Help them drift off with a cloud motif
Help kids drift off with a cloud motif painted on the wall in the area above their head. This boy bedroom is just made for bedtime stories, with Cath Kidston bedding that features a dragon pattern, hanging cloud decorations and shelves for your child's best-loved books.
'The playful illustration of the peace dragon's plumes of smoke from his cup of tea will bring humour and a touch of storytelling to bedtime,' says Holly Marler, Creative Director at Cath Kidston.
7. Celebrate their hobbies
For a boys bedroom ideas that feels sophisticated but still full of character, why not hang framed artwork with nods to your child's favourite hobbies? Here the curves of the basketball print and skate park work well together, creating soft, organic shapes.
Hanging skateboards or creating a shelf for trophies, rugby balls and favourite baseball caps will give the room personality while maintaining a more grown-up look for when teenage bedroom ideas are needed.
8. Opt for open storage
Save precious floor space in a kid's room by creating an open wardrobe. Not only will they be able to see their clothes easily, but it may also even encourage them to put them away!
Start by removing the drawers from a simple unit and paint in a shade of your (or his!) choice. In a shared room, use different colours for each child. Work out where you'd like to attach the units to the wall, leaving enough space below the bottom one for baskets filled with toy storage, or a stack of games or books, to maximise the space.
Once you've attached the first unit securely to the wall, fix up the second one, again leaving space in between each one for storage or display. Next, add a length of wooden dowel between the. unit and the wall to create a useful hanging rail for bulkier jumpers and jackets, then paint to match the units.
9. Paint the walls black
Yes really we're suggesting this as one of our boys bedroom ideas! But before you worry that we're losing our touch, we mean paint it black first, then add prints, patterns and whimsical designs on top in an array of colours.
'Children respond to colour,' says Annie Sloan. 'Their instinctive attraction towards brighter shades isn't hampered by a learned fear of standing out, and we should capitalise on that!'.
'Bright shades inspire, build future confidence with experimentation, and activate fertile imaginations. The beauty of using Athenian Black is that all other colours will pop against this most dramatic backdrop.'
10. Put up a magnetic wall
Attach a sheet of mild steel to the wall to turn it into an inexpensive floor-to-ceiling memo board.
Fun magnets are perfect for younger kids but once the space migrates into teenage boys bedroom ideas they could also use it as a place to store things that have inspired them, their homework schedule or photos of their mates.
11. Bring out their wild sides
A jungle theme works well for any kids' bedroom including for boys' bedroom ideas and will certainly spark their imagination. Choose bedding that is bright and fun with lots of animal characters, but opt for a more grown-up bedroom wallpaper.
This means you can easily change the whimsical bedding as they get older to something a little more pared-back or muted, but the wallpaper won't need to be replaced as it still has a sophisticated feel.
12. Encourage tidiness with a toy cupboard
By customising a basic pine unit (here we've used an Ikea Ivar), with a tester pot or two, it becomes a colourful addition to your boys bedroom ideas, and perhaps, a great way to encourage them to put away their toys inside.
It's wall-mounted design will maximise floor space for play too, and means less chance of toys getting lost under furniture. Alternatively you could paint the doors of these bedroom storage ideas with chalkpaint to double up as a space for chalk drawing too!
13. Make a feature of storage
Turn a piece of storage furniture into a feature, by painting the wall behind with a fun motif or pattern. Here the walls have been painted with a thick green band of paint, but the area of wall specifically behind the open shelving unit, has been painted with a geometric, mountain-style design. This turns something practical in boy room ideas into something much more fun and banishes the boring.
Styling up the shelving with a faux houseplant and some other cute accessories will make it a more stylish addition for boys' bedroom ideas.
14. Create a mountain-scape feature wall with paint
Bedroom paint ideas and effects are a popular way of adding fun to a kids room. You literally have a blank canvas to work with so the more adventurous the design the better. We love this zig-zag mountain range with acid yellow snowcaps that also highlights the bed.
'Work out a design on paper then scale up for the walls, using good masking tape to create crisp lines,' says Judy Smith, Colour Consultant, Crown. 'Kids' rooms have a license to be fun. Therefore, why not add a bit of playfulness by painting furniture to match or contrast with the walls.'
15. Set up a stylish study station
You can achieve fun boys bedroom ideas even on a budget. You don't need an actual desk to create a dedicated homework area, this clever DIY desk is made using two shelves and matching paint. Mask out a square or rectangle on the wall and fill in the middle with your chosen shade. Once dry mount a matching floating shelf at the bottom and top.
Complete the look with a contrasting notice board, colourful lamp and plenty of stationery supplies. Magnetic strips for toy cars look striking for boys' room ideas too.
16. Build up an edgy feature wall
Exposed materials look the part in boy room ideas as the industrial vibe suits adolescent tastes. Don't worry if you don't have a bare brick wall, faux wallpapers and tiles will fake the look easily and is a more sensible choice as it won't have a rough surface that could scrape the skin.
This cool grey, boy's bedroom has added texture thanks to the matching faux grey brick feature wall.
17. Invest in an incredible bed
A wow-factor bed will make bedtimes a breeze. From huge bespoke bunk beds that offer hide-away spaces to more classic versions with wheels on the sides or canopies above, a statement kids bed is a striking boy's bedroom idea and will have friends queuing up for sleepovers galore.
18. Introduce a theme with soft-furnishings
There is no doubt your child will go through many hobbies as they grow so keeping boys bedroom ideas up-to-date with their interests could get expensive.
Make change easy and affordable by swapping out bedlinen and accessories. 'Starting with a blank canvas is not only manageable but encourages creativity,' says Debbie Leigh, ILIV, Design Manager.
'Keep it simple by painting the walls a neutral tone and experiment using a selection of colourful bunting and wall art. Adding co-ordinating pillows will liven the room whilst keeping costs at bay, an achievable makeover which can be frequently mixed up.'
19. Make it feel like a treehouse
This is a great boy bedroom idea as wouldn't every young child love to live in a treehouse? Create the vibe by using wooden finishes liberally throughout the decorating scheme. A feature wall made using salvaged wood adds a rustic finish which embodies the design aesthetics of a treehouse.
Upcycled pallets is a cheap way to achieve the look or recycling old floorboards for a wall panelling idea. Choose a matching wood stain for the bed to make it feel like its part of the wooden wall, for a more immersive treehouse experience.
Keep the rest of the room simple and pared back, with industrial-style furniture and minimal accent colours.
20. Seek smart storage solutions
Use the walls to utilise maximum storage potential for boys bedroom ideas. Securely attach attractive baskets to the walls to elevate storage. they out of reach baskets are ideal for everyday essentials, that you wish to keep out of little hands.
By lifting storage you are not taking up valuable floor space – making your space better suited to play.
To match the rustic aesthetic try using smart wicker baskets under the bed for additional storage. Decorate with warming rustic tones of coral to accentuate the natural materials.
21. Decorate with sunny shades
Any colour goes for a child's bedroom, we're no longer confined to the stale notions of blue only for boy room ideas. We say the bolder and brighter the better. This vibrant yellow is like filling the room with sunshine, and what more could you ask for as a boys' bedroom idea?
'All around the world we recognise the power of this joyful shade to conjure hope, positivity and happiness' explains Marianne Shillingford, Creative Director, Dulux. 'The energy in this colour buzzes like a bumblebee in a jam-jar, which helps get the creative juices flowing.' This makes yellow bedroom ideas perfect for encouraging expanding young minds.
22. Hang wall art at child height
Whether they're a toddler or nine going on 17, hang wall art at the right height. That way, they can enjoy the pictures just as much as you. Floating shelves are also a great way to make a feature of your child's books and make sure they're easy to hand come story time.
String up some decorative fairy light ideas to cast a soft glow over the room as it gets closer to bedtime.
23. Add a bunk bed to create more play space
Whether you are working with shared bedroom ideas, or frequently have friends to stay, consider investing in bunk beds rather than twin beds.
Thanks to its stacked design, a bunk bed takes up a much smaller footprint, so the room will feel more spacious. That means more space for your little ones to have adventures with their toys on the floor, which is essential if you don't enough space in your home for a playroom.
24. Squeeze in extra storage with a cabin bed
Add accessible, extra storage with a smart cabin bed. The under-bed drawers are suitable for children of all ages. A cabin bed is perfect for a room that's short on space and even has an exposed shelf for little ones to pop their books on after story time.
Continue the vibrant colour scheme throughout the bedroom with a rainbow carpet and bright wall art, which should suit your child's tastes until they reach their early teens.
25. Extend the room theme from the walls to the bed
For a cohesive look, extend the wall theme to the bedding, accessories, wall art and rugs. Animal designs, stars and simple shapes in monochrome shades remain a popular unisex choice. All of which should see them through the years, from nursery ideas to toddler years and beyond.
Here, a rocking chair with a fluffy cushion is the perfect place to cosy up, as you read your little one a story, or rock them to sleep on your knee.
26. Make a feature out of hexagon shelves
Transform some humble shelves into something a little more special. These hexagon shelves can be arranged in any order to create a feature wall in boys bedroom ideas where your child can arrange and display their favourite toys.
The best part about these shelves is that they'll stand the test of time as your little one turns into a teenager. Your child can change the display and colour of the shelves as tastes change, without needing a complete room overhaul.
27. Add character with wall stickers
Wall stickers are an easy and cheap way to let your kid put their stamp on a neutral bedroom – our white bedroom ideas demonstrate more examples of how to do this. Many websites will even offer you the choice of getting the stickers personalised with your child's name, or a motif you've designed yourself.
Though wall stickers can be a little fiddly to put on the wall initially, once they're on they will not budge until you choose to peel them off. Plus, they're designed to disappear without a trace. That's right - no nasty marks you'd otherwise have to paint over.
All this makes wall stickers ideal if you live in a rented house. they're also a smart choice if your child is in that tween-period. One minute they're obsessed with monkeys – next thing you know, they want a Banksy-style design on their wall. Both can be achieved with a simple sticker change.
28. Be bold with accent colour choices
Traditional colours such as blues and reds are a classic option for boy room ideas, but don't be afraid of zingy yellows or calming pastel shades if you want something a little different. Dare to be bold by painting bunk beds in a standout colour to make them a cheery focal point.
However, if you do decide to brighten up the furniture, it's best to keep your walls and floor low-key and neutral. That way, your feature pieces really sing out.
29. Maximise corners with clever shelving
Make the most of every inch of the room with clever wall shelves. Learn how to put up floating shelves into the corners for the ultimate use of this often-underused space.
Use a cluster of simple single ledge shelves – IKEA, Wilko and Argos are great sources of budget options. Position two different sizes sat side-by-side to create a V-shape. Alternatively, if you have matching sizes, cut the edges into a point to match them up in the corner seamlessly.
30. Make it monochrome
A child's bedroom doesn't necessarily need to be super bright– try boy room ideas that embrace dark and moody hues for a dramatic. This monochrome scheme benefits from plenty of pattern and texture to lift the space, while quirky art adds character and personality to this children's room.
31. Think of a theme to add personality
If you have a young child, it's likely they will be drawn to bright colours that stimulate their senses. Liven up a scheme with bedroom accent wall ideas adorned with wallpaper in a fun print, like this design by Scion. Wall stickers are another great way to liven up a scheme (and are sure to be a hit with the kids).
Take a theme and run with it in boys bedroom ideas. This cheery fox motif wallpaper is the starting point for a playful scheme with bold co-ordinating bedlinen, an orange lamp and a cute fox cushion on the bed.
32. Make a small space bright
Keep the look light and airy in a loft bedroom by painting walls white to compensate for the lack of natural light.
Go for cheery bedlinen and accessories to keep the look bright and playful, with colourful artwork or vinyl stickers on the walls for decoration.
33. Paint the floor
Create a playful space for your boy by painting stripes on the floorboards in different hues of their favourite colour. Paint them in a graduating range of colours for added effect – you could use colour cards as inspiration.
How do you style a boys' room?
'Boys' rooms are often a challenge to style, but the key is finding a balance between keeping it fun and functional,' comments interior designer Linda Haase. 'The best way to get started is by thinking about what he'll use the space for, and what his favourite things are.
'If he's an avid reader, consider adding a reading nook with soft lighting and cosy seating. If he loves to play video games or watch TV, consider adding a gaming console or flat-screen TV that can be easily mounted on the wall.'
How can I decorate a boys' small bedroom?
Children don't necessarily need huge bedrooms as their smaller furniture can seem dwarfed by the surroundings. So, if your boys' bedroom is small and cosy the key is to make the most of every inch of space. 'Choose a storage bed, add plenty of layered, narrow shelving to walls and even the ceiling can be utilised to hang decorative accessories such as aeroplanes, jungle foliage, or planets depending on what they are into,' Rachel Homer, interiors writer and mum of two boys suggests.
Also, think about reducing the footprint of furniture to make the space seem bigger. Wall-hung wardrobes, slim bunk beds and storage that makes the most of wall space, will all help the floorspace seem larger, therefore the room feel larger too.
While colour is important in any childs' room, think about using it to enhance the space, rather than make it feel small and dark. Lighting is your friend to make the space feel larger too, so opt for a variety of side lights, as well as a ceiling light, then have fun with neon wall lights, too.
How should I arrange my boys' bedroom?
When it comes to how you should arrange your boys' bedroom you should first and foremost ensure the room is a sound sleep environment. As this is the primary purpose of the space, invest in a comfortable bed, that has the flexibility to adapt with them as they grow. Depending on how old they are, a small double could be a good option to cater for sleepovers or visiting guests.
Try not to place a bed up against a radiator, as not only will it stop the heat from circulating around the room, there is also the danger or them getting burnt if the radiator is too hot. Think about positioning furniture to give your little ones the most amount of floor space for playing in, but also in a way that features plenty of storage.
If your little boy also needs a desk space for getting creative or doing homework, think about investing in a high-level sleeper with desk below, so that you've not adding to the overall footprint of furniture.
How can I make a boys' bedroom inviting?
Finding a space in your boy's bedroom for peace and quiet is a vital element for making them feel safe in their environment. Hang a curtain or canopy around their bed with string LED lights for them to retreat to. Or, add a comfortable chair next to an accessible bookshelf to create a reading nook that will give them a happy place to read, enjoy quiet play and have downtime to themselves.
Think about what aspects they'll love when having friends over too. Any kind of den or hiding space always goes down well, or if there is the option to build a platform, climbing wall or even add in a swing chair, all these things will make for an inviting space.
What do boys need in their bedroom?
Interior designer Linda Haase says that boys need to be comfortable in their bedrooms, but they also need to have a space that helps them feel secure and confident. 'A good way to achieve this is by making sure their room is organised and has a place for everything. A bedside table with drawers can hold all of their items, as well as a lamp so they can read at night.'
'You could also add hooks above the bed for hanging clothes or even a curtain rod if you want to separate the sleeping area from the rest of the bedroom.'
'Having plenty of storage space is important for boys because they tend to accumulate a lot of stuff quickly! You might want to consider adding some shelving units into your son's bedroom so that he'll have somewhere safe and convenient to store toys, books, clothes... whatever else comes into your home!'
Get the Ideal Home Newsletter
Sign up to our newsletter for style and decor inspiration, house makeovers, project advice and more.
Jennifer is the Deputy Editor (Digital) for Homes & Gardens online. Prior to her current position, she completed various short courses a KLC Design School, and wrote across sister brands Ideal Home, LivingEtc, 25 Beautiful Homes, Country Homes & Interiors, and Style at Home.